We're living in the golden age of spirits. But with so many exceptional bottles out there, it can be a little overwhelming. To make it easier, we survey the best bottles in the hottest styles—and enlist New York's coolest bartender, Thomas Waugh,to show you elevated ways of mixing, muddling and sipping.
To help us navigate the oceans of top-shelf liquor available to the modern drinker, we enlisted Thomas Waugh to dispense advice, share recipes and teach us a trick or two. Waugh has tended bar at legendary watering holes Alembic in San Francisco and Death & Co. in New York City. He now runs the bars for Major Food Group, the company behind New York's Carbone, Torrisi Italian Specialties and ZZ's Clam Bar.
Gin
The Other White Spirit
If you're one of the thousands of vodka drinkers who dismiss gin, it's time to take a second sip. New brands are smoother than the ones you've had before. If you're already a gin fan, update the way you mix the classics. Here Waugh deconstructs the gin and tonic, that deceptively complex cocktail.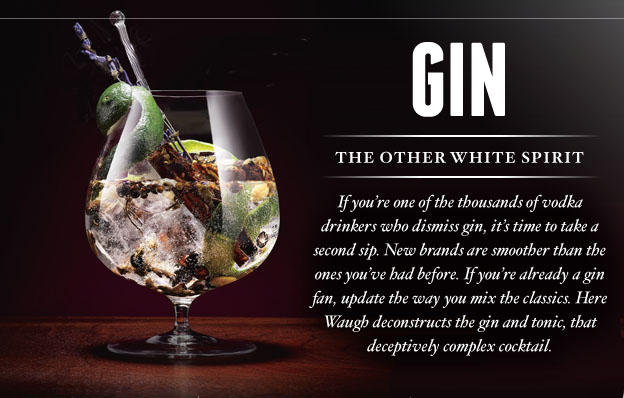 WAUGH SAYS: "Use oversize glassware for a G&T, big enough that you can get your nose down into the glass and pick up all the subtleties, not just of the gin but of the tonic as well. A double old-fashioned glass, a stemless wineglass or a brandy snifter will do the trick."
BEEFTEATER LONDON DRY GIN ($23)

The right amount of juniper flavors at just the right price, it combines wonderfully with tonic.




TANQUERAY MALACCA GIN ($33)

A limited-release gin with a cult following. Slightly sweet, citrusy and super smooth, it makes a kinder, gentler martini.

PLYMOUTH GIN ($32)

With bold juniper flavors and a dry profile, this is a favorite of serious bartenders. Use in pre-Prohibition cocktails.




PERRY'S TOT NAVY STRENGTH GIN ($38)

Even though it's 114 proof, this gin is incredibly rich and smooth, with intense botanical aromas. Pour lightly.

BOLS GENEVER ($37)

The Dutch invented gin, and their style is more full-bodied, fruity and peppery. Enjoy ice-cold and straight up.
Recipes
The Spanish G&T
If Spain has a national cocktail, the gin and tonic is it. Restaurants there routinely keep multiple brands of tonic water and gin on hand, and garnish and flavor their G&Ts with way more than a lime peel. Here is Waugh's version of a Spanish G&T. Many of the botanicals typically used in the spirit's distillation make an appearance in the glass, further flavoring the drink.
Ingredients
1 lime wedge
11/2 oz. New York Distilling
Company's Perry's Tot Navy Strength gin
4 oz. Fever-Tree or Q tonic water
5 juniper berries
5 coriander seeds
3 cardamom pods
1 star anise pod
1 horse's neck lime peel (see below)
1 cinnamon stick
Directions
Squeeze lime wedge into a frozen 15-ounce brandy snifter and drop it in. Add gin and tonic water, then ice. Add the spices and botanicals to the glass and stir. Garnish with lime peel and cinnamon stick.
(Notice we use only one and a half ounces of spirit. That's because it's navy-strength gin, which is typically 114 proof. The declared reason for its potency comes from the days when it was supplied to the British Royal Navy. If a barrel of the liquid accidentally burst open and soaked the fleet's gunpowder, that is the proof at which the powder could still ignite.)