You've probably spotted this beautiful Texas native in guest spots on True Blood and Key and Peele, so when we heard that Carlson Young was starring in the hilarious new teen comedy Premature we just had to ask her about starring as the school sexpot, her upcoming projects and her love of comedy.
Playboy.com: How did you get your start in acting?
Young: I wanted to be an actress my whole life and my parents are anything but stage parents. They always sort of rolled their eyes at me. [laughs] Anyway, finally I just said, "Eff you," and I went behind their back when I was 15 years old and had my best friend take a picture of me on her janky digital camera and I sent it to an agency in Dallas I'd read about online. They called back and my mom answered the phone and she thought it was a creepy person I'd given my name out to. She hangs up on them and later on I hear on the answering that Kim Dawson Agency in Dallas had called. I'm like, "MOM! No, please!" so my dad was like, "Come on, Susan, you have to let her get this out of her system." My dad took me to my first agency meeting in Dallas and I went on my first commercial audition the same day and I booked it and my parents were like, "Okay, let's just let her try this."
Playboy.com: You're starring as Angela in Premature. Can you tell us a bit about it?
Young: Initially when I read the script I thought it was hilarious. It's one of those things you read and you just laugh out loud, which is definitely hard to do, definitely hard to laugh at something when you're just reading it, so I thought that was a good sign. I was really excited to do the project from the get-go.
Playboy.com: There's a lot of really talented young actors in it, which I thought was great.
Young: Yeah, absolutely. It definitely has that going for it as well. There's a lot of really funny things happening with everyone. I think Craig [Roberts] is so funny, and John [Karna].
Playboy.com: Unlike most movies, where you have to shoot the same scene over and over, in this movie you had to shoot the same scene but with small variations.
Young: Yes, definitely. We had block shooting, it was pretty grueling. It was definitely hard to get in that headspace of "This is the exact same thing, just a little bit different." It was interesting. Also I wanted to burn the outfit I was wearing 'cause I wore it so many times! [laughs]
Playboy.com: What attracted you to the role of Angela?
Young: I thought she was one of the funniest parts of Premature, just reading it. I feel like a lot of people could read her as the stereotypical popular girl, but I thought she was so funny and she's such a go-getter, literally. She doesn't care what anyone thinks of her, she's going to do what she wants to do, and she's very confident. And I thought that was really cool and that drew me to her a lot. She has her own agenda, she's so over high school!
Playboy.com: What was your high school experience like?
Young: I had a great high school experience, I don't really have any horror stories from high school. I had a really good group of friends, studied hard­—probably should have studied harder [laughs]—but I'd love to go back in time and slap myself and say, "This does not matter, you need to just focus on having fun and not taking anything too seriously." I think that Premature is really depicting the fact that everyone makes such a big deal out of everything in high school and the fact of the matter is it just doesn't matter.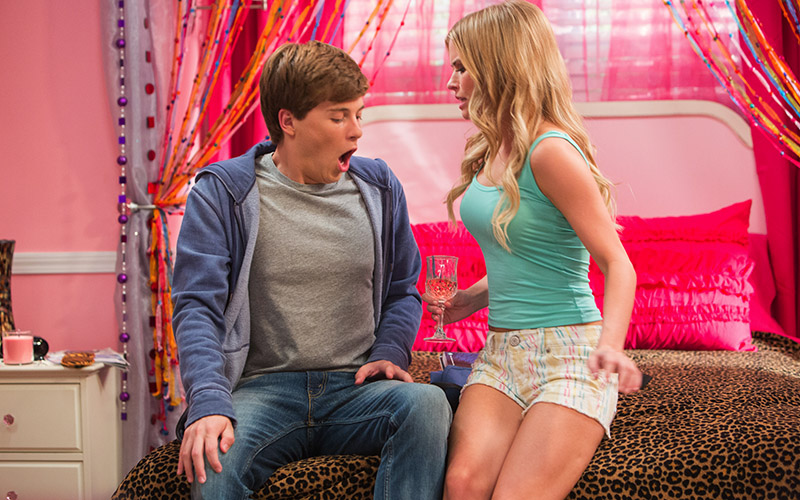 An IFC Midnight release. Photo Credit: Quantrell Colbert © 2014 MORNINGWOOD PRODUCTIONS, LLC
Playboy.com: What are you working on now?
Young: I wrapped a really funny indie comedy a month or two ago called The Night Is Young, which I think is going to be really hilarious as well. It has a great cast and I'm excited about that. Everything else, I'm not sure if I can talk about yet, but everything is looking really good!
Playboy.com: You've also made appearances on Key and Peele. Have you always been into comedy?
Young: Yeah, I have. It's just something I've had a little bit more success in to date. I think that I'm comfortable comedically, and especially with The Night Is Young we got to do a lot of improv and I was working with some hilarious comedians, so yeah, I definitely have found my footing in comedy first. But I wouldn't say it takes precedent over drama because I'm still very much into that as well. But I love comedy and I love the tone of comedy right now. I love where comedy is going and I really want to be a part of that.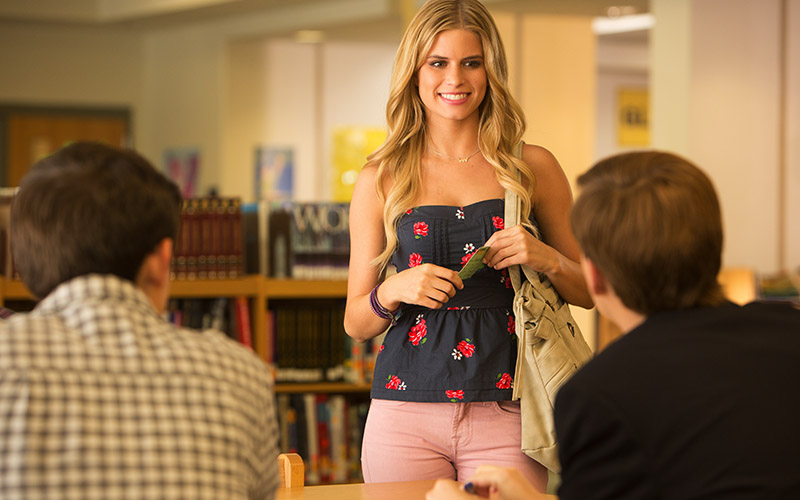 An IFC Midnight release. Photo Credit: Quantrell Colbert © 2014 MORNINGWOOD PRODUCTIONS, LLC
Playboy.com: What's your…
Favorite food: Sushi.
Favorite drink: Coke.
Worst pickup line: It's sort of specific to me, but I'm really small. I'm only like five-one and three-fourths, so guys love to pick me up and spin me around like that's okay. So it is a literal pickup that I get! [laughs] It's pretty uncomfortable. Last night I was out with my friends and a guy who, I guess we have mutual friends but I've never met him or had a conversation with him at all, he comes and grabs me, lifts me up and spins me around. I'm like, "You are?" I hate when people do that!
Most embarrassing moment: I was moving apartments—same apartment building, different unit—and I had my rolling rack of clothes and it was like three A.M. 'cause I had just gotten the keys to my new apartment. I'm moving my closet, I'm getting a lot done, really being productive and I'm moving my rolling rack down the hallway to my new unit. It was three A.M. on a Monday night and I just got a little too comfortable and I started all-out doing an old ballet routine of mine in the hallway. And someone opens their door and comes out and I jump and they're like "Oh my god, what the fuck is that girl doing?" [laughs] I truly have never been so humiliated in my entire life, so that's fresh on my mind!
Favorite song of the summer: "Benfica" by Panda Bear. That's really not a summer jam but I'm just really into Panda Bear.
First memory of Playboy: I don't really know! I guess perhaps finding something strange in my brother's room when I was 15.
Premature is in theaters and on demand July 2