Sex Criminals is a comedy/science fiction comic book series about bank robbers whose orgasms have the power to stop time. It seems like an unlikely premise for a hit, but it's a sales success, breaking records for a creator-owned series and inspiring a passionate fan base. We spoke to the series' creators, writer Matt Fraction and artist Chip Zdarsky, about their work, the surprising truths about sex in their comic, censorship and more.
Playboy.com: How did you come to collaborate on Sex Criminals and what is the premise of the series?
Fraction: We wanted to work together for a long time; we're in the habit of routinely pitching each other terrible ideas for comics that no one would read but us. We worked together on a music video and we're friends and Chip makes me laugh like no other thing on this Earth does.
Zdarsky: Likewise.
Fraction: I call him a thing. I dehumanize him.
Zdarsky: You have to do that to me once a day.
Fraction: With artists you have to break their spirits constantly. Comics have a long history of breaking the spirit of artists. But back to the subject: I've long had the idea of doing something funny and dirty and collaborating on a project that plays into Chip's unique abilities and style. He was into it right away and that became Sex Criminals, which is the story of a girl who freezes time when she has an orgasm and what happens when she meets a boy who has the same ability.
Zdarsky: What he said.
Fraction: I feel like I was just on a roll, complete sentences flowing out of me. I'm crushing this interview.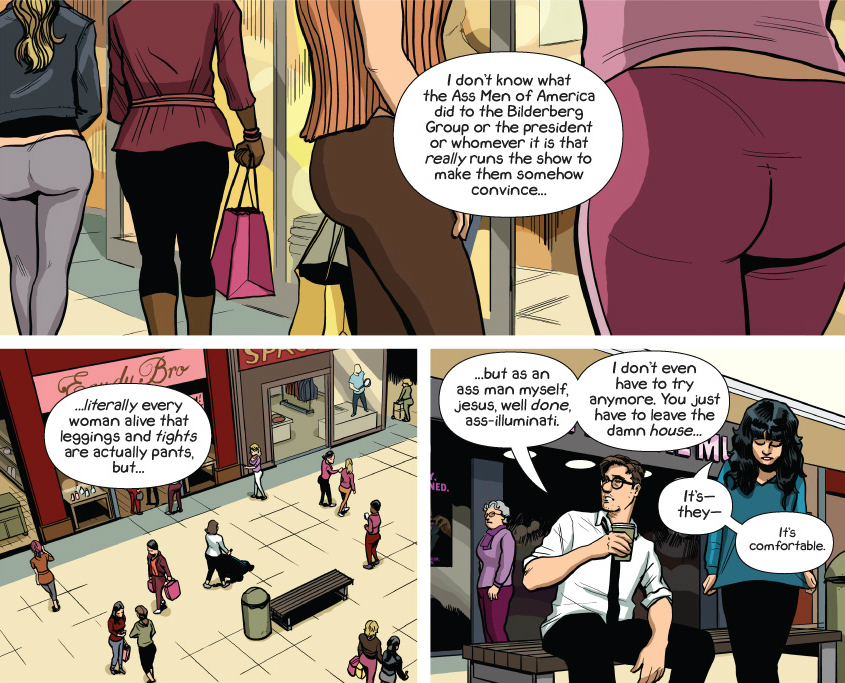 Playboy.com: What is your collaborative process? Matt, do you give Chip a full, detailed script that he draws or do you work out all the details together?
Fraction: All the good stuff is me. [laughs] No, I give Chip a full script and all of the good stuff is actually him adding brilliance.
Zdarsky: It's gotten looser since Issue 1. With [a first issue] you have to lay the groundwork and create the world, so we had a few more conversations about what we're doing. Matt was a bit tighter with the script and that was a blessing to me because I've never really drawn someone else's comic before.
Fraction: It's not like writing Iron Man. You're inventing the world whole cloth. My first scripts are always long, especially original stuff. You're creating the sets for the first time, you're creating the characters, so first scripts are always motherfuckers.
Zdarsky: There was more back-and-forth at first, lots of long phone calls as I'm in Ontario and Matt's in Oregon, but since then the direction in the scripts has been a bit looser because I think Matt trusts me a bit more, for better or for worse.
Fraction: All for the better. Even if I don't know what you'll do. Even if I'm vague I know you'll do it great and make it you. There's was this classic Mad Magazine artist named Will Elder, who also did a strip for Playboy for decades, and he would pack a million jokes into the backgrounds; Elder called it "chicken fat." Chip is Will Elder reincarnated. We can tell the story we want to tell and get as emotionally deep as we want, we're able to do this story with heavy feeling, but as long as Chip is packing the background with weird shit it will all play and still have that comedic edge.
Zdarsky: Sometimes I forget I have to keep it in check a little bit. Like the scene where Suzie is in the classroom and about to confront the rapist, you probably noticed that all of the computer screens facing the reader are blank. Originally I started writing jokes on the screen, but then I was like, "No, I can't do that for this scene! What's wrong with me?"
This is the first comic project I've done digitally, beginning to end. And when you're working in a digital space, composing the art all on a computer, you can zoom in infinitely and you forget that the reader will never be able to see that detail.
Fraction: I remember you telling me when you finished the party scene in the first issue, "I drew every fucking book on that bookcase. I'm an idiot. Every book is a different size and a different shape. It took me three days."
Zdarsky: Chicken fat and come jokes, that's our stock-in-trade.
Playboy.com: Another example of chicken fat would be when the character John walks into the sex store and you can see products in the background for sale like the "Sexy Magic Kit" and the "Mysterious Oils of Eastern Canada." I also noticed a copy of Playman: The Classy Magazine of Tits for sale.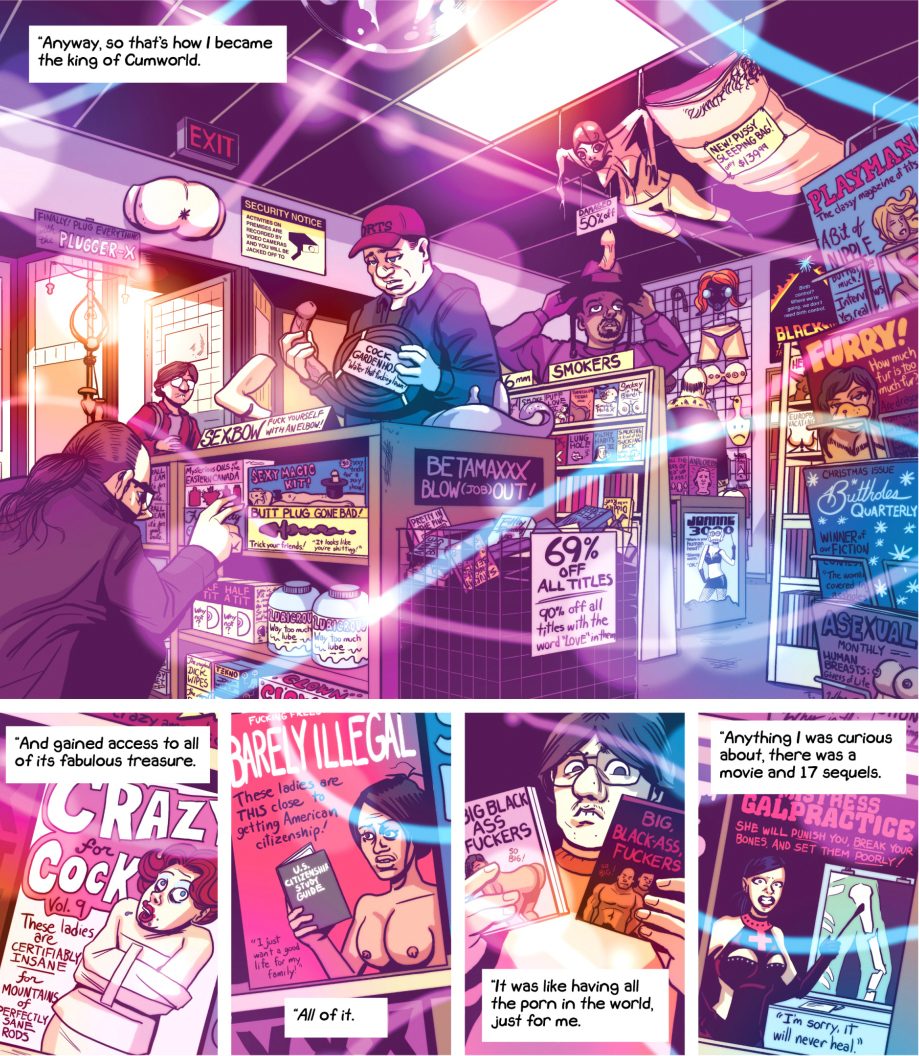 Zdarsky: [Laughs] I never thought that would come up in a Playboy interview. Ta-da! But remember counting the jokes and there are 47 in that one panel.
Fraction: We'll reprint the series the size of a boogie board and it'll all be worth it.
Zdarsky: The problem is I'm doing it for myself and I'm doing it for Matt; I'm rarely thinking of the reader. So there's even points where I'll draw a background joke knowing full well it'll be covered by a caption...which is insane. It's the sign of insanity.
Fraction: I disagree. It's the sign of an artist. It's so hard to be genuine when we talk. So hard.
Zdarsky: I know.
Fraction: But I remember when I was a kid there's a bit in Return of the Jedi where Darth Vader is carrying the Emperor and throws him down a shaft, that's how he kills the Emperor—spoiler for a movie from 1983, Darth Vader kills the Emperor—and there's lighting shooting out of the Emperor's fingers and pouring through Darth Vader and you would get glimpses of what Vader's cyborg shit looked like inside of his body as the lightning was passing through him. It was like a frame, two frames, and I'd sit and try to pause my VCR and try to see what Vader looked like inside but the shots were almost subliminal.
I remember thinking, "That's crazy that someone spent so much time designing that and rendering it and creating that and it's on screen for four frames. And I guess that's why George Lucas is our greatest living filmmaker and nothing will ever change that." That's the real business, that's the difference between good enough and good, and that's why I love you, Chip.
Zdarsky: I love you.