Phil Ivey is on a cooler. The world's greatest poker player can't do anything right. He has been contending with bad beats, bad cards and bad luck at the 2013 World Series of Poker in Las Vegas. Thus far, the closest he's come to winning is a 14th-place finish in one of the 61 lesser tournaments that lead up to the World Series of Poker Main Event, which decides a world champion of no-limit Texas Hold'em.
For most poker players, the cash, gold bracelet and prestige that come with finishing first in any tournament at the WSOP are their own reward. But not for Ivey, 37, who has already won nine bracelets, poker's equivalent of Super Bowl rings. To make the tournaments and their multimillion-dollar purses more interesting, he has initiated a series of side wagers known as "bracelet bets" that total in the seven figures. If he wins a tournament, any tournament, at the World Series, he collects a windfall from a consortium of high-stakes gamblers. If Ivey fails, he loses significant money, much more than the buy-in for the tourney.
With just seven tournaments left to play, Ivey finds himself pressed to produce as he keeps from getting bogged down in his losses, which include some $300,000 in entry fees alone. "Time is running out," he admits as the year's series of tournaments nears its end. "But when you play these things, you can't think about yesterday. Even though I'm disappointed with how it's going, I bring no baggage to the poker table. I live in the moment. And when I win, we'll have a nice little celebration."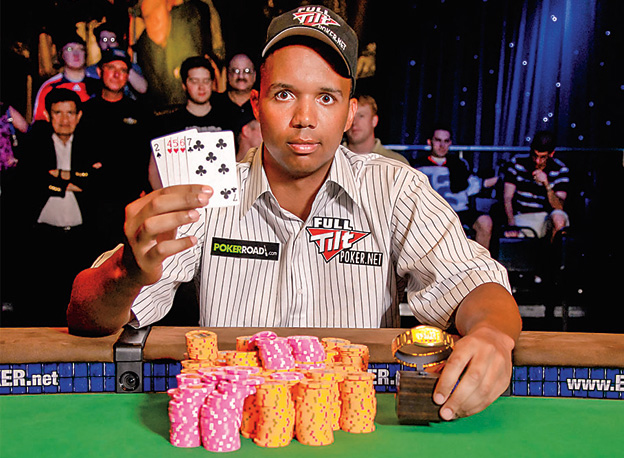 Ivey after winning his sixth World Series of Poker gold bracelet in the $2,500 2–7 Draw Lowball (no-limit) event in 2009.
By the time I catch up with Ivey inside a ballroom in the Rio Hotel, where the World Series of Poker takes place, he's playing tournament number 56, low on chips and holding on for dear life.
The hangar-size room is wall-to-wall felt-topped tables. Poker celebrity Daniel Negreanu kibitzes with fans. Johnny Chan, a two-time World Series champ who had a show-stealing cameo in the movie Rounders, rehashes a past hand. Male model turned high-stakes gambling millionaire Patrik Antonius poses for pictures with a couple of nervous-looking girls. But Ivey, a cipher at the table, remains oblivious. He's hunkered down and playing hard, having no fun at all. A pair of white Beats by Dre headphones sandwiches his head and rap blasts into his ears. His eyes dart around suspiciously, sponging drops of information from opponents. Baggy jeans hang loose, and he sports a sweatshirt fronted by the Coca-Cola logo. ("Are you getting paid to wear it?" "No. I think it's funny.") His feet, shod in gray leather Nikes, are pulled back under his seat. His six-foot-two frame sits mostly erect, but from the shoulders down he spreads out to occupy as much of the table's real estate as possible.
After Ivey pushes in all his chips and busts out of another event, his only show of emotion is a tight grin and raised eyebrows. His life has been devoted to taking money from other people in what resembles a mug-or-be-mugged environment, so Ivey views poker, cash and the inevitable beatings in a way that softer men cannot.
Money, he decided a long time ago, is a thing to be deployed, not savored when it's won or mourned when it's gone. The summer he was 23, Ivey says, he started with a $200,000 cushion of poker winnings. "It was the largest bankroll I'd ever had up until that point. By the end of the summer, though, I'd lost all of it playing poker." Told that he must have been devastated, Ivey looks uncomprehending. "I didn't view it as money lost," he says. "I saw it as money used to play bigger games. I thought it was worth playing in those games. Now I see money as what gets me into the biggest game in the world. Wherever the biggest game is, that's where I want to be."
Dave, an ex-cop turned bodyguard, slinks into the Rio's poker room and locks step alongside Ivey. Together they purposefully walk toward a side exit, thus avoiding autograph seekers who would besiege him if he left through the front door. Ivey passes service staffers and cocktail waitresses loading up on drinks. He looks amused after he asks one of the waitresses for a water and is denied, told that it's only for players. Deep inside a world where he reigns as a superstar who routinely gets what he wants, Ivey seems to appreciate a powerless woman standing her ground—even if it's because she doesn't know who he is.
Then he steps out into blinding desert sunlight. His driver, a muscled-up, tank-top-wearing friend known as A.P., waits alongside a black Range Rover. Ivey climbs into the front seat and doesn't need to say he's going to the Bellagio.
•
Ivey's adeptness at cards has earned him an unwieldy nickname: the Tiger Woods of Poker. That moniker underscores something that goes beyond Ivey's winning ways. Like Woods, he's an anomaly, a black man who dominates a game largely played by whites. But because the biggest games take place publicly, in casinos, they're open to anyone with enough money to afford the buy-in—black, white, Middle Eastern, Asian, nobody cares.
So, unlike the way it might be in golf or tennis, being black in poker has never stopped Ivey from competing at the highest levels. Although he has encountered his share of racism—including the enmity of a grizzled gambler who would refer to Ivey, behind his back, as "the nigger"—prejudice provides just one more way for Ivey to take advantage of people. If opponents choose to play him differently because he's black, he capitalizes on that. He plays those opponents in ways that exploit their prejudices.
Personally, he says, "it's a nonissue. What do I care what somebody at the poker table thinks or if they're prejudiced? I worry about myself. In poker, either you have the money to buy in or you don't. Either you can play or you can't. Those are the only things that matter."
Ivey has the money. He competes at stakes so high that a bad night at the table could easily cost him $1 million. And his penchant for financial risk is not limited to poker.
He once won $200,000 by landing a single, seemingly impossible shot on a golf course in Aruba. Ivey once bet $1 million that he could go vegetarian for 12 months. Last August, he initiated a similar bet that forbade him to drink alcohol. So prodigious is Ivey's gambling at craps that the Bellagio has been known to fly him on its private jet. Ivey earns the wherewithal for this by being more cutthroat, more aggressive and cagier than anyone else in the casino. Everyone aims to win, but as the son of a struggling prizefighter, Ivey has more of the killer instinct flowing through his blood than the average poker pro does. He maintains a street-smart edge to everything he does. It bubbles below a persona that has been carefully polished to be warm and polite when it serves his purposes, but whatever the circumstances, Phil Ivey rarely allows himself to have the worst of it.
That said, Ivey acknowledges it's tough for many of his better-heeled opponents to really compete against him. Unlike a lot of them, Ivey knows what it means to ride a bus to casinos, to go broke gambling, to go hungry and spend nights sleeping under the Atlantic City Boardwalk because he couldn't afford a motel room. "I'll never forget the smell of those gas fumes on the bus. It's why I'll never ride a bus again," says Ivey, who more recently was mistaken for Jay Z while getting off a helicopter to attend a Coldplay concert at Wembley Stadium. "People who come in wealthy can never get that good at poker. When you have to win if you want to eat, you play your ass off and go after every pot. If all your money is on the table and you're hungry, you figure out ways to win. It's a different kind of motivation when you're playing with money that doesn't mean so much to you." Because of what he has gone through on the way up, says Ivey, "I know what it takes to win, and I know how to bear down and do it."
These days, Ivey's balance sheet reads more like that of a tight, privately held corporation than that of a gambler who has developed a reckless image. Beyond the untold millions he has won in cash games, Ivey has raked in some $20 million in tournaments and netted in excess of $19 million playing online since 2007. He grossed $8 million in 2008 alone. This past February, Ivey took home more than $3.5 million from a single tournament in Australia. He has put an estimated $1 million to $1.5 million of his own money into bankrolling Ivey Poker, a Facebook app through which you can play no-limit Texas Hold'em for fun and watch instructional videos from a coterie of top pros, known as Team Ivey, who also compete at the tables.
But that investment is dwarfed by the nearly $22 million he managed to win during gaming sessions at Crockfords, the most venerable casino in England, and Atlantic City's posh Borgata. Ivey won that combined sum by playing baccarat and punto banco, a variant of baccarat; both games are based purely on luck and favor the house. According to statements from the casinos, Ivey and a female accomplice achieved their winning sessions by recognizing subtle patterns on the backs of cards. They never touched or marked the cards but supposedly used those patterns to identify cards that had been dealt. Spokespeople from Crockfords and the Borgata maintain that Ivey took unfair advantage; Ivey leaves the impression he did what any smart player would do. At the moment, $12 million from Crockfords sits in escrow, and the Borgata is taking legal action to try to recoup its $9.6 million.
The incidents underscore Ivey's win-at-any-cost mentality—many poker players would just as soon avoid negative publicity and bad blood with well-known casinos—though the allegations don't seem to cramp his style. And they shouldn't: Ivey did nothing illegal. You can easily argue that his ploy falls into the gray area known as angle-shooting, the equivalent of, say, intentionally sitting at a blackjack table with a dealer who has a habit of unwittingly exposing his cards. However, despite what actually went down in the casinos and the legality of Ivey's actions, you need to wonder how much these claims will tarnish the reputation of a gold-standard poker player in the process of promoting a play-for-fun poker site, which may one day become an actual online-gambling destination. On the other hand, of course, casino gamblers who've been hosed by the house games at any stakes consider Ivey a hero who should get his money without a hassle.