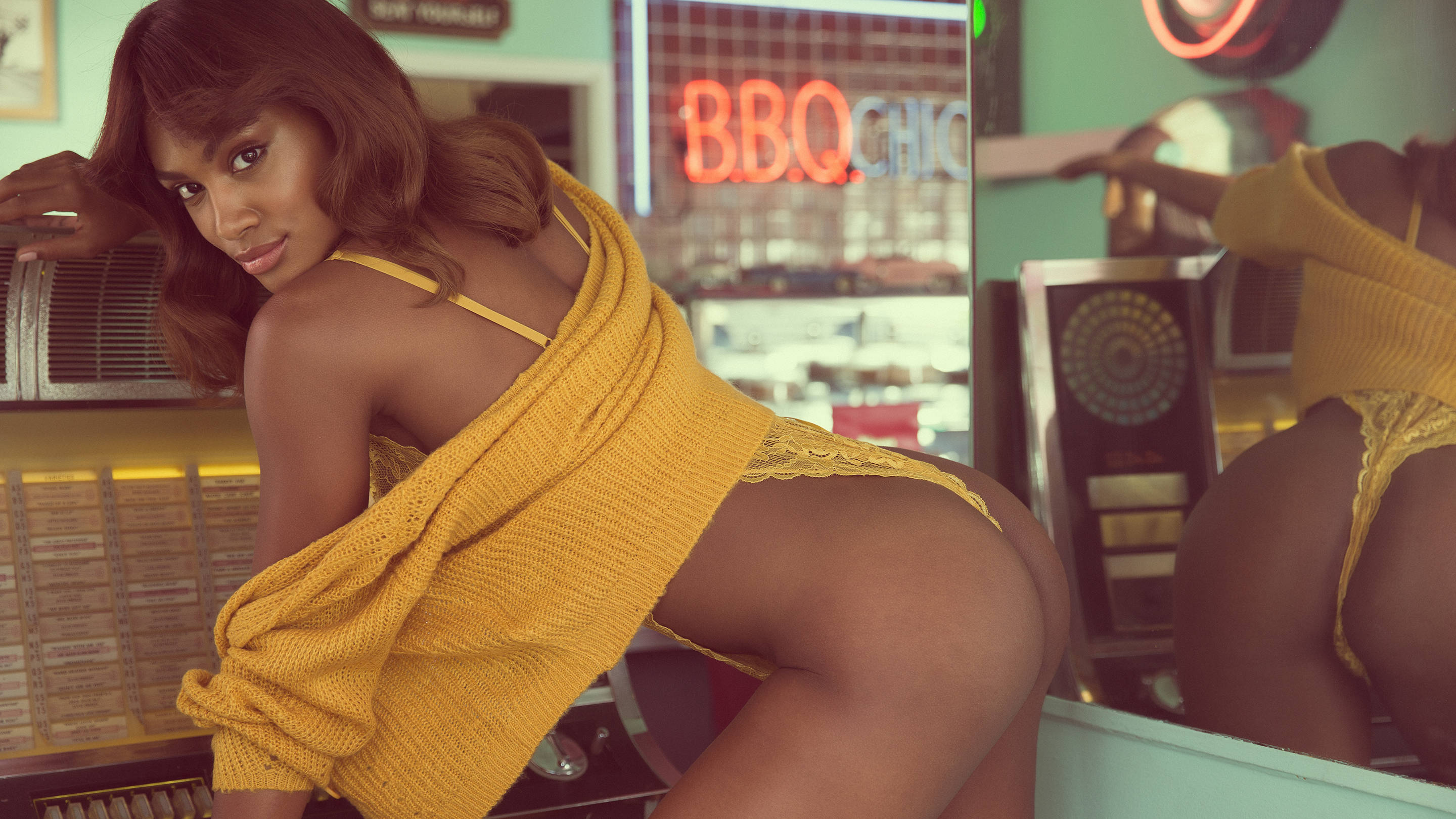 About
Birthplace

Baltimore, Maryland

Face value

I have a resting bitch face, but I don't have a resting bitch attitude. I'm definitely friendly when it comes to women. As for men, I'm known to be a little savage.

Stranger things

I believe in aliens, and I also believe in mermaids. There's so much we haven't explored, so why not? It's naive and egotistical of humans to assume there's nothing else out there.

Press pause

I can be that person who starts twerking when "Back Dat Azz Up" comes on. But then I'll come home and I'll need to stream 'Buffy the Vampire Slayer' for the next six hours.
"I'm fiercely independent," says
Jordan Emanuel
, a New York City–based renaissance woman who can now add Playboy double threat to her sprawling résumé. The model, journalist and philanthropist just brought back one of the brand's most cherished traditions, one that hasn't recurred in decades: that of the Bunny turned Playmate. When we opened our latest Playboy Club New York in September, Jordan was part of the freshly anointed Bunny staff. Leave it to our December Playmate to play both sides. "There are a lot of contradictions in my personality that normally wouldn't mesh," she says, "but it's how I am. I'm an introverted extrovert."
Born in Baltimore and raised in Basking Ridge, New Jersey, Jordan graduated from the University of Miami with a triple-pronged degree in broadcast journalism, music business and art history. As for modeling, some of the credit goes to her mother. "I originally wanted to be a writer, but my mom told me I was too cute," she laughs. "She said, 'You need to be in front of the camera.' " Working at the Playboy Club, which has taken up most of her time of late, is an opportunity that came about quite serendipitously. "I wanted to do a birthday-themed shoot because I'm extra, so I did '25 Days of Jordan' on Instagram for my 25th birthday." Thanks in large part to that vivacious, funny and, of course, wildly sexy series, job offers started rolling in.

While modeling feeds her soul in ways she didn't expect, Jordan is using her exposure for the greater good. Women With Voices, a nonprofit she co-founded, creates a range of communal spaces for women of different backgrounds. Offering everything from counseling to networking events to wig donations for women fighting cancer, it's a labor of love and a beautiful expression of Jordan's spirit. Now if she could just strike that ever-elusive work-life balance. "There's beauty in the struggle," she says. "I'm working toward something. It's all about following your instincts and creating your own way of thinking."