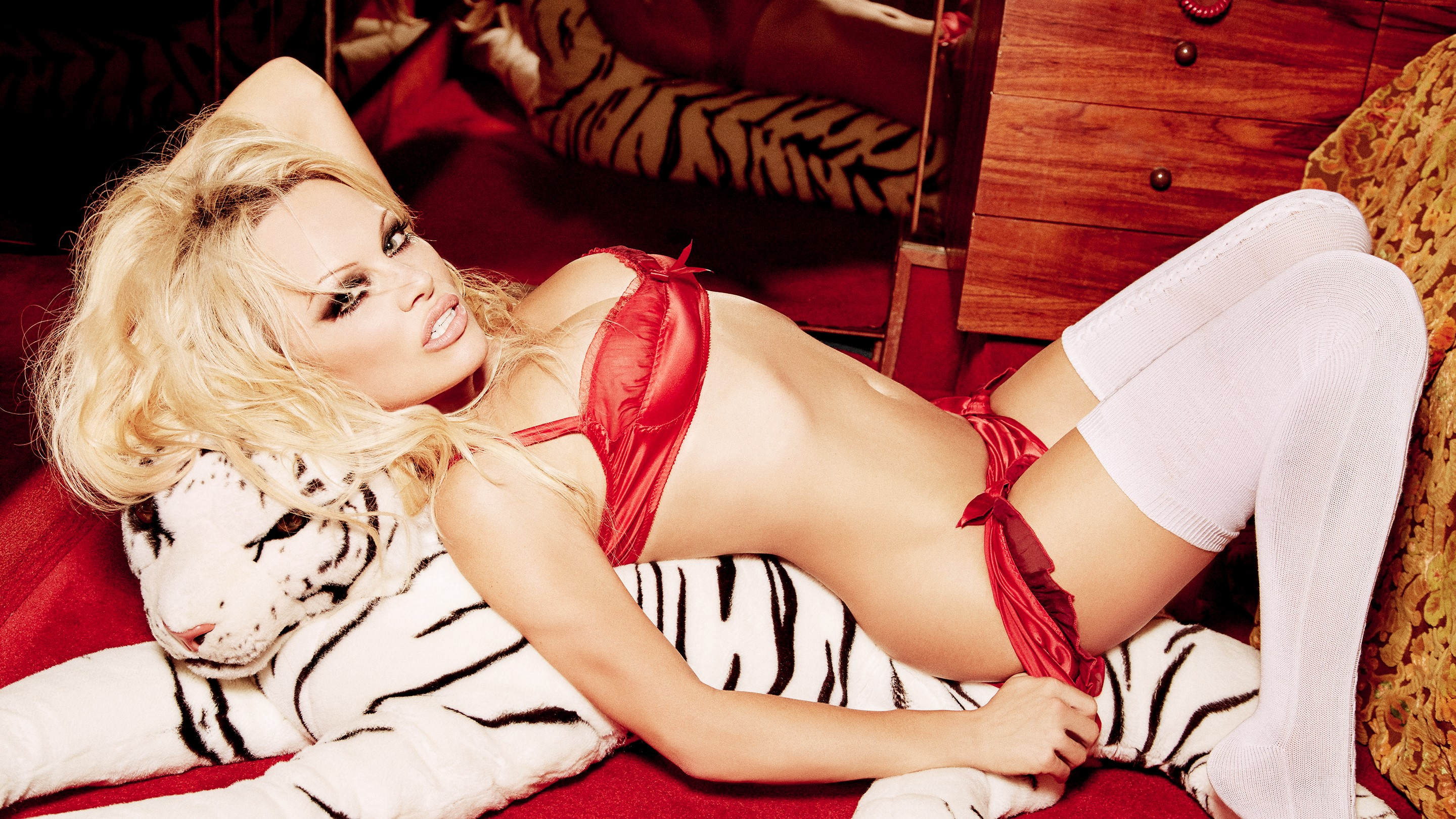 About
Birthplace

Ladysmith, Canada

I feel sexiest when...

I have short hair. I feel like an alien!

My weird hobby:

My ideal relaxation is working on upholstery

My philosophy

Life is like sex. It's not always good, but its always worth trying
February 1990 Playmate Pamela Anderson
went from shy Canadian girl to one of the most culturally celebrated sex symbols of our time. And this animal and human rights activist continues to evolve and surprise the public with every new decade of her life.
Pamela came from humble but happy beginnings in the Vancouver Island town of Ladysmith, British Columbia, filling her childhood days with gymnastics, acrobatics and volleyball. After being captured on a Jumbotron at a B.C. Lions football game, Anderson, who was wearing a Labatt's T-shirt at the time, fast became known as "The Blue Zone Girl."
That fateful time on the big screen prompted a campaign with Labatt's and a call from Playboy. But Anderson declined the magazine's offer to model, saying that she was too shy. After another fateful event—an argument with an ex-fiancé, Anderson suddenly decided to pose for Playboy—for a cover shoot only. After speaking with Hugh Hefner, Anderson's family encouraged the opportunity, and with that Anderson's legendary 13-cover Playboy career was born. She was named February 1990 Playmate of the Month.
Exposure in Playboy led to acting opportunities, and Anderson stole the spotlight, simultaneously starring in TV's Home Improvement as the overall-clad Lisa. National and international audiences also knew her as Baywatch lifeguard C.J. Parker. Anderson went on to star as Vallery Irons in V.I.P and had the title role in Stripperella.
As celebrated as Anderson is for these iconic roles in television, she may be just as well-known for her off-screen love affairs. She famously married Mötley Crüe rocker Tommy Lee twice (a relationship that produced two sons), musician Kid Rock (whom she famously wed on a yacht while wearing a white bikini) and professional gambler Rick Salomon (whom she married twice as well.)
For all the bad boys Anderson has surrounded herself with, her reputation falls surprisingly far from wild, headline-making antics. Anderson is a devoted mother and activist. She has long advocated for animal rights and environmental and human welfare, working with a number of organizations, ranging from PETA to the American Liver Foundation to the National Domestic Violence Hotline. She famously starred in MAC Cosmetics' Viva Glam V Campaigns, which raised money for those living with HIV/AIDs. She also created her own Pamela Anderson Foundation, which contributes to animal, environmental and human rights causes.
Anderson also continues to grow as an entrepreneur. She has created her own line of fragrances and lingerie, among other commercial endeavors throughout the years.
Although Anderson has accomplished enough to fulfill a person for more than a lifetime, the self-described "dreamer" continues to push herself in new ways. The star completed the New York Marathon in 2013, famously cut her hair the same year into a shockingly flattering pixie cut and has worked with architects to design the eco-friendly dream homes in which she lives.