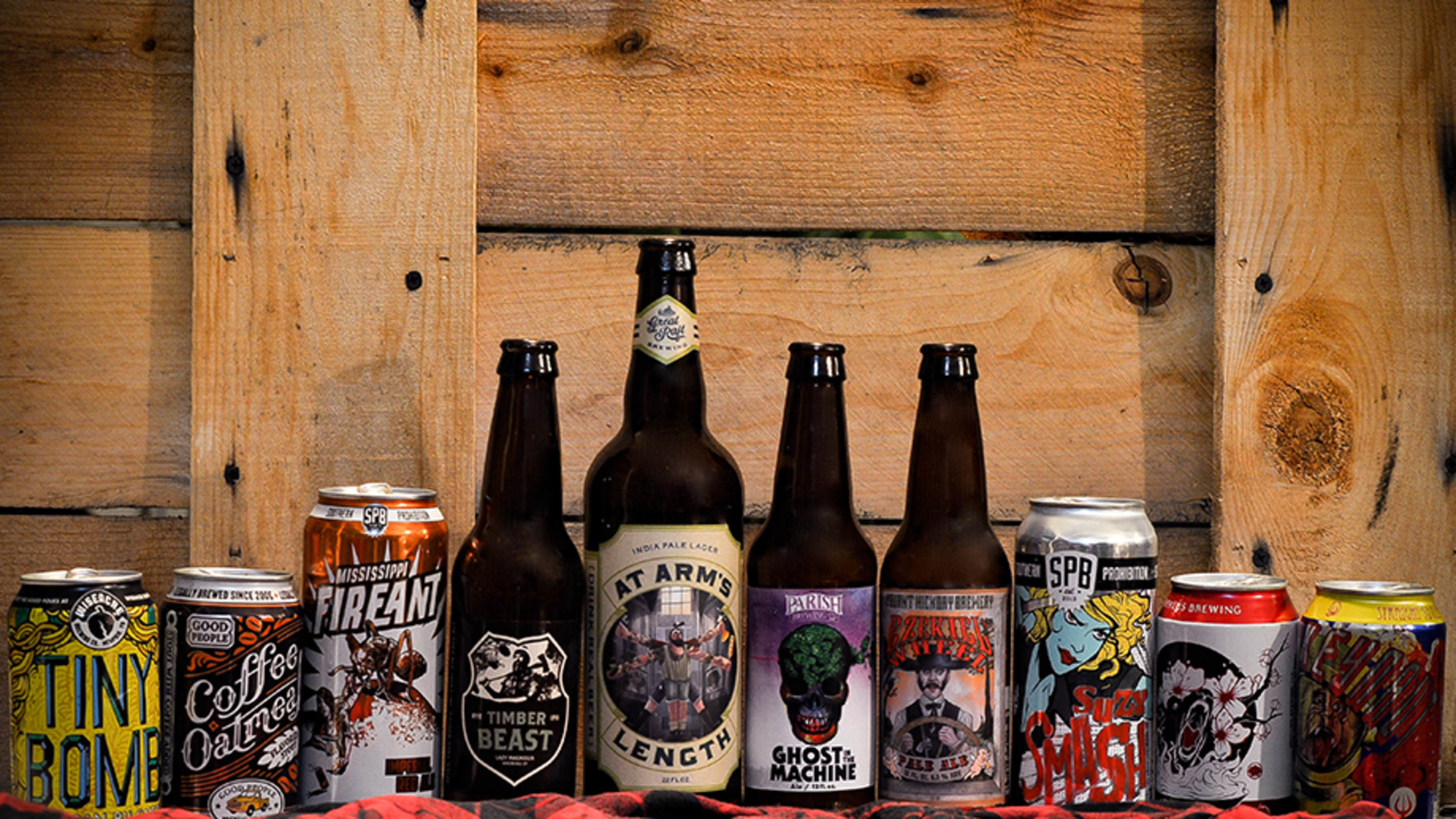 The 10 Best Beers from the Deep South, Ranked
Written by William Herkewitz
Photography by Stone Washed Productions

Published on

January 18, 2016
Ah, the Deep South. From backwater Louisiana bayous to verdant Georgia lowlands, here's a geographical region known worldwide for its immaculate dentistry, unflagging tolerance, and storied craft beer legacy. Ok, well, maybe not. In fact, the Deep South has been America's last holdout on the craft beer scene—thanks largely to a few widespread and only recently-overturned archaic brewing laws. Nevertheless, over the last few years some of the best and most unique American ales and lagers have sprung from the region. Here are 10 reasons not discount the Dixie heartland.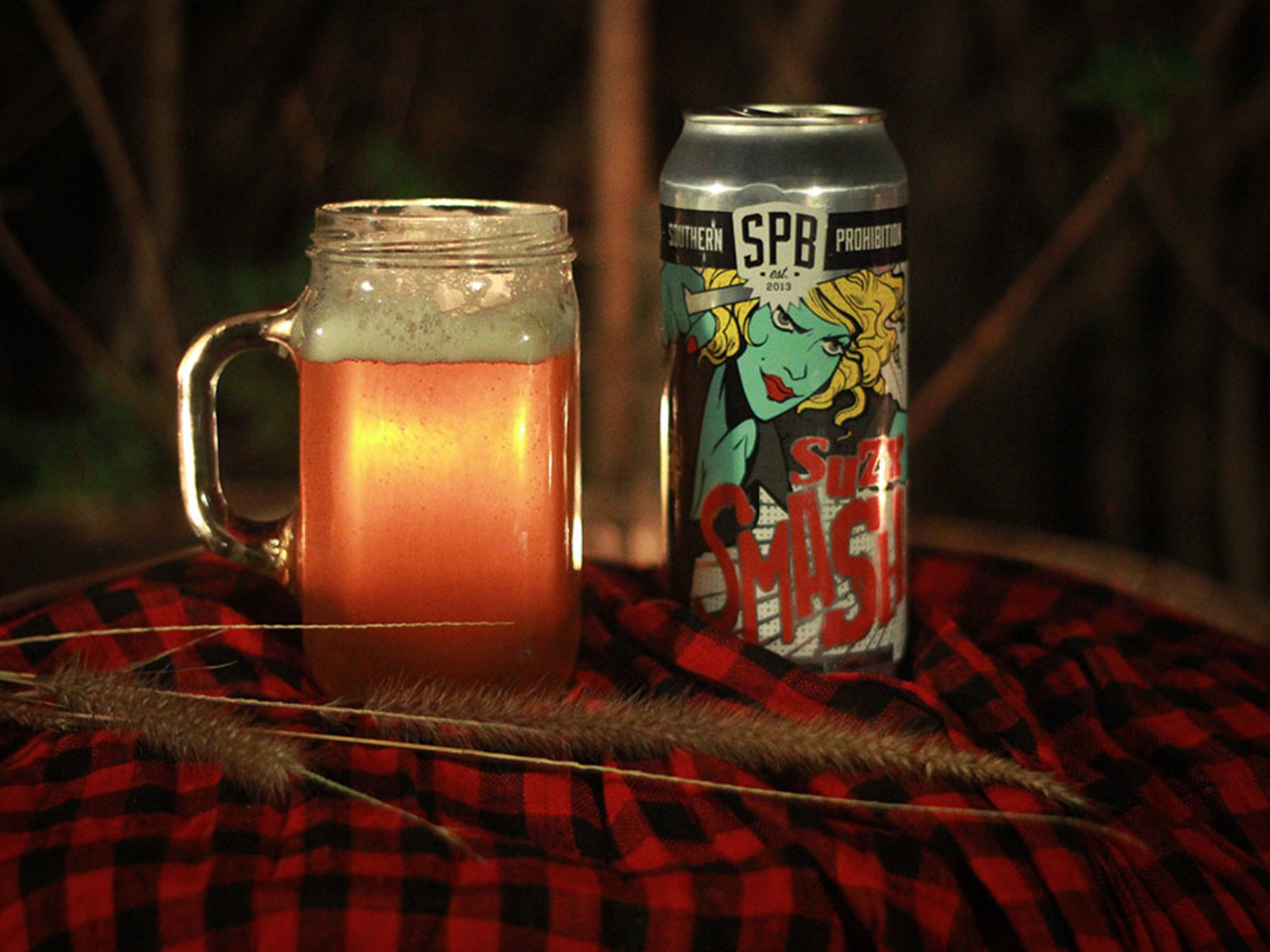 10. SUZY SMASH
Southern Prohibition Brewing. Hattiesburg, MS
Like a southern belle emigree, this shamefully dirty blonde is loosely disguised as a west coast IPA. But let's be honesty Suzy, you're not fooling anyone. Sure, she sports the classically Cascadian blend of prickly conifer resin and tongue coating grapefruit rind, but underneath these northwestern hops is a southern blonde malt of pound-cake, crushed wheat and fresh wheat-grass. Suzy's holds a curious but crisp combination, somehow packed with double the flavor you'd expect out of a relatively low ABV craft beer.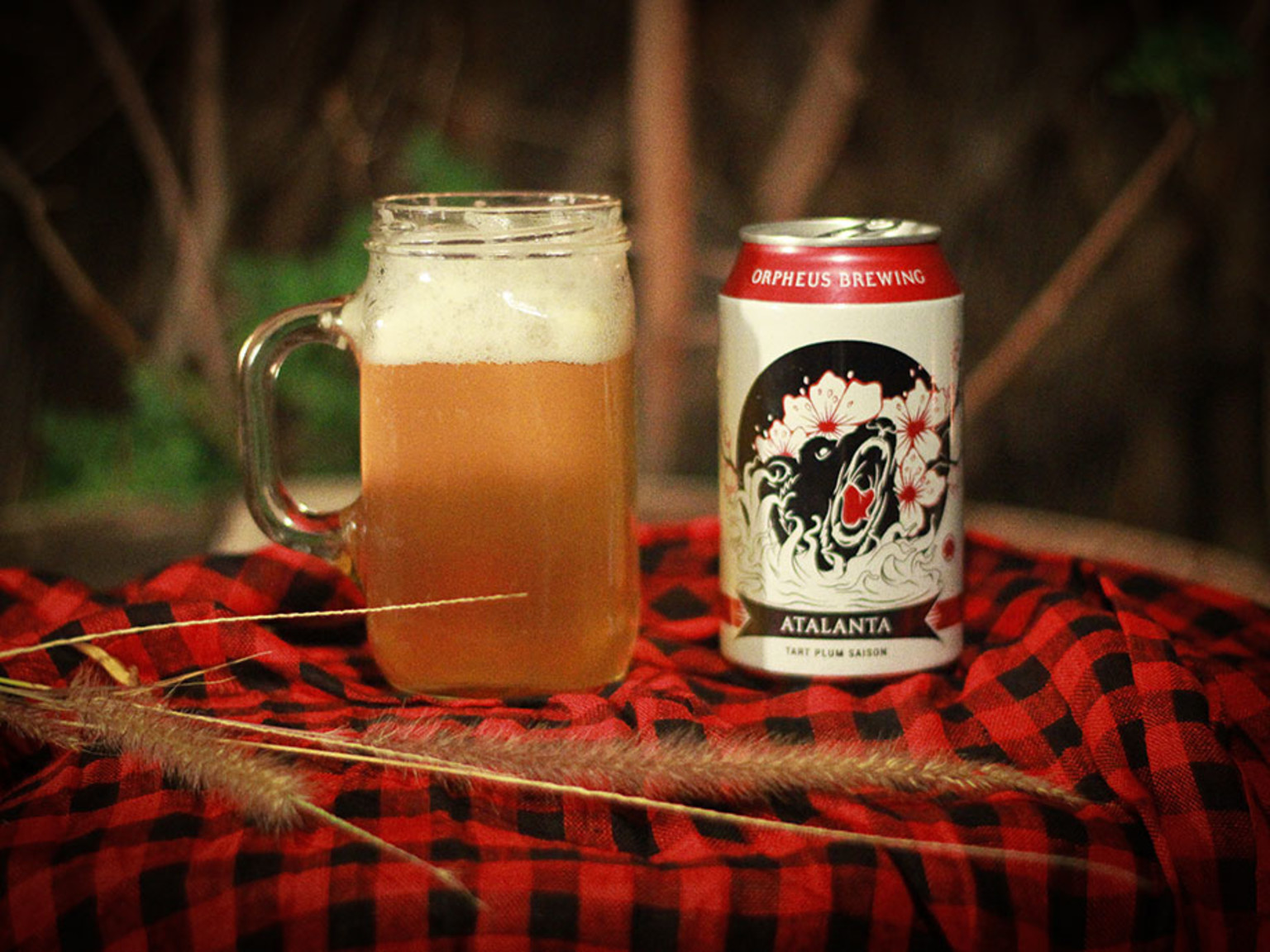 9. ATALANTA
Orpheus Brewing. Atlanta, GA
Bubbly, cider tart, and imbued with just the slightest tang of plum, Atalanta is for the beer drinker, but champagne thinker. Like all great saisons, you'll find a pepper shot of short-lived, green-wine flavors here too: sour grape, lemon-aid, even new leather. Compared to the other brews on this list, it's possible this beer's just a bit too refined for its geographical surroundings. But, hell, what else would you expect from the Yankee island of Atlanta?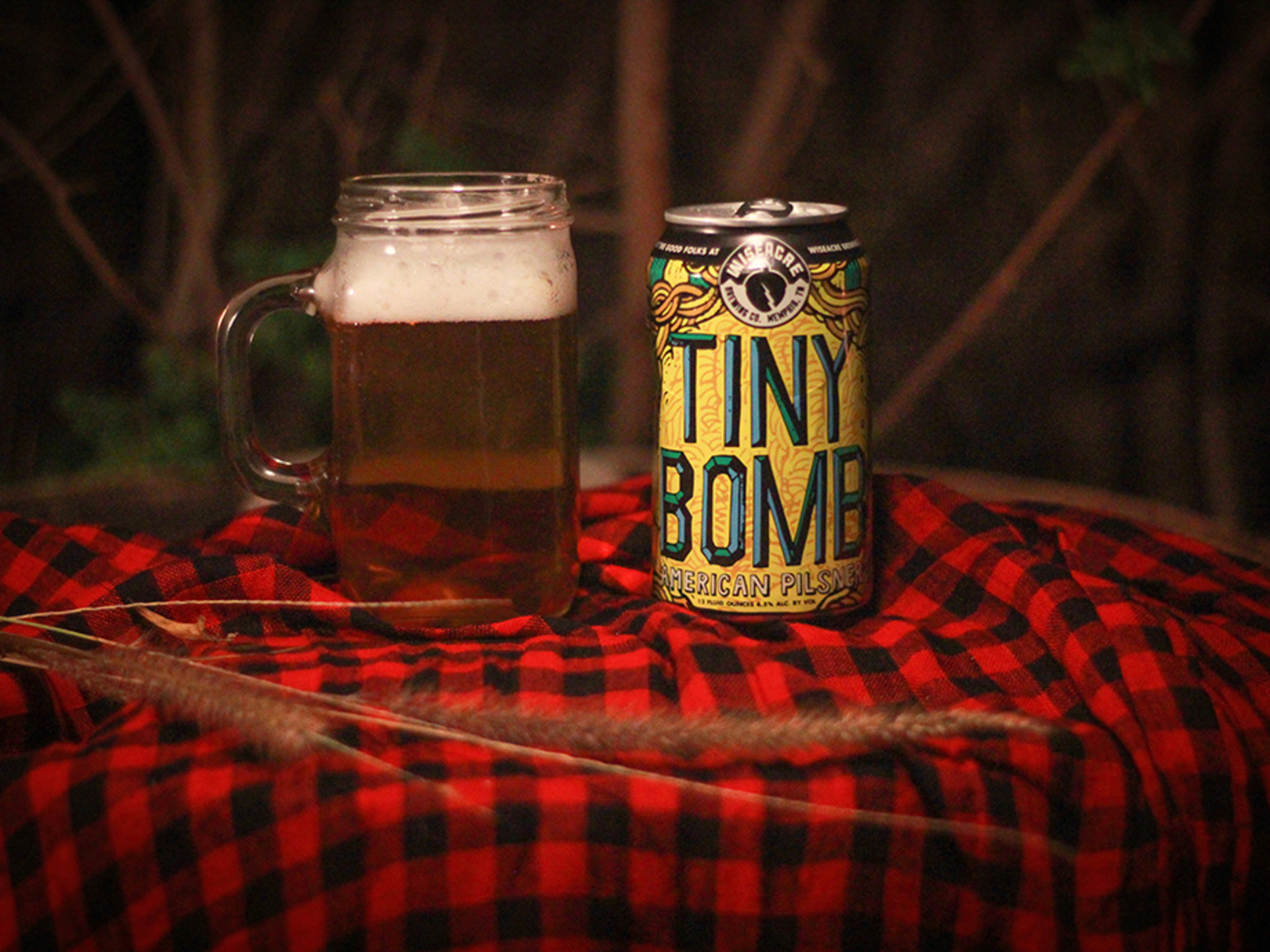 8. TINY BOMB
Wiseacre Brewing. Memphis, TN
Welcoming, straightforward, and excessively drinkable—Tiny Bomb is southern hospitality, liquified and canned. You'll notice this crystal gold brew strikes a single, effortless tone as it washes across your tongue. A crisp, fresh-cut-straw bite, and a gentle yeasty malt blend stuck halfway between a saltine and Ritz cracker. That's all there is, and all there needs to be. We recommend keeping a sixer on ice, folding into a river-side chair, and shutting up for a while.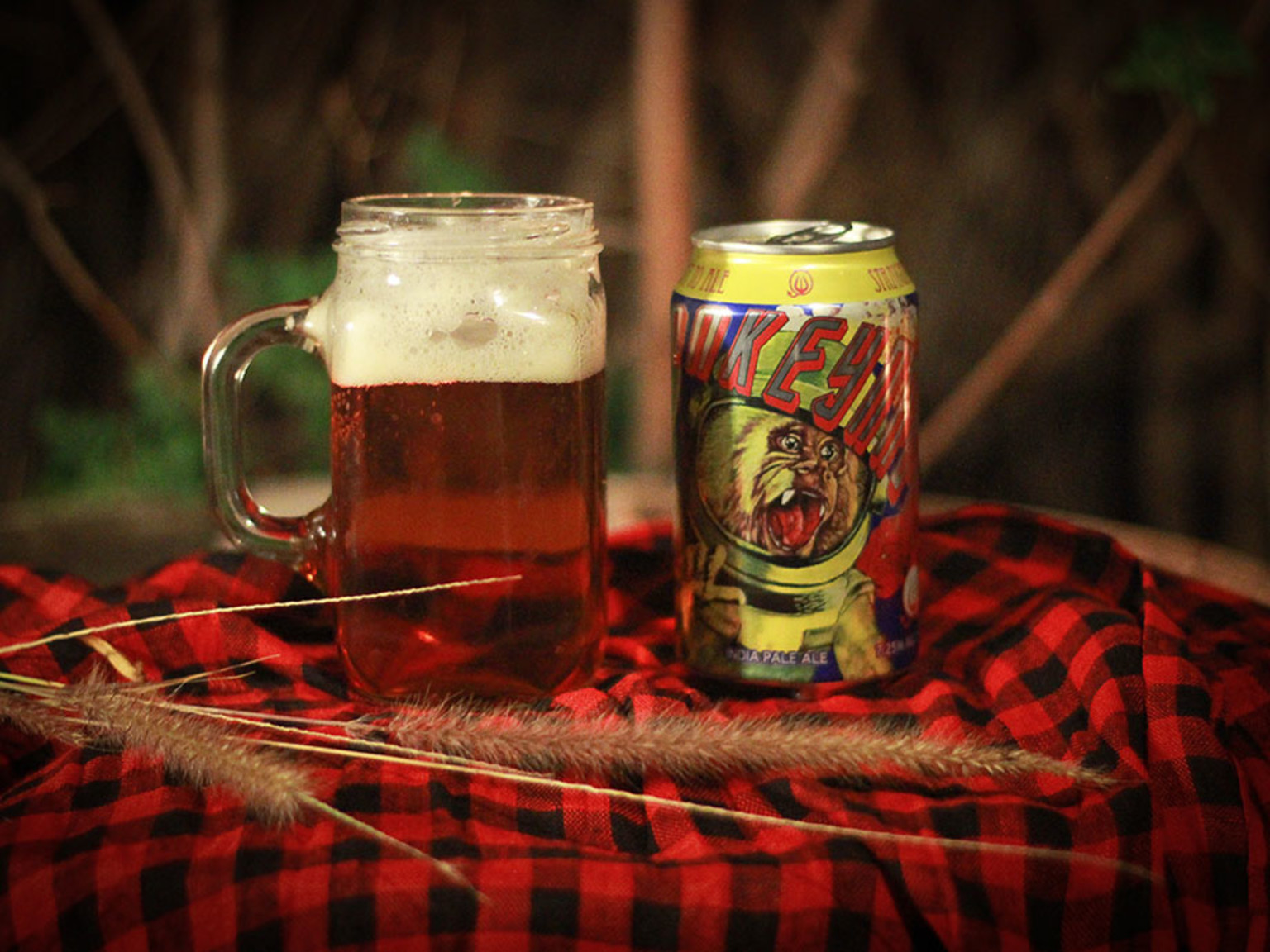 7. MONKEYNAUT IPA
Straight To Ale. Huntsville, AL
Monkeynaut ain't here to win over IPA haters. Thick, aggressively pungent, and bitter to a fault—this resin-soaked ale unabashedly struts the very sharp edges most hyper-hopped beers try to hide. But the swagger is warranted. It's just that good. Monkeynaut boasts a huge chew of caramel and hoppy notes that carry lemon rind, tangerine and petrichor flavors, all balanced beside some curiously unidentifiable tang that may be candied mango(?), but we're pretty sure is honey-baked rhesus monkey. Whatever it is, we want more of it.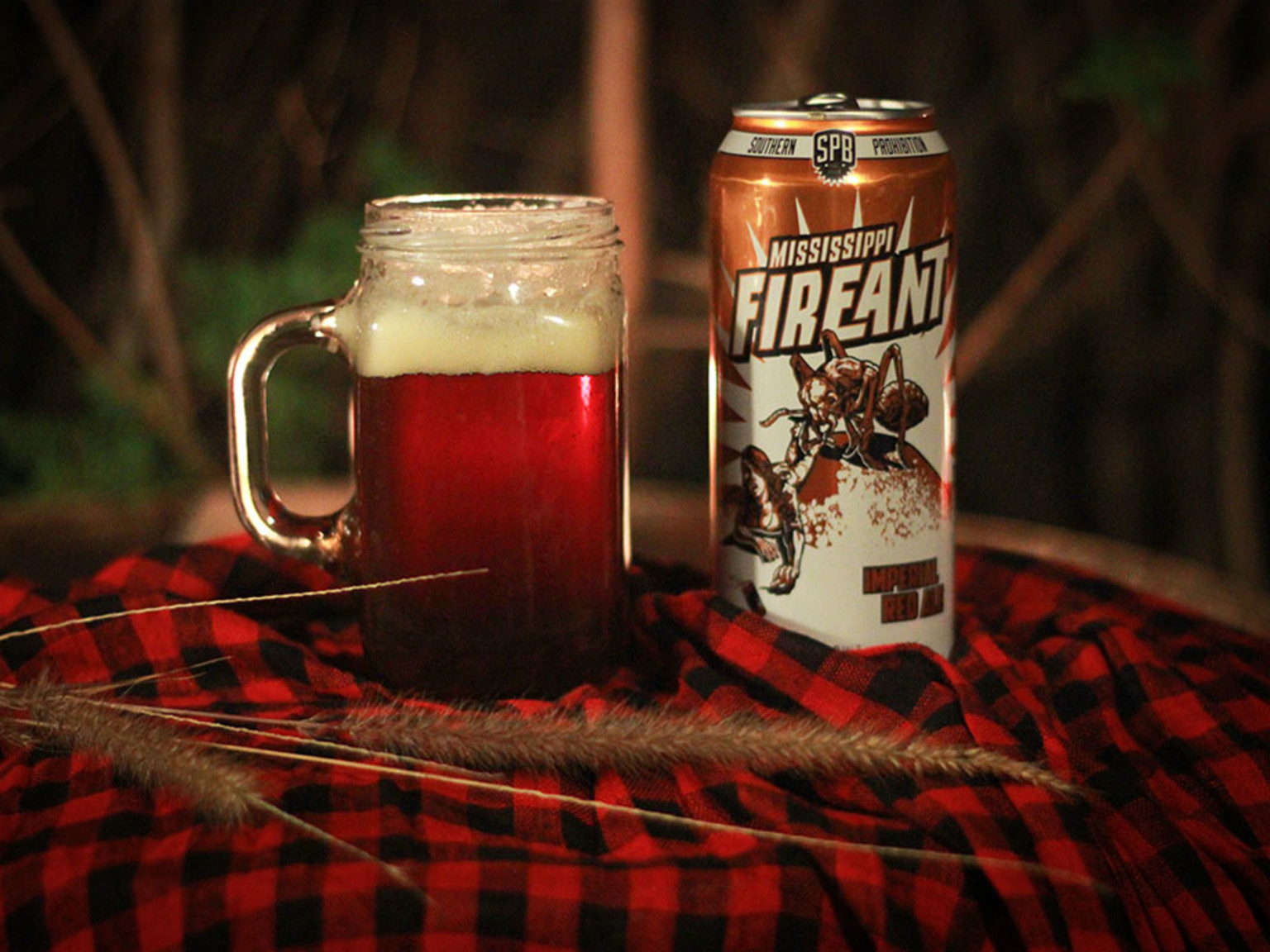 6. MISSISSIPPI FIRE ANT
Southern Prohibition Brewing. Hattiesburg, MS
Fire Ant is a backyard BBQ sipper if there ever was one. It's as dry and malt-focused as the best Japanese lager, but matched with a powerfully bitter backhand that makes quickly crushing cans a practical impossibility. You'll notice Fire Ant stings three times. First, with a spicy flush of rye that emerges slowly from the muddy ruby depths. Second, with an immediate and hyper-prickly (though largely flavorless) hop bitterness. And third, with a slight, fusel alcohol pang that kicks just as you set your can down. Together, this bitter trio forges a impressively complex imperial red—one truly deserving of a thoughtful Kentucky chew.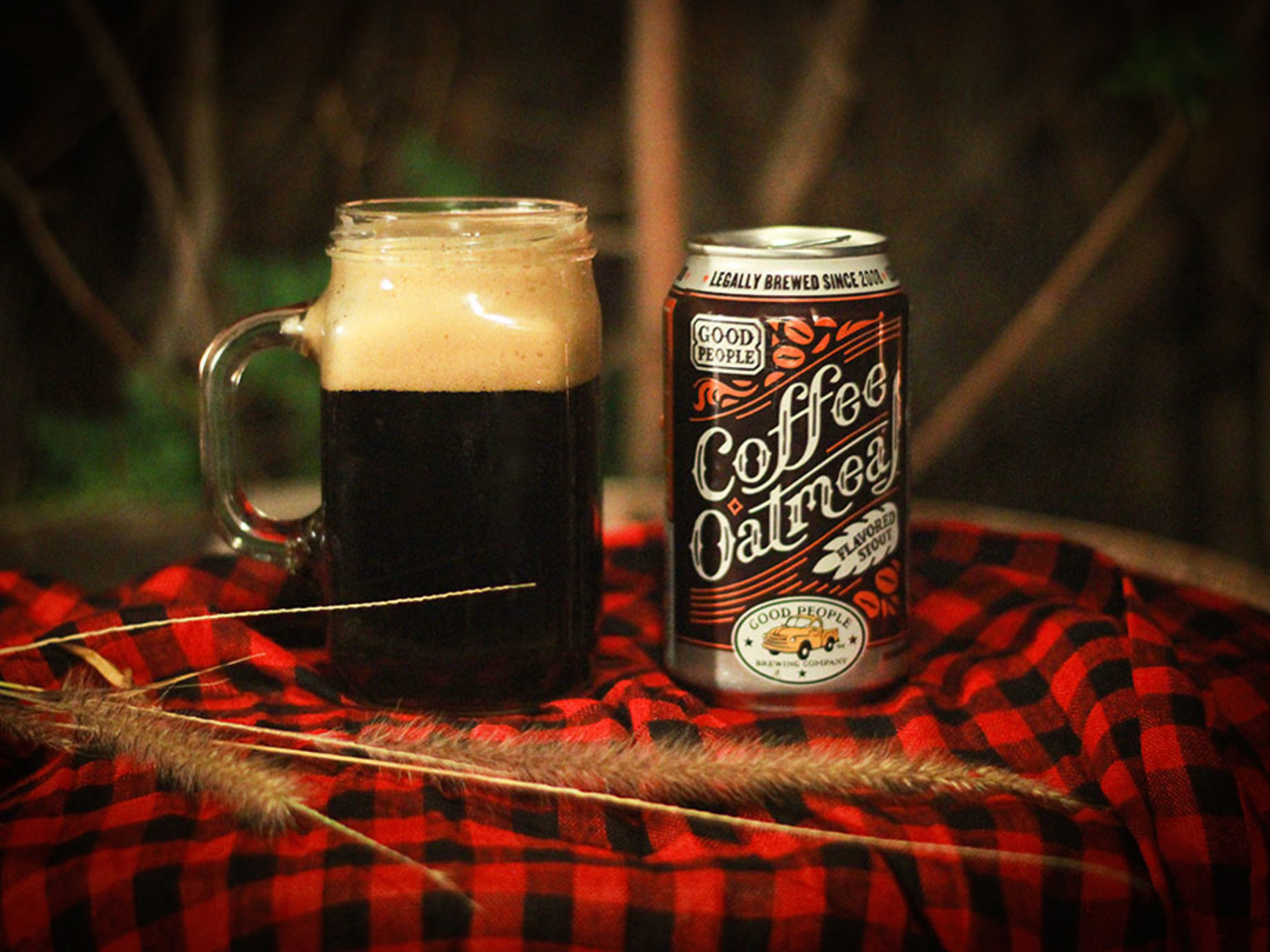 5. COFFEE OATMEAL STOUT
Good People Brewing Company. Birmingham, AL
Sweet Jesus, here's a breakfast stout so damn good even your AA sponsor will understand why you're having it alongside your grits. Tar black but absurdly silky and creamy, Good People Brewing has combined the best aspects of your first sip of morning coffee with the warming notes usually relegated to a bowl of soft, brown-sugar garnished oatmeal. Revel in this beer's roasted, mocha-chocolatey coffee ground flavors and realize the best part of your day is likely already over.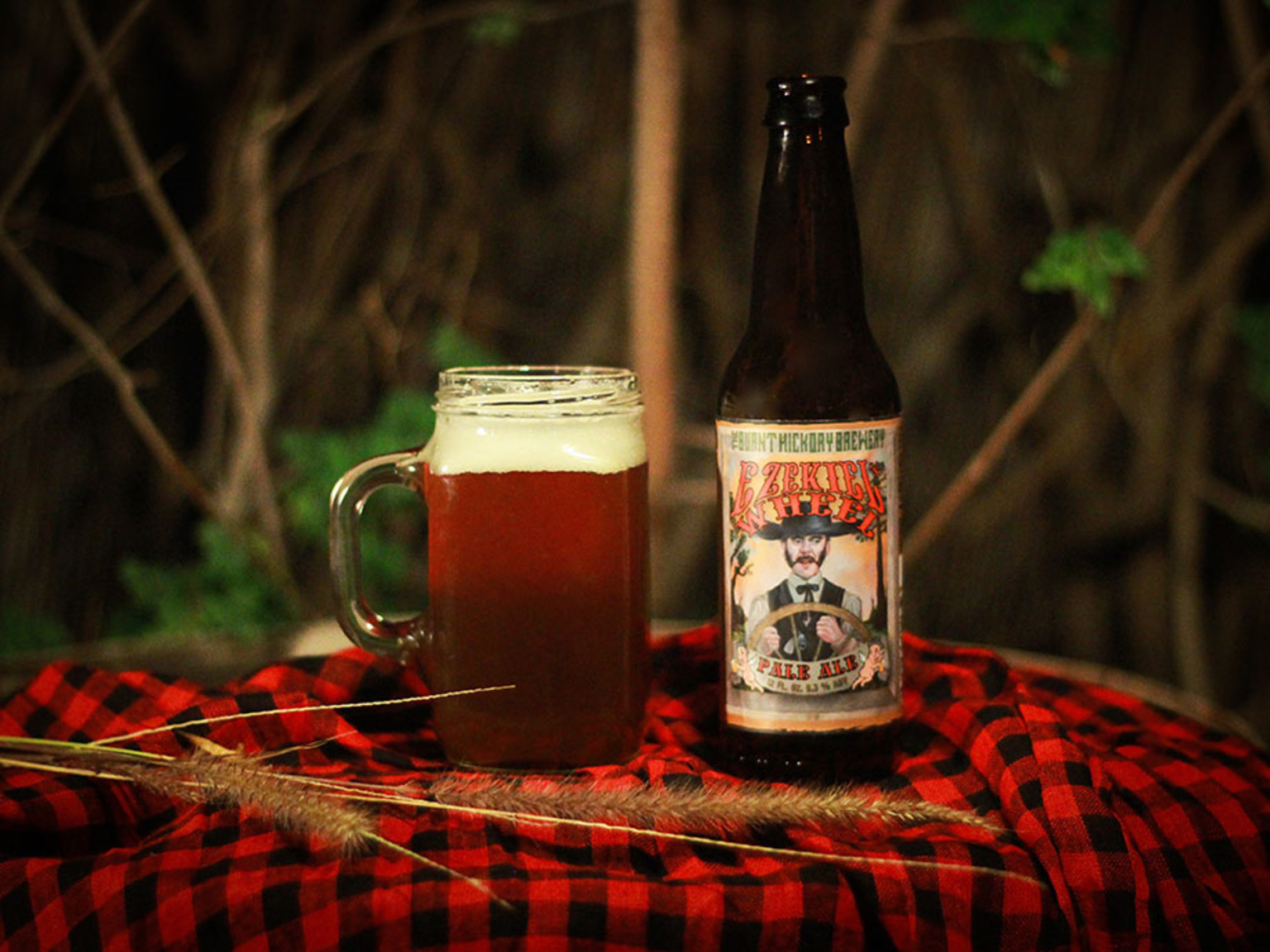 4. EZEKIEL'S WHEEL PALE ALE
Burnt Hickory Brewery. Kennesaw, GA
'Pale ale', my ass. This Georgian muddy amber is an aromatic oil spill of brown sugar and caramelized molasses, all layered over a slick but bitter body of yeasty pretzel crust. Sure, there's a few hop notes that crop up here and there, mostly orange rind and honeydew, but there's no question that the malt is the boss. Because there's just so much more to chew over in 'Zeke than you'd expect, we're pretty sure it's the region's thinking-man's beer. One you quaff as you consider novel foods to southern fry.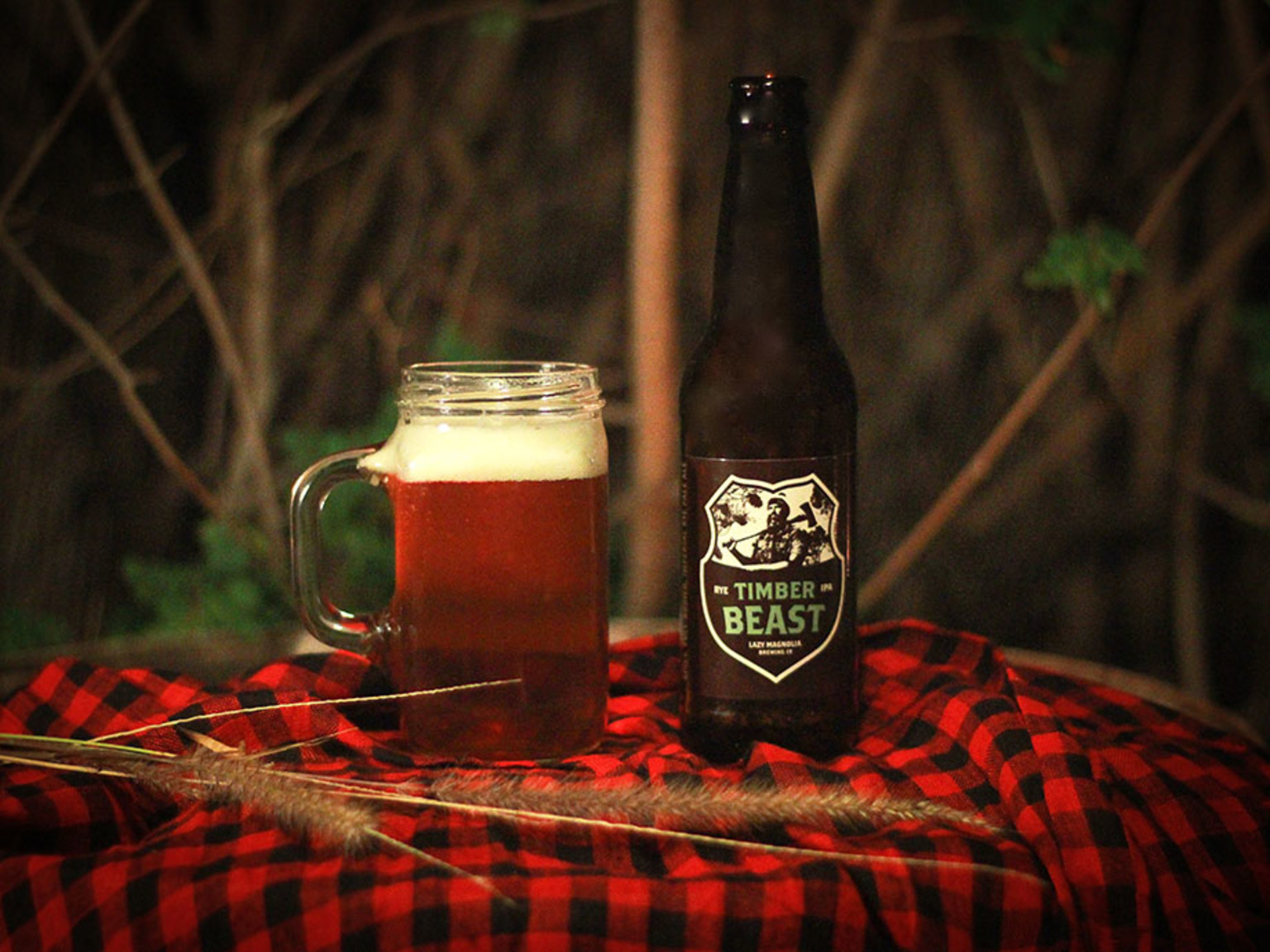 3. TIMBER BEAST
Lazy Magnolia Brewing Company. Kiln, MS
With a fistful of spicy pine resin and sharp tang of gin-like juniper, taking your first sip of Timber Beast feels like snorting a line of cedar sawdust. But give it a second, because that flannel-forward woodiness is about to subside into something beautiful. A creamy, copper-tinted blend of warm toasted rye bread and zesty, faintly skunky grapefruit. Drink Timber Beast as you relax into your porch chair, considering the fireflies and all the wood you'd chop if you weren't quite so drunk. The side of the bottle says it all: "Big Cheers Y'all".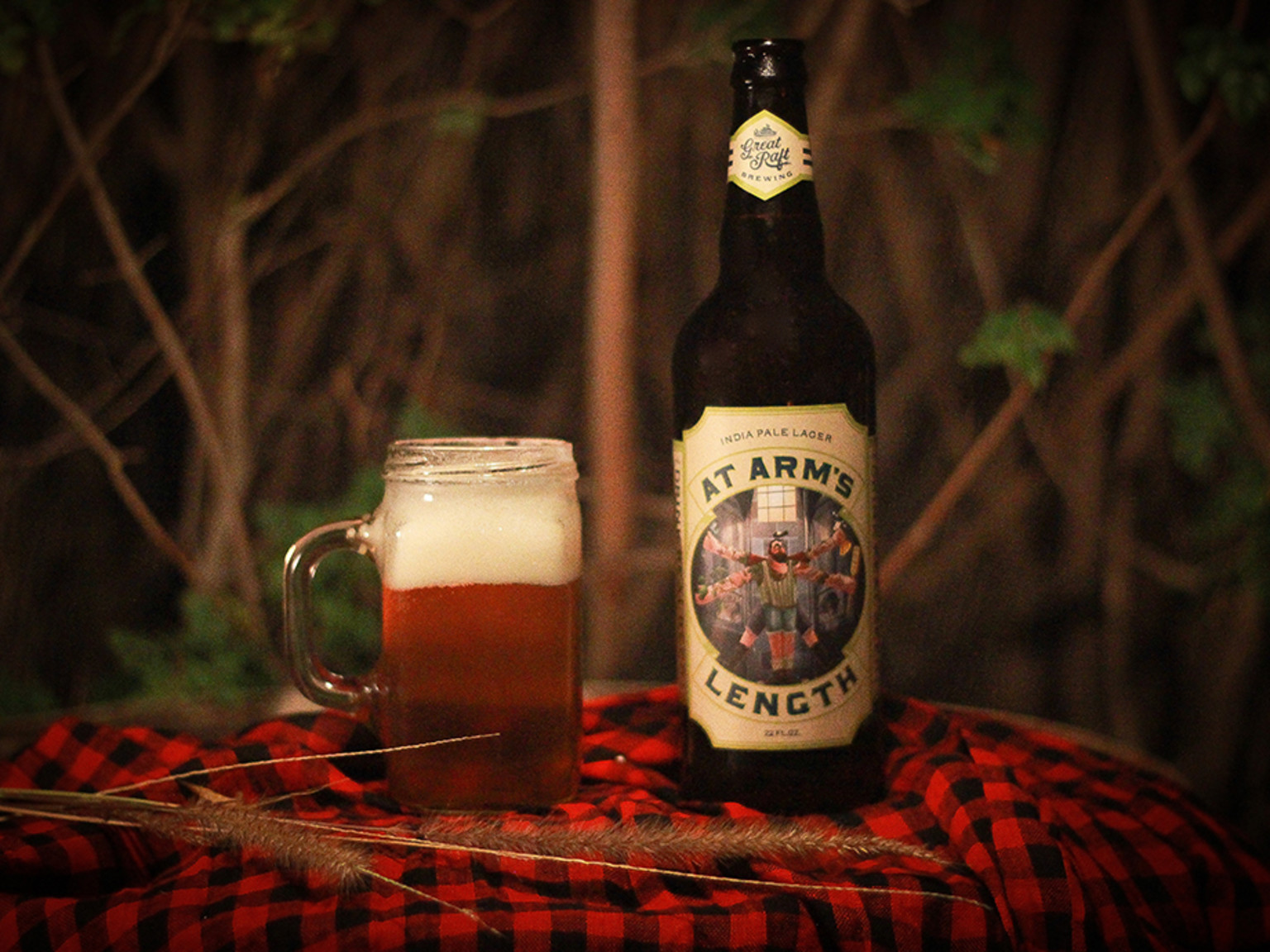 2. AT ARM'S LENGTH
Great Raft Brewing. Shreveport, LA
Ever wonder what shotgunning hops into spring water would taste like? Great Raft Brewing has the answer with its India pale lager, At Arm's Length. This brew's powerfully aromatic nose of fresh honeysuckle and woody, earthy hops wholly drown out whatever hypothetical bready, malty flavors that may lay crushed and dying underneath. The result is crisp, pleasantly floral, absurdly refreshing, and—oddly—abrupt. You'll be surprised at how quickly the briefly bitter aftertaste collapses into total lager silence, demanding another sip... and then another few bottles.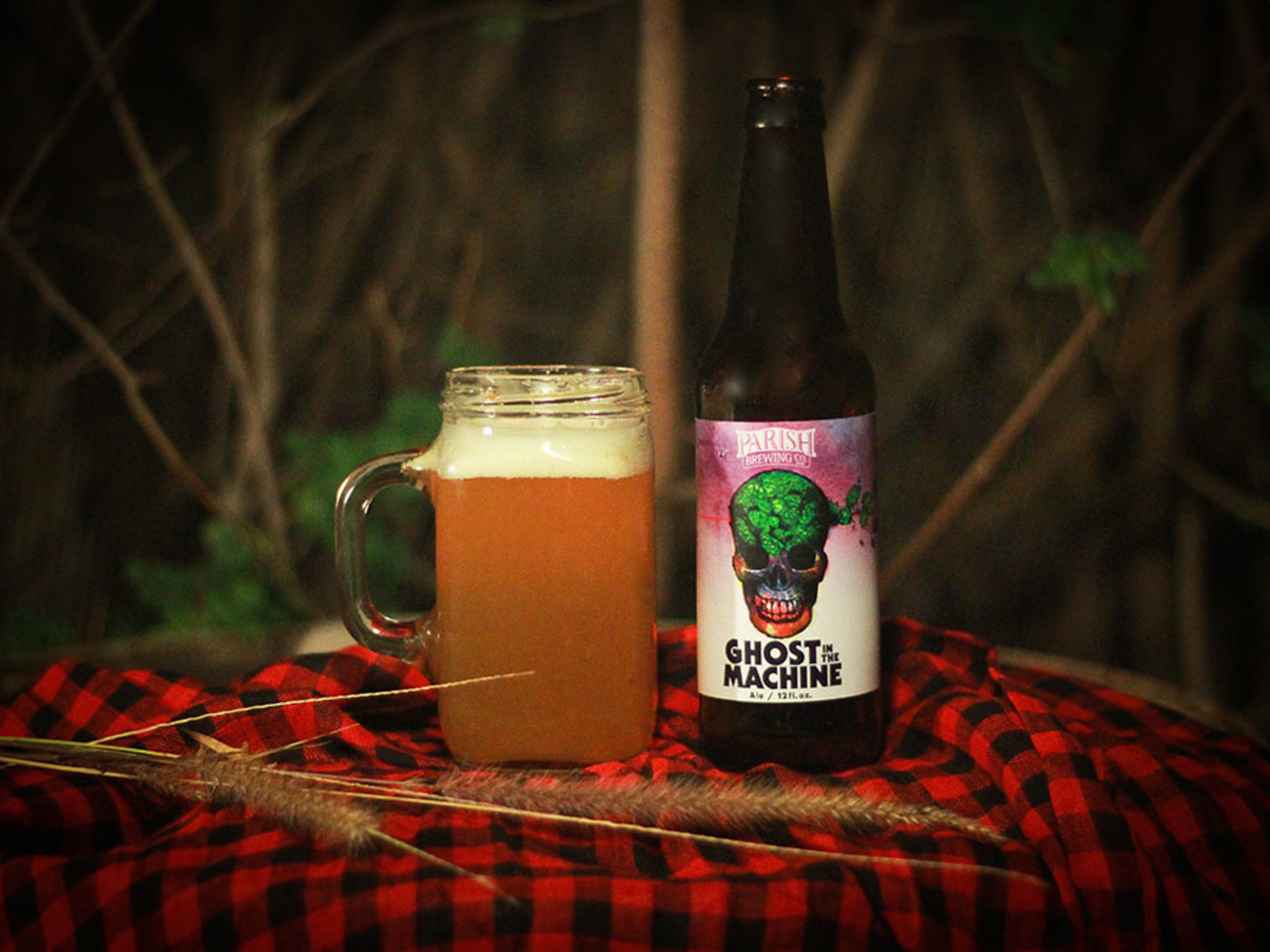 1. GHOST IN THE MACHINE
Parish Brewing Company. Broussard, LA
In the upper echelon of double IPAs, scarcity, hype, and true greatness fuse together into famous incarnations like the west coast's Pliny the Elder, or the east's Heady Topper. Down in the Deep South, only Ghost in The Machine deserves such spotlight. Ghost is a hazy cyclone of plump stone fruit (mostly apricot, with a tang of overripe peach) perfumed with a blend of papaya, mango and citrus hop flavors. All of this is awash on a malt bed of crusty white-bread, like a drunkard's jam-on-toast. Parish Brewing maintains Ghost has over 100 IBUs (that's beer lingo for sweet lord this will be bitter). Clearly this is a lie, but we're hesitant to call bullshit. Ghost is so supremely drinkable it's possible this purported bitterness is being drowned out in some uncanny combination of Louisiana voodoo and southern charm.