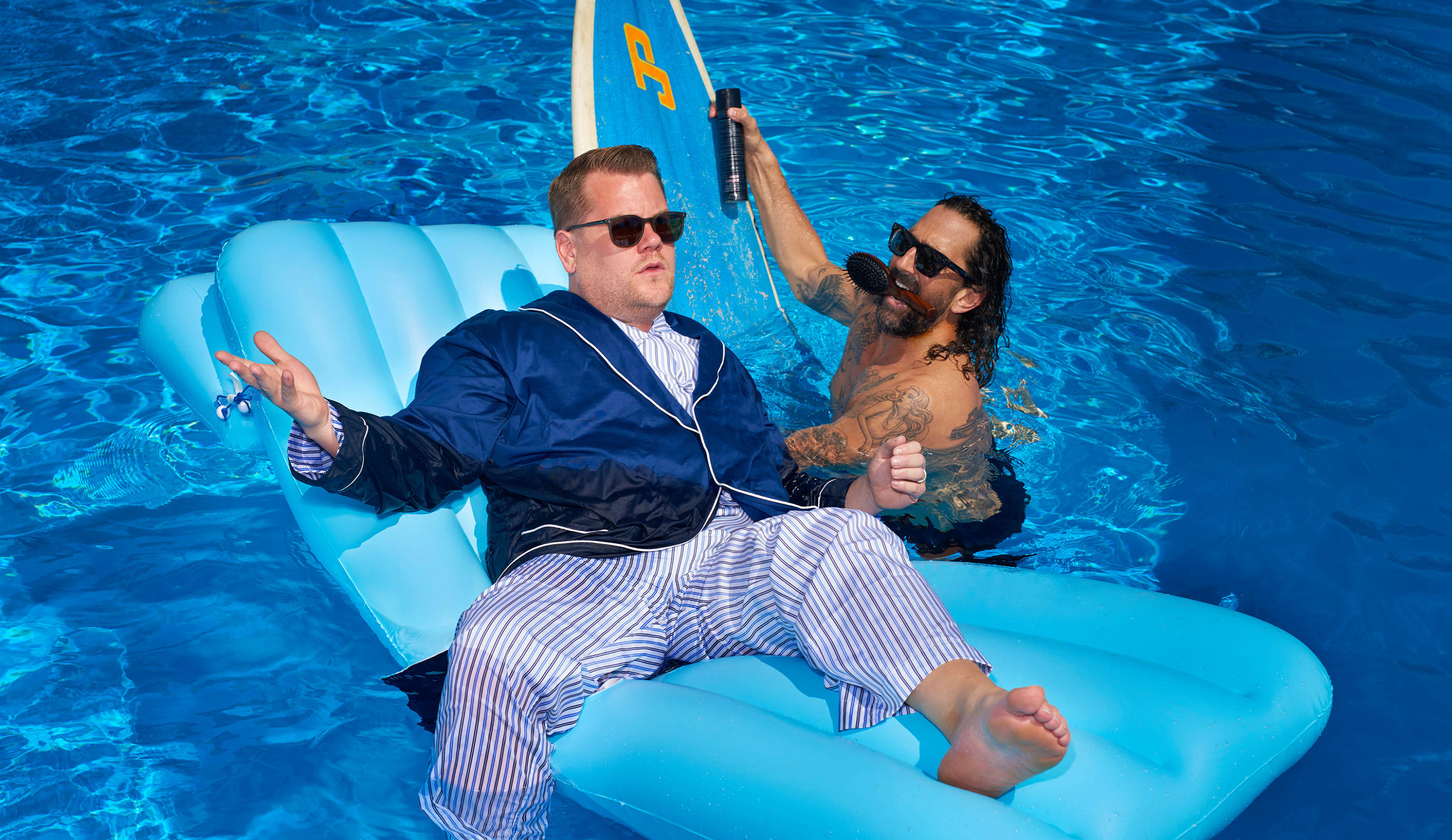 James Corden is Redefining Late-Night—But Don't Expect Him to Stay There Forever
Written by Alex Scordelis
Photography by Gavin Bond

Published on

November 02, 2017
In a few short years, the British triple threat has become one of late-night TV's most vital voices. Here, he recounts his journey from High Wycombe dreamer to household name.

---
Q1
How old were you when you realized you wanted to be a performer?
I remember it clear as day. It was my little sister Ruth's christening, and I was three and a half. We were up on a platform, at the altar, in the front of the hall. I couldn't really see what was going on, so a Salvation Army officer grabbed a chair and said, "Here, stand on this." And then I remember so vividly looking out into the auditorium. There were probably 16 people in attendance, but it felt like a thousand. I just started making faces and turning around and putting my head between my legs. But what I really remember is when the christening was finished and we went back and joined the congregation, and I was sitting between my parents, staring at someone's back. I had a very definite feeling of This is boring in comparison to that. Up there onstage? Fun. Down here? Boring. I realized I wanted to be up there as much as possible.
Q2
That playfulness is very much in evidence on The Late Late Show. Have the recent changes in the American political landscape made you rethink the show's tone?
Of course. You don't even have to sit down and have that conversation; you just feel it organically. If you're going to do a TV show every day, you've got to change with the plate lines as they shift. I don't think our audience wants us to constantly press the same button, so when we feel impassioned or enraged about a certain moment, we ask, "What is the way our show will tackle this?" When Trump tweeted about banning transgender people in the military, we came up with this idea of doing a song to Nat King Cole's "L-O-V-E" and calling it "L-G-B-T." That happened at 11 a.m., and we shot it at 5:30 p.m. We've got to write it, record it, build a set, choreograph it, find a tux somewhere, book a Steadi-cam and do it. We always want our show to take those swings when things happen.
Q3
In early 2015, when you took over The Late Late Show, most Americans didn't know who you were. How does American fame differ from U.K. fame?
I'd say most Americans don't know who I am now. But fame is probably the same everywhere. I think I'm better equipped to deal with this first flush of fame in the U.S. than I was when I got famous in Britain. There's a great quote, I think from Bill Murray, that goes something like "When someone gets famous, you've got to give them 18 months of good grace." Because they're going to be an asshole for a bit. Their whole fucking world has changed, and so many people are telling them they're amazing. If after those 18 months they're still a prick, then they're probably a prick. Or they'll recalibrate and say, "Whoa, I'm losing my way here." That's what happened to me at home. Not that I became a prick—I'm sure some people would disagree—but fame's a really intoxicating thing.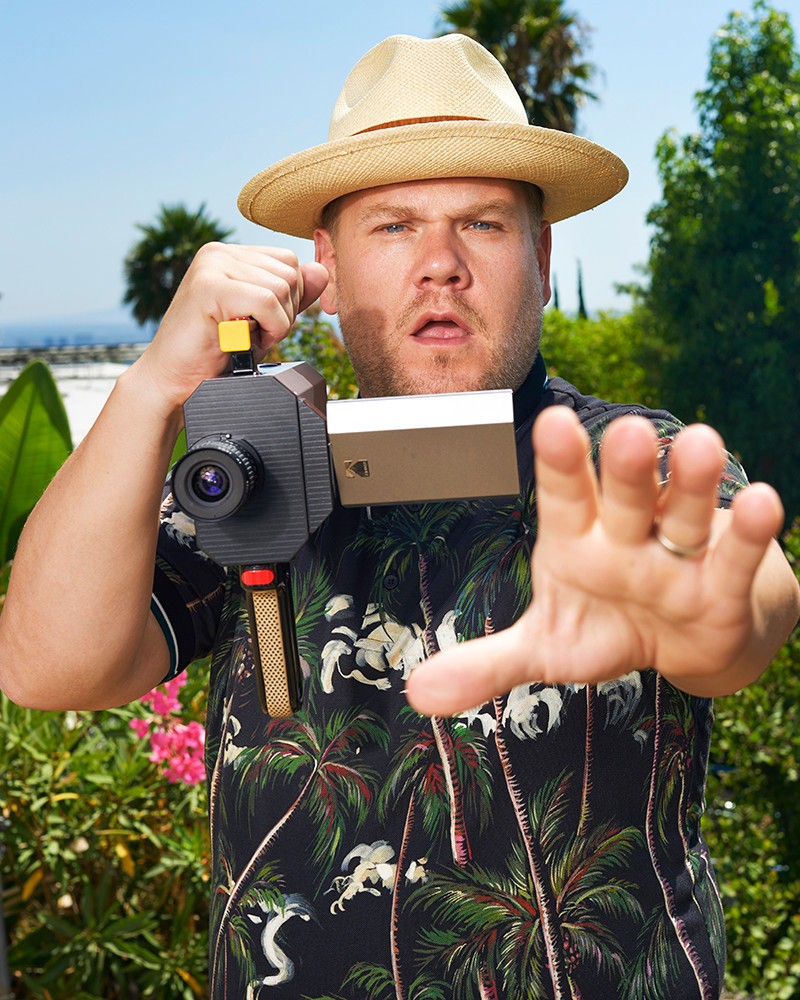 Q4
You came to the U.S. to star in the Broadway show The History Boys. How did that job affect your sex life?
I can only speak for myself and say that when you land in New York, there's no better city in the world to be if you start your working day at seven p.m., finish at 10:30 p.m. and have no responsibilities. So myself and Dominic Cooper, who's now on Preacher, I feel like we just went out for five months. It was a phenomenal time in our lives, because you're dropped into this little world—Hell's Kitchen, the theater district—which is the best 12 blocks in the world. There's a high density of (a) dancers and (b) gay men. So if you're young, straight, English and in the hottest play in New York City, you're gonna get laid. That's it! I'd basically pick up the women Dominic didn't want, but I was more than happy with that.
Q5
Carpool Karaoke went from a one-off bit to a flagship show for Apple Music. What has that journey been like?
I will forever be grateful that, one day in our office, we said, "Is there something about L.A. and traffic?" We'd been talking about a bit I'd done with George Michael where we were singing in a car, and it just sort of fell out: carpool karaoke. We looked around the room and said, "Is that an idea? That feels like an idea." And you know, fuck, two days ago we put out this six-minute Carpool Karaoke clip of me and Will Smith. Across Facebook and YouTube it had been watched 23 million times in just 19 hours—which is fucking ridiculous. I can't get my head around that. I'm just thrilled that people like it, I guess. And it serves as a gateway drug to our show: When people watch Carpool Karaoke online, the views on the rest of our clips increase as well.
Q6
Is there another Late Late Show segment that you wish got the same attention as Carpool Karaoke?
We do this fucking crazy bit called "Dogs in Sunglasses." We basically just show a picture of a dog in sunglasses, and then we say, "We all look at pictures of dogs in sunglasses. But so often we're thinking, Who is that dog, and what's going on in its mind? We're going to unlock that right now." It's just stupid, and I enjoy it so much.
Q7
What advice do you wish someone had given you about hosting a late-night talk show?
The overwhelming advice I got was "You just need to be yourself, and the show needs to be a reflection of who you are." And I think ours is. Lots of people talk about how tired you'll get, which I don't buy into. I have no time for moaning about being tired when I get to host a TV show. It's a privilege to be tired. If I wasn't doing this, if it hadn't panned out and I was back in High Wycombe doing amateur dramatics and working in a bakery, I would swap everything for the opportunity to be tired doing this.
Q8
In a segment with Kendall Jenner on The Late Late Show last year, you chose to eat cod sperm rather than say whether you love your mom or your dad more. I have an easier question: From which parent did you get your sense of humor?
My dad, for sure. My whole family are performers. People meet my sisters and they say to me, "Oh, you're the quiet one." But it all comes from my dad.
Q9
You've hosted a lot of award shows and are returning as host of the Grammys next year. What's the most stressful moment you've faced as a host?
The Grammys is an odd show to host because you're really onstage for only 23 minutes, and it's a three-hour broadcast. It's not as stressful as hosting the Oscars—which is not to say that it's easy. It's a much harder room. You're in a 20,000-seat arena, trying to be the eyes and ears of an audience. The best thing about hosting the Grammys is the week leading up to the ceremony, when you get to watch the performers rehearse in an empty arena. It feels like an auction prize.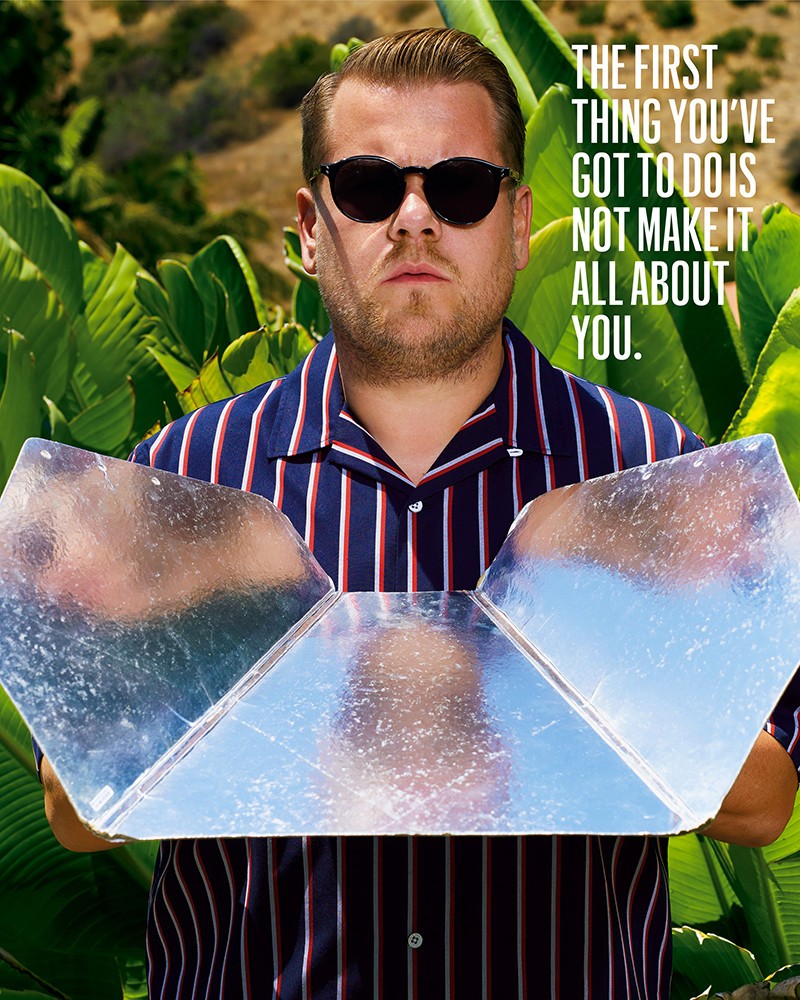 Q10
What kind of skills does award-show hosting require?
The first thing you've got to do is not make it all about you. You've got to understand that this event could absolutely happen without you if it wasn't televised. It's similar to a dinner party: All these people could meet up without you; it just so happens that it's at your house on that day. So what you can't do is say, "Guys, aren't I amazing?" You've got to make it about the food. And when it's over, you've got to let everybody go quickly. You can't have another drink and think everyone wants to hear that story about how you met such-and-such. Because no one ever left a dinner party saying, "I wish that went longer."
Q11
You're a stylish guy. What's your fashion philosophy?
There's a dress code among big guys: Look like you're on your way to a barbecue or like you just left a barbecue. And I want to say, it doesn't have to be like this, guys! You don't have to wear just Hawaiian shirts. You can try to bring some glamour to your style. It's not how big you are, it's how you're big.
Q12
In 2014 you starred in Into the Woods, which was a box-office success. But then you immediately started The Late Late Show. Was there something about being in a blockbuster film that wasn't to your liking?
I had already taken The Late Late Show before the movie came out. But look: All I've really wanted was to be creative every day. If you're acting in films, I don't know if that's your life every day. In fact, I know it isn't. There will be days in your life that are spent getting a shot where you're stepping out of a car and walking eight steps, stopping, doing it again, stopping, doing it again but slower, stopping, but this time can you look this way? Sure, okay. Cut! Slight problem with the light. We've got to do it again. That's a really weird way to spend your day. Think about it!
I love acting so much, but right now, to go home to my family means more to me than anything. At this age in my children's lives—my son is six, my daughter is two about to be three, and there's another child growing inside my wife as we speak—all I want is to be around them. It's all I care about, really. I don't know if I'm going to be lying on my deathbed going, "I wish I'd made one more indie film."
Q13
Imagine your agent came to you and said, "James, for the rest of your career you can only be either a stage actor, a film actor or a talk-show host." After telling him he's a terrible agent, what would you answer?
Fuckin' hell. To be clear, I've tried to do everything and anything in my life to never face this question. But I think I'd go with being a stage actor. At its best, a good theatrical experience beats everything else. Now, most theatrical experiences aren't that. If you see 10 plays, three of them you're going to be underwhelmed—dare I say, disappointed—by. Four of them you're going to be indifferent to, in the same way you're indifferent to lacrosse. Two of them you'll love, and one of them will stay with you for the rest of your life. I think watching a truly great play beats any film I've ever seen, and any TV show I've seen.
Q14
What has been your most memorable guest lineup on The Late Late Show?
We had a really good show once with Bill Hader, Zac Efron and Sir Ben Kingsley. It had just been announced that Zac Efron was going to shoot the Baywatch movie, and Ben Kingsley goes, "I'd play the drowning man." I say, "What would that look like if Zac is saving Sir Ben?" So Zac Efron's got his arm around Sir Ben Kingsley's shoulder, and he's doing a swimming motion. Bill Hader gets on all fours, puts a hand on his head and pretends to be a shark. I just sit back and go, "This is ludicrous." If I'd pitched their publicists and said, "What I'd love to happen is Zac will rescue Ben Kingsley and Bill will be a shark," that's never getting through. But if it happens as an organic moment, it's lovely.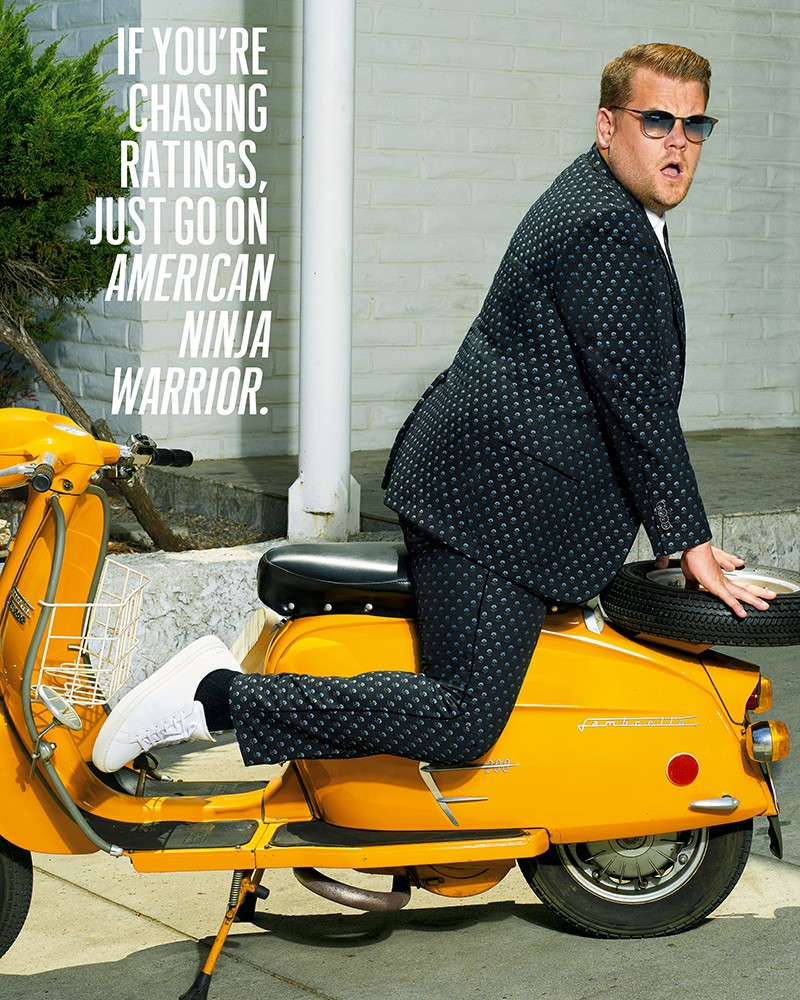 Q15
With the perennial talk about "the war for late night," do you feel competitive with other hosts?
I don't understand it. If you're chasing ratings, just go on American Ninja Warrior. You'll get the most eyeballs in the world. I think relevance is key. To be relevant, and to be saying or doing something new—that's all I'm interested in doing.
Q16
How many late-show hosts are in your phone contacts?
All of them. Stephen Colbert has been an unbelievable person to go through this with. Seth Meyers, you'll never find anyone who says they don't like him. I have lots of contact with Jimmy Fallon. I love Jimmy Kimmel, and Conan O'Brien too. He lives on my road, or rather, I should say I live on his road.
Q17
Do you see yourself hosting a late-night talk show for decades like Carson, Leno and Letterman?
No. Do I see myself doing this in 25 years, when I'm in my 60s? No, I don't think I could. I don't ever want the show to become predictable. That's not to say I won't do it for longer than my current contract; I just have no idea.
Q18
Do you have any rituals you perform before you go onstage?
Yeah, but I have to be careful, because when I was in One Man, Two Guvnors on the West End and Broadway, it got out of fucking control. I had about 14 things I had to do, which involved making sure socks were in a certain order, getting dressed at a certain time, being in costume by a certain time. The only ritual I have now is, before the show I talk to the audience, then I do a walk around the back of the stage and I have to do a high-five with everyone in the corridor. Then I talk to Ben Winston, my executive producer and best friend, in my ear. He says, "You good?" I say, "Yeah." In the early shows he'd say, "You've got this." Now it's like, "You going out to dinner after the show?"
Q19
You recently did some voice work in The Emoji Movie, one of the most critically maligned films of the year. Do you take bad reviews to heart?
I don't know if The Emoji Movie is worse than most animation. I watch a lot of animated films because I have two young children, and I'd go so far as to say it's better than some of them. I just think that if you're a film critic, a film's got to be fucking amazing for you to say it's just okay. I understand that. Also, doing The Emoji Movie took eight hours of my life, so I'm not sitting here going, "Oh, man, devastating." I don't think anyone involved is. It's playing to the audience it was made for, which I don't think is a film critic at The Guardian.
Q20
Adele, whose Carpool Karaoke clip has more than 166 million YouTube views, has an Oscar and a Grammy. You have a Tony and an Emmy. Which of you is going to get the EGOT—winning an Emmy, a Grammy, an Oscar and a Tony—first?
It's going to be a tight race. She could get an Emmy in a heartbeat, but to get a Tony, you've got to commit to a Broadway run, and that's a lot. If I'm Adele, I don't know if I'm saying, "Get me a nine-month run on Broadway." At the same time, the odds of me winning an Academy Award are the longest ever. So I have to say, I back Adele over me every day of the week.
---
To view the complete November/December 2017 issue, purchase the digital download.