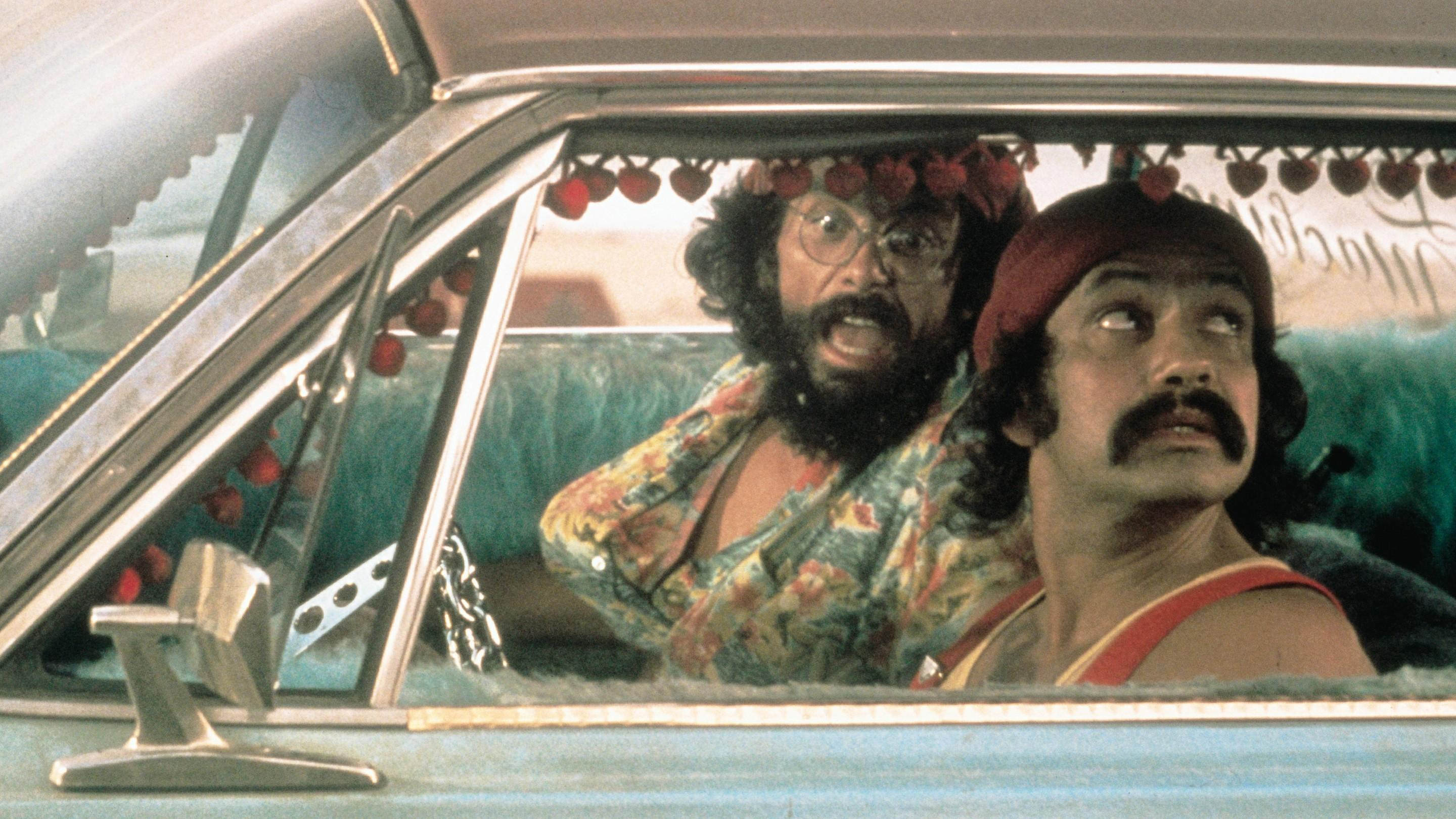 'Up in Smoke,' 40 Years Later: Cheech and Chong Share Hazy Memories
Written by Gil Macias

Published on

April 20, 2018
Long before Harold and Kumar went to White Castle, there was one comedic film duo who rose to fame and singlehandedly gave birth to the stoner-comedy genre. Back in the late 1960s, fate led a then-unknown Cheech Marin to Canada, where he'd cross paths with Tommy Chong at a sleazy Vancouver nightclub. The chemistry was magnetic, and the two paired up and created their own unique brand of improv musical-comedy and standup—and the rest is history.

They'd soon be known to the world as "Cheech and Chong" and went on to release a series of laugh-out-loud albums, many of them topping the charts, and not just outselling other comedic albums, but outselling other big acts charting at the time, including the Rolling Stones and Led Zeppelin. Several of their albums received Grammy nominations, and their 1973 album, Los Cochinos, won Best Comedy Recording. But it was their "Pedro and Man" routine that inspired and led them to make their very first movie in 1978, Up in Smoke, which followed the antics of the lovable pot enthusiasts Pedro de Pacas and Anthony "Man" Stoner. The pair wrote the script, and directing duties were handled by Lou Adler.

Up in Smoke not only put the spotlight on them, making them big movie stars, but it also brought marijuana to the forefront in Hollywood films. The movie spawned many sequels throughout the early 1980s, including Cheech and Chong's Next Movie, Nice Dreams, Things Are Tough All Over and Still Smokin', all of them focused on—you guessed it—marijuana. The plots were simple, the budgets were low, but the box office receipts were big, which explains the amount of sequels. There's no doubt that Up in Smoke helped paved the way for films such as Pineapple Express; Half Baked; Dude, Where's My Car? and countless others.

Now, 40 years later, the movie is still relevant and has earned its recognition as a cult classic. For its big 40th anniversary, Paramount Pictures has released the film for the very first time on Blu-ray. But even better is the deluxe collector's edition from Rhino Records, which also contains the original soundtrack on both CD and vinyl LP, a poster, a 7-inch picture disc, a booklet containing rare and unseen photos and last, but not least, oversized Up in Smoke rolling papers—sorry, stoners, but no pot is included. The deluxe edition is available now, appropriately released today on 4/20.

While out promoting the 40th anniversary Blu-ray release of their beloved film, we managed to catch up with Cheech and Chong, who unfortunately at the time, still hadn't seen the all-new Blu-ray transfer, but we were able to chat with them about the lengthy road to get marijuana legalized, how their movie holds up today and whether or not we'll get another Cheech and Chong movie.

---
Up In Smoke just turned the big 4-0. Do you guys have any surprises that are going to jump out of the birthday cake? Maybe some rare, lost footage?
Cheech: There's the X-rated version they were working on.
Chong: There is, but we can't talk about it. [Laughs.]

Oh, really?
Chong: I got the memo just in time, Cheech. Did you get it?
Cheech: What does it say?
Chong: Well, we're not supposed to talk about certain things.
Cheech: Oh, yeah, I'm sorry. We can't talk about any of that.
[Laughter.]

Bummer, well, have you seen the new Blu-ray transfer?
Cheech: I have not.
Chong: That's part of what we can't talk about.
Cheech: Because we can't see at this point. [Laughs.]

A lot has changed since these movies came out. In Cheech and Chong's Next Movie [1980], Chong's character says that he believes "dope will be legal in a few years." Obviously, that wasn't the case in real life. Are you guys happy with the progress that's been made?
Cheech: Well, we got to get it legal federally; then I'll be much more satisfied.
Chong: Yeah, I'm happy. I'm just happy that I'm not in jail. [Laughs.] I went a little bit too far there thinking it was legal. So yeah, I'm happy with everything. I'm just happy I can stand upright.
[Laughter.]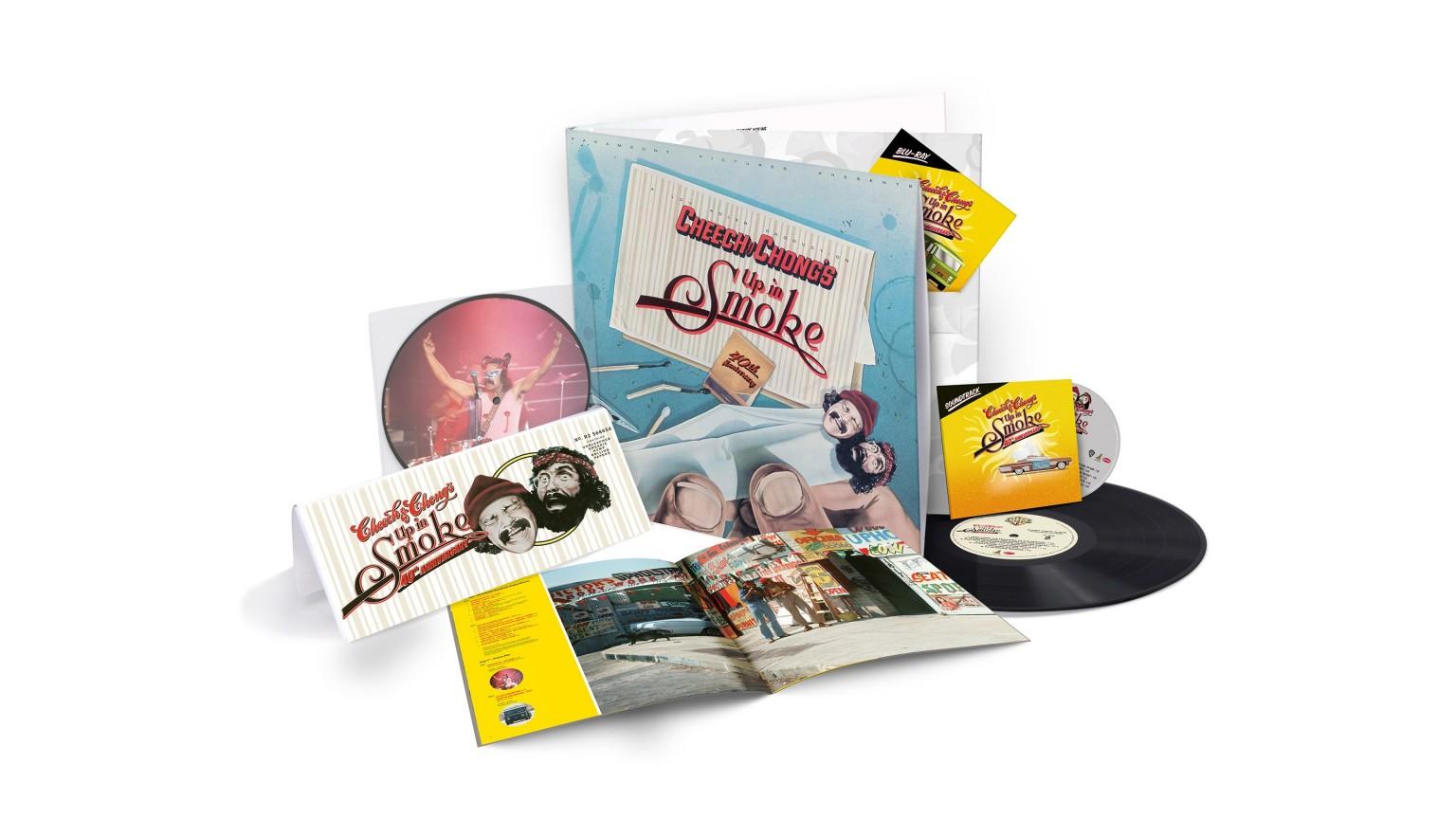 Back when this movie first came out, you guys were accused by some critics of glorifying drugs. How long did it take for those accusations to wear down? Or do you still occasionally get called out for that to this day?Cheech:
Around the time we started out, we said, "What if there's a medical benefit? What if we're right? What if weed has a lot of other benefits?" And now that there are, so—who's prescient? [
Laughs.
]
Chong:
Well, you know what else we found out? We found out it is a gateway drug, but the gate opens both ways. Now it's being used to get off opioids and to get off heroin and all of the other hard drugs. A good way to do it is with marijuana. So it is a gateway drug, but the gateway can open up to happiness.
Cheech:
Yeah, it goes both ways which is perfect for these times.
And Tommy, I know with you, you say it helped cure your prostate cancer.
Chong:
It did. Well, it helped, and it's keeping me cancer-free. That's another thing that it really helps. And it keeps me from having strokes or from getting MS [multiple sclerosis] or Alzheimer's. So there's a lot of things it's keeping me from getting. 

The official Cheech and Chong Twitter account has 133K followers, and your Instagram has 2.2 million followers. Not too shabby. Do you ever wonder about how you might've utilized something like Twitter if it existed back in 1978? Seems like comedians today could potentially receive a lot of backlash, depending on what they post.
Cheech:
Well, I think the word about our movie would've spread faster. 

Chong:
The truth is, we'll never know. And that's what people ask me now, they'll say, "Is the weed stronger now than it was back in the day?" We'll never know. 

Cheech:
All we knew is that it was strong enough to get us high. 

Chong:
And it was strong enough to put my ass in jail. We can fantasize, but we'll never know. 

What do you think of comedy in today's political climate?
Cheech:
Well, the current political climate is too calm. There's nothing happening.

Chong:
No, no, the current political climate is being dominated by one hack comedian who just won't get off the airwaves. And he's masquerading right now as the President of the United States. Until we get rid of him, comedy is going to have to be second fiddle. 

Do you feel the movie is more respected and appreciated now than it was back when it came out?
Cheech:
Oh, absolutely. It's like talking to your grandfather in the corner now. You don't know if he hears you or not, but you're really grateful he's there. [
Laughs
.]

Chong:
It's gone through the changes like we did. I think Warren Beatty said it right one time, we met him right after the movie was first released. He stopped us, and he said, "You guys have no idea what you've done." And those words still ring true to this day. It wasn't that it was a movie about marijuana—it was a movie about culture in America, where we made the stoners the heroes. We made the Chicano more than just a gang member. We humanized a whole culture. And now the culture is running neck and neck with the other culture. So we're doing good.

Cheech:
So, there!
You guys also gave birth to the stoner-comedy genre. Do you have any favorites comedies that have come out during the past 40 years?
Cheech:
Zoolander
.

Chong:
That's a great one. My favorite stoner movie is
American Beauty
. That movie said everything about America. Again, it was like
Up in Smoke
: It dwelled into the gay culture, it dwelled into youth culture. It had a kid selling weed to get through school. It showed you how potent and important marijuana is to our culture. 

You guys liked to break barriers, but was there ever anything you were told you couldn't do? Maybe a studio head deleted something from a script or killed a potential Cheech and Chong project?

Cheech:
We had one movie we were pitching that was called
The Next Ten Commandments
. It never came to fruition. 

Chong:
[
Laughs.
] The thing is,
Up in Smoke
was the perfect storm. Everything came together at the right time for the right reasons. And you can't manufacture that. That happens once in a lifetime, as far as I'm concerned. You can chase that thing—but all you're going to do is chase it, not catch it. We had no idea it would become as important as it is. We had no idea that 40 years later, we'd be talking about it again.
Cheech:
Or being alive, even. [
Laughs.
]

Do you have one more Cheech and Chong movie in you? Any chance we'll get one more?

Cheech:
We're going to do a remake of
2001: A Space Odyssey
, and it's going to be called
2002: A Space Odyssey
.

Chong
: [
Laughs.
] The people clamoring for another are bill collectors. 

Cheech:
[
Laughs.
] And they clamor the hell out of it.

Chong:
There was a time Cheech and I always had that carrot in front of the stick, you know. But we came to realize a few years ago that, ehhh, no. We're not that young any more. 

Cheech:
We don't want sit in that trailer for the rest of our lives.
Maybe Cheech and Chong have two sons and you can create a new spinoff franchise and pass the torch?

Chong:
No. 

Cheech:
Everyone's been trying over the years to be the new Cheech and Chong, but you know—accept no substitute. 

Chong:
You know, I'm working on becoming a grandpa. I'm starting to really enjoy sitting in the backseat, and everybody ignoring me. My new favorite word is, [
yells
] "Huh?!" 
[
Laughter.
]
You guys have a very interesting origin story. Any chance we'll get a biopic about you two? That would be a fantastic movie, and it would be great if you were both involved.

Cheech:
Yeah, it would be a three-parter. They'd have to finance that in advance, and then we'll think about it. 

Chong:
There's been a lot of talk about the biopic, and I like the idea, but as long as I don't have to sit in the trailer. 

Cheech:
[
Laughs.
] He wants to be able to do it from home in his pajamas. Me, too!


---
To purchase the 40th Anniversary Deluxe Collector's Edition of
Up In Smoke
,
click here
.