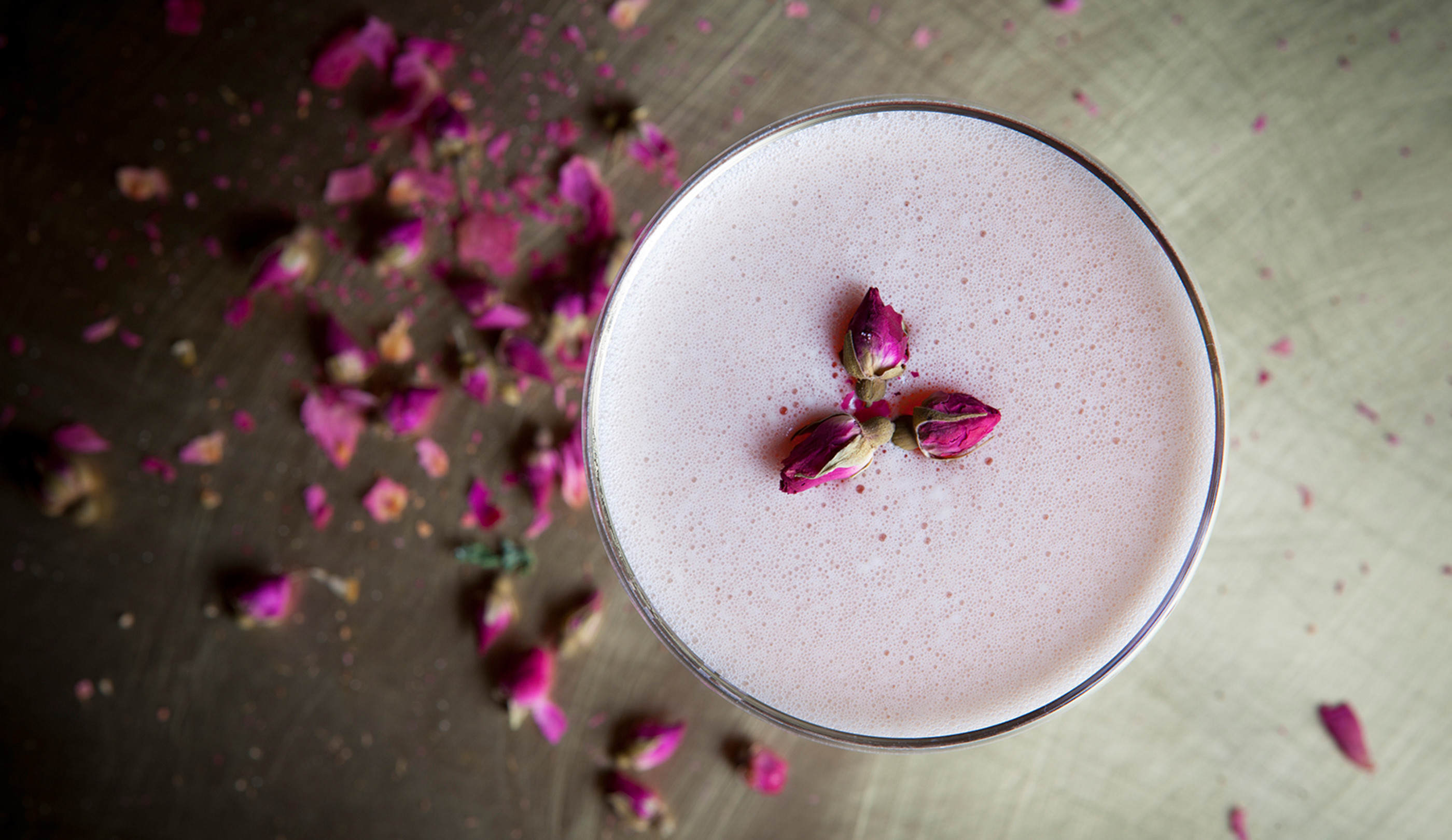 7 Fall Cocktails That Have Nothing to Do With Pumpkin Spice
Written by Natalie B. Compton

Published on

November 01, 2017
It's in the candle at your dentist's office. It's in the cupcakes at your office. It's pumpkin spice, and we're right in the thick of its peak season. When fall rolls around, people go hog-wild for the stuff, leading to early-onset pumpkin spice overload. If you can't stand the sight of another fake orange beverage, we have your escape. Try some of these cocktail recipes that don't have a single dash, sprinkle or dollop of pumpkin and/or its spice involved.

---
Campfire Old Fashioned
by Sother Teague, Amor y Amargo, NYC.
"This drink is perfect for falls crisp evening air as it's cozy like drinking whiskey by a campfire," says Sother Teague of Amor y Amargo and Coup in New York, who has a new cocktail book, I'm Just Here For The Drinks, arriving this spring. "It derives sweetness from the bourbon, spice notes from the rye and a distinctive smokiness from the Scotch. The very light heat from the Hellfire tickles the back of your throat like the smoke of a fire. All items are shelf-stable so this is a great 'on-hand' cocktail."

Ingredients
• .75 oz Elijah Craig bourbon
• .75 oz Rittenhouse 100-Percent Rye
• .5 oz Laphroaig Scotch
• 1 bar-spoon cane syrup (or 2:1 simple syrup)
• 6 drops Bittermens Hellfire Shrub
• 2 dashes Angostura bitters

Directions
Build in an Old Fashioned glass and add a large lump of ice. Gently stir to combine. Express the oil from both a wide orange and lemon twist over the drink and place in the glass.
---
Fall Concession
by Chris Lowder, Proof & Company, Shanghai.
"The fall, for me, is all about nostalgia. Big flavors of apples, pears, squash, mushrooms, parsnip. It's all about harvest, and about spending all day inside, just baking tons of shit," says Chris Lowder, an American bartender slanging drinks abroad as the Spirits Evangelist for Proof & Company, Shanghai. "This combo on the porch with a cigar is the ultimate fall day drink. When I moved to Shanghai, I wanted to make a cocktail that captured this sense of nostalgia, and also that bite of heavily spiced cider. I added in a little Pernod, and the French Concession was born."
Ingredients
• 1.5 oz fresh-pressed apple juice (Granny Smith is best!)
• .5 oz 2:1 honey syrup (2 parts honey to 1 part water)
• .5 oz fresh lemon juice
• 1/2 teaspoon Pernod (optional)
• 1.5 oz Chinese 5-spice-infused Cimmarón Reposado tequila (recipe below)
• 1 star anise pod

Directions
For the infused tequila, sdd 1 tsp of 5-spice powder into a 750ml bottle of tequila. Shake vigorously and let it sit overnight. Finely strain through a coffee filter and re-bottle.
To build the cocktail, add all ingredients to a shaker and shake with ice, strain into a chilled cocktail glass and garnish with a floating star anise pod.
---
The Lion's Tail
by Jacob Racusin, The Snug, San Francisco.
"One of my favorite autumn cocktails is an old classic called The Lion's Tail," says Jacob Racusin of the forthcoming San Francisco bar, The Snug. "The Dram brings this cocktail back from what could easily be a summer drink with its undertones of baking spices to one of my favorite fall drinks."
Ingredients
• 2 oz bourbon
• 1/4 oz Allspice Dram
• 1/2 oz lime juice
• 1/2 oz sugar
• 2 dashes Angostura bitters

Directions
Combine ingredients and serve up. For Jacob's touch, add a garnish of candied lime.
---
Annatto One Bites the Dust
by Maxwell Reis, Gracias Madre, Los Angeles.
"This, to me, is a great fall cocktail because it utilizes both produce and spice that are products of the season itself, even if they aren't the pumpkin and spice we flock to in American Fall culture," says Maxwell Reis, Beverage Director of Los Angeles hotspot Gracias Madre. "Here in Los Angeles, it's still patio weather in dall, so this hits its mark by providing a cool, refreshing experience that still evokes the flavors and feeling of the fall season."
Ingredients
• 2 oz El Silencio Mezcal
• .5 oz beet juice
• .75 oz lemon juice
• .75 oz simple syrup
• .75 oz Juan's Mix (recipe below)


Juan's Mix
• 2 parts grapefruit juice
• 1 part achiote syrup (recipe below)


Achiote Syrup
• 2 cups sugar
• 2 cups water
• 1 tablespoon achiote paste

Directions
For the syrup, combine all ingredients in blender and mix or combine all ingredients in a saucepan over heat and stir until dissolved. To make Juan's Mix, add grapefruit juice to the cooled syrup.
To build the cocktail, add ingredients to a bar tin and shake with ice. Hawthorn-strain into a rocks glass. Top with ice or, preferably, add single large cube. Garnish like Reis and use cookie cutters to cut flowers out of golden beets, and put them on a bamboo skewer with a smaller accent of a purple beet star.
---
Oak
by Frank Cisneros, Uchū, NYC.
"We have a cocktail called Oak, which is our most iconic. All of our cocktails have a simple one-word title and they are always re-interpreted as the seasons change or the mood suits us. For fall, it is reinterpreted as a Japanese whisky Old Fashioned with cinnamon bark and apple syrup and cherrywood smoke," says Frank Cisneros of the Bar at Uchū in New York. As the Uchū iteration requires a sous vide machine and smoking gun, Cisneros developed an approachable version of the iconic drink for folks at home.
Ingredients
• 2 oz Hibiki Japanese Harmony Japanese whisky
• 1.5 tsp of Fall Apple Syrup (recipe below)
• 2 dash Angostura Bitters
• 3 dash orange bitters
• orange and lemon twist
• 1 applewood smoking chip


Fall Apple Syrup
• 6 large apples, cored and quartered
• 2 teaspoons grated cinnamon
• 2 teaspoons grated nutmeg
• 1 teaspoon cloves
• 1 vanilla bean (sliced in half)
• 6 cinnamon sticks
• 8 oz sugar
• 8 oz water

Directions
To make the syrup, combine sugar, water, cinnamon sticks and vanilla bean in a pot over low heat. Do not boil. Let infuse for 30 minutes. After 30 minutes, strain and set aside. Lay out apples on a sheet pan. Poke one clove into each apple quarter. Sprinkle with cinnamon and nutmeg. Bake for 20 minutes at 350 degrees Fahrenheit. Remove apples from oven and poach apples in a pan in 6 oz of the cinnamon/vanilla syrup until syrup is reduced by half. Remove cloves from apples. Blend apples and syrup from pan in a blender. Strain out liquid from blender with plenty of cheesecloth. The more cheesecloth you use the clearer your syrup will become. Add remaining cinnamon/vanilla syrup to sweeten to taste.
To build the cocktail, combine whisky, fall apple syrup and bitters in a whisky tumbler over ice. Stir for 30 seconds to incorporate. Express lemon and orange peel over glass. Hold the applewood chip with tongs, light on fire and hold over the glass with the tumbler tilted toward you. Allow tumbler to partially fill with smoke. Trap smoke with a small plate. Allow to infuse with smoke for 30 seconds. Serve.
---
Cornucopia
by Joseph Bennett, Fine & Rare, NYC.
"The fruits guide you out of summer, and the peat, herbs and pomegranate drives you into the season," says Joseph Bennett of Fine & Rare in New York. "This cocktail is a striking fall color and delivers the perfect balance of sweet and tart."
Ingredients
• 1.25 oz Ardbeg 10-Year
• .5 oz Appleton Reserve Jamaican Rum
• .5 oz Ruby Port
• .5 oz pomegranate syrup
• .25 oz Creme de Violette
• .25 oz lemon juice
• 2 blackberries
• small handful of fresh thyme
• dried pomegranate

Directions
Muddle blackberries and thyme in mixing pitcher. Combine and stir the rest of the ingredients. Strain into rocks glass on one iceberg-shaped cube. Garnish with dried pomegranate and thyme.
---
Mata Hari
by Dushan Zaric and Jason Kosmas, Employees Only, NYC.
"The Mata Hari, a classic Employees Only cocktail that you can get at all four global outposts—New York, Miami, Singapore, Hong Kong—is perfect for fall. Pomegranate season starts in October, which makes it seasonal," says Steve Schneider, the principal bartender and co-founder of Employees Only Singapore. "The chai tea and baking spices that we infuse the vermouth with are reminiscent of the holidays. It's a beautiful drink for a beautiful time of year. I find that when leaves start turning color, brown spirits start to shine."
Ingredients
• 1.25 oz Remy Martin 1738 Cognac
• .75 oz pomegranate juice
• dried organic rose buds
• 1 oz EO Chai-Infused Sweet Vermouth
• 4 green cardamom pods
• 4 cloves
• 1 cinnamon stick
• 1 (.5-inch) piece ginger, coarsely chopped
• 1 tbsp chai or black tea
• 1 L Cinzano Rosso Vermouth, divided
• .75 oz lemon juice
• .5 oz simple syrup

Directions
Add all the ingredients to a mixing glass and fill with large, cold ice cubes. Shake vigorously and strain into a chilled coupe glass. Garnish with three dried organic rosebuds.
---