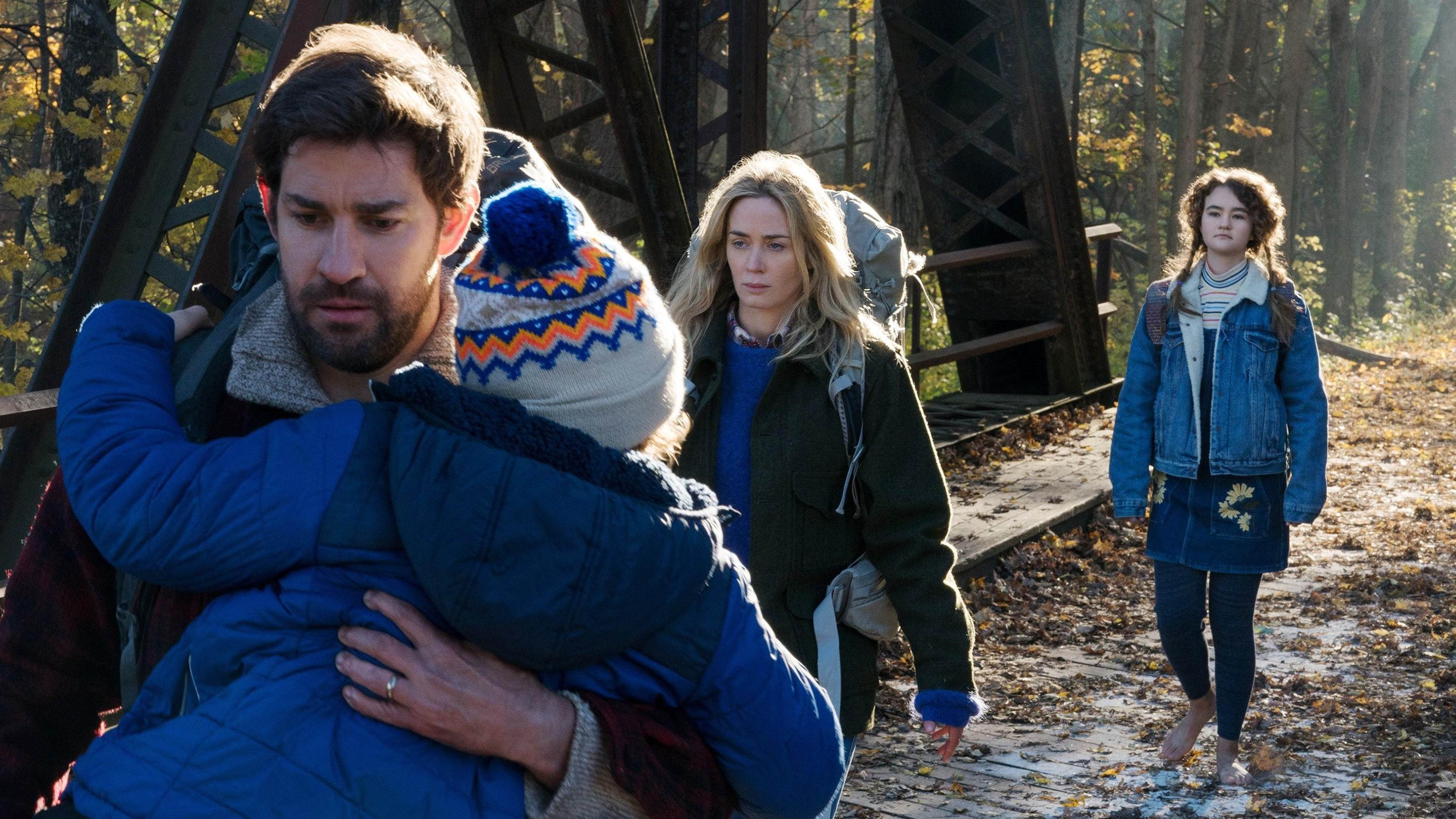 'A Quiet Place' Is Something to Talk About
Written by Stephen Rebello

Published on

April 05, 2018
Arriving in theaters on a crest of post-SXSW Film Festival love, A Quiet Place is a tense, jangly new monster movie directed by John Krasinski that has plenty going for it–just not quite as much as some hyperventilating festival types might lead one to expect. Based on a screenplay credited to Bryan Woods, Scott Beck and Krasinski, the tight, scary film's action is set against the backdrop of a post-apocalyptic world, one already decimated by sightless, flesh-tearing, lizardy Alien-esque creatures armed with trigger reflexes, supersensitive hearing and an insatiable hunger for human flesh.

The few straggling human survivors must lead a life of almost total silence. Walking barefoot through empty forests and past vacant streets, missing-persons signs and looted storefronts. Communicating in sign language. Playing Monopoly by lantern shine with pieces made of felt. Eating freshly caught trout and finger food served on lettuce leaves instead of with utensils on noisy plates. Slow-dancing to Neil Young by passing an EarPod back and forth. But mostly, being constantly on the alert for the clicking, menacing sounds of fast-moving, sharp-clawed creatures who pounce at the first sign of noise.

We mostly experience this nightmarishly well-thought-out world through a loving, but troubled family that includes the parents (Emily Blunt and Krasinski, who share an easy, believable screen presence and who are also partnered off-screen) and their children (nicely played by Millicent Simmonds—so good in Wonderstruck—Noah Jupe and Cade Woodward). Lots of the movie, which is at its best when no one talks, focuses on straight-up terror in the form of some white-knuckle set pieces–in a basement flooding with water, in a grain silo, in a pickup truck.

A Quiet Place is a good old nerve-racking time at the movies.

Krasinski, along with gifted cinematographer Charlotte Brus Christensen, editor Christopher Tellefsen and composer Marco Beltrani, handle these astutely and intelligently for maximum audience freakouts, with knowing nods to The Birds, War of the Worlds, Jurassic Park, The Road, Close Encounters of the Third Kind and The Walking Dead. The fact that characters must deal with survival moment by moment doesn't negate their other complications, including the sense of grief, loss and guilt they share over the death of the youngest in the family. Additional difficulty comes from the extra struggles faced by the deaf character played by Simmonds, who is also deaf in real life. The actors get to play more emotions than terror, and they're certainly up to the task with the terrific Blunt shining as an instantly likable, protective, gun-toting mom, and Krasinski subtle and effective as a father struggling to protect his family in a world gone beyond mad.

The film does so much right that it's frustrating when it trips itself up, as in making Blunt's character very pregnant, a plot point which not only poses the question, "How could they possibly keep a newborn baby silent?" but also, "How can they have been so careless and stupid?" For the sake of a good, rattling suspense sequence or jump scare, A Quiet Place requires otherwise intelligent characters to take absurd risks and make utterly illogical decisions.
Still, director Krasinski keeps the action crisp and popping, especially in the film's family-vs.-monsters showdown in its final third, the most violent and crowd-pleasing section of the movie but also the most disappointingly ordinary. But A Quiet Place is a good old nerve-racking time at the movies, especially when it recognizes that silence is not only golden—it can also be terrifying.