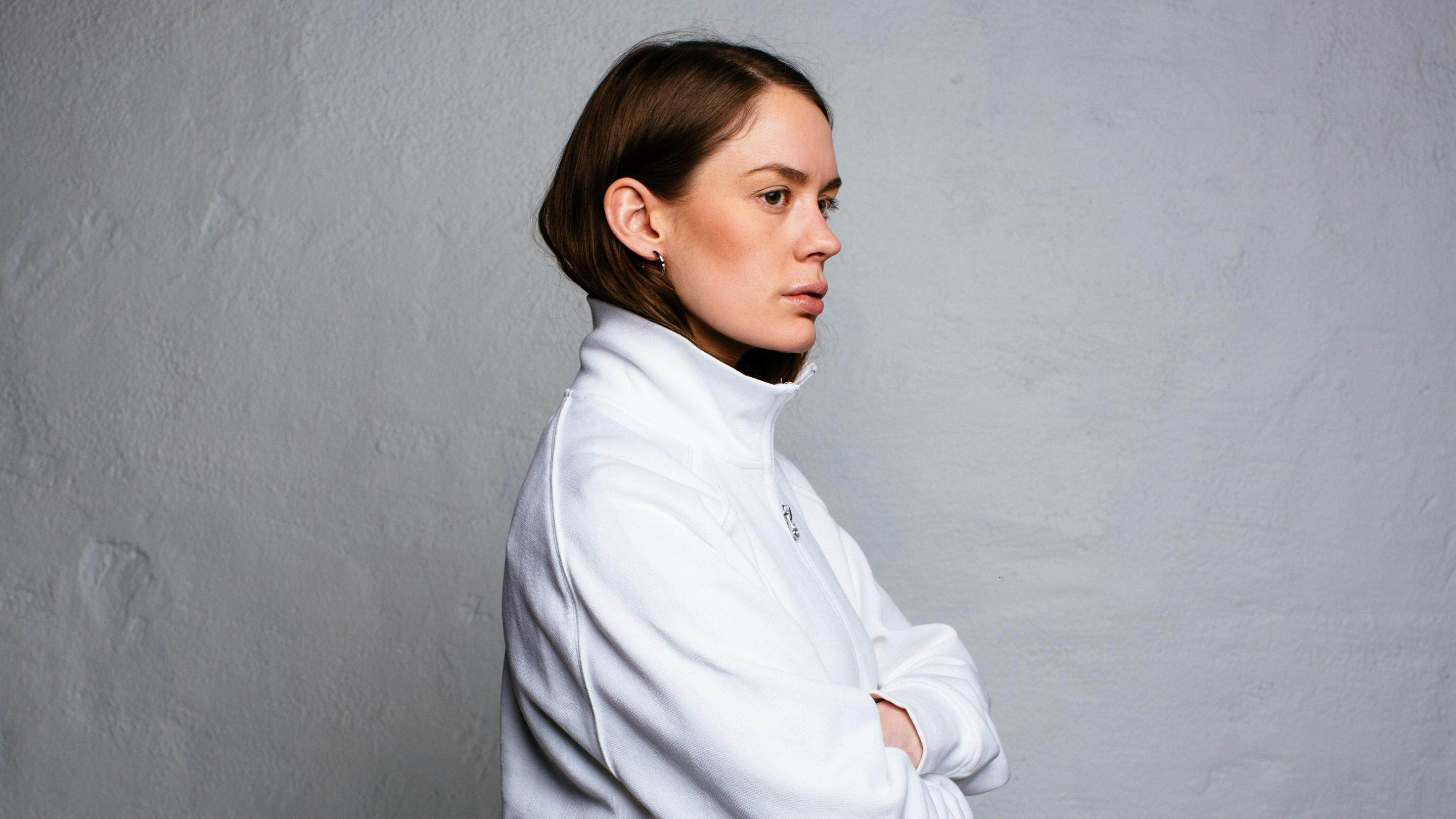 Anna of the North Is Perfect Imperfection—and She's Just Getting Started
Written by Kathy Iandoli

Published on

January 30, 2018
Anna Lotterud is riding on a bus through Oslo, griping that her ear buds keep electrocuting her. She describes the sensation in detail, designating sounds to the shock she's absorbing from the internal frayed wires that are no doubt worsened in the winter cold. She stops herself midway to footnote that, "There was a time when I was really shy and now I just keep talking. I just can't stop." Anna's headed on a tour of sorts—viewing various apartments scattered across the Norwegian capital city, in search of a place "that's big and beautiful."
The move came on as a surprise, especially since she's bound for London in a few weeks to begin a whole new round of studio recording sessions to follow up her buzzworthy 2017 debut album,
Lovers
. To the world she's now known as Anna of the North (with producer Brady Daniell-Smith), earning the moniker from Brady himself during her stint in Melbourne, Australia over the 9,000-mile distance away from her Northern homeland. In her very early 20s Anna moved Down Under after catching a creative dry spell in Norway. "There was a point in my life where I felt bored," she admits. "I was reaching this wall. I was done studying, had this job, and was pretty young at that point."
Working as a retail sales manager, a frequent customer made her overcome with Anna wanderlust. "There was this lady who would come to my job and talk about how she traveled," she remembers. "A month or two later I applied for a Uni, and I went to Australia. No one believed I was going to go. It's quite far." Anna reflects on that time now as a thrusting out of her comfort zone ("I like to be safe."), ultimately preparing her for the career she never knew she wanted. "Even though I'd been writing music and music's always been a big deal for me, I never really thought of music as that thing I'd do as a career," she admits. "Performing has always been a nightmare for me."
Raised in the Norwegian village of Gjøvik, Anna's musician father would frequently hold studio time at home with his buddies. "I remember sitting upstairs after school and having to remain quiet because they were working on recordings and stuff like that," the singer adds. It wasn't long before she was writing and recording her own vocals, but studying Graphic Design at school remained her primary focus. At 18, her dad gifted her a guitar for her birthday. "I never wanted a guitar," she says with a laugh, though it helped with her songwriting. The next gift he gave her was a soundcard, followed by a microphone. Before she knew it, she had a whole studio set up, pieced together by her father's gifts. "He really pushed me, without pushing too hard."
By the time she reached Australia, music was still hovering around her periphery. She brought her guitar to a bar one evening, where Brady was fatefully on stage. "We had a few drinks and I was singing and playing my guitar and my friend tricked me into performing," Anna explains. Eventually she moved back to Norway, but reached out to Brady and through a series of Garage Band sessions over Skype, they pieced together "Sway" in 2014. Brady added it to SoundCloud under the group name "Anna of the North." The woozy dream-pop cut made its rounds, even reaching the newly minted Odd Future radio station that same year. Anna was averaging a hot song a year ("The Dreamer" in 2015 and "Us" in 2016) before the Odd Future connection would circle back around as the Golf Wang de-facto leader Tyler, the Creator collaborated with Anna on two tracks ("Boredom" and "911/Mr. Lonely") off his 2017 now-Grammy nominated Flower Boy project. Anna even flew out to New York City to perform with Tyler during his appearance on The Late Show--With Stephen Colbert. It was only work VISA issues left her as side-stage guest. "Maybe it was for the best; maybe I would've fucked up the entire performance," she jokes. "It was really nice being there, but of course it was a big bummer I couldn't perform. Maybe it'll happen again with better timing."
[With most pop music,] it's like get to the point with all the metaphors and stuff: 'I was under the ocean and into the sea'…like, no, you were sad.
A Chainsmokers remix of
"Sway,"
a handful of bubbling bangers and the recognition of other big name acts (including G-Eazy, who collaborated with Anna on
"Pick Me Up"
) made 2017 the idyllic year for her debut album, and so did one life-changing heartbreak. The nucleus of
Lovers
centers on her own journey of finding love and losing it. "I'd never been that in love before," she says with a sigh. "It was really intense, I never really felt that good about anything before…and then it went cold. The songs are more about that; not even the breakup, just from going from being so happy to not even talking."
The lyrics on Lovers are pointed and dark, yet juxtaposed by airy production, an overt move by Anna to remain straightforward in her delivery, as her biggest complaint about pop music is its refusal to stop beating around the bush (or "packing it in" as she says in Norwegian slang). "[With most pop music,] it's like get to the point with all the metaphors and stuff: 'I was under the ocean and into the sea'…like, no, you were sad."
While the project garnered critical acclaim since its September release—and gave Anna a push into making 2018 a potentially big year—the plot twist is that she and her boyfriend (the fodder for Lovers) have reunited. "We're together now," she adds with a smile—though after joking that she'll have to breakup again to write her next project, she's thankful for their time apart. "It was important for me to finish this album, get inspired again, and do my own shit," she admits. "I don't want to be that girl who's in a relationship for four years and you forget to live your own life and catch your own dreams. I was kind of on the path to go there."
While the next iteration of Anna of the North promises to retain her signature style, it is bound to travel in a new direction. "I definitely don't think I could ever do that album again," she says of her debut. "You have to move forward. You know how you play a game and you get to different levels? You get used to the level you're in, and you have to challenge yourself more to get to other levels."
After kicking romantic co-dependency, the next item on her list is eliminating her stage fright completely. While the repetition of touring has helped her in bigger arenas, it's the intimate showcases that are still a nerves-killer. "It's so quiet you can hear everything and makes me so nervous, it affects my vocal range," she says. "I can't wait until the day that I'm totally relieved from the nerves so I can sing my heart out like I do in my bedroom."
With a new single releasing in the coming weeks and a follow-up album in tandem, Anna of the North is looking ahead, much happier than she was during her last go'round. Her success has reached its boiling point, her love is rekindled, and 2018 is proving to be even better than the last. But even as she entertains a lighter-hearted approach to her music in the months to come, she can always find her melancholic dark place when she needs it. "There's a lot of stuff to be sad for in this world," she says earnestly. "If you want to be sad."