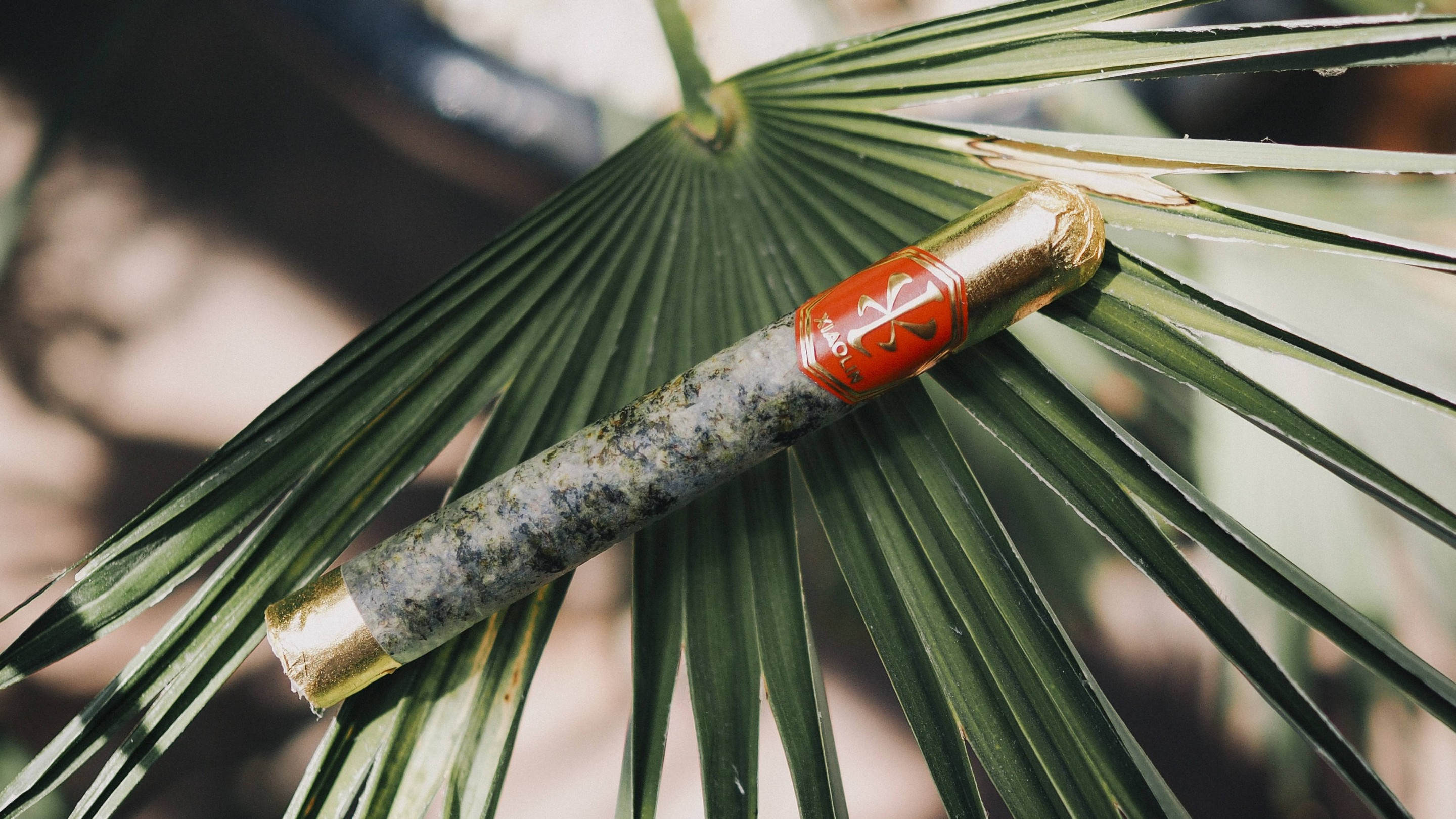 Are Cannagars the Classiest Way to Get High?
Written by Billy Lyons

Published on

July 02, 2018
As the legal cannabis industry expands nationwide, entrepreneurs searching for the ultimate high in profits are searching for ways to infuse cannabis into people's daily routines. While cannabis can be found in lube, coffee and beer these days, one product category in particular might be positioned to reap the most rewards. Cannabis cigars, better known as cannagars, are cannabis products that promise a refined way to get high. But what makes these products stand out from the pack? For one, they're designed with the luxury market in mind.

"To me, a cannabis cigar should reflect the best of the best out of a garden," notes Ariel Payopay, founder of
Leira
, a handcrafted cannagar company based out of Washington. Leira's product line, which ranges from a $100 cannarillo to a $10,000 24 karat gold leaf wrapped cannabis cigar, is designed for the ganja gourmand. "Liquor and tobacco both had a premium luxury market but cannabis didn't. I wanted to help change the negative stigma with our culture with my brand," Payopay explains. "Since I also have a background in graphic design and photography, I figured I would also do all the branding to help express this new culture. After all, you can't take a bong or a joint to a wedding and make it look classy, and I figured with my cannabis cigar this would be the product that breaks that barrier." While firing up a cannagar may eventually become the new cocktail toast in time, for now, they are one of many new products fighting for display space in a rapidly expanding industry. However, savvy entrepreneurs have already taken notice of this pot's potential, and are quickly setting up shop.
"I went to high school on Staten Island, New York and was selling weed out of a hollowed out textbook," recalls Chris Louie in regard his first experience making money off of cannabis. Louie, founder of the upstart cannagar company
Made in Xiaolin
, moved to Colorado to pursue a career in cannabis, and found that there was an opportunity to create his own identity by crafting cannagars. "When we first moved to Colorado, we were making capital loans to licensed cannabis companies. We were exploring the industry without directly owning a license until we figured out what area of the industry we wanted to get into," recalled Louie. "We were exploring everything from cannabis concentrate companies, cultivation operations, and dispensaries to ancillary businesses like glass bongs and rigs that are used to consume cannabis...I can honestly say social media kept me up on trendy cannabis products. I came across Leira's Instagram page in early 2015 and immediately became obsessed with the cannagar."
Even established cannabis retail operations like
The Green Solution
, based in Colorado, are beginning to see the value of offering a cigar-style cannabis product. The company's line up of cannabis offerings now includes the Cannatela, which their website describes as a "beefy, tasty blunt." "We know they are very popular, as our first batch that was sent to stores was sold out in days," noted Creative Director Jordan Bryant. Cannagars are still fairly new to the marketplace, but a report* from Headset, a company that provides retail analytics data to the cannabis industry, showed the growth of cannagars in 2016 averaged 141 percent per month compared to other products in the pre-roll category. In 2017, the average growth of cannagars was 11 percent per month while the growth of other pre-roll products remained flat at .5 percern.
While the visual image of smoking a cigar made up mostly, if not entirely, of cannabis is easy on the eyes, the potency of the product is a crucial factor in its identity. And the process to make it, is a little more complicated than you might think. "A cannagar is made by using approximately 12 grams of high quality cannabis and 3 grams of your favorite type of hash oil wrapped in a cannabis leaf" explained Dr. Craig Leivent, founder of the cannabidiol infused coffee specialist
Flower Power Coffee Company
. "The cannabis is broken up and packed around a wooden stick usually coated with hash oil or soaked in sugar water to help the cannabis adhere to it.
The packed cannabis is molded around the stick, then wrapped with hemp string and place in the refrigerator for one to two days to completely mold the shape. The mold is then taken out and the hemp string is unwrapped carefully trying not to remove the cannabis. The mold is then rolled in hash oil and then wrapped in the cannabis leaves. Almost all the three grams of hash oil is incorporated in to the molded cannabis with a small amount left over for sealing the leaves. Once the cannagar is rolled, it is then wrapped again in hemp rope and placed in the refrigerator for another three to four days. The final step is curing the cannagar in an open area for one to two weeks to let the cannabis dry. Once the cannagar is cured, it is place in an airtight container. When you are ready to enjoy your cannagar, unwrap the hemp string and carefully pull out the stick before lighting."
While the artistic process behind handcrafted products is admirable, the reality is that success depends on potency, especially for a product preaching the finer things in life. But how much more impactful of a high can cannagars provide than a typical joint? "Because each person's Endocannabinoid System is different, it's hard to say how the experience differs for each individual, but I think it's safe to say that from the pure potency of the cannagar you are sure to get much higher than you would by consuming a typical joint or 10mg edible," notes Bryant. "For someone who is used to dabbing or consuming cannabis concentrates, the experience may be equivalent."
For a novice smoker Louie details, "The experience of smoking a cannagar is similar to that of smoking a tobacco cigar...the slow burn makes it a long lasting experience. Unlike a tobacco cigar, the smoke from a cannagar may be inhaled. With each inhale you can feel your experience elevating." He continues, "Most cannagar's contain concentrates increasing the potency of each hit. The concentrate creates a resinous thick smoke filled with terpenes that linger on the palate. When the leaves are fermented and cured properly, it can give a smooth burn while giving you a peace of mind knowing you're smoking 100 percent cannabis."
Those wondering if the cost of cannagars are pricing a section of cannabis users out might want to consider the value in a pre-rolled product. Andrew Jolley, Founder and CEO of
The+Source Dispensaries
based in Nevada, notes that the idea all cannagars are expensive is one common misconception. "For example, the Perfecto Cannagar from Las Vegas Cannagars is made with 2 grams of flower, 1 gram of live resin oil and .65 grams of live resin crumble. In Nevada, we would sell the same amount of flower for $34, resin around $90 and crumble at approximately $40. That equates to $164, excluding assembly, regulation, distribution and packaging. In our stores, we sell the Perfecto Cannagar for $120."
Though it remains to be seen whether cannagars can help make consuming cannabis a mainstream luxury experience, the integrity of ingredients, value, potency, and appearance is a combination that many within the industry are happy to showcase. "With so many other ways that you can consume nowadays, it's nice to see people enjoying smoking flower again... even if it does contain concentrates," Louie reflects.
---
*Headset integrates with POS systems at licensed dispensaries throughout the country, tracking trends, sales and retail analytics through their API. Sales data is directly pulled from retailers. The transaction data is from 2016 and 2017 from retailers in Colorado and Washington, aggregated monthly and based on monthly growth rate throughout the year for cannagars and non-cannagar pre-rolls.