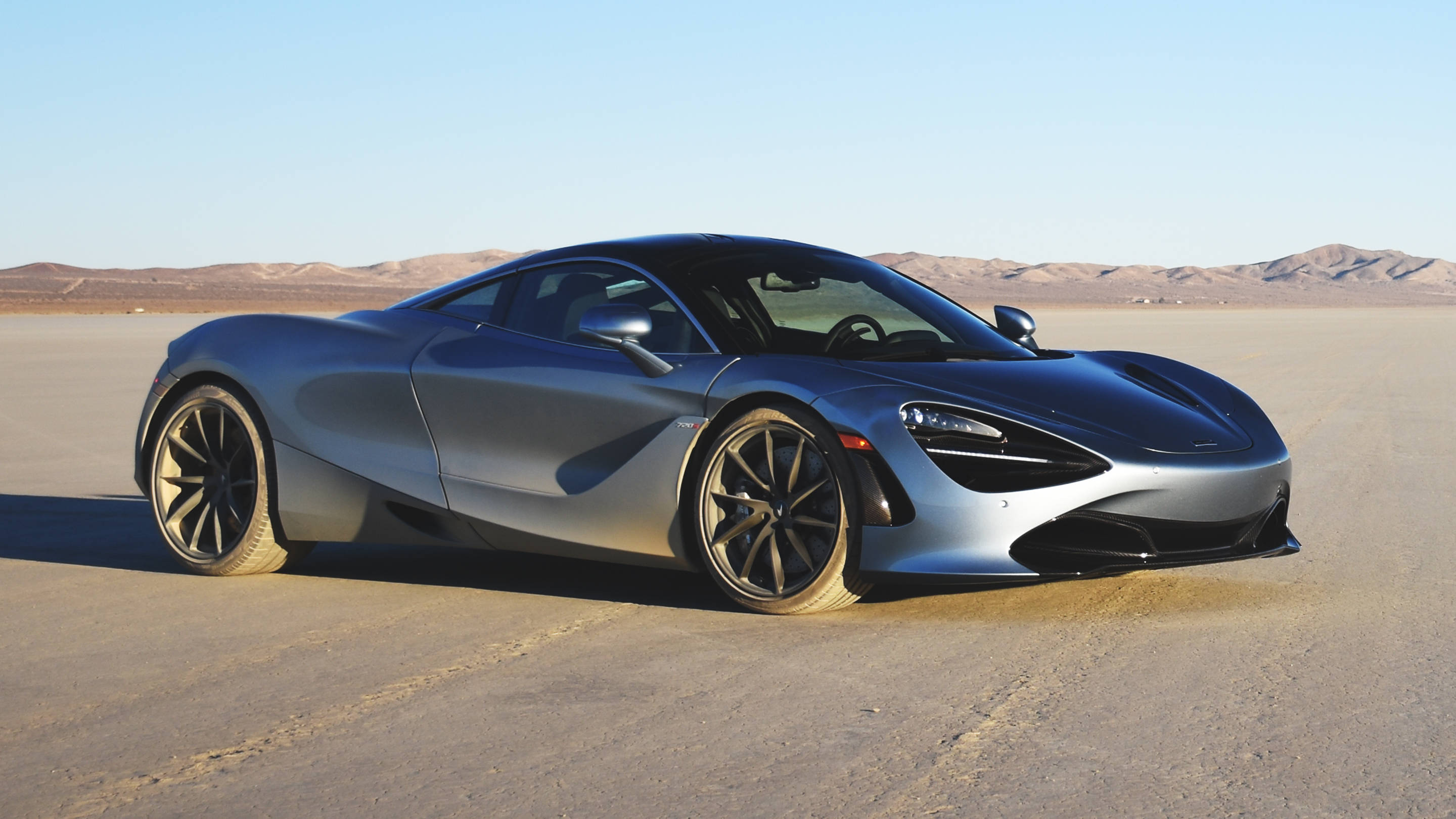 Behind the Wheel of the Supercar of All Supercars
Written by Jonathon Klein

Published on

November 26, 2018
There are those who pray at the altar of Bonneville. Believers devoted to the holy salt. They've been baptized by the alkaline air; the sanctified speeds and their convictions shall not be shaken. One isn't expected to alter one's faith after experiencing the holy flats. There is, however, an older, wilder, less orthodox temple of speed. A sanctuary for relics long forgotten and clerics who have long broken from the path of sodium chloride. A rectory for those bathed in the more ancient and divine dust: El Mirage.



Speed records are still held every year, but like many of the world's more ancient religions, it isn't as practiced as it once was, nor does it carry as much weight compared to its Bonneville-clergymen. Yet, El Mirage's arid lake bed, miles of hard-packed ground and arrow-straight lines make it an ideal choice to chase personal records and sneer at that holier-than-thou congregation of salt ideologues. El Mirage is an outlaw's chapel of velocity.

I've gone fast. I've been privileged to drive numerous supercars and a handful of hypercars. There have, allegedly, been a few flirts with nearly 200 mph speeds. None, however, have succeeded in breaking into the 200-mph club. I aimed to change that. Even if there are a plethora of capable machines, it had to be the right car. Something lacking electrification or hybridization. Not one of massive aero and a clinician's take on punching through the sound barrier, but one of brute strength, brute abilities and the necessity of sizable anatomy to wrestle into compliance. A cleric that respected the old ways and paid homage to this temple of speed. Enter the McLaren 720S, a 710-horsepower priest worthy of the lake and my pilgrimage. Hallelujah.

All this air, this cavernous cockpit, gives the driver the sort of view only seconded by wing-suited daredevils flying through Europe's granite cliffs.
My journey to the holy land swept through winding mountain roads that saw me trounce apexes, fly past recently renewed coniferous groves once decimated by Angeleno wildfires. I crossed a desiccated river and blazed across the desert landscape of scrub-brush, cacti, mating tarantulas and long-forgotten husks of automobiles. Past the desert floor's scenery, the vistas opened to the wildly beautiful isolation that borders Edwards Airforce Base.

Cascading through the sublime Bowers & Wilkins stereo came the eclectic compositions by Janelle Monae, Muse, Bob Dylan, Alice Russel, Every Time I Die and Mos Def. McLaren's 720S enraptured my psyche and bolstered my faith as the supercar ate miles with such voracity, it may well qualify as glutinous. Yet, sinner or saint, though my destination and single-minded crusade would have you believe otherwise, the 720S is one that hunts not just for straight-line blitzkriegs, but for blind corners, curbing, sweeping left-handers and sinuous tarmac veins.

The McLaren seems to defy what a road car is capable of as I have no comparable experience. I've driven Bugattis, classic race cars, nearly every modern supercar and most of the best motorcycles money can buy. The McLaren trounces everything. The steering response is lightning. The chassis communicates as if for your entire life, all you heard was a foreign language and someone finally came along and spoke to you in your native tongue. The 720S offers grip far past what you believe possible. Turns I've driven hundreds of times previously were rapidly handled at double-digit speeds over what I thought possible.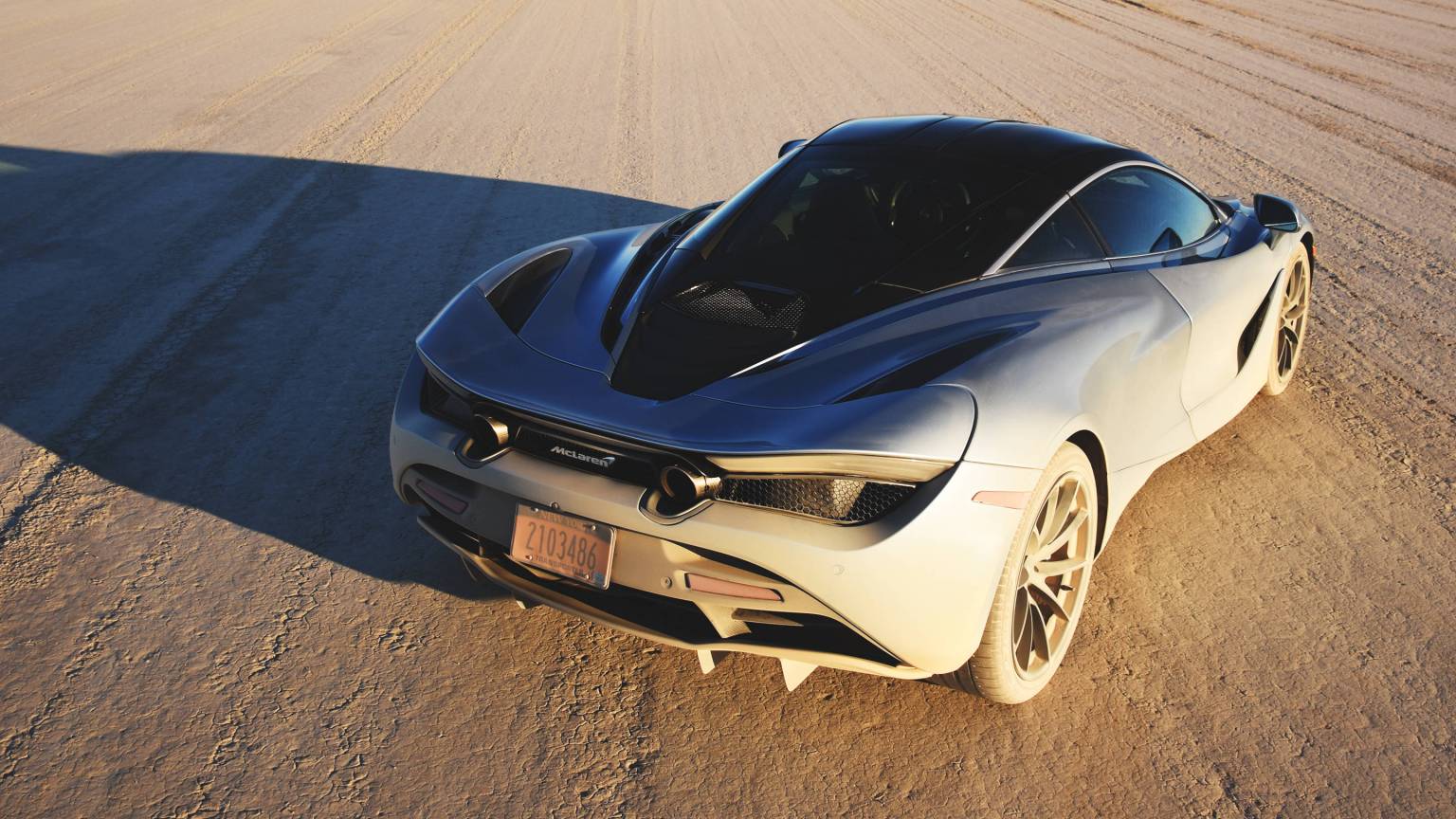 Encapsulated in the Mac's greenhouse, the world surrounds you in its high-def glory. Glass is everywhere. The side windows are large. The windshield feels like a truly astonishing feat of engineering as its view envelopes both driver and passenger. And then there are the two portholes above your head. The sun's warming light pierces the leather-lined cabin and chases away the brisk desert air. In here, wrapped in the carbon-backed seats, the interior's magnificent composition of negative space takes center stage. All this air, this cavernous cockpit, gives the driver the sort of view only seconded by wing-suited daredevils flying through Europe's granite cliffs. On the road, in the canyons and in the boring normalcy of everyday life, McLaren's 720S is nigh untouchable.

Then again, I hadn't yet reached the promised land. I hadn't yet put the hammer down, held on for dear life and screamed until I pierced the sound barrier. I hadn't achieved my goal. Could I find the proverbial holy sea of dust and baptize both myself and the car in its divinity? Would it all come together?

As with all pilgrimages, a tribute must be made. In more ancient days, I'd likely have to sacrifice a calf, a lamb or someone's child. Thankfully, El Mirage's hallowed ground only requires $15 and a verbal agreement not to drift or do donuts in the middle of the de-restricted lakebed—it isn't hard to understand that doing so would be hazardous to your existence due to the possibility of another apostle careening into you at warp-like speeds. Approaching where the pavement ends and the packed lakebed begins, I toggle the McLaren's nose-lift system, raising the carbon bodywork clear of the drop and onto the sacred dirt and sand. It had rained two weeks previously and the beginning of the lakebed wasn't perfectly pristine. I swerved through the upheaved surface and dodged the lake bed's undulations until it leveled and the scenery ahead became devoid of diversity. I had reached my Mecca.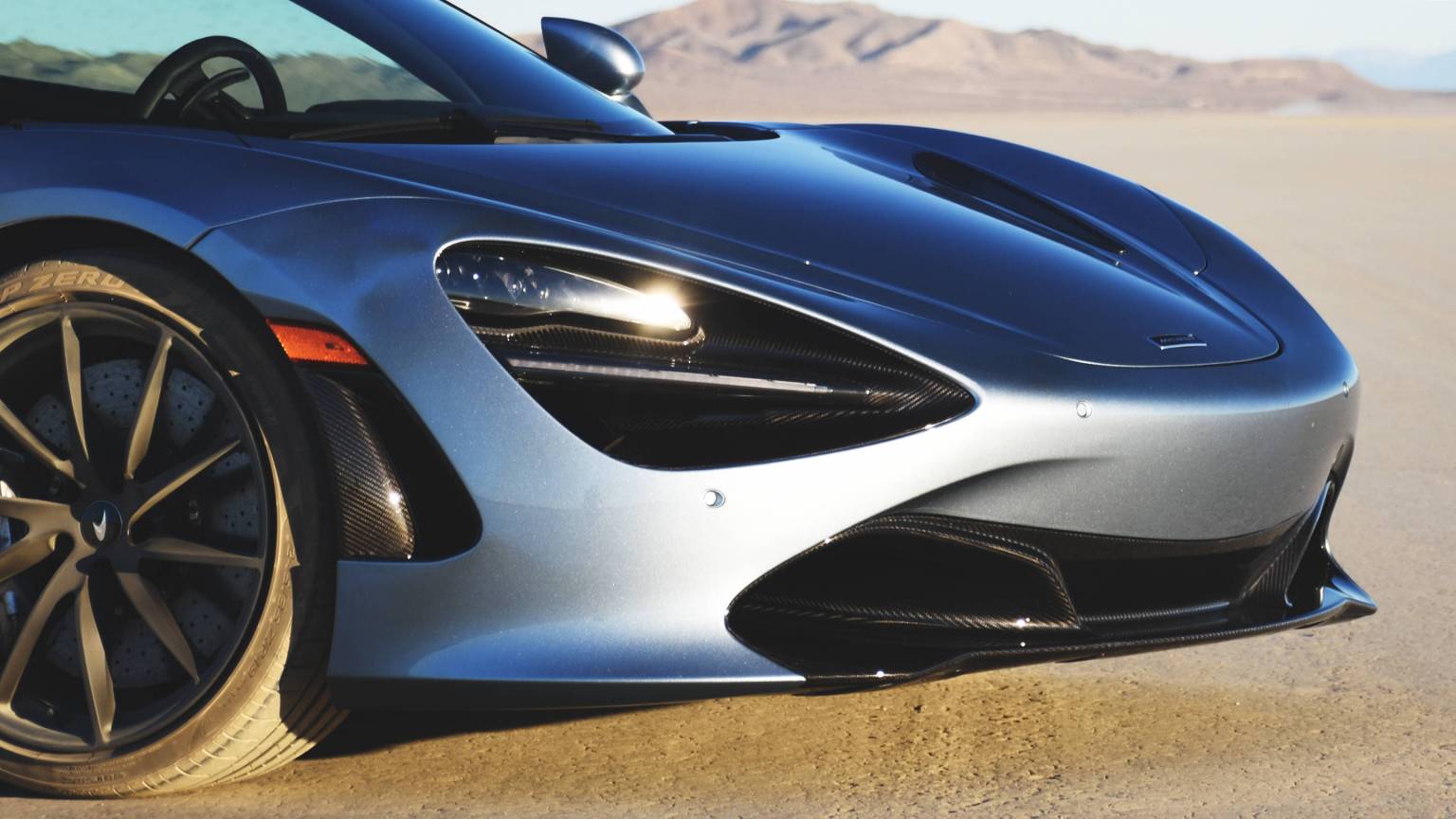 As I gradually throttled the McLaren's twin-turbocharged V8, I could feel the lake bed's surface changes affecting the supercar's grip. The sticky tires that adhered so ferociously to the tarmac were less useful on the bare earth.

Though I saw few pilgrims on my way in, I wanted to ensure my run wouldn't be impeded, or lest I impede someone else's. As I survey the line I'll take for my speed run, I keep the McLaren's V8 singing at 110 mph. Endlessly smooth, an orange tint strikes the usually bleached surface as the smoke from a series of fires in Malibu hued the sun's rays. El Mirage measures 6.2 miles in length. Of that, what was usable on that day may have measured 4 miles. However, having been here before, the way to maximize speed is to start by arcing around the far end's perimeter and hitting the main straight as far above 100 mph as you can. I can feel the adrenaline begin to course through my nervous system as I reach the far end.

My reconnaissance completed, I put the McLaren's engine mapping into all-out war and blink one more time. My prayer, "Let's go, exalted one." I enter the arc clipping 123 mph. As I gently straighten the steering wheel, I ease into the accelerator — can't go full ham here, it's still dirt after all— and the digital speedometer climbs to 150 mph without hesitation. I can feel the sweat beading across my forehead. A second later, I hit 164. Here, you can really start to feel the mighty McLaren's aero pushing the 720S into the hard-packed dirt. Everything, including myself, feels like it's being compressed into the surface of the lake bed. 177. The engine is eating the earth as well as both gas and air. 184. My eyes haven't blinked. 198. For all that is holy, I'm moving fast. 199 comes and stays for what seems like minutes, but likely takes just all of a handful of nanoseconds. Then, the world goes quiet. The omnipresent air rushing over the 720S in apocalyptic fashion is spirited away. A transcendental moment. Mine and the McLaren's baptism. I dare not blink as the dashboard flashes from 199 to 200 mph. I did it.

The classic Ford is affordable and a beast on the road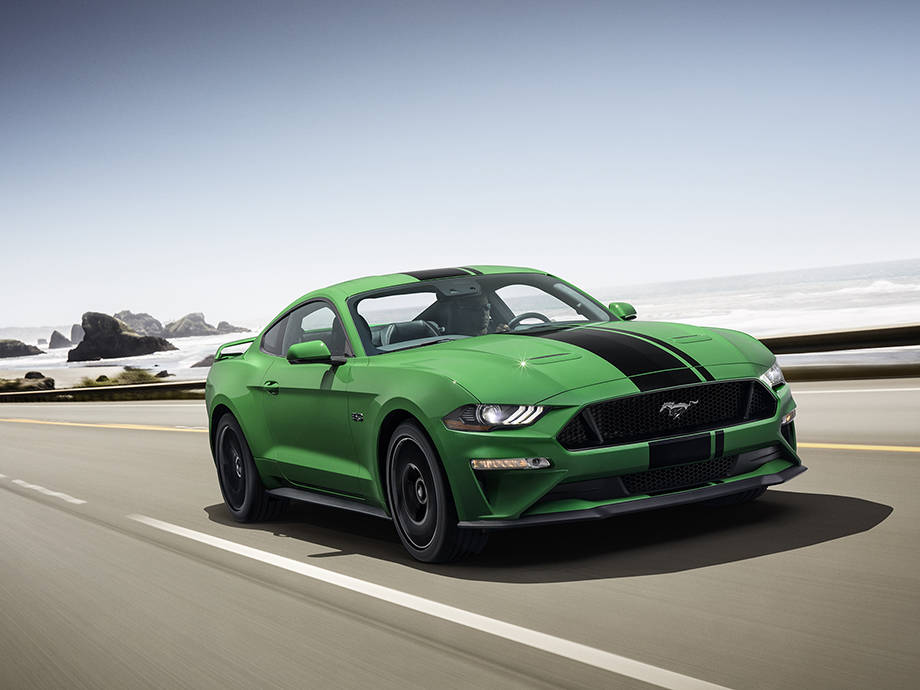 I gently lift off the once-buried accelerator and ease the McLaren to a less preposterous velocity. Rhapsodies fill my mind. Sweet mother of mayhem, I did it. The 720S did it. The McLaren and I did it! What a car. What an experience. What a temple of speed. McLaren's 720S is what happens when you let drivers and engineers run a performance company. A $300,000 celestial weapon. There are other wild
and powerful supercars
, machines from Porsche, Ferrari, Lamborghini, Aston Martin, Ford and Chevrolet. But none seem capable of holding a candle to the 720S. Hand on heart, of all the special kinetic sculptures I've driven over the last five years, the McLaren 720S is the best. A perfect machine.
Later, having reigned in my adrenaline as I streak across the flat desert tarmac, sun sinking behind the San Gabriel mountains, I'm left in total awe by finally being consecrated by El Mirage's dust. And though I have to now endure the laborious hell of traffic back to my homeland, I feel fulfilled, at peace, as if everything is right with the world. El Mirage is a spiritual place. The combination of man, machine and sacred house of speed is one I doubt I'll ever experience again. And to make it into the 200-mph club, I'm left fulfilled.
Praise be the McLaren 720S!