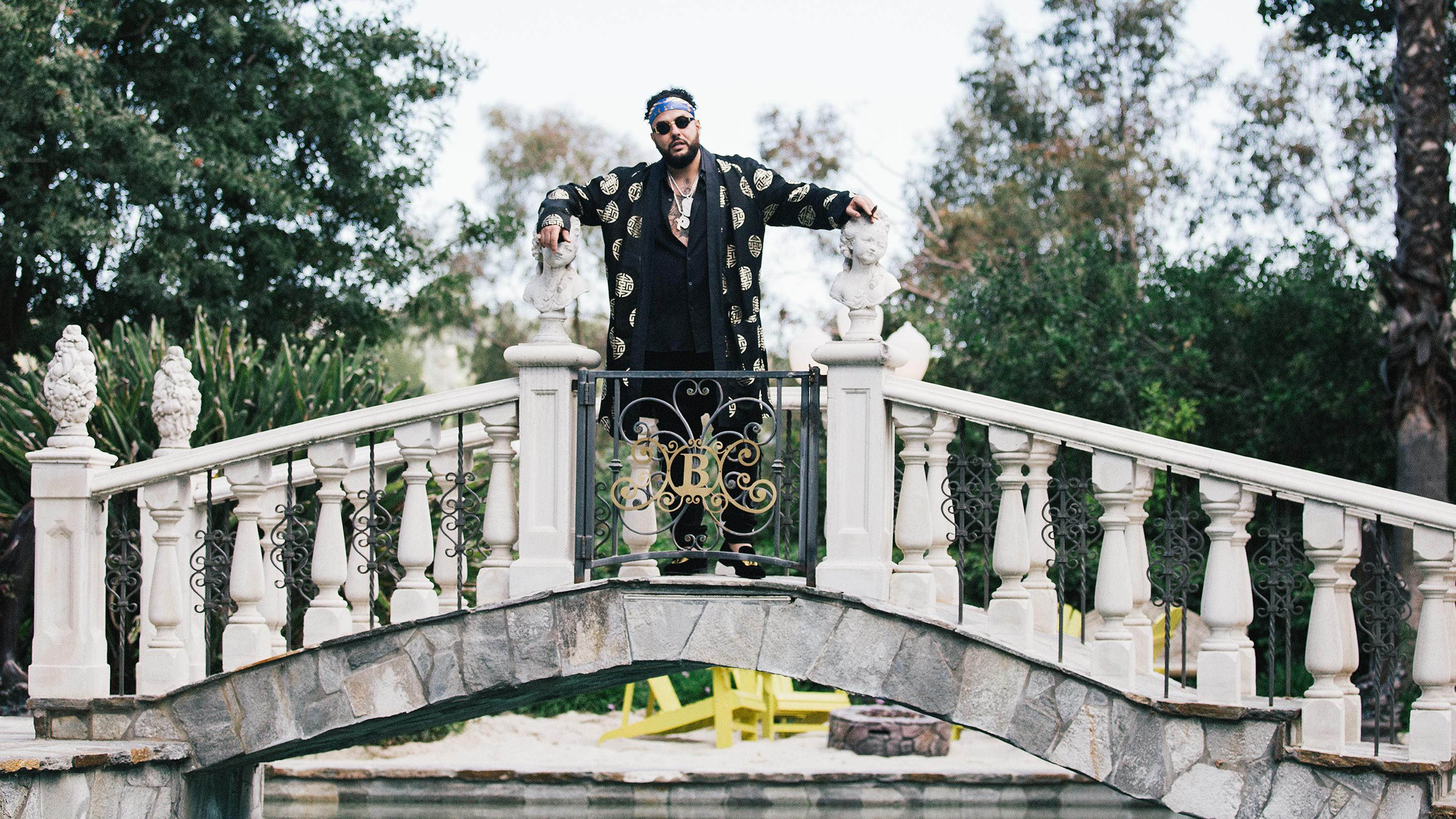 Weed, Women and Weather: These Are a Few of Belly's Favorite Things
Written by Anna del Gaizo
Photography by Derek Wood

Published on

June 04, 2018
Belly loves accessories. He adores a pair of dark sunglasses, silken scarf and hefty pendant necklace. The rapper, singer, songwriter and producer also enjoys a custom kimono and glittering diamanté embellishment. While his personal style shifts and morphs by the day, there is one accessory he is guaranteed to be seen with at almost all times. A fat, impeccably rolled blunt of indica flower—always indica, never sativa—is his unofficial signature. Not that there's anything revolutionary about a musician being devoted to getting high, but Belly's dedication is unflinching. The same could be said for his dedication to everything he does.

You'd expect Belly's house to smell like weed. It smells like chicken meat. At least it does on the day of my interview with him. That's because Belly has three dogs, including a highly temperamental bulldog named Deebo, and today their meals are being prepared in bulk. In the kitchen, two housekeepers shuffle around piles of raw poultry and frozen peas. The air is pungent. It probably doesn't help that I'm hungover on three hours of sleep with a gash on my forehead from walking into a street sign. I'd figured a large BandAid was better than an open wound, but now I'm not so sure. I hope Belly isn't the judgmental type. Not only is Belly not the judgmental type, it turns out he's just as hungover as I am. Maybe more.

When I arrive at his gated Encino estate, I'm led through the marble-tiled foyer, sparse save for two vintage arcade games (Terminator 2 and Rambo) and framed accolades covering the walls (including a Juno Award and several MuchMusic Awards), into the living area. With its baroque columns and crystal chandeliers; framed mirrors painted with brightly colored dripping hearts; sumptuous Moroccan lounge area; backyard with an ornate bridge over the swerving swimming pool, punctuated with the letter B at the center of its wrought-iron design, and a miniature man-made beach, Belly's home is equal parts opulent and inarguably LA. It's also not going to be his home much longer. "I finally found a home that has light as opposed to the 'Addams Family home' I usually like," he says. But before sitting down with him, I meet a woman I assume is his assistant. She asks if I don't mind waiting about an hour. "Belly doesn't feel well." She gestures to her stomach. I can't help it. "You mean his belly hurts?" She stares at me blankly. "That's fine! As long as he's feeling up to talking." An hour later, when he emerges from one of the mansion's mysterious corridors, I realize that was code for, "He went a little too hard last night and is moving slowly today." We've all been there.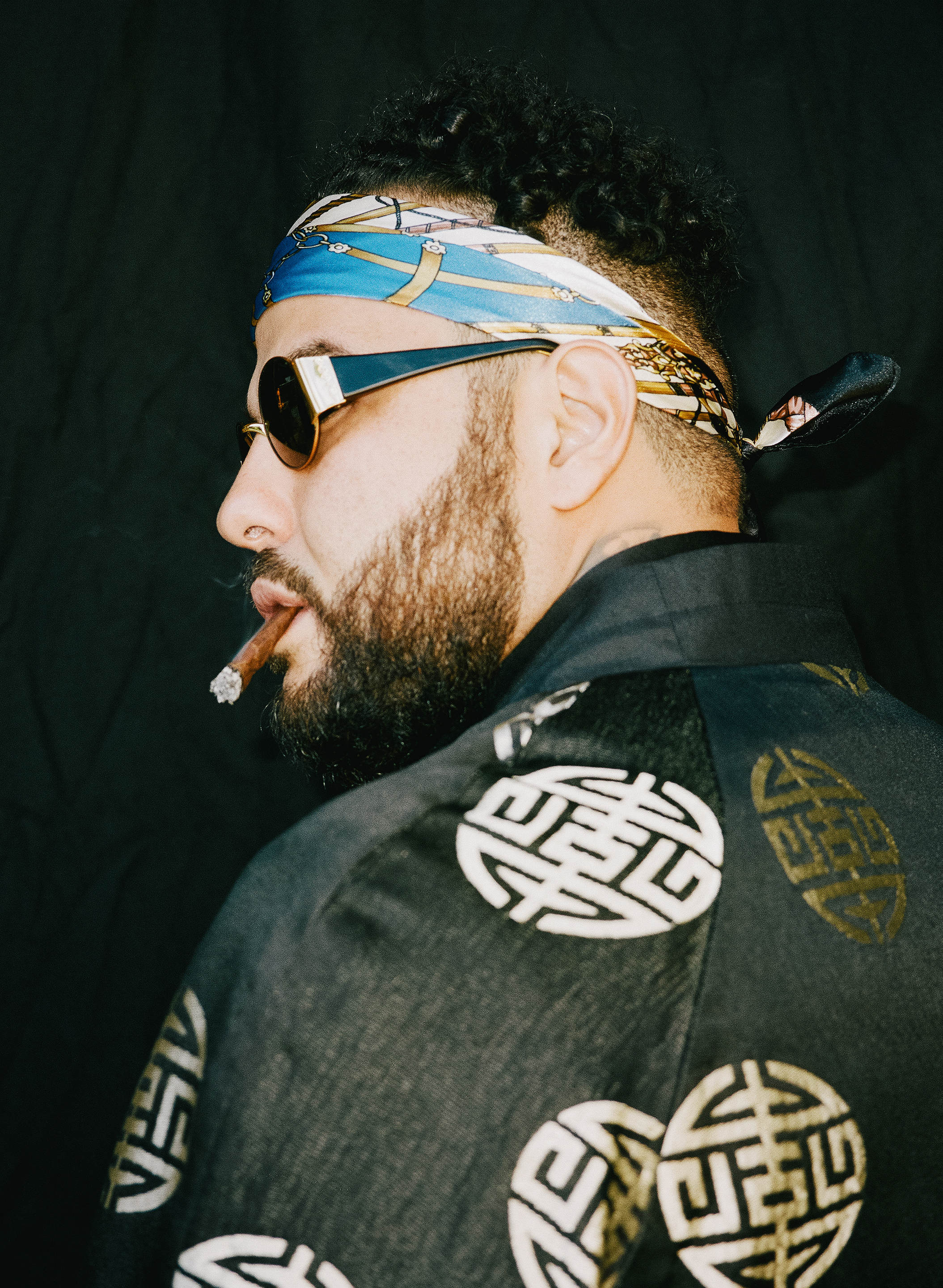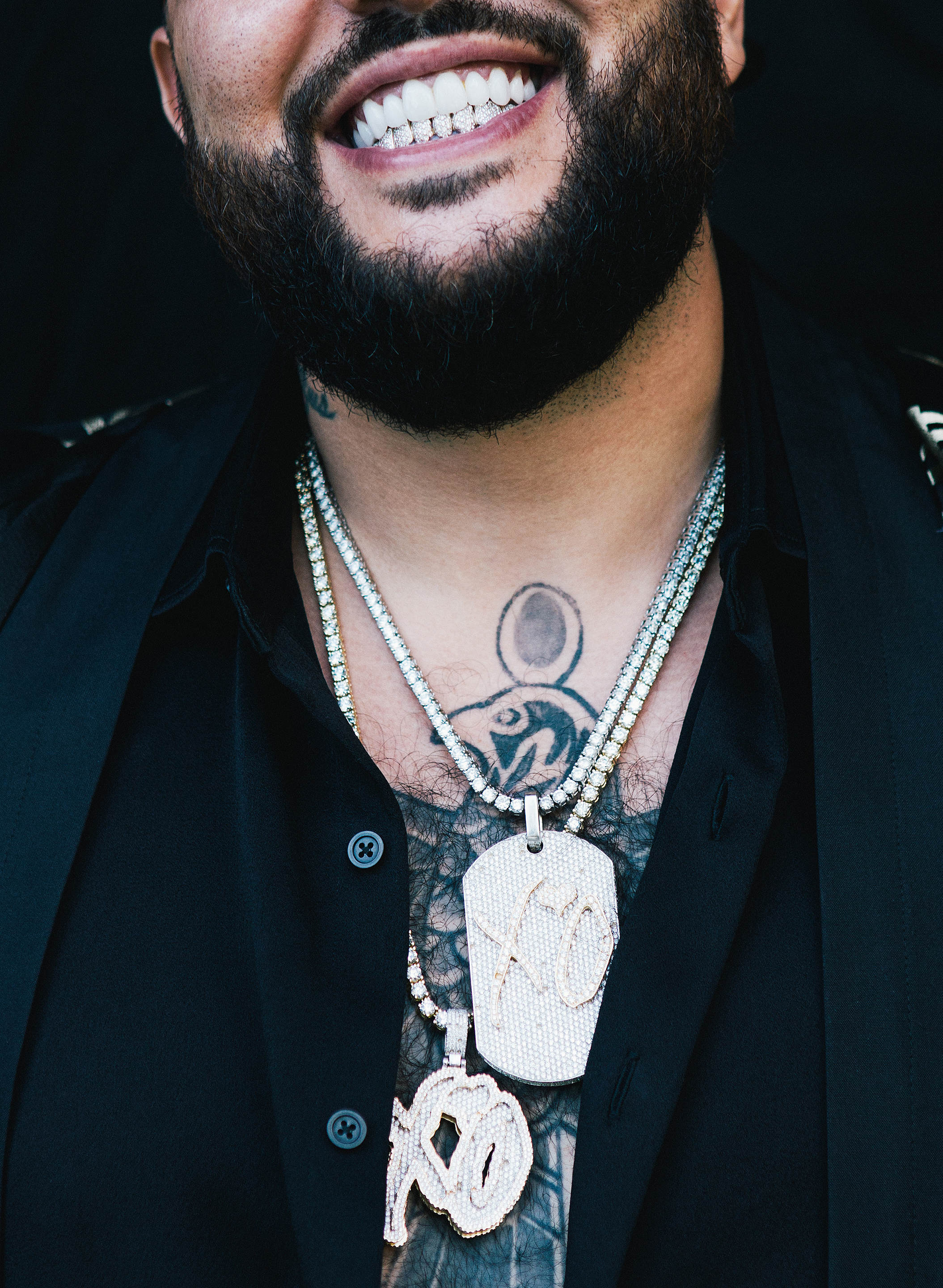 You probably first heard Belly's name in May of 2016, when he made headlines for pulling out of a Jimmy Kimmel Live! appearance with The Weeknd, his would-be first-ever TV performance, in protest of Donald Trump. "I just did what I thought was right. I didn't expect the reaction we got. I said to Abel, 'I don't feel comfortable doing this performance given what's going on in this country.' He said, 'Whatever you want to do. I trust you.' And that was it. Abel is family. That's the level we're on. I have so much respect for him." At the time, he told the Associated Press, "I just didn't want to feel like I was a part of a celebration for somebody who has beliefs that the majority of us don't agree with. I'm here on a campaign of positivity and love and to contribute what I can to music. I create songs people go to sleep and wake up to, songs that they fall in love to. For me, being Muslim and being somebody that appreciates my access here in America, I love the fact that I'm able to be here. To play my part in this business is a privilege and a beautiful thing. The fact that I could lose that ability through the actions of someone such as Donald Trump isn't right to me. At all."

Born Ahmad Balshe, Belly has never been short on conviction, probably thanks in part to a tumultuous childhood. He grew up in the West Bank Palestinian city of Jenin until the age of seven, when he and part of his family moved to Ottawa, Canada. Music was his only constant. That's one thing that hasn't changed for this good-natured citizen of the world. When asked if he identifies as Canadian, Palestinian or American, he says, "I identify as a human." Touché. Another unwavering linchpin: His sense of gratitude and lack of ego. It's rare. "I had people be the complete opposite to me and I promised myself if I ever made it to that position I would never make anyone feel the way they did," he explains. Safe to say, after accumulating Grammy and Academy Award nominations; penning songs for Beyoncé, Ariana Grande and yes, The Weeknd; and collaborating with Lil' Wayne, Travis Scott and Kehlani, to name a few, he's made it to "that position." When asked about his greatest moment to date, his response is simple. "Watching the squad flourish and helping create opportunities for the people around me."

Belly is less imposing than I'd expected, in both person and personality. It might have something to do with the fact that he's lost over a hundred pounds in the past year by trading junk food for healthier stuff and soda for Pellegrino. He's not into shortcuts and he's all warm smiles, especially when mugging for the camera—which he does effortlessly and tirelessly after changing clothes from distressed black jeans and a black T-shirt into an ensemble more befitting of a rap star. It involves silk scarf worn as a headband, gold-accented robe he co-designed with his longtime bespoke tailor, Fresh of RichFresh, and a pair of velvet smoking slippers. The word resplendent comes to mind. Obviously passionate about fashion, he describes his current style as "a canvas that I'm ready to paint every day." A few other things to know about Belly: He's a proud immigrant. He's generous with his weed and offers me hits of his blunts, which I respectfully accept. He loves throwing parties, any theme, any excuse to celebrate. The first soiree he's throwing in his new house will be a toga party. I'll admit I'm dying for an invitation. Still waiting on it, by the way. He also loves women. I know this because in between poses, he says, "I love women." Which quality is most important in a woman? "Her aura would have to speak louder than anything else about her. The sexiest thing about a woman is her presence and the sexiest thing she can do is just be herself." Belly doesn't strike me as necessarily spiritual, per se, but he has depth. He's good at seeing past the bullshit.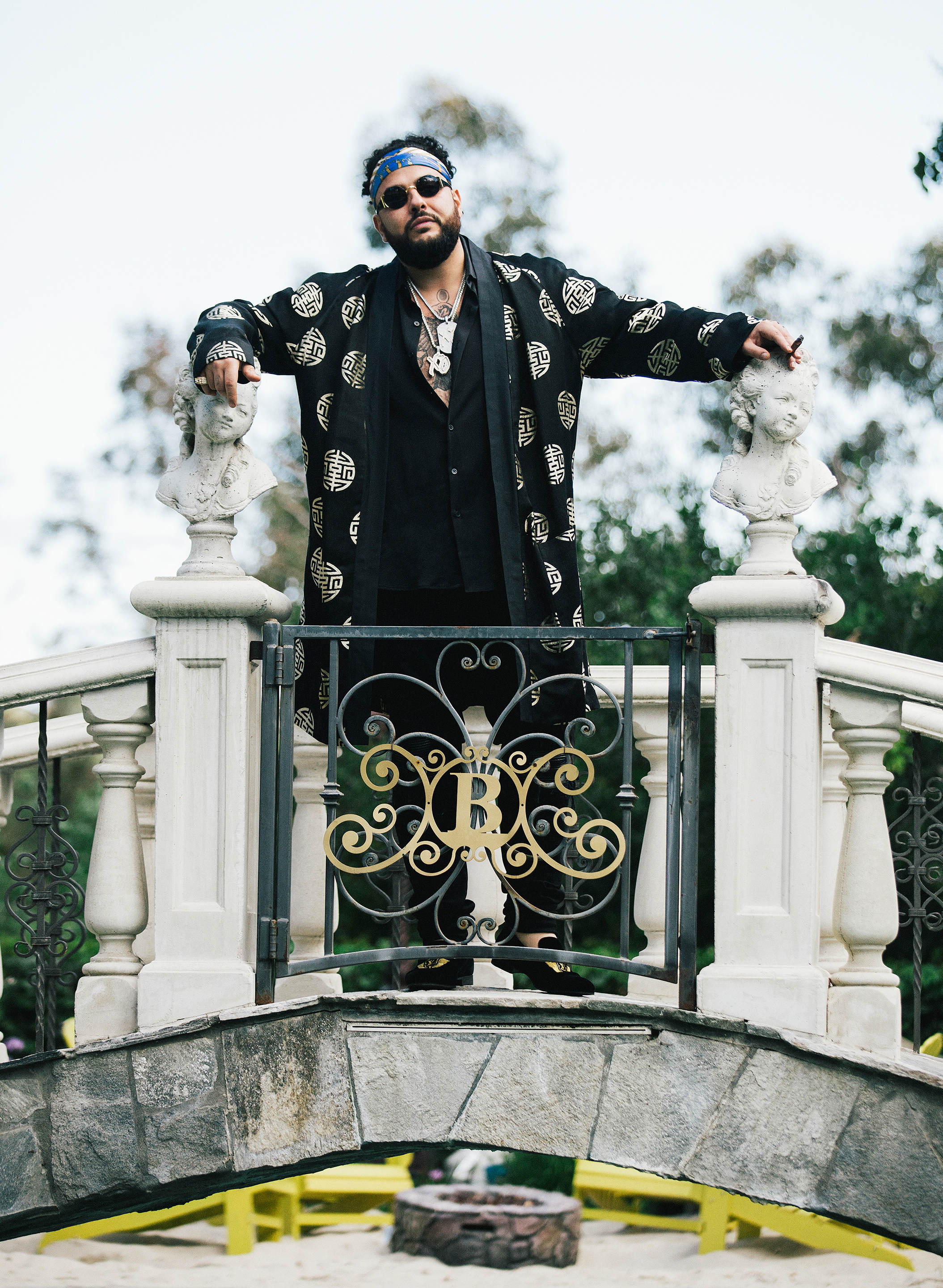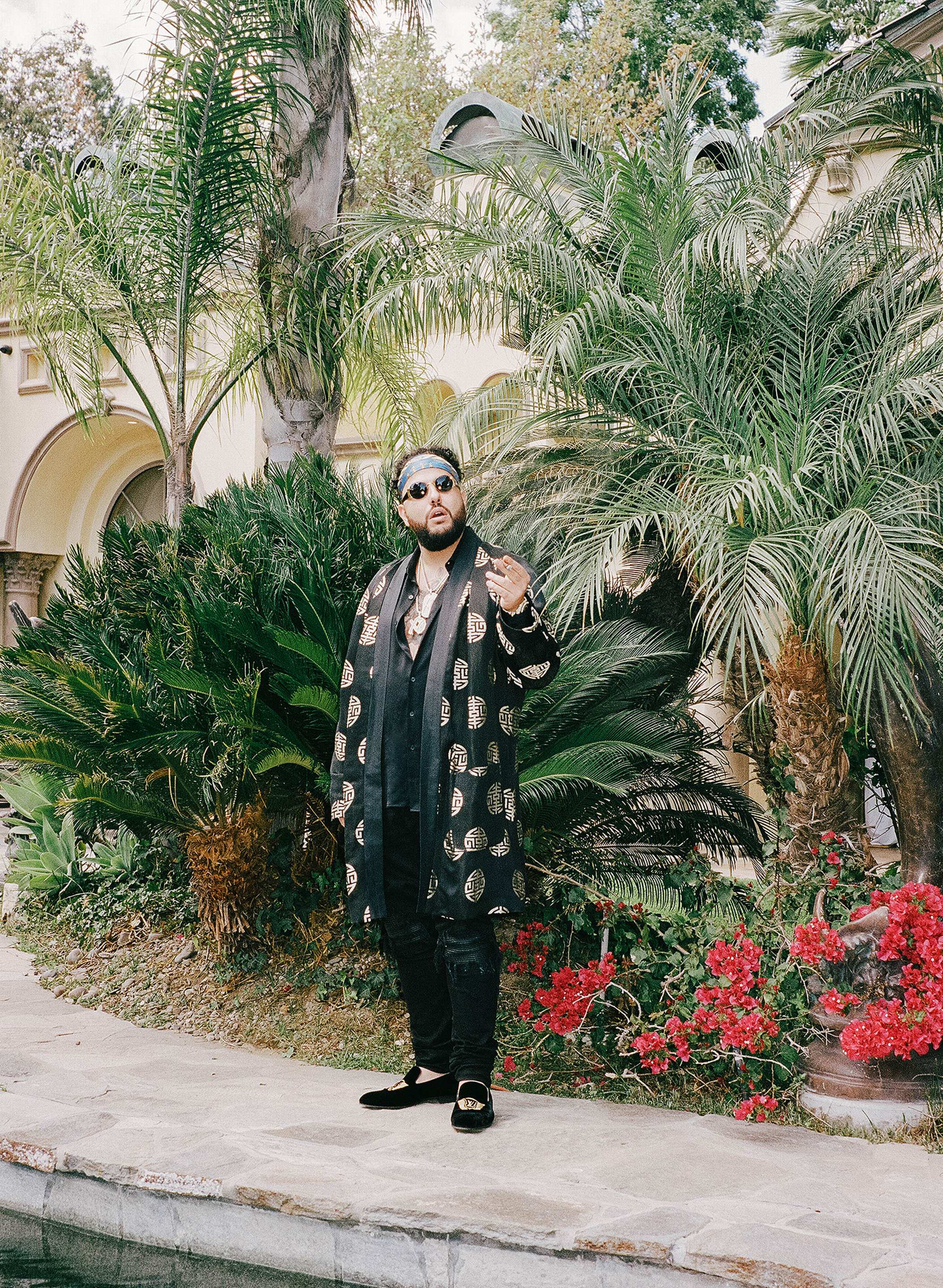 A new single with The Weeknd, who Belly refers to as his brother, dropped last week. "What You Want" is a mellowed-out R&B jam, a soothing departure from their previous collaborations, the more unyielding "Might Not." The lyrics reflect where Belly is at this point in his life: While he's got all the decadent trappings that come with success, everything a superficial, gold-digging woman wants, mainly weed, cash and hedonistic nights, the real shit is more elusive. That's fame. "Everything about this song is a family affair and Colin Tilley brought that to life," Belly says of the video, over a blunt in the Moroccan room. "The greatest thing in the world for me is to do what I love with the people I that love." When he talks like this, you really believe it. "First thing I do I in the morning is thank God," he says. What about the last thing before he goes to sleep? "Well, I don't sleep." He takes a puff on blunt number-two. Deebo goes sliding across the shiny, slick floor with a snort. "He's mean," he says. "Watch out. He'll bite you."

Belly's songwriting process never stops or starts because he's perpetually hearing and creating music. "It's not systematic. Every time I approach music I approach it differently. I let the vibe lead the way," he says. I ask him why he loves living in Los Angeles. "The three Ws." I look at him quizzically. "Women, weed and weather!" Duh, of course. While he speaks in a subdued flow, Belly is full of quotable one-liners that can easily double as song lyrics. "It's easy to be patient when you know what you're destined for," he responds when I ask if he has any mantras. "Great minds think alone," he smiles later on.

Expect Belly's second studio album, fraught with more repeatable lines, no doubt, and entitled Midnight Zone, is set to drop this summer. The name comes from "the part of the ocean that the light can't reach. I feel like that's an analogy for what my life has been this far and this album is me finally coming into the light." What else is next for him, besides more epic parties and more hit songs? "Happiness."