Whether it's the urge to control fire or the camaraderie of roasting an entire pig with friends, variations of barbecue have been a fixture in America for centuries. Few cuisines inspire passionate debate like a Texas brisket versus Carolina pork showdown, yet the barbecue community is one of the most approachable groups you'll find in the restaurant world.

With a legacy built on passing recipes and technique between generations, barbecue joints have crafted a legacy as a cuisine of the American people. In 2018, barbecue was listed as one of National Restaurant Association's 10 Perennial Favorites in its annual What's Hot Culinary Forecast, a collection of trends identified by nearly 700 chefs. 2018 also saw the James Beard Foundation honor a pitmaster for only the second time in its history, awarding Rodney Scott the title of Best Chef Southeast. So, how did a cuisine that was born out of the cooking techniques of America's indigenous populations and slaves become one of today's trendiest dining options nationwide? And have pitmasters become so romanticized that they've replaced brisket as the biggest hunks of beef on the menu?"The current barbecue fascination you're seeing, especially when it comes to slow-smoked meat, appears to be an offshoot of the craft food and slow foods movement," notes Stover Harger III, a producer of the web series The BBQ Central Show. "There's also an emphasis on knowing where your food comes from and who is making it. Dirty, sweat-covered pitmasters—the ones who are 'BBQ AF,' to quote a popular barbecue T-shirt—are becoming celebrity chefs for a specific subset of food aficionados," Harger explains. According to the National Restaurant Association's What's Hot Culinary Forecast 2019, many of the culinary trends identified by Harger are longstanding fixtures at barbecue joints, from homemade condiments, rubs, and sauces to in house pickling, heritage breeds, and locally sourced ingredients.

Some days it's brisket over seasoned oak and some days we're smoking beaver, watermelon, eel and squirrel over dried kelp and raspberry bushes.

"The tradition of BBQ is to use the most accessible and best tasting ingredients and wood from our own backyard. We're just constantly exploring what that is," explains Will Horowitz, executive chef of Ducks Eatery and Harry & Ida's in New York City. "Some days it's brisket over seasoned oak and some days we're smoking beaver, watermelon, eel and squirrel over dried kelp and raspberry bushes." The epitome of a modern pitmaster, Horowitz's techniques are rooted in the traditions of his Jewish ancestors. However, his creation of mind-bending menu items like a smoked watermelon 'ham' have become so popular, his restaurant created a waitlist to appease its fan base. Horowitz's focus on sustainability—a sentiment shared by many of
today's pitmasters
—is also expanding the modern concept of what a barbecue joint should offer. However, despite the message chefs and pitmasters try to convey through their cooking, the demands of today's restaurant industry have put an emphasis on visual presentation when it comes to every aspect of the dining experience. Pitmasters have adapted accordingly.
One establishment that's managed to present barbecue in an innovative way is Holy Ground, a New York City based barbecue steakhouse that looks like an old Frank Sinatra haunt. Here, the handsome pitmaster Franco V presides alongside Chef Tadd Johnson over a menu of Wagyu brisket, dry-aged bone-in ribeye, and pork shoulder among other fare. Along with bottled cocktails and full table service, the restaurant is elevating barbecue to a world beyond the humble paper plate and picnic table. "Being from New York and not really having anything tying us down to being 'traditional' gave us
the freedom to play
with the idea of how we could do it differently," explains V, on his New York-style barbecue. Randall's Barbecue is also using the city of New York as its inspiration. "Jared and I both draw a lot from our childhood and the city itself. You'll find five-spiced smoked duck with ginger and scallions, inspired by Chinatown," describes Randall's Barbecue pitmaster Jake Klein, who also smokes up chopped chicken liver and lobster rolls at his establishment.
And the development of styles to complement the four traditional genres of barbecue—Texas, Carolina, Memphis, and Kansas City—helps support the idea that times have changed. Now, pitmasters are willing to cross regional lines in an effort to get their brand of 'cue out to the masses. Rodney Scott brought traditional Carolina whole hog cooking across
state lines to Alabama
. Celebrity chef Michael Symon is putting his name behind the newly coined Cleveland-style barbecue, while Top Chef's Tiffani Faison is giving Boston a legitimate barbecue outpost.
When there's a grill, there's a way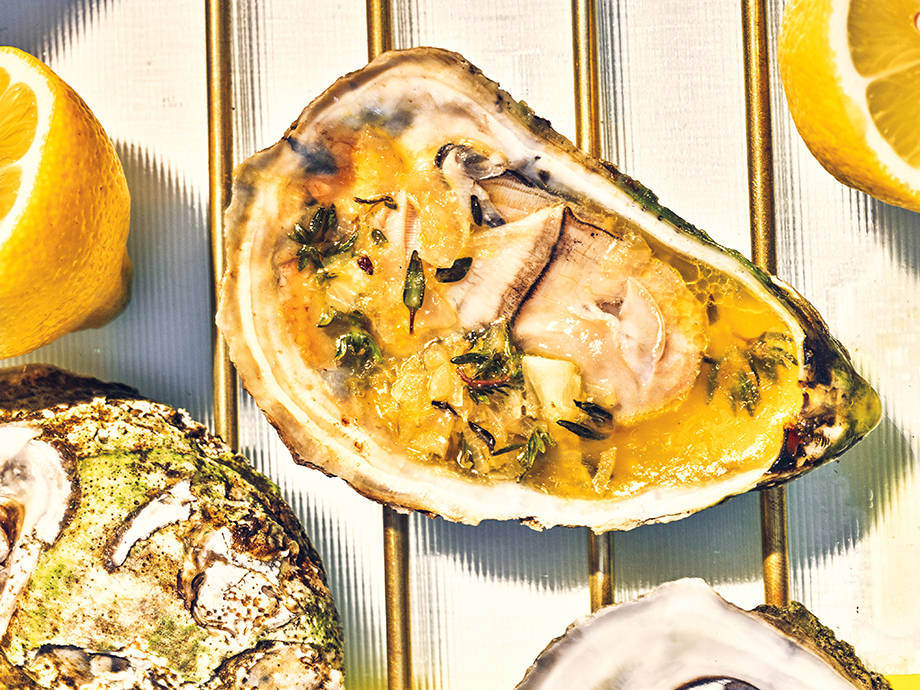 Establishments like Feges BBQ in Houston, run by a husband and wife team that brings sophisticated side dishes like Moroccan spiced carrots to pair with boudin and pork belly. The impact has been felt across grilling and barbecue restaurant genres, as in the case of Vietnamese BBQ, where Chef Jimmy Ly of Madame Vo BBQ offers bò 7 món (beef seven ways) with twists like 45-day aged beef ribeye and appetizers like charred uni with beurre blanc and fish sauce. While the progression of barbecue is undoubtedly a good thing in the survival of America's most treasured cuisine, one of the major criticisms is that barbecue's humble past is being overlooked in favor of a flashier future.
With emphasis on televised competitions, barbecue festivals, and dishes made to dominate your Instagram feed, the allure of ditching your day job to play with fire has never been more popular thanks to charming barbecue industry personalities. Jess Pryles, a cook, author and host known as the Hardcore Carnivore, sees a balance between the way barbecue is portrayed to audiences versus its reality. "Ultimately, I think it's fine that the scene is glamorized. It's an addictive passion, but it's dirty, heavy, hard work. You'll find that out very quickly," Pryles explains. A native of Australia who fell in love with Texas 'cue, Pryles represents many of the individuals who didn't experience traditional American barbecue growing up, but have found success regardless in cities across the country.
While grilling and smoking are two entirely different concepts, Americans are ready and willing to burn a few pounds of meat when it comes to trying their hand at creating 'cue. According to the Hearth, Patio, and Barbecue Association (HBPA) 2018 State of the Barbecue Industry Consumer Survey, 7 out of 10 adults in America
own a grill
or smoker. "Primarily what attracted me to barbecue was cooking on a backyard grill with my dad," recalls Phil Moseley, Blue Oak BBQ's co-owner. "I realized there was so much more to barbecue than steaks and burgers, once I got out and really started trying barbecue and different methods as I got older."
No matter the experience be it a backyard or professional competition, barbecue is a national treasure that invites everyone to secure a spot around the pit and watch the magic happen. For those worried that pitmasters breaking with tradition are ruining what made barbecue great, Stover Harger III offers some friendly advice. "Tradition does not breed quality. There's got to be a talent on top of tradition to make it work." Harger emphasizes. With the amount of talent located throughout the United States, the essential guide to barbecue is becoming an even better read.