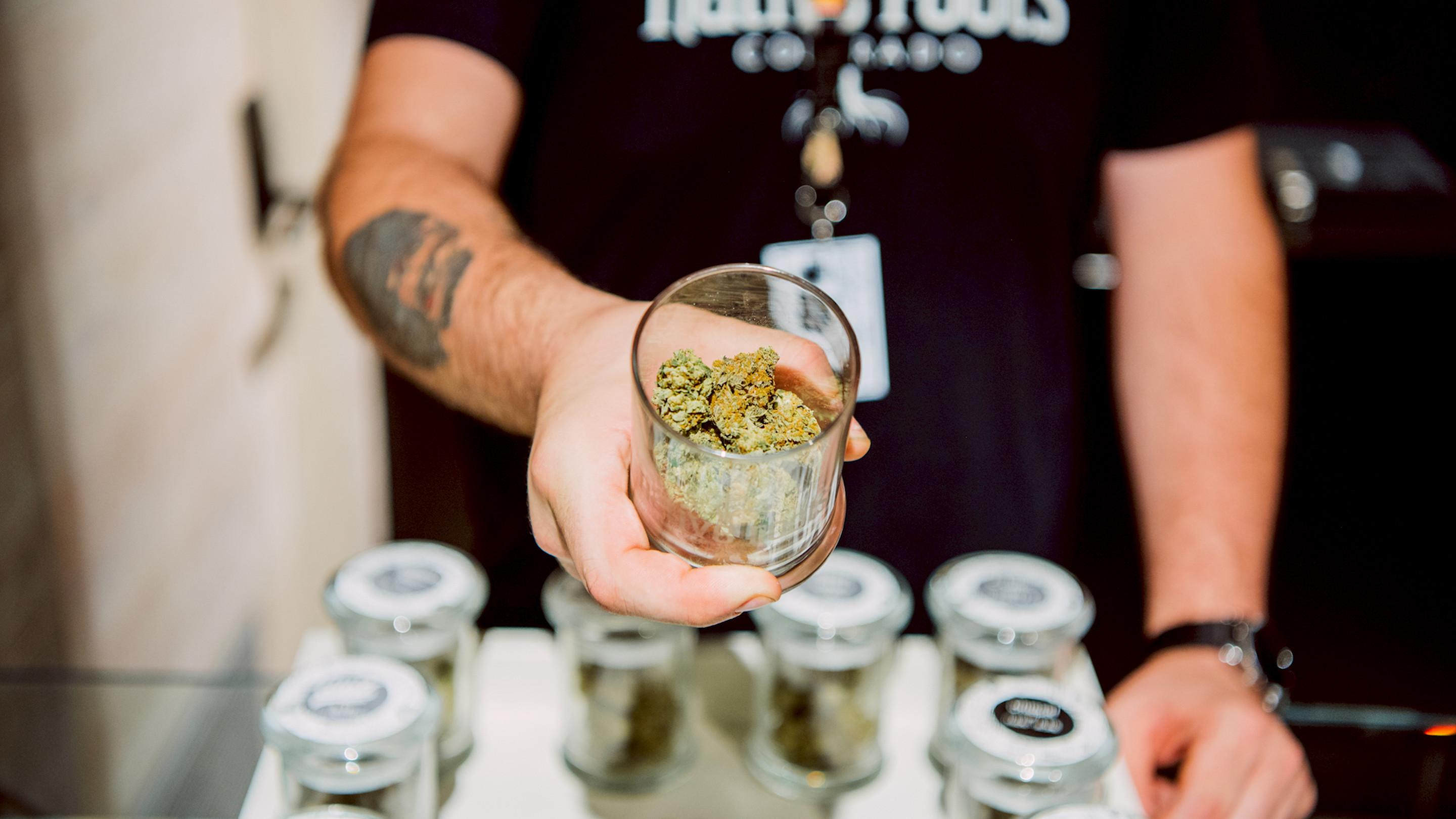 Budtending Is Serious Business
Written by Lisa Beebe

Published on

February 15, 2018
Now that states are passing legislation to decriminalize the use of cannabis, it means that dispensaries are no longer shady businesses, but full-fledged operations. They need employees to serve growing demand, but it's not as easy to break into the budding industry as one may assume. Really, what is a budtender? Part human cannabis encyclopedia and part salesperson.
Budtending is also a tricky career path because each state has widely varying laws. In Colorado, for instance, Paul Gottshall, HR Generalist at
Native Roots Dispensary
, says the occupational license required is similar to the license one needs to work in a casino job, "It's a state-mandated background check by the CBI—the Colorado Bureau of Investigation—and the FBI, just to make sure there's not any kind of outstanding warrant, there's no violence in your background check, and I think there's also an IRS check as well to make sure you're not owing any back taxes or child support." However, one doesn't need to take any special classes to be licensed. Gottshall says, "There are a slew of trainings and certifications and there's more popping up every day. The problem with those certifications is that there's not really a baseline." Since there are no rules or specifications about what the classes should include, he says, "We don't put a lot of weight into the certifications at this point, just because there's not a lot of regulatory oversight." Kenji Hobbs is the General Sales Manager at
Uncle Ike's
, a chain of recreational dispensaries in Seattle.
He says, "There's no certification to become a recreational budtender in Washington state." When medical marijuana is involved, things get more complicated. Hobbs previously worked in Washington's medical marijuana market, and that job did require certification. Applicants must be at least 21 years old, complete a state-approved 20-hour class, and have CPR training. He says, "It's quite an intense process, and it does cost a little bit of money, but in the end, you receive your certification through the Washington Dept. of Health. You update that once a year, and that basically gives you the ability to make recommendations to people that need it for medical uses." (More details are listed on the
state's website
).
In California, the budtender (who makes dispensary experiences that much better) doesn't need any special certification to get hired at a cannabis dispensary, whether their products are for recreational or medical use. Daniel Yi, the Vice President of Corporate communications at
MedMen
, says, "I think for nail salons, it's required that you have some kind of a license from the state, but no, you don't need a license to be a sales associate at a marijuana dispensary." He says there's no indication that the state will require certification in the future, either. "They just finished writing regulations for the entire industry, and that was not an issue."
If a budtender hopeful's main qualification for working in the cannabis industry is extensive personal use of the products, it's probably not enough to get the job. All three industry experts agreed that when they hire budtenders, they're mainly looking for good customer service skills. Yi says, "It's about having a rapport with the customer, understanding that person's needs, and finding a product that is going to address those needs." He offers a hypothetical example of two people competing for a sales associate position at MedMen: One has worked at a small medical marijuana dispensary for five years, while the other worked at Macy's for two years, Starbucks for two years, and is currently working at Nordstrom Rack. He says, "Just on paper, the latter candidate is a lot more appealing from our perspective than the person who has worked five years at a pot shop."
Of course, an interest in cannabis is a plus. Yi describes the ideal employee as "Somebody that's passionate, energized, and excited about talking to people about cannabis. Somebody that understands the seriousness of the laws that we have to follow… Also, somebody that's hungry for more knowledge, because we get new strains and new products every week. Laws change, prices change, so just somebody that really takes those things not as a challenge, but as an opportunity for them to learn more and become an important member of the industry." He runs through a list of other good qualities, mentioning good cash handling skills, the ability to show up on time, and the ability to be both friendly and professional.
Native Roots has 20 dispensaries across Colorado, and Gottshall says they keep the different markets in mind when they're hiring. "The industry as a whole really caters to people from all walks of life. That's something we really try to mirror in our staffing as well. If we go out and hire a bunch of twenty-something adults, and then we have an older crowd walk into the store, that's a little bit off-putting. We try to have a really diverse crew."
Contrary to what many believe, your favorite budtender isn't stoned at work. At Native Roots, Gottshall says, "We get that question a lot—it's something we expect in the industry." But he's got bad news for you. "We have a zero tolerance policy for people showing up to work under the influence of anything, whether it be alcohol, another substance, or marijuana. If we can tell that someone is inebriated on anything then we act decisively. That's also rolled into the state compliance under the regulations. If you are a holder of that occupational license, one of the requirements is that you cannot be inebriated on the job."
Hobbs says it's frowned upon at Uncle Ike's, too. "Because the job is fast-paced, and involves dealing with a lot of people, we prefer people to be in their best state of mind. But outside of work, we all definitely consume, and we're always trying our new products and reviewing things—all of that."
No toking up before work at MedMen either. Yi says, "If you smoke half a joint during your lunch break, and you come back to work, and you're not fully there, that hurts your performance." He specifies that he doesn't mean all of the store's products are off limits. "Let's say somebody comes to work, and they've used one of our pain relief balms that are THC and CBD infused, but it doesn't get you high. Are there prohibitions against that? Of course not."
Of course, the obvious benefit for cannabis users is getting a discount on the dispensary's products. As for the other green stuff—cash—the pay range will probably be typical of sales jobs in that particular geographic area. At chain dispensaries like Native Roots, MedMen, and Uncle Ike's, full-time jobs come with benefits like medical coverage.
So, where do these companies list their job openings? When jobs are available at Uncle Ike's, Hobbs says, "We use Indeed, Craigslist, and other job boards that are friendly to cannabis. Many times we'll have customers, regulars or friends of people that are already on our staff, and if they really shine, we'll happily bring them on. A lot of times, the most knowledgeable people that we're connected with are our customers that come in the door, so many times our customers become our staff members."
Basically, always be kind to your budtenders, because, like in any other industry, it's all about who you know.