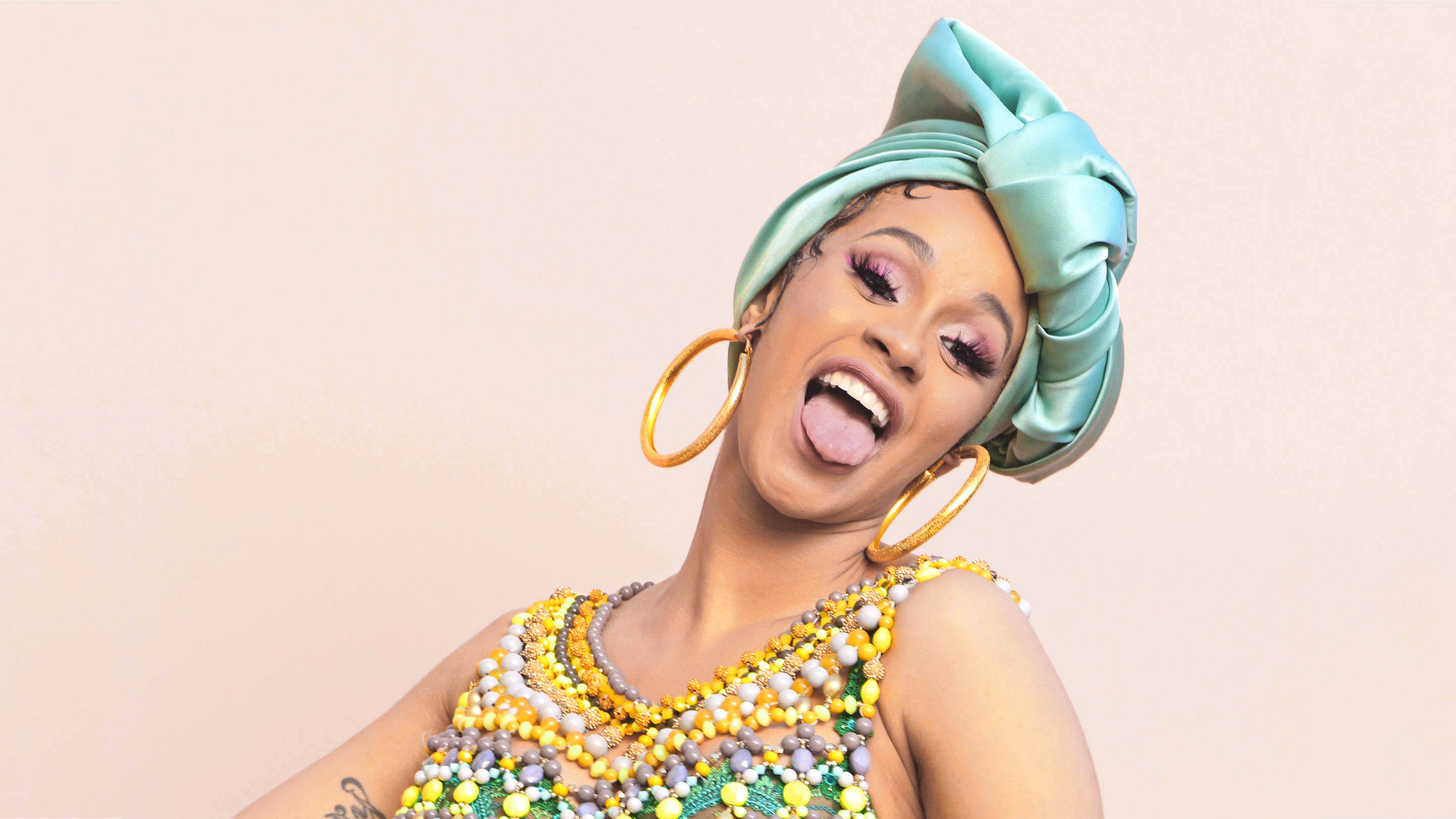 We live in a time and place where liars have all the power. We're told how great things are all around us, when all we have to do is look around to know otherwise. We're made to believe all sorts of assorted bullshit we know to be fake: news, views, presentations, marketing strategies, brand promises, medical opinions and otherwise. But everybody wants to believe in something. And judging from the undeniable success of Cardi B, who just became the only female rapper in history to have multiple No. 1 songs on Billboard's Hot 100, there's still a place in American culture for the truth.

Rappers don't exactly hold themselves to the same standards of honesty and reality like they once did, back when hip-hop started in the Bronx, where Cardi B was born and raised. We're all used to rappers exaggerating—that's part of the whole fun of hip-hop. Your creativity and ego can take you very, very far, if you happen to have the skills necessary to both rhyme and stay on beat, and especially if you have undeniable style that's all your own. Everybody's a drug kingpin, everybody's richer than everybody else and everybody's The Realest.

So even when the Dominican-Trinidadian-American came right out, during the period when her initial single "Bodak Yellow" was the worldwide hit song, and admitted she didn't write her own lyrics, nobody was really all that mad. We're far removed from the days of fake rappers being ashamed when elder statesmen like Main Source told them they were "Fakin' the Funk." Yes, there was a time when admitting you don't write your own bars would have been self-ether, so to speak. But we've changed, and whether it's evolution or the opposite, it seems that people only demand that you be honest about how you're hacking hip-hop, and anything else you're doing. As they say in many other professional fields, "If you ain't stealin', you ain't tryin'."

Cardi also keeps it extremely real about other things people have historically lied about to the general public. She openly stated that not only had she received implants to make her rear end larger—to compete with fellow exotic dancers who were starting to make more money after the surgical procedure, and with a woman with a bigger ass with whom her boyfriend cheated on her—but that the injections resulted in "the craziest pain ever" and days of leakage. In these times of fast-casual plastic surgery, that's the kind of wisdom more young ladies could probably benefit from hearing more often.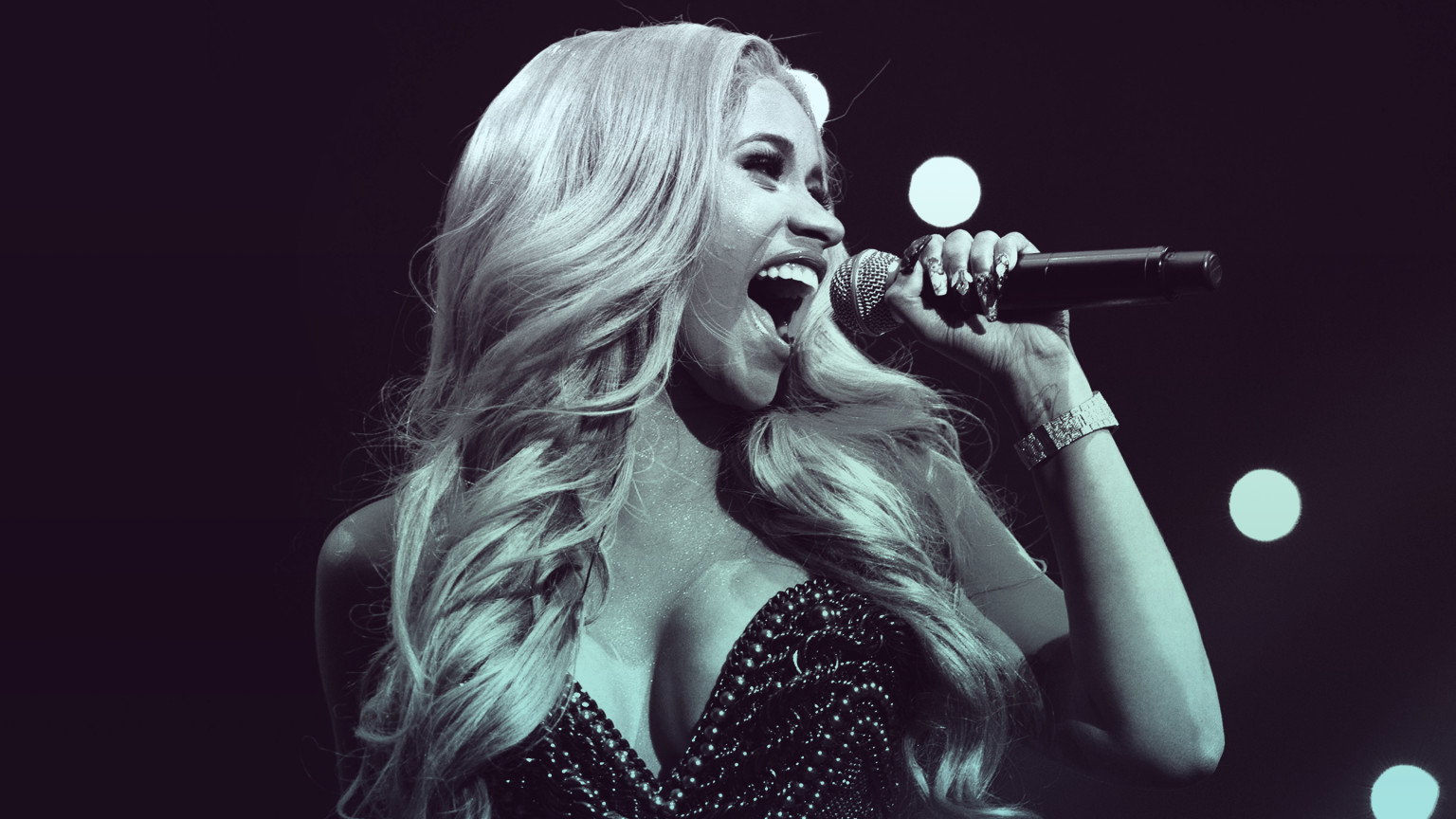 Then there's her relationship with Offset, the charismatic member of the red-hot Atlanta rap group Migos, with whom she's not only expecting a child, but who was also caught cheating on her as well. Instead of shielding it, she shared the truth, both on Instagram (which is where she initially gained internet fame for being unabashedly honest about the life of a so-called stripper) and on records like "Be Careful," where she appears to warn him that she, and the rest of the world, knows her worth, even if he's too distracted to man up.
Numbers don't lie, and neither does Cardi B—or at least that's how it seems. The natural "It" quality she possesses stems from the fact that she comes across as someone who doesn't have to lie to anybody. Even with the ghostwritten lyrics and implanted body parts, she's real enough to tell us in a song about her cheating baby's father, with whom she became pregnant out of wedlock (but secretly married, which she recently revealed). She also shares about her hard-knock upbringing and how dancing naked actually turned out to be a net-positive. It took her out of poverty and helped feed the self-esteem that made her so unmistakably unique, along with drowning out the self-uncertainty that once made her think her accent was too thick.
Compare that to the "Monster" in the room:
Nicki Minaj
. Since her debut on Kanye West's pivotal album
My Beautiful Dark Twisted Fantasy
, Nicki—and her labelmate Drake—have positioned themselves as rap's new king and queen. But there's something Nicki can learn from Cardi. It's not as if the former and latter haven't both undergone plastic surgery to enhance their physical appearances, and it's not like both haven't borrowed from predecessors like Lil' Kim, Foxy Brown and other ladies of hip-hop who weren't afraid to wield obvious sex appeal. But let's take Kim for example. It seems like everyone agrees that the Queen Bee was in her prime before all of the physical alterations and seemingly overwhelming thirst for popular acceptance. Remember that album cover for
Hard Core
? Nicki didn't seem to mind
adopting the same pose
back when she was angling for industry position as the next great female rapper. But she certainly didn't take well to Kim's insistence that
she pay homage
.
Cardi B is a throwback to a time when, even if you were bragging above your boxing weight, you were still real enough to be relatable.

The truth is that Nicki Minaj was clearly inspired by Lil' Kim, just like Lupe Fiasco was inspired by A Tribe Called Quest, and was widely panned when he pretended that the reason for
forgetting the lyrics
to the classic hip-hop cut "Electric Relaxation" (during the 2007 VH1 Hip-Hop Honors show) was because, as a kid growing up in Chicago—which is closer to New York than it is to Tennessee—he listened to more songs from 8ball & MJG than he did of groups like Tribe and the rest of the Native Tongues family, from whom he so clearly owes his entire rap existence.
It may seem crazy to bring up the revolutionary rap group Dead Prez when talking about Cardi B, but bear with me. DP member M-1 said it on one of the greatest rap songs of all time, "Hip Hop" (how ironic):
"If you a fighter, rider, biter, flame-ignitor, crowd-exciter
Or you wanna just get high then just say it
But then if you a liar-liar, pants on fire, wolf-crier, agent with a wire
I'm gon' know it when I play it."
And here's the rub: Cardi B has certifiable hits, and a hit record will shut down everything. I traveled from Atlanta to L.A. during the recent 2018 BET Experience, and I can tell you that both Power 106 and Hot 92.3 never stopped playing "I Like It," so I'm nowhere near surprised that it's Bardier Cardi's second No. 1. Whether or not she's a Blood, or has real tits and ass, or lived in sin and was a "baby mama" before quietly deciding to live up to society's parenting standards, or starts writing her own lyrics, or not, or whatever … Cardi B seems real. And it doesn't matter why, but it feels like she is a female rapper we can trust to be exactly who she says she is. We live in a world of distilled truth; it's refreshing to have a tall glass of "regular-schmegular" water, or even something mixed with everyday liquor like Bacardi, every once in a while, just to remind us of our own humble beginnings and what can happen if you just refuse to live life like it's just another lie.
Cardi B is a throwback to a time when, even if you were bragging above your boxing weight, you were still real enough to be relatable. Nicki is certainly as talented, attractive and hustle-minded as society demands all of our female rappers to be. Somewhere along the line, she took the Hollywood bait. And it remains to be seen what happens to Cardi B when she truly internalizes the name of her album,
Invasion of Privacy
, as something that we, her fans, are committing. Hopefully, she'll stay real. But all of our stars eventually fade, or forget the realities from which they came. Whether it happens sooner or later depends entirely upon what the inarguably talented young lady, born Belcalis Marlenis Almanzar in the Bronx, decides to do with the clearly open trajectory of her career. I hope she stays real.