It's difficult to talk about Clara McGregor without discussing her dad, Ewan, of enduring Trainspotting and Moulin Rouge renown. Like her contemporaries, the Hailey Baldwins and Sistine Stallones of the world, it's arguable we wouldn't be talking about her if it weren't for her famous father. But understated and innately cool with a low-key kind of charisma, Clara McGregor is different.

We met up with the 22-year-old, who's currently signed with Wilhelmina Models, in Los Angeles to talk about film, her future and favorite things, before she dashed off to her younger sister's piano recital (she's the eldest of four girls)—Clara is nothing if not remarkably down-to-earth. Actually, she's in essence the antidote to what we expect of celebrity offspring.

Where are you in your life right now?
I just moved to Greenpoint, Brooklyn. I love it. I feel like I'm on vacation every time I go home. It's so fun. What I really want to be is an actress. I just graduated from NYU in December and while I was in college I was doing modeling. But now I have the time to primarily focus on acting. They go hand-in-hand. I have an acting coach and I'm taking classes. I have a lot of really creative friends in music and film, all sorts. What's awesome about being in New York is you're surrounded by so many creative people.
What would be a fantasy role?
Honestly, I would love to play someone like Patti Smith. Just Kids is one of my favorite books of all time. Reading it while living in New York was inspiring. There are so many badass women who would be so cool to play. Lee Miller, who was one of the first female war photographers, is another. There are so many untold stories.
With your dad being who he is, do you feel like people expect you to be an actor?
I think maybe I felt like they did, and that's why all throughout high school I really turned my back on acting. I said I was going to be a photographer, I'm going to be behind the lens. At 12-years-old, I moved to LA which is all Hollywood and all I was asked is, "Are you going to do what your dad does?" I was rebelling. I was like, "No! I'm not going to do what he does! I'm going to be behind the camera." And then I got to college and asked myself, "Why are you being so stubborn about this?" I wasn't happy in the photo department so I transferred to the film studies department and then I took an acting class and fell in love with it.
Do you think there's a genetic element to it? A predisposition sort of thing?
I don't know. People say that. I'd say I wish it were that way because I think I have a lot of work to put into it and it's not just going to happen for me because my dad is good at something. It helps that I was exposed to really great movies as a kid and seeing my dad love his job. All of that contributed to me loving film, but it definitely didn't just hand me a skill. I try to watch as many movies as I can.

Do you have any favorites?
I remember as a kid Cinema Paradiso was one of my favorites. That made me love film. It's all about this little boy in Italy loving cinema and it made me do the same. Y Tu Mamá También is another favorite. It's beautiful.
What projects are you currently working on?
I co-wrote and am directing and starring in a short film I'm kind of spearheading with some friends of mine. We're collecting people and making it happen. I want to make as much of my own content as possible and get involved with some cool movie projects. I hope to keep shooting and I haven't given up on photography by any means. It's something I still love. I'm kind of just at the beginning of everything.

When do you feel the absolute sexiest?
I honestly feel sexiest when I'm in my favorite pair of mom jeans. They're old Levi's; they're classic yet they get your booty just right in there. And I'm in my sneakers and a cute top. I don't tend to wear a lot of makeup or dress up a lot, so that's how I feel like myself. When I was younger, I would try to wear heels or tight dresses and then I was like, "I'm over this!" I can wear my baggy pants and I can still be pretty.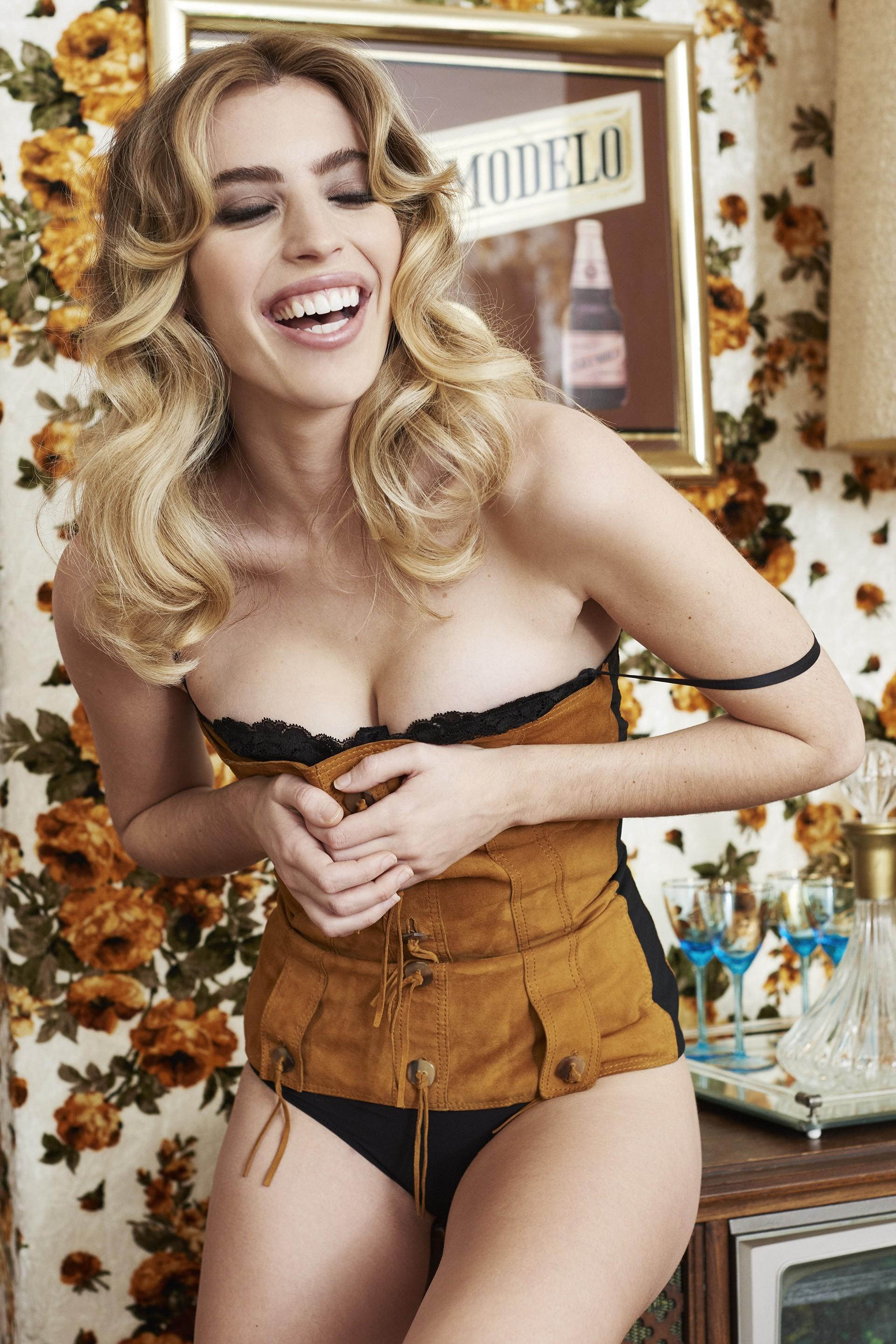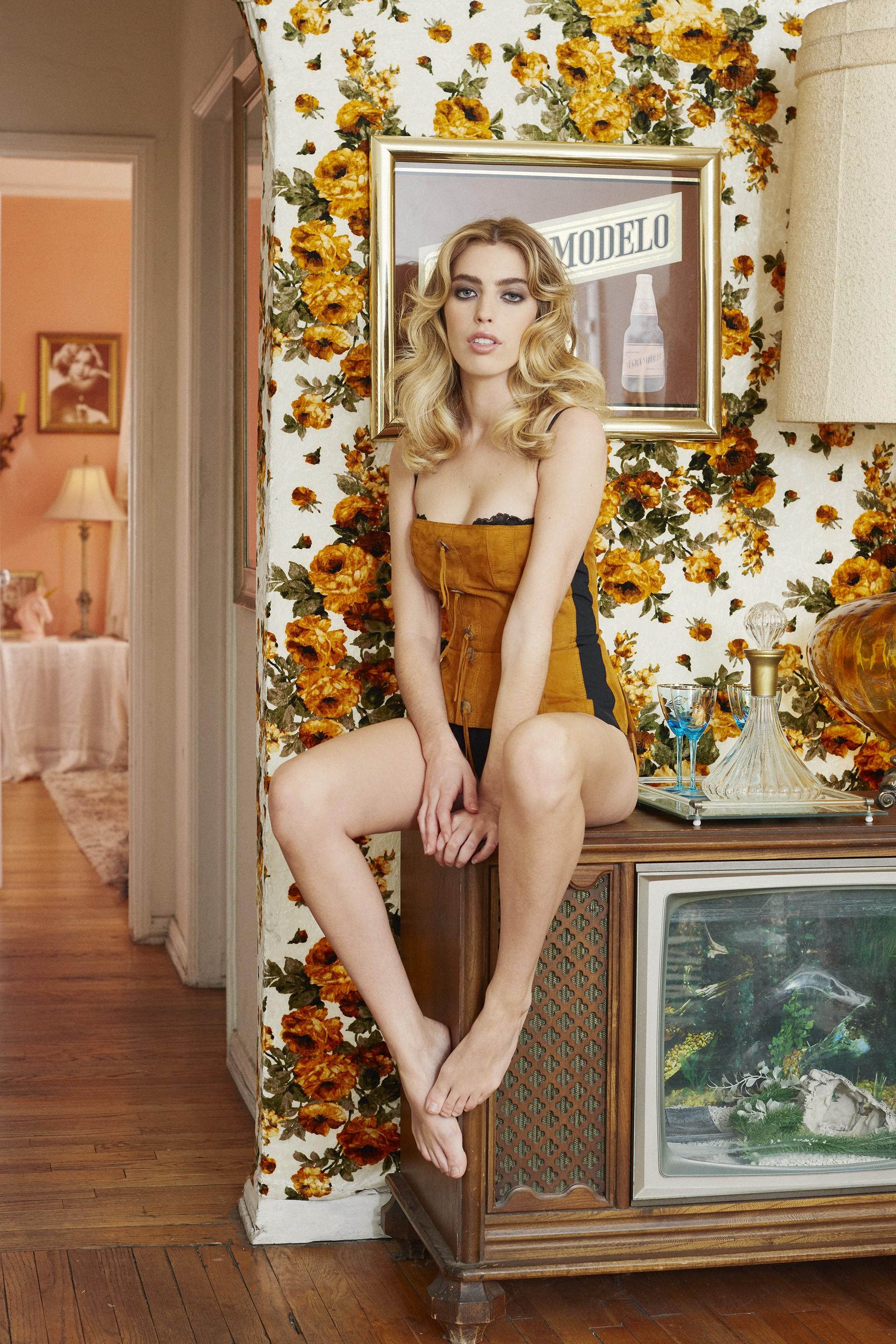 That's part of growing up: realizing what's real and true to yourself is what's appealing. What's your ideal day like?
Staying in bed really late, until like 1 or 2pm. Like a real lie-in. Then going for breakfast at Frankel's in Greenpoint. That's the best. I get my sausage, egg and cheese on a bagel or the lox.
What are your favorite foods?
I can eat sushi maybe three times a day and I would never get sick of it, which is the most LA white-girl thing I've ever said.

Sugarfish, of course.
Yep, Sugarfish! It's light. I mean, come on. What else? I like Moroccan food, couscous and stuff. My mom cooks a lot of that.
Have you traveled a lot?
I have, which I feel really lucky about. Growing up we would follow my dad on set until I was 12, when we moved to LA. London was home but we bounced around a lot. There was one year when I went to three different schools. I kind of loved it. Going to all these schools and having to assimilate was a good experience.
Do you have a favorite place in the world?
In the world? Bali. But I went with my asshole ex-boyfriend, so I don't know if it counts.
It counts! Did he ruin the trip?
Of course! He was just the worst. [Laughs] But Bali is amazing. I also love Berlin.
What's something people won't know about you by looking at pictures on Instagram?
I read a lot. I've always loved reading. I love Gabriel García Márquez. Big Hemingway fan. As for recent authors, I love Roxanne Gay. Love Bad Feminist. I'm a mix of just about anything.
When did you get your nipple pierced? I feel like every girl has her nipples pierced!
I did it four years ago, freshman year of college.
You did it before it became a thing.
Hell, yeah, I did. I love it. I want to get my other one but I think maybe that's too much. Two's a lot but I like that it's a lot. What I liked about getting my nipple pierced is that I don't think I look like the type of person who would have one. So I've enjoyed knowing I have it and that no one else could see it. Now everyone sees it all the time because of what I do.
What about tattoos?
Yeah, I have to get rid of the one on my wrist because it's my ex-boyfriend's middle name. His middle name is Glasgow, which is actually where my dad is from. But I still want to get it off! So I'm going to get a Scottish dagger to cover it up. Then under my boob I have "comme ci comme ça," which translates to "so-so," I guess. A little bit of this and a little bit of that! It's not my attitude, but it should be more, so it's a reminder to be more relaxed about things. I'm an anxious person. I often need to chill myself out. There's also this really beautiful Hopper painting of a nude woman and I want to get the outlines of it right on my arm. That's maybe next for the ink. Keep it low-key for now.
---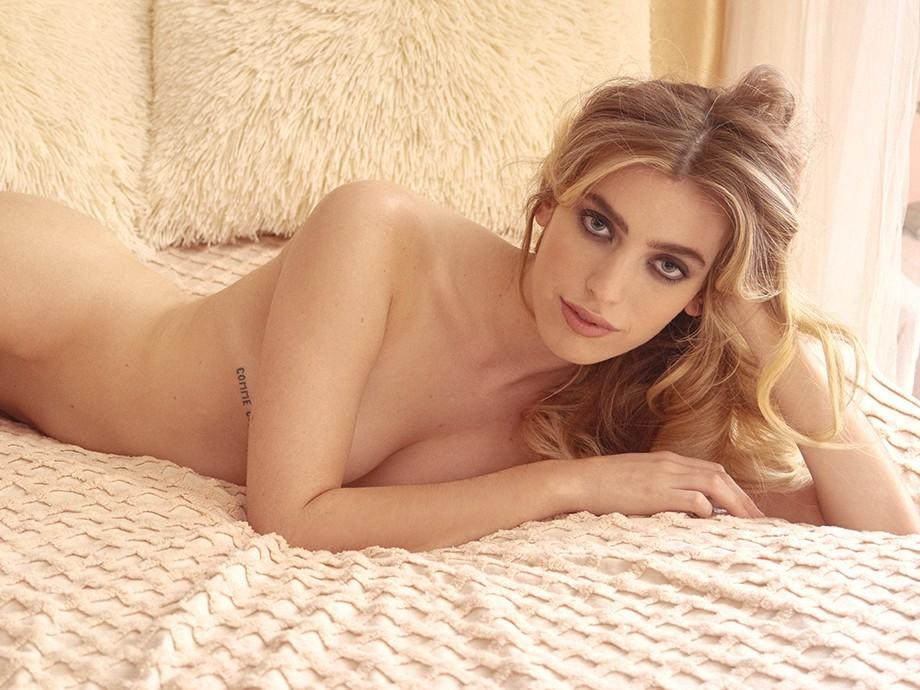 Of course you do.
Become a Key Holder to experience Clara McGregor's full NSFW gallery.