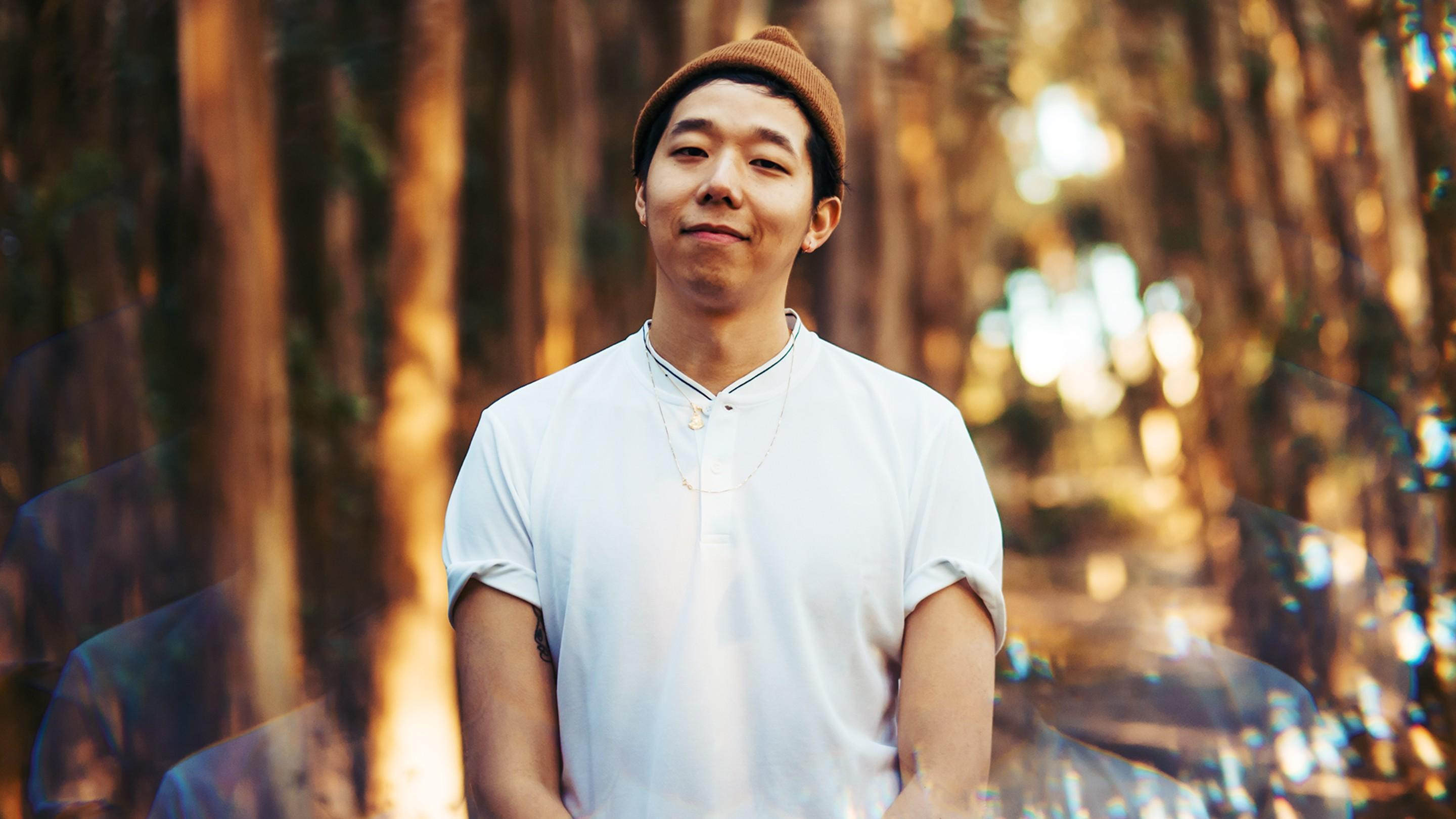 Coachella Artist Giraffage Is Electronic Music's Freshest Mastermind
Written by Michael Tedder

Published on

April 10, 2018
Several years ago, while he was still in college, Charlie Yin founded the loopy internet pop project known as Giraffage. His first-ever live show was at a fraternity party at Stanford University in Northern California. "I was extremely nervous," he remembers with a chuckle. "Yeah, it was kind of weird. There weren't that many people there, but I think it was as good as a first show can go."

This month Yin is playing the Coachella Valley Music and Arts Festival. He's gotten used to playing bigger shows since his frat party days, but he admits that "this will probably be like the biggest festival I'll have played in my career," he says. "So yeah, definitely a little nervous." Still, even if he has pre-festival jitters, he hopes to make the most of the experience. For one thing, he hopes to finally meet Japanese Breakfast in real life. The pair collaborated together on "Maybes," one of the standout songs from Too Real, last year's "official" debut album from Giraffage, but so far Yin and Breakfast songwriter Michelle Zauner have only communicated via e-mail. Which is in keeping with the Giraffage ethos, as Yin is wholly a product of the internet generation.

He was raised in San Jose, California, which he calls "pretty isolating." He elaborates, "I grew up in a pretty academic environment. Everyone around me in school was just super-focused on SATs and stuff like that. There wasn't that much cool music or bands or anything coming from my school." The artists he grew up loving, like the Strokes and Interpol, always skipped his town on tour, and the first time he saw someone he liked in concert, he had to travel to San Fransisco to see M83. "But I think that sense of isolation helped me become creative and make music the way I make it now."

He was "always the music nerd" at his school. His older brother introduced him to Napster when he was nine, "and I just obsessively downloaded whatever I liked that I heard, a lot of Blink-182, Sum 41, Aaliyah, just late '90s early 2000s popular music." He started playing started guitar and formed a band when he was 13. But it became increasingly hard to get all of his bandmates in the same room. "I just wanted to dedicate more time than they wanted to." To remedy the situation, he turned to music-making programs he had pirated. "I think I was sick of having bandmates and so I was just writing music by myself on my computer. Still indie rock stuff, but I was using electronic music software like Reason," he remembers. "And so eventually, just from tinkering around with electronic music software, I got more into electronic music in general."

After graduating high school, he attended the nearby University of California, Berkeley, where he majored in marketing. It was a more inspiring place overall (he even joined an electronic music club) but the classes themselves were a drag. "I kind of hated it. And I think just doing music got me sane throughout college," he says. "I was pretty much making music all throughout my college years. I would literally skip class just to work on a song or something."

Giraffage's recordings and live shows began as a remix project. "I was pretty much just sampled whatever I was listening to at the moment and tried to flip that into songs," he says. He would post the results, wavy, skittering but weirdly romantic recreations of songs by Tinashe ("The Last Night On Earth") and Janet Jackson ("Someone To Call My Lover") to sites like Bandcamp and SoundCloud, which earned him enough attention that he could tour on the weekends and amass a fan base. "And right when I graduated, I was able to segue straight into doing music full time instead of finding, like, a marketing job."

While he didn't find marketing to be an inspiring career field, he does admit that his classes did come in handy. "It kept me organized. I had this Excel spreadsheet of all these bloggers and people that I could send my music to when I first started out. I would just spend hours just sending out music."

His early tunes, mixtapes and EPS (such as 2011's Pretty Things and 2014's No Reason) were sample-heavy affairs that found inspiration in the nostalgic reverie of late-2000s chillwave artists such as Toro y Moi and Washed Out, which he says "was what inspired me to start Giraffage in the first place." As he toured more and played bigger shows opening for artists like Phantogram and Porter Robinson, his live sets became about "showcasing who I am as an artist instead of me just trying to fulfill the DJ role of just playing whatever the crowd wants to hear at that time." This mindset carried over to making his first full-length.

For his official debut, he signed with Counter Records, a left-field pop imprint of the venerable experimental label Ninja Tune. "I came into it with the idea of making an album versus just having a collection of songs that I released," he says, and notes that "There's very few actual sampling going on in this latest album." Instead, he did as much as could on his own, "just trying to play everything, I guess. Programming all the drums, playing all the chord progressions, and what not," he says, and looked back upon childhood favorites like the Strokes for inspiration. "I think I definitely tried to incorporate a lot of their melodic sensibilities and chord progressions and song structures into my songs."

The album was praised as his most cohesive statement yet, and this year he's playing his biggest shows yet. Giraffage has come a long way from being his distraction from the grind the pressure of academia. But more importantly to Yin, he's managed to win over the most important audience of all, his parents. Because while he was determined to do what he could to avoid a stultifying office job, they weren't so sure of his career plans. "They immigrated here from Taiwan," he says. "They're more on the traditional side. They're not really musical at all. They couldn't really grasp what exactly I was doing for a bit."

He can see where they're coming from. "Especially me being a producer/deejay. It's just kind of weird for them to see me doing music as a full-time thing, even though I'm not playing guitar or singing or being in a band or whatever. I get it," he says. But they eventually came around. "Basically, I took them to their first show of mine. It was a pretty big festival. And I think once they actually saw me on stage, they changed their minds, and now they're 100 percent supportive."