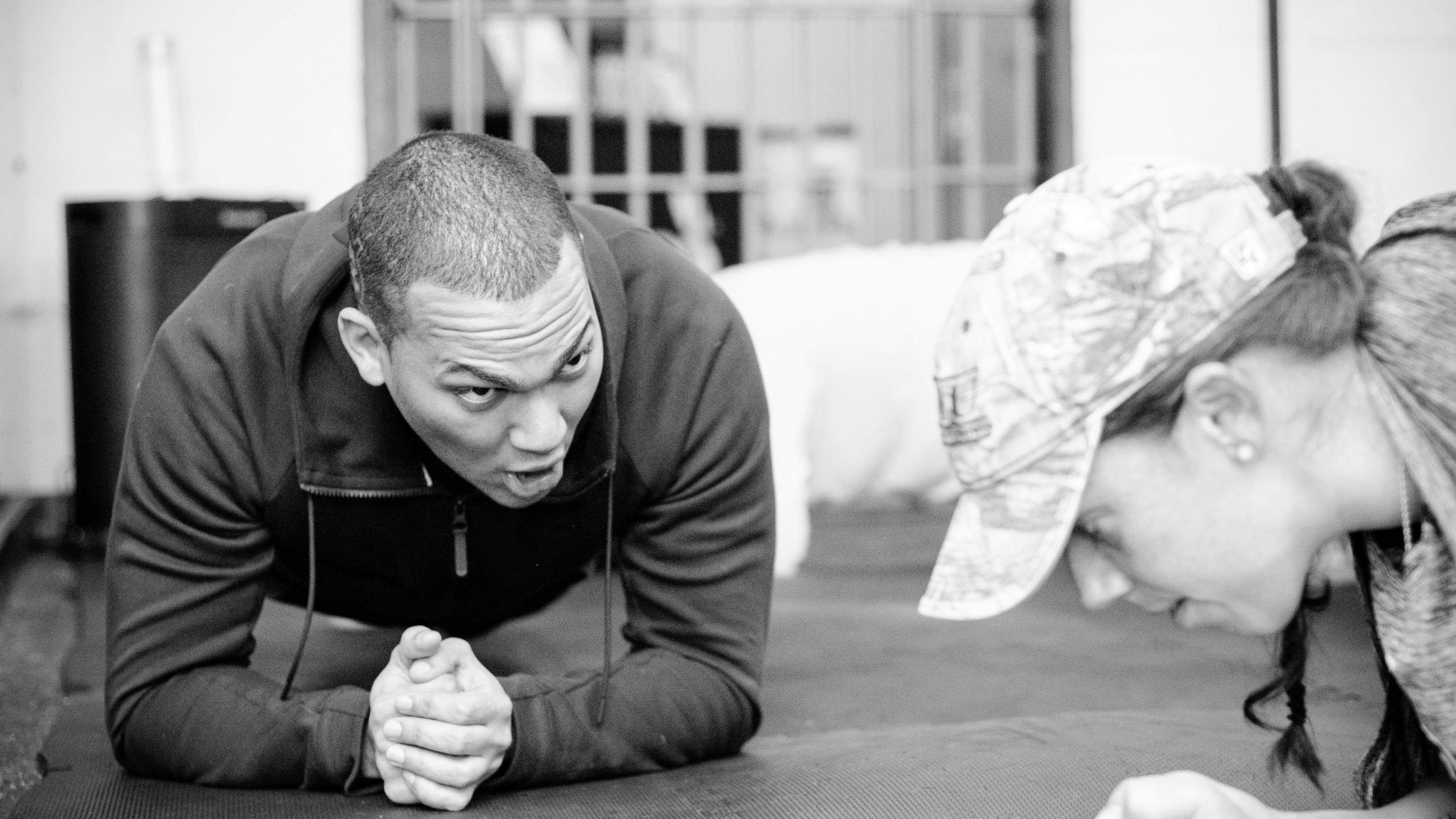 A Workout So Tough It's Criminal
Written by Elissa Sanci

Published on

January 24, 2018
Sultan Malik stands at the front of a small studio, ready to lead an intense, full-body workout. He's both intimidating and motivational as he breaks down the blueprint for the next 45 minutes and with his energy and muscle on disply, it's unlikely anyone will step out of line. Malik's was once incarcerated, and in his cell he takes no bullshit. "You're coming late to my class?" he yells, his voice cutting through the blaring music. I apologize profusely as I run into the studio. "My class?" He swings the barred prison door shut behind me as I fall in line with my 11 other cellmates, jogging in place to begin the most intense workout I will ever experience.
The class I am regrettably late for is Conbody. Founded in 2013 by Coss Marte, prison-style bootcamp offers high-intensity interval training sessions seven days a week in New York. It's a simple, yet ferociously challenging approach to fitness where clients use just their body weight and a 6-by-8-foot space (the dimensions of a prison cell). The classes are dedicated to handing out second chances, not just to clients looking to lead healthier lives, but also to trainers. An ex-con himself, Marte and his ten trainers have all served various prison sentences for crimes ranging from drug dealing to armed robbery (Marte won't, however, hire sex offenders). To complete the ConBody image, celebrity mugshots cover the walls, lockers are left unlocked and, just like in prison, there's a five-minute shower in back.
Marte always knew he wanted his business staffed by former prisoners. It's especially difficult to find employment with a criminal record, even with specific NY state laws that set guidelines for when an employer can consider criminal history. How the previously convicted are judged by potential employers is a struggle Marte knows all too well. "I applied to hundreds of jobs and nobody was calling me back," he says. "I'd go on interviews and it was just not working out, especially when they found out that I had felonies."
Derek Drescher, one of Marte's trainers, faced similar realities. The former Army engineer was denied job after job despite meeting all the qualifications because he has been in and out of the system 37 times. Drescher says Marte changed his life when he asked him to join ConBody as a running coach. ConBody strips what is generally associated with one-time offenders; Drescher can't stop smiling as he explains how great it feels to lead a class and be trusted by the clients. "Some people would be nervous if they saw Sultan walking down the street, and if they knew he was an ex-convict on top of that…but then you take a class and he's helping you, he's teaching you, showing you form, laughing with you—it totally kills the stigma."
Publicist Shateera Israel was hooked after her first class at ConBody--not just because of the exhilarating workout, but because it challenges stereotypes. "Once you get over those nervous jitters of the first class, you realize that these guys are regular people just like the rest of us," Israel says. "Everybody makes mistakes, but that doesn't necessarily make you a bad person or mean you should be penalized for the rest of your life. They've served their time and are now trying to make the best of a second chance, so wouldn't we support that?"
There is a zero percent recidivism rate at ConBody—since gaining employment at the studio, no employee has returned to crime. This isn't surprising; a joint 2015 study conducted by the Manhattan Institute and America Works proves that not only does working reduce recidivism, but ex-offenders are also less likely to return to prison the sooner they're employed. "A lot of people ask me, 'Why should I care?'" Marte recounts. "I tell them, 'You've probably committed a crime as well. You've probably smoked weed; you've could've sat in our shoes, too. What if you were known for the worst thing you've ever done?'"
While Marte has always had a head for business, it was his first venture that landed him behind bars. At 32, he's spent a total of six combined years in prison for drug dealing. Born and raised Manhattan native began selling weed to his classmates on the Lower East Side at age 13. From there, it snowballed: weed became cocaine and Marte had more responsibilities. Soon, he inherited the corner and, eventually, the entire block. "I changed the way we sold drugs. I had everybody on my team wear business suits and ties. I made 10,000 business cards," he says. "I brought it out really professionally. It started blowing up after I started a whole drug delivery sort of service."
I never thought a day in my life that I'd be in this position. Sitting in that prison cell four and half years ago, I was trapped and this was just an idea.
Rebranding the drug dealing business paid off, literally; at 19, Marte was making over $2 million a year. But when federal agents tapped his phone in 2009, his empire toppled when he went to prison. In prison, Marte faced another grim reality--he learned he was drastically overweight. If he didn't make a change, then his health complications could leave him dead within five years so he began an exercise regimen at the recommendation of his physician--running laps in the yard and working out in his cell, using only his body weight and a pull-up bar. In six months, Marte lost 70 pounds, but he didn't stop there: over time, he helped over 20 inmates lose over 1,000 pounds altogether.
Although Marte had been in prison twice before, this time he knew he couldn't go back to selling drugs. Things needed to change. "I started to really understand that what I was doing was really affecting a lot of people, and not just the people I was selling the drugs to, but their families," he remembers. "How can I pay back all the wrongdoings that I've done? I was already helping these guys in the yard get fit and I was like, 'This is what I want to do; this is how I'm going to help people.'"
Marte returned home in 2013, determined to start his own fitness studio. He began training clients in the park, starting with his mother. He exchanged workout sessions for space on her couch, where he lived for a year while regaining his footing in society. "She's 63-years-old and she's a fucking beast," he laughs, adding that she now regularly attends ConBody classes. Just like in the prison yard, Marte started attracting a crowd. He built up a clientele and eventually saved enough to rent ballet studios for his classes and won funding from major pitch competitions, including Pitch for Good by TOM's Shoes, and raised money through Kickstarter campaigns.
In January 2016, he officially opened ConBody in his own space on Broome Street, just down the block from the corner where he made his rise and fall as a drug lord. Now, with 17 employees (including 13 former inmates), ConBody is thriving. About 1,000 clients come through each month, and every class hits capacity. They've also trained over 4,000 people globally through their online video program. "I never thought a day in my life that I'd be in this position. Sitting in that prison cell four and half years ago, I was trapped and this was just an idea," Marte says. "I never thought I was going to impact this many people a few years back. It's crazy."
Marte's dream is to have locations all over the world, but first he'd like to start with another Manhattan-based location. Determined to make ConBody explode, he's spent the first month of 2018 scouting locations for a second permanent studio. The rest of his time is spent with a few other trainers as they begin working with Riker's Island to train inmates as they serve time. Still, what Marte is doing comes at an emotionally-taxing price: with just one studio, there's only so many trainers he can accommodate. "We get jail mail from prisoners across the country and the world. People write us and say, 'I'm coming home in a year. Can you hire me?' It gets overwhelming sometimes. I can't hire everyone," he shakes his head. "But I'm getting there."
With his back against the mirrored wall, Malik turns up his favorite jam ("All the Way Up" by Fat Joe and Remy Ma). He's just one of those thousands of people Marte has affected. After 14 years in prison, half of which he spent in solitary confinement, Malik is now ConBody's Vice President and Senior Trainer. If he can be wrung through the system and come out on the other side a changed man, then I can make it through a 45-minute workout, no matter how brutal it may be--and that's a type of motivation that's difficult to find elsewhere.