Amid the otherworldly dark-comedy whirligig that is the new R-rated Hellboy—Blood-gushers! Decapitations! Erotic, demonic witches! The legendary, deformed Slavic sorceress Baba Yaga, for chrissakes!—there is a still point that delivers an entirely different, equally potent kind of kick. It's provided by Daniel Dae Kim, who plays, with wit and gravitas, the facially scarred Maj. Ben Daimio. Daimio is a sarcastic, straight-arrow hard-ass who, when he isn't transforming into a sleek jungle cat, gets his jollies by busting the chops of the cynical demon-slayer title character played by Stranger Things MVP David Harbour.

Most of us best know the Busan, South Korea-born, Pa.-reared Kim for his breakthrough, multi-award-winning role of the fisherman/hitman on Lost, or a forceful police detective on Hawaii Five-0, or as the chief surgeon on The Good Doctor, the acclaimed ABC drama which he also produces. But the Kim who shows up in Hellboy—like the unapologetically over-the-top Neil Marshall-directed movie itself—betrays welcome flashes of humor, the kind of dry, wicked wit that made critics and audiences "rediscover" the actor in his acclaimed stage-musical theatre debut in the 2009 London and Broadway revivals of Rodgers and Hammerstein's The King and I.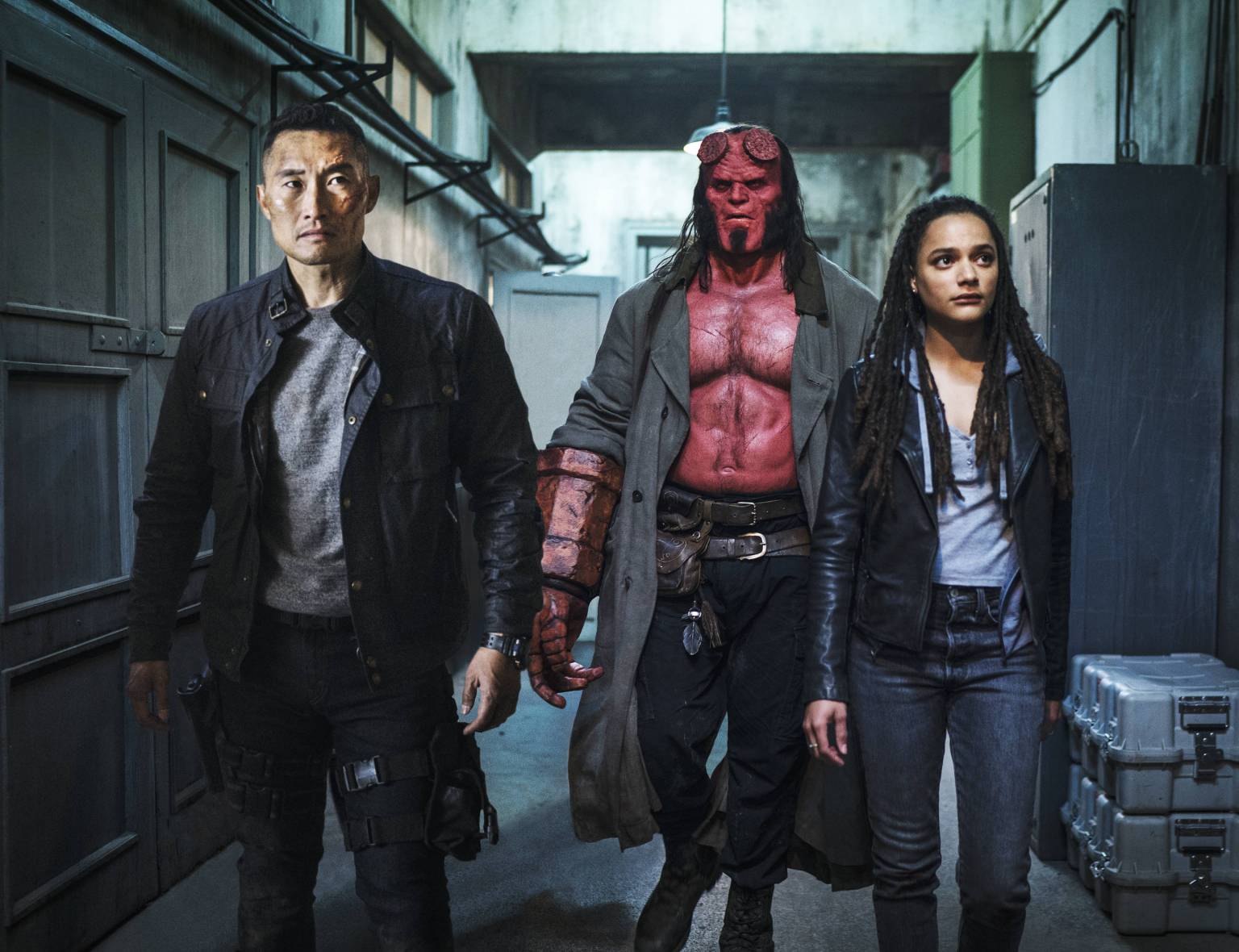 This guy is sharp, funny and has expert comic timing. Let the powers-that-be continue to cast him as straight-arrow, put-together treasury agents, doctors and law-and-order types; the sooner Kim's inner romancer—his Cary Grant—emerges, the better. Happily, he knows that, and through his film and TV production company 3AD, the L.A.- and Honolulu, Hawaii-based Kim intends to do something about it.
---
Way back as a kid growing up in Bethlehem, Pa., and emerging in 1996 from NYU's Graduate Acting program, how important were comic books to you, if at all?

Growing up, I had a big box of comics in my bedroom—that I wish I would have kept because they'd be worth a lot of money now. All of these characters—
Batman
, Iron Man, Captain America, The Avengers, The Defender, Iron Fist, The Fantastic Four—were a big part of my childhood.
Over the years, when you watched other actors get cast in these roles in movie versions, did you feel any pangs?

To be honest, yes. It's one of the reasons why I was excited to be part of
Hellboy
. When I was younger, I never thought about the fact that all my heroes were white. I don't fault the creators of these things because they were mostly created in the '50s and '60 when the assumption was that everyone was white. I began not putting an importance on self-identification. I thought, I can still pretend to be Batman, I can still pretend to be Superman.
How intense was your pretending?

At 5 years old, I loved Superman so much that I climbed onto my window sill and jumped because I thought I could fly like him. Unlike him, I landed on the floor on my chin, gashed it open, and my dad, who's a doctor, had to stitch me up right there on the spot. That's how much I identified with wanting to be a superhero!
Since Mike Mignola created the red, horned, long-tailed, Nazi-and-witch-fighting, half-demon Hellboy in the '90s, we've had two animated versions, video games, two live-action movies and now a third feature film reboot, this time minus director Guillermo del Toro and star Ron Perlman. What's the big attraction to the source material?

It's the fascination with heaven and hell, and the fact that there aren't many characters in the comic-book universe that deal so directly with that. The "unknown" that Hellboy represents is also compelling, and besides that, there are so many classic comic-book aspects to Hellboy: good vs. evil, high interdimensional stakes, the fate of the planet. I also wanted to do the movie because I thought [director] Neil Marshall's movie
The Descent
was so well-done, especially for the budget he was working with.
The Stranger Things breakout goes deep on mental illness, addiction, death threats and being Hellboy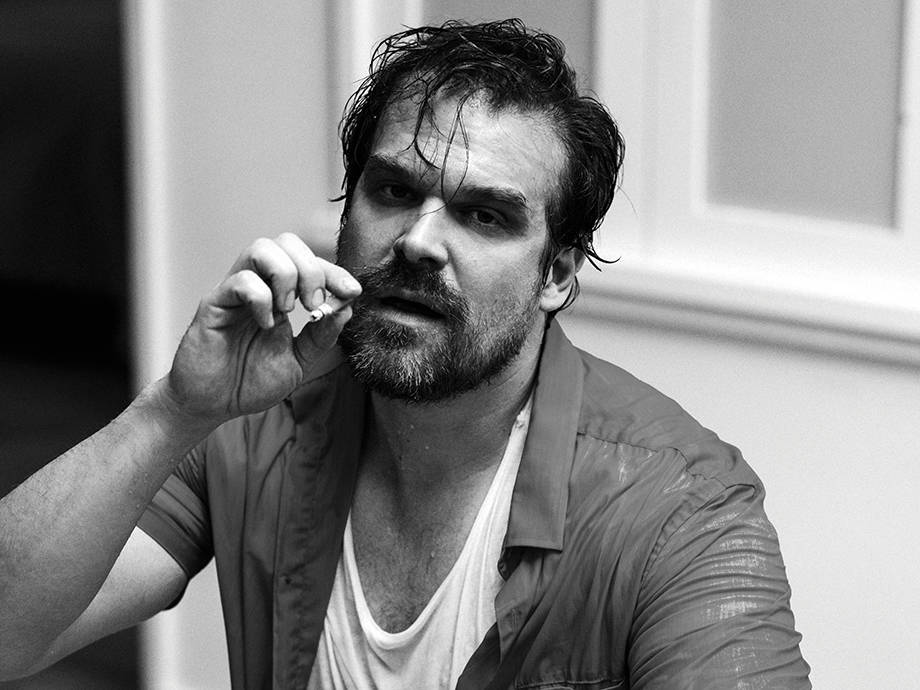 We also know Neil Marshall for directing Westworld and Game of Thrones episodes. What does he bring to Hellboy that sets it apart?
He brought the same gritty sensibility he brought to
The Descent
. It gave
Hellboy
a nice texture, and he also has a very wry sense of humor, and you can see hints of that in the movie now. About the movie overall, I am pleasantly surprised by what I see. These comic-book movies can be one-dimensional. I think there's more to this one than meets the eye.
The movie goes so full-throttle on gore, blood geysers, decapitations, spilling of organs and eye-gouging that it becomes very funny and macabre—almost in a Hammer-meets-Evil Dead sort of way.
That was something that they were going for, and a lot of the humor comes out of that over-the-top gore and violence. It's going to turn off some people, no question, but others are going to see the wink the way you did.
Was your director cool with the decision to play Maj. Daimio as Asian-British as opposed to Asian-American?
It was his idea. [
Laughs
] I was actually a little bit resistant to it, but he thought it would be interesting, and I thought, Sure, I can go along for that ride. It gave me a chance to do something I've never done except back at NYU, where we took a speech and dialect class. I thought it was a lot of fun, but back then, I thought to myself, When, as an Asian-American actor, am I ever going to be asked to do a British accent? Twenty years later, here I am!
In 2017, Deadpool actor Ed Skrein originally got cast as Daimio, but he withdrew within days after fans complained about whitewashing a character Mignola had written as Japanese-American. You've expressed great respect for Skrein, who didn't know about the character's heritage. But, just pragmatically, didn't that put crunch on you in terms of having to jump onto a fast-moving train?
I had two days. With superheroes movies, as with any, you've got to bring your A-game. You can't phone it in because then the character will seem cardboard and one-dimensional. The more exploration you can do for yourself, the better. Right away, I started diving into the accent and reading the source material. Mike Mignola took time to write this character, so first and foremost, I wanted to respect his work. There were things about Daimio that I could relate to.
I remember the days of being marginalized, being told I was ugly. It informs who I am today. I now enjoy a level of acceptance that other Asian-American men do not, but that never changes that I am who I am.

Such as?
I remember the days of being marginalized, being taunted and being told I was ugly. It informs who I am today. Because of what I do, and the fact that I'm well-known, I now enjoy a level of acceptance that other Asian-American men do not. But that never changes the fact I am who I am. My experiences and memories are unalterable. When I see someone like Daimio, I know that he is defined in the same way by his experience because of the scar on his face. That is something that is unavoidable and informs how other people view him.

Do you feel a kinship when someone like, say, Star Wars: The Last Jedi actor Kelly Marie Tran gets harassed by racist, misogynistic comments on social media?
That situation was heartbreaking, not just because it touched on race but because it touched on gender, too. It made her an easy target. I can't say enough about how well she handled it. That can't have been easy. I know what it feels like to be a minority in this country, but the challenges of also being a woman is something I can only sympathize with. In our culture now, there's a lack of nuance about the way we speak about issues. People are increasingly polarized. You're seeing more and more people taking extreme positions as opposed to trying to find common ground. People tend to talk at each other now, not to each other.

Do you get fed up with being asked about representation and diversity—with being known as "Daniel Dae Kim, Korean-American Actor" as opposed to "Daniel Dae Kim, Actor"?
I mean this wholeheartedly: I would really like this whole dialogue about inclusion, representation and diversity to go away. I'd like it to be a moot point. At some point, we won't question an Asian-American superhero, an African-American superhero, a gay or lesbian superhero. I'd rather the conversation be, "Oh, that was a good movie," rather than a conversation about gender or sexual orientation. I look forward to the day when people look back and say, "How could there ever have been a time when people wouldn't allow minorities to be leads in movies? How could that have existed in this country?" I want people to be shocked by it.

Aside from big action scenes, many of your Hellboy scenes with David Harbour are subtly funny, ball-busting, antagonistic ones. How was the connection between you while making the movie?
He brought an unexpected depth to the character. He's a classically trained theatre actor whom I know from New York, where I went to school, and also from our having a lot of friends in common. He and I were laughing just recently because I compared things he does in the movie to Shakespearean acting. How pretentious to compare Hellboy to Shakespeare, right? But I see a lot of Hamlet in what David is doing in Hellboy—that questioning and exploration of self. David has the depth to bring that to life.

When I was younger, I never thought about the fact that all my heroes were white. I began not putting an importance on self-identification.

You're very well-known because of your work on Lost, Hawaii Five-O, The Good Doctor. You got praise for starring in stage productions of The King and I in London and New York. You've been named one of People magazine's "Sexiest Men Alive." But doing a movie like Hellboy can exponentially raise the stakes on fame and public attention. With all that success, has anyone ever confronted you with asking you to check your ego?
I don't mean this to sound falsely modest, but I generally don't have that issue. I really am grateful to be working. I know how hard it is as an actor, and I know how hard it's been as an actor of color to get a job, let alone to maintain a career. I have never taken it for granted that it could all go away.

What do you now know after producing three seasons of The Good Doctor?
People falsely believe that getting The Good Doctor on the air was a simple task and that producing is easy. If it looks easy, I'll take that as a compliment. In terms of diversity and how the show is cast, for me, it's really a question of Why can't we do these things?, not Should we? You learn that so many decisions get made not because of statistics or facts but because of the status quo.

If there is another Hellboy movie, where else would you like to take your character?
I don't have a specific agenda for my character except to say that I hope his story is revealed, and his place in the franchise is a solid one and that what we learn about him deepens.

What's next?
I can't tell you how many people, after seeing The King and I, told me they had no idea you were so funny. That came as a bit of a shock to me because I like comedy, but I just haven't had the chance to do too much of it. I have a supporting role in a Netflix romantic comedy that drops in May called Always Be My Maybe. I wanted to be a part of that because it's Ali Wong and Randall Park, who are friends, playing an Asian-American couple in America. I wanted to support the community. The thing I'd most like to explore, more than anything, is to be the lead male in a romantic comedy. I'm looking at a few different projects in that genre. One of the nice things about having a production company is that you're a job creator and a world-builder and not subject to what other projects and roles other people might be considering you for. Even if I'm not in these projects I create, I'm glad I can create them for someone else.

Sex and nudity in television aren't going anywhere—but they will need to evolve