It's 2016, and Daniella Pineda can't stop crying. Pineda, who never planned on becoming an actress and at this time was known for TV roles on The Originals and The Detour, thought she had gotten used to rejection by now. But she found herself unprepared for the pain of coming this close to landing a life-changing Marvel gig (more to come on the superhero part that wasn't quite meant to be). Luckily, Hollywood not only taketh away but occasionally actually giveth as well, and later that same year she would end up in a similarly star-launching franchise: She plays dinosaur doctor Zia Rodriguez in Jurassic World: Fallen Kingdom, in theaters June 22.

"Today feels like my wedding day," Pineda tells me giddily when we meet up on a mid-June morning at NeueHouse Hollywood, the swanky work space where her publicity team has its offices. It's just hours before the film holds its star-studded premiere, and members of her Oakland-based extended family have flown in for the festivities. I suggest to the 31-year-old Pineda that the next 10 days before the film opens in theaters are akin to the last 10 days before the rest of her life, and she is quick to agree: "A year before, I was in a rat-infested apartment. So, the hardest part is, I've experienced the top of the Christmas tree, and I'm afraid it's going to be all downhill from here."

On the contrary, it's beginning to look a lot like Christmas for her for quite some time. Self-deprecating and charming, stunning but relatable, Pineda's star quality is undeniable, even if she herself never envisioned an acting career and instead studied radio journalism at Mills College in Oakland, intent on becoming a war correspondent. ("Very happy I didn't pick that lifestyle," she says now.) But she was unable to shake her love for writing and directing, and in between doing "every job under the sun" (read: cleaning houses; waiting tables; working in a company's IT department, where she betrayed her inexperience by earnestly asking one day at work, "What does IT stand for?"), she found time to create a series of YouTube videos poking fun at Hollywood stardom. Her now-manager spotted the videos, and thus began her own path to, well, Hollywood stardom.

I loved the [Marvel movie] script so, so much, and it would have been funny and romantic, and then I didn't get that, and I was bawling in my house for like a week.


"I first knew of Daniella through her sketch-comedy videos, and I thought of her as smart, funny and scrappy, and of course, unfairly beautiful," Master of None alum Noël Wells, who cast Pineda in the 2017 indie dramedy Mr. Roosevelt, tells Playboy. Says Wells, who wrote, directed and stars in the feature: "At some point during the shoot, I remember thinking, 'Oh, shit—we have a legitimate movie star on our hands.'"

Oh shit, indeed. And if you're only familiar with Pineda as someone who casts spells or heals raptors, you'll probably be surprised by how much she loves comedy—she adored Ace Ventura growing up—and that she's constantly hilarious. "People never get me right," Pineda tells me. "I'm either deeply underestimated—people don't know that I have a knowledge of film and cinema, or that I have other interests [outside of Hollywood]. And people don't know that I can do comedy and that I went into the business only wanting to do comedy, never wanting to do drama."

Pineda says she was a "troublemaker" growing up in Oakland, which was the result of a "very dysfunctional childhood." She moved a lot in her youth, and after changing from an inner-city school to an all-white one, she found herself behind academically and was placed in an Ebonics class by teachers who ridiculed the way she spoke. "I learned to speak the white man's language," she says with a laugh. (Speaking of her pre-acting days, that tattoo on her right shoulder dates back to 2009; she says she sometimes covers it up, before adding, "But actually, it's been helping me.")

Her comedic sensibilities aren't the only reason why producers sometimes seem unsure of where to slot her. Both of Pineda's parents are Mexican-American, but she says that some casting directors have decided she doesn't "look Mexican," or are confused that she speaks "a sophisticated form of Spanglish," rather than fluent Spanish. The latter was a result of her grandparents not allowing Spanish to be spoken in the home, in the hopes of making assimilation easier for their kids. "I remind people, 'I'm working on my Spanish, guys, but just FYI, Selena didn't speak Spanish.'"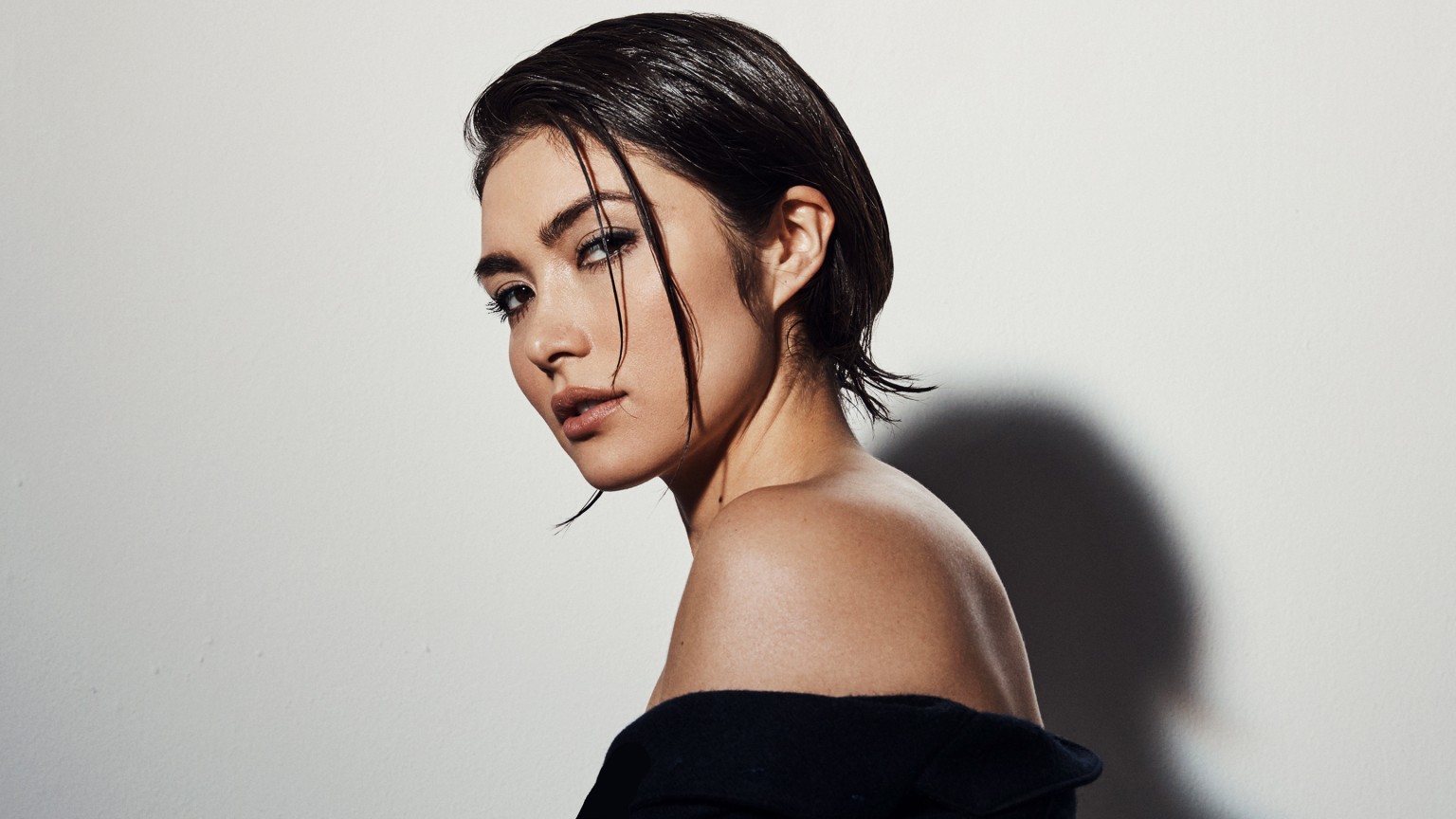 Pineda grew up admiring Latinas like Jennifer Lopez and Salma Hayek, but had trouble connecting with them, as she didn't see her own "weirdness" in those ultra-glamorous A-listers. She is thrilled that Fallen Kingdom gives her a character with the last name of Rodriguez, and that she had a lot more input than she expected to in terms of shaping the character, which includes making her from the Bay Area. (But perhaps not everything that Pineda likes about the character made it into the film, including a scene in which Zia says she doesn't date men; according to Pineda, the line was cut for time.) "Jurassic World is the first time that I get to play myself," she says.

---
Many filmgoers are about to discover Pineda for the first time in the J.A. Bayona-directed blockbuster that also stars Chris Pratt ("He's really, really, really goofy—it's not an act") and Bryce Dallas Howard, but had things gone slightly differently, viewers would have instead known about her from any number of massive tentpole films. Just before joining the Jurassic World franchise, she says she got "pretty darn close" to playing Domino in this year's wisecrack-crazed smash Deadpool 2, and even tested for the role that ultimately went to Zazie Beatz. "When I saw her in the movie, I was like, 'Oh, I prefer watching this,'" says the ever-modest Pineda of Beatz's performance.

But the most crushing role-that-got-away was one in a Marvel Studios movie that will remain unnamed. Pineda tells me that she got "very close" to this one, and it wasn't just the idea of losing a big film that made it so tough. "I loved the script so, so much, and it would have been funny and romantic, and then I didn't get that, and I was bawling in my house for like a week," she says. "Which doesn't happen all the time—I thought I had gotten used to not getting parts, but turns out, sometimes they still get me."

If you asked any of [the Originals] cast members, they would tell you that I was the black sheep of the cast. I didn't fit in. And I'll never know exactly why I was killed off.

Obviously, the suspense is killing me—I need to know which movie this was. Was it in Captain Marvel? "No. But I can't say." Gah, you clearly hate me. OK, was it a primary Marvel character? "Yep. And I got real close!" Alas, the suspense continues to tear me apart. And ultimately, losing that coveted role didn't change Pineda's general view of Hollywood. "I'm always really, really skeptical," she says of maintaining career longevity. "Even what's happening now, it's not lost on me—Chris Rock has that quote, 'Here today, gone today.' And I always just have that quote burned in my brain."

There's perhaps a good reason for that particular line to resonate. Until this month, she might be best known for the project that provided her first Hollywood role: The CW's The Originals. But as with many jobs that a person takes when starting along a new career path, Pineda's time on The Originals was a bumpy one; she was a series regular when the Vampire Diaries spinoff launched in fall of 2013, but Pineda's character, witch Sophie Deveraux, was suddenly killed off just 13 episodes into the run. When I ask about the series, she replies wistfully with a chuckle, "Oh, The Originals." Clearly, she has a lot of thoughts about her rather brief stint, and not all of them is she willing to share. "If you asked any of those cast members, they would tell you that I was definitely the black sheep of the cast. I didn't fit in." And why was that? This question leads to an interminably long pause as she rests her chin on her hand and stares off into the distance, clearly trying to decide how much to divulge. "I just didn't fit in," she finally replies, succinctly. "And I'll never know exactly why I was killed off."

Pineda remembers being aware that her time on the show wasn't going the way she wanted it to and could be short-lived, and before getting the axe, she would even tell herself that a pre-fame Hilary Swank was once killed off of Beverly Hills, 90210. After mentioning Swank to me, Pineda says for a third time, "I just didn't fit in," and at this point, I'm starting to get the sense that maybe she just didn't fit in. The actress acknowledges that perhaps she wasn't particularly easygoing at times. "I questioned my character—my character was very emotional, and I just had questions. I'm not saying that that's why I was killed off. I think that they had their well-oiled machine, and I"—you know where this is heading—"just didn't fit into that machine." Still, time heals all wounds, even the kind involving blood pouring out of a TV witch's eyes, nose and mouth. "Being killed off that show was the greatest thing that ever happened to me. It led me down this path—it was meant to happen."

If Pineda was taken aback when Sophie met her demise, the same goes for the show's devotees—whom Pineda appreciates for their continued support—and even members of the creative team. This includes Chris Grismer, director of numerous Originals episodes including Pineda's final one, who is grateful that Daniella always brought "humor and a wild energy to the set," and says he loved working with her. "I was surprised when I heard that her character was dying," Grismer tells me. "I know her death affected the fans as well, and I received some vaguely threatening messages on social media condemning me, as though I may have made the decision." He also says, "Seems as though that death launched her towards the stratosphere."

After her time on The Originals ended, it was back to the audition trenches. She appeared on a short-lived NBC series and shot a couple pilots before landing as Vanessa on TBS' The Detour, opposite Jason Jones. She says she's loved working on the show for the past three seasons but that the time is now right to move on. Detour executive producer Brennan Shroff praises her "goofiness," and remembers a cake-mishap scene from last year that required Pineda to be covered head-to-toe in the dessert for four hours, which likely would have bothered other actors. "Daniella only complained once, and I think it was because I told her to stop eating the cake," Shroff tells Playboy.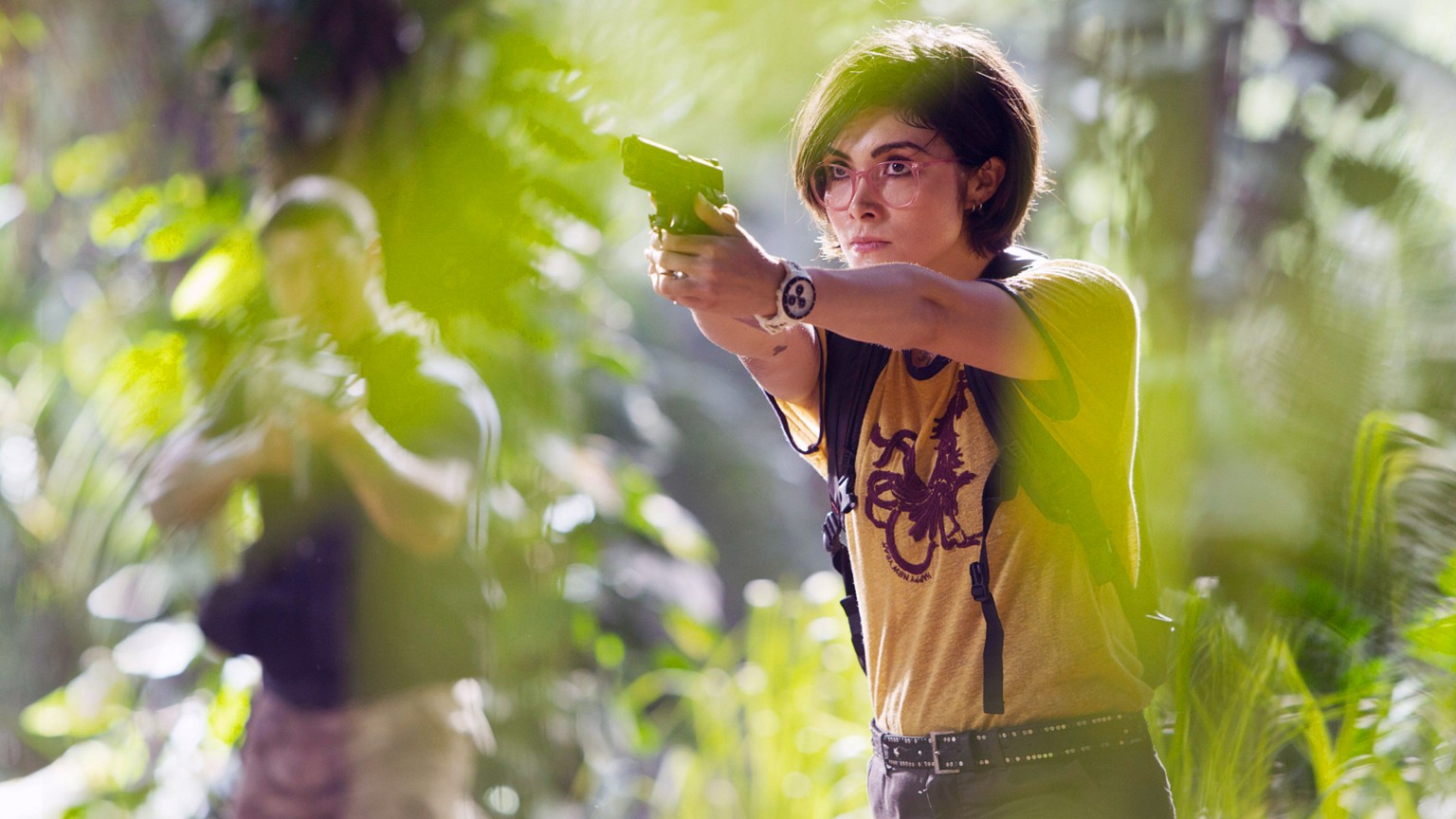 Food is indeed a popular social-media topic for Pineda, who is frequently posting about her cheat meals. "There is definitely pressure to look a certain way," she says of maintaining her physique, and she feels compelled to post the food images to let young girls know that she does, in fact, eat. "It'd be cool if, one of these days, I could just say fuck it—just do comedy and just eat whatever the fuck I want," she says, adding that she turns into a "sphere" when she gains weight. She envisions that comedy would give her "a little more flexibility to be a person, versus being a sex symbol, or whatever that is." So, does she consider herself a sex symbol? "This is Playboy, right?" she asks me with a smirk, then quips, "Yes, totally a sex symbol—beyond dripping sex symbol, in my personal life." She then adds sincerely, "I actually feel far sexier in my personal life than I do my public life."

If she doesn't always feel sexy in her professional life, she certainly has people fooled. Mr. Roosevelt includes her first-ever nude scene, and she had no concerns whatsoever about going topless on-screen. "I like my boobs—I've got great boobs," she says with a laugh. She didn't even go crazy dieting before the scene, pointing out that the night before filming it, she ate "a bunch of tacos and two margaritas," since that's what the character would do. (Pineda claims this gave her belly a "baby pooch" in the scene.) The only aspect of the scene that gave her pause was the thought of having to see clips show up online in perpetuity. "I was like, 'I'm going to have weirdo kids on Reddit making GIFs of my boobs.' That's all out there now. But I don't really give a shit—as far as nudity's concerned, I think America needs to loosen up." We couldn't say it better ourselves.

---
Daniella Pineda has no idea what she's wearing right now. I tell her that I'm not surprised to see a self-avowed fitness fanatic such as herself rocking a gym shirt, and she is baffled until she looks down at the faded logo of her green T that's tucked into her jeans, realizing it depicts a man holding a barbell. "That's so funny because this belongs to my boyfriend," she says of the sartorial choice that is a far cry from the gorgeous strapless gown she'll be wearing later tonight at the premiere. She also points out that her boyfriend, comedian Andre Hyland, was not drinking the gym Kool-Aid prior to meeting her: "I'm making him work out."

Pineda is quick to admit that dating has never been a walk in the (dinosaur-themed) park for her. "It's really hard to date—it's the worst," she says. "I've dated so many assholes. Just really not great people." She admits to a "track record of dating comedians"—a list that includes Eric Andre—and quips that comedians "are just really happy, no narcissism, it's funny all the time." That heavy dose of sarcasm notwithstanding, she remains true to form, as proven by her current, year-long relationship with Hyland, whom she met on the Mr. Roosevelt set. "I was like, I'm really ready to date someone who's really nice to me," she explains. "I took a chance on someone who I don't think I would normally, uh … go for. And now I'm with someone who makes me very, very happy."

It's really hard to date—it's the worst. I've dated so many assholes. Just really not great people.

Hyland is based in L.A., while she is "kind of transient"—at the moment, she's living with her parents in Manhattan but will move to L.A. in July, although the couple don't currently have plans to cohabitate. This will be her first time with a permanent residence in L.A. since back in December 2016, when she had just signed a lease for the aforementioned rat-infested West Hollywood abode; she quickly learned back then that she would need to give up that apartment because the Jurassic World 2 audition she had done and not worried about, had led to a test offer, and she was suddenly whisked to London to begin production. "I did not take the audition seriously whatsoever because I was like, There's no fucking way I'm going to get this. I'm going to just have fun and not think about it. Because no one gets this shit.'" Well, almost no one.

Pineda is an animal lover and extremely outspoken against Trump on social media, so it's fitting that she is part of a franchise that reminds viewers they'll never outsmart Mother Nature. "The fact that people today are questioning science—I've never seen anything like that in my lifetime," she says. "I like that the broader message of the franchise is, you have a sense of responsibility, and if you don't act now, you're going to be in a lot of trouble."

Among the most memorable lines in the film is one that's said not by the film's stars but by a nameless bad guy, who grouses about Zia, "A nasty woman." (Don't worry—he's eaten soon enough.) You don't have to be a CNN correspondent to catch the reference to Trump's infamous sneer at Clinton from a 2016 presidential debate. "I remember loving it and getting so excited," Pineda says of seeing that line in the script. And it's not the only moment in the film that comments on our current commander in chief, although not every barb is quite so obvious. "There are a lot of messages in there, for sure—if you catch them all." (As for the controversy over Howard wearing heels in the first Jurassic World, Pineda doesn't get what the big deal was: "Bryce wanted to be a hero in heels, and I don't know why people freaked out over it.")

Pineda's future plans are as hazy as you might imagine from someone who's never stuck to a blueprint. She is a horror fanatic and in the process of writing a feature in the genre, although she hasn't decided if she would star in it. She's currently shooting the film Modern Persuasion and would like to have a phenomenally successful acting career—which hopefully includes finding the right comedy in the very near future—but also wants to try her hand at directing. She is sworn to secrecy as to her future in more Jurassic World films, although she says she has had talks with the filmmakers, and "150 percent" would like to continue as Zia. Plus, let's face it: The producers would have to be crazy if they decide to make Zia start bleeding from the eyes, nose and mouth (or die in any other, less witchy way). "I feel like the story of my life is, How the fuck did I get here? I'm my own Forrest Gump."