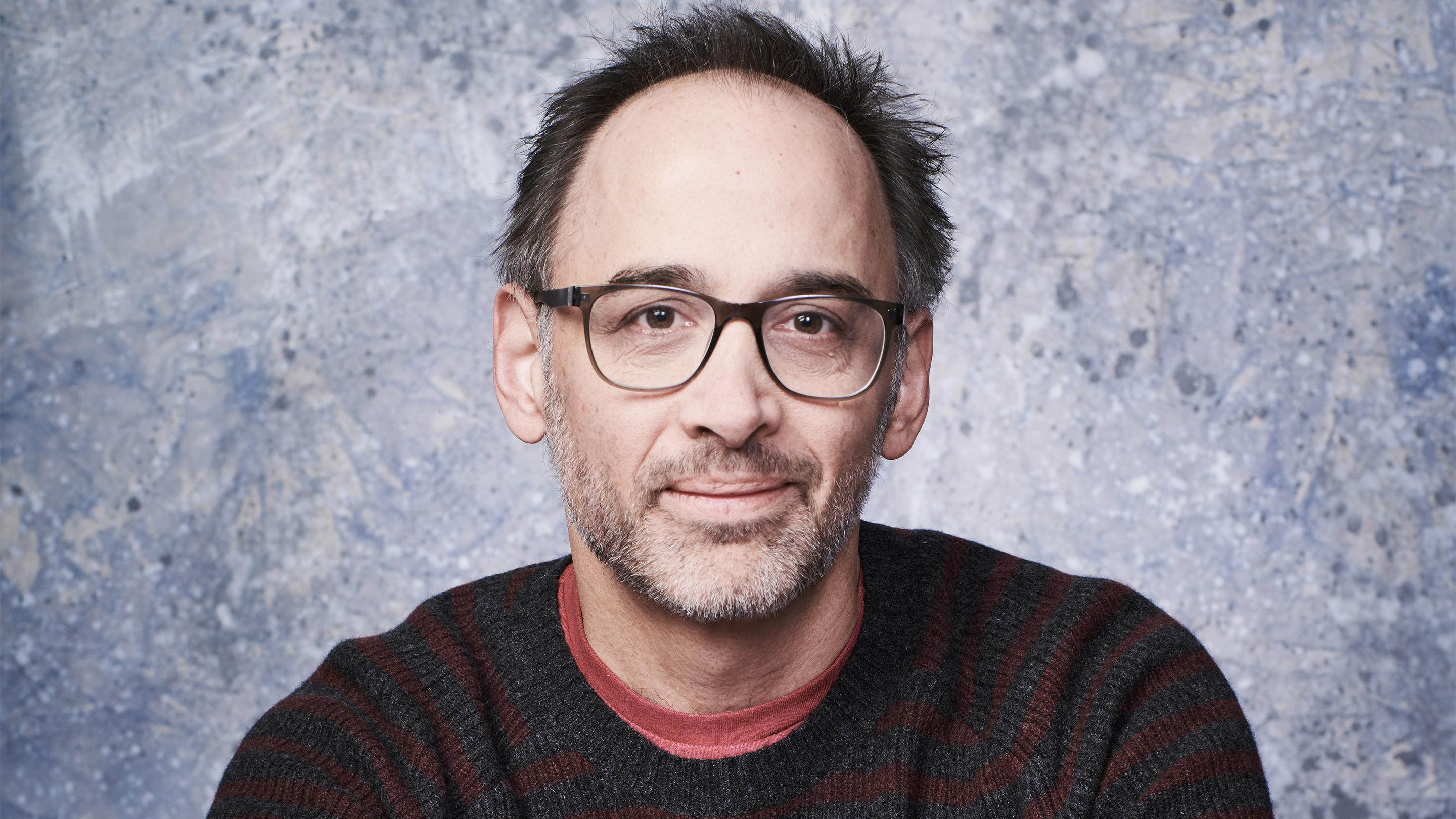 David Wain Examines Comedy History—the National Lampoon's and His Own
Written by Julie Seabaugh

Published on

January 26, 2018
A shelf in David Wain's garage holds threadbare T-shirts sporting logos and slogans from his '90s sketch group The State. A lower cabinet contains inspirational scripts: Fast Times at Ridgemont High, Dazed and Confused, the 1977 original treatment for National Lampoon's Animal House.
In the living room, a rendering of a van smashed into an evergreen tree rises above the fireplace. Wain bought the fan art in Venice when a "Camp Firewood" show honored his 2001 film
Wet Hot American Summer
. A dining-room sign advertises "David Wain's Super Fun Amazing Coffee Shop," a prop from 2005 Comedy Central series
Stella
. A group photo on his dresser, taken the same year, includes performers Joe Lo Truglio and Thomas Lennon at fellow State-mate Ken Marino's Amsterdam bachelor party. Wain appears drunk.
"I think I was on shrooms," he deadpans. His answer, like the dryly absurdist projects he writes, directs, produces and often acts in, lends itself to interpretation. While average filmgoers might not recognize the name, Wain is worshipped by a certain demographic attuned to his slightly messy, rather remarkable comedy career. The main detritus of which, he promises, languishes elsewhere. A few blocks away, his storage unit sits silent and frigid. Cellular flashlight is the only illumination available. Wain unbolts the door and shudders at the cramped crawlspace.
"It feels like having an extra appendage to know that this exists," he says. "And I also have two storage spaces in New York I literally will never go to."
"There was one main black character in several things I've done, and they were all played by Jordan Peele."
His phone's faint beam traces shadows across equipment and memorabilia. A 2010
Saturday Night Live
cue card snagged after Paul McCartney told Paul Rudd, "I loved
Role Models
!" An unopened case of
They Came Together
posters from his 2014 Rudd-Amy Poehler romantic satire. Two boxed Emmy awards for Adult Swim medical spoof
Children's Hospital
, a third reaching up forlornly from the cold concrete floor.
"I haven't had the energy or the focus to look through and throw most of it away," Wain admits. "Some stuff I just hold onto because of that weird stupid feeling of, 'Oh, you never know …'" He's got a point.
Wet Hot American Summer
was a theatrical dud-turned-generational cult classic, eventually spawning 2015's
Wet Hot American Summer: First Day of Camp
prequel series. Mountains of saved footage, graphics, signs and props sure came in handy then.
Wain's latest directing gig, A Futile and Stupid Gesture, delves even further into the past. The biopic, available Jan. 26 on Netflix, stars Will Forte as Doug Kenney, who in 1970 co-founded National Lampoon magazine. Recreating the era required vintage Lampoon issues, plus '70s furniture, clothing and attitudes. As they say, someone else's trash is a film crew's treasure.
Wain angles his light to examine a plastic shopping bag bursting with device cables. "Oh, great!" he chirps. "Now this I can actually use!" It's not sarcasm. He tucks the tangled nest under his arm to leave.
"I hate this fucking place," he sighs. "I literally have nightmares about storage spaces I forgot about."
If only all important comedy artifacts like A Futile and Stupid Gesture, for example, could live online as streaming content. Wain rebolts the unit door. The Emmys return to darkness.
---
Doug Kenney hailed from Chagrin Falls, a Cuyahoga County, Ohio suburb of Cleveland. With fellow Harvard alum Henry Beard (Domhnall Gleeson), his Lampoon vision helped shift the country's comedic tone from counterculture to mainstream.
Wielding acerbic parody, the First Amendment and nudity aplenty, the magazine took on Vietnam, Watergate, sex, race, class and every sacred cow in the pasture. The cocaine flowed freely.
"So much of the comedy from that era was about breaking the rules," says Gesture co-writer John Aboud. "These were people who constantly–almost chronically–tried to find where the line was."
Echoes co-writer Michael Colton, "There's a lot of stuff in National Lampoon magazine that you could not get away with today. Nor should you."
"We didn't want to pretend [Doug Kenney] was something he wasn't."
Spinoff books, radio shows, albums and theater productions introduced John Belushi, Chevy Chase, Christopher Guest, Bill Murray, Gilda Radner and Harold Ramis. Lorne Michaels soon staffed
Saturday Night Live
's 1975 debut season with
Lampoon
collaborators. Following Kenney's 1977 magazine departure, he wrote 1978's
Animal House
and 1980's
Caddyshack
, now listed among the most beloved comedies ever made.
Twenty-three years after Kenney, Wain was born in Cuyahoga County's Shaker Heights. "My family would drive out to the waterfall and see the gazebo," he recalls of Chagrin Falls. "And Doug was an outsider comedy guy who came to the East Coast, found this group of college friends who created something, took it to a bigger place and dealt with all the craziness that happens. The parallels aren't lost on me."Too young for
Lampoon
, as a kid Wain adored
Mad Magazine
. He remained unaware of Kenney despite devouring
Animal House
and
Caddyshack
on his family's old Betamax. (As a teen, he made a video about a guy's
Animal House
obsession alienating his friends.) "They're Slobs vs. Snobs," he says of the films' characters. "They thumbed their nose at conventional society. I worshipped that whole point of view. They were my superheroes."
Wain formed The State with 10 fellow NYU dissidents in 1988. Though they disbanded after a failed 1995 leap from MTV to CBS, their slacker-savvy legacy lived on. Wain has continued working with its members throughout his career–Lennon and Lo Truglio even appear in Gesture.
Wain and Michael Showalter's original WHAS pitch envisioned assuming the mantle from Caddyshack and Animal House. That is to say, change comedies forever.
In the same way Animal House mined college experiences for plot points, WHAS combined a wealth of summer-camp stories. Like Caddyshack, WHAS was set in the early '80s. Wain absorbed the former's feel over repeat viewings. "Caddyshack is known as being almost charmingly, sloppily directed," he explains, "but I studied the shots, the lighting, everything." Similar to both, WHAS trumpeted a Slobs vs. Snobs ethos.
In Gesture, Beard reminds Kenney, "You wrote the most successful comedy movie of all time in your first try." Wain … did not.
WHAS initially failed. But comedy nerds rallied behind the DVD, sporting costumes and spouting quotes at midnight screenings, themed parties, reunion events and, as Wain's mantlepiece attests, fan-art shows. Meanwhile, the film's then-unknowns (Rudd, Poehler, Bradley Cooper, Elizabeth Banks) found themselves growing improbably famous.
Animal House and Caddyshack helped form Wain's sensibilities. And today, WHAS' influence on young comedians is immeasurable.
Despite his work's popularity, Kenney skirted fame as a writer. Diehard Lampoon fans might recognize him from the magazine's "Foto Funnies" section, or a bit part in Animal House. No interview videos exist. A 1972 UCLA speaking engagement is Kenney's sole audio remnant. (Kenney died in August 1980 from a fall off of a cliff at age 33.)
"We didn't want to pretend he was something he wasn't," Wain says of Gesture's portrayal. "He didn't do a lot of voices. He wasn't a performer. He was, by all accounts, the funniest guy in the world and made everybody laugh all the time, but it was because of his personality and sensibility, not because of his acting chops."
Comedic backgrounds proved vital for portraying characters like Rodney Dangerfield and Dan Aykroyd. Along with Joel McHale as Chase and Seth Green as Guest, castmembers include Broad City's John Gemberling (Belushi), GLOW's Jackie Tohn (Radner), Kroll Show's Jon Daly (Murray), Orange Is the New Black's Natasha Lyonne (writer Anne Beatts) and The League's Paul Scheer (musician Paul Shaffer). Emmy Rossum, Martin Mull and Annette O'Toole also star.
Current comedians playing the new generation of yesteryear does more than attract young viewers who only associate the Lampoon brand with dull licensing deals. It celebrates the passing-down of comedy history.
"I had a responsibility to more than myself and a handful of producers," says Undateable's Rick Glassman, who took on perma-smiling Harold Ramis. "I had a responsibility to a global network of people that loved him. There wasn't a person who was part of this incredible ensemble that didn't recognize this exact same thing; we all knew that we were punching up, and we better punch hard and accurate."
Wain spent 2016 and 2017 zig-zagging between Gesture and August 2017's Wet Hot American Summer: Ten Years Later. Tackling multiple projects at once, replicating different eras and wrangling vast, high-wattage casts are challenges he embraces. He also enjoys a spate of "healthy distractions." Of late, reliable interests in running, playing drums, mastering card tricks and solving Rubik's Cubes have expanded to include yoga, playing piano, shade drawing and an Instagram Photoshop series he tags #MinorSignChanges.
He's a filmmaker always game for experimentation. Gesture tilts its way through borderline mayhem, employing over-the-top reenactments and breaking the fourth wall with gusto. The goal isn't mere laughter, but inviting viewers to consider why they're laughing … another intent Wain shares with his protagonist.
"It appeals to people who just like an interesting human story, but if you are a big comedy fan, it will have even deeper resonance," he says of Gesture. "The instinct was, 'Let's not tell this in the normal, boring, biopic way. Let's make this as out-of-the-box a movie today as Doug Kenney did with Lampoon then.'"
---
The reception area at Jonathan Stern's Abominable Pictures displays a National Lampoon prop calendar tracking July, August and September of 1972. A horseshoe-shaped hall winds to a door designated "David Wain: Drummer/Culture Buff." Cardboard boxes stacked three deep crowd his office. The nearest spills videotapes and audio cassettes.
A round cannister containing Wain's 1991 student film Aisle Six, starring an embryonic Lennon and Lo Truglio, balances on top. Another box abutting an orange couch cradles electronic equipment, a creased Animal House poster, VHS copies of Meatballs Part II and Michael Ammar's Easy to Master Card Miracles: Volume 6, and a floppy rubber penis that was frequently used in Stella segments.
As a period piece, Gesture distills integral comedy history through a lens of modern-day scrutiny. The age of #OscarsSoWhite and #MeToo seems both the best and worst time possible to make the attempt.
"There's no denying that a lot of the fuel of the comedy came from a very misogynistic place. And racist place, as well," Wain says of Lampoon. "We didn't want to whitewash it or apologize for it, but we did want to acknowledge it. And while every joke ever made is subjective, for me there's a lot of stuff they did that doesn't translate through the generations. But we didn't want to solely cherry-pick just the stuff that still made sense today."
Wain nods when reminded that the all-Caucasian State had one female member, and WHAS' 2000 production included drinking and hookups. "Yeah, it's true," he acknowledges. "And I will also say my own career has not shown a lot of racial diversity. Honestly, there was one main black character in several things I've done, and they were all played by Jordan Peele."
"David had the responsibility of making a serious movie about hilarious people," explains Glassman. "A movie about a man who nobody knows that helped shape what comedy is today. David had the responsibility of making dated jokes work to an audience watching almost 50 years later. And he did it all so masterfully."
National Lampoon forcibly redrew the borders of acceptable humor in response to hypocrisy and injustice. It didn't laugh in the face of tragedy; it got angry. Like Kenney, Lampoon demanded better of the world.
"Politically and socially, that was a time of incredible turmoil, much like we're experiencing right now," offers Aboud. "We don't think this movie provides any easy answers, but the conversation that is going on now is long overdue, and it's not unlike a conversation that was happening all over society back then."
Gesture is not a cautionary tale, Wain insists. Nor is it a courtroom.
"It's about trying to tell a story," he says. "There's so many ways to screw it up. It was important to try to honor [Lampoon] without taking it seriously in the wrong way and making it boring and generic and just, 'Look at these heroes!' It was a really hard nut to crack."
At its heart, Gesture is a portrait of a brilliant comedic mind. Some parts are ablaze; others, cast in darkness. Kenney's mind is but one of many whose influence demands an exploration like Gesture.
As for Wain? He smiles, gazes lovingly into his electronics/poster/VHS/rubber penis box. "It really is a little microcosm of me."