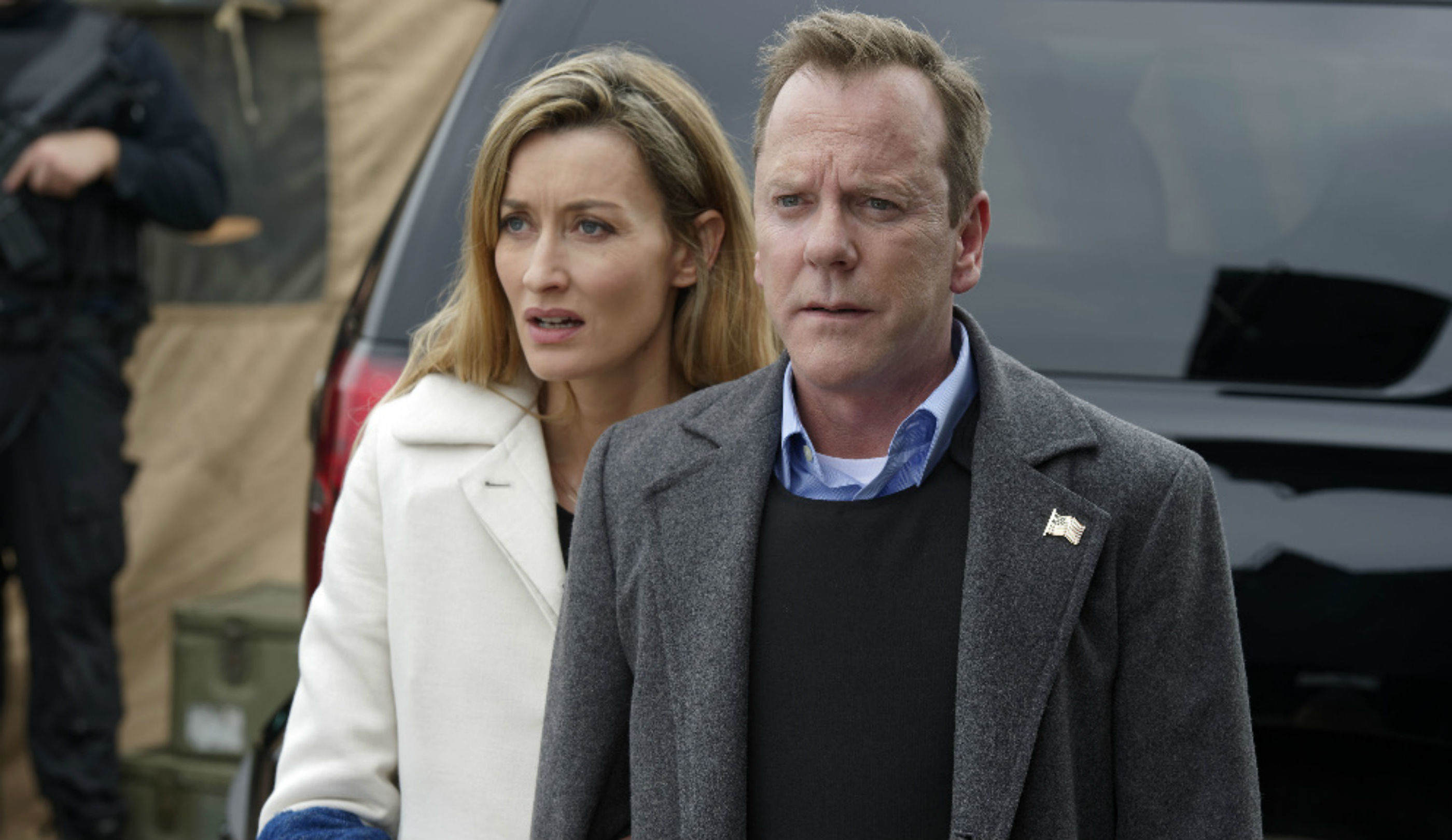 How 'Designated Survivor' Tragedy Flips Script for Trump and Melania
Written by Caitlyn Hitt

Published on

December 16, 2017
The Kirkman administration is in shambles once more following First Lady Alex Kirkman's shocking demise in Wednesday's Designated Survivor midseason finale, but tumult is nothing new for the characters on the ABC drama—or for the current real-life First Couple.
Although viewers have known since early in season 2 that Natascha McElhone, who had played President Tom Kirkman's (Kiefer Sutherland) wife, was
leaving the political drama
in favor of Beau Willimon's Hulu series
The First
, no one could have seen the episode 10 ending—or that truck—coming.
Episode after episode, writers of ABC's
Designated Survivor
have managed to portray a level of sheer chaos all too familiar to the American people, and Wednesday's episode was no exception. In the span of 60 minutes, Tom, Alex and a ragtag team of White House officials fielded a major national disaster, saved an adorable baby girl, crushed a bribery scandal and, briefly, reignited the spark between the president and his wife before ultimately forcing her to meet her maker.
The trajectory and ever-changing nature of the series may mirror the revolving door that is the Trump administration, but the differences come in who's assuming which role within the fictional White House. Tom and Alex are everything that the Trumps might be in an alternate universe. While Tom's inexperience may lead some to liken him to Donald, the ABC character's compassion and commitment to the greater good set him apart as a generally decent man—the kind of person you'd actually feel comfortable knowing has access to nuclear codes.
During this week's midseason finale, Tom is faced with two major decisions, not unlike those that our own President was confronted with in recent weeks, as wildfires rip through a national park in Virginia. He can put rescue workers in harm's way as they work to put out the blaze, or allow it to burn. If he opts for the latter, he'll have to decide whether it's worth it to negotiate with a group of Christian extremists ready to burn alive for their beliefs.
The fictional commander-in-chief ultimately decides that roughly 20 lives are worth it, and works tirelessly with Aaron (Adan Canto), who's in the field, and fire fighters to meet their demands and get them to safety. Trump was lucky enough to avoid such a decision last week as flames destroyed homes and woodlands in California, but it's hard not to wonder what he might have done in Tom's shoes.
Alex, on the other hand, is the Designated Survivor wild card. She is poised, beautiful and intelligent, as a First Lady is expected to be, but she's got demons she can't seem to keep at bay. Alex is who Melania Trump might be if she were more outspoken, and her scandals were bigger than a potential body double and a stolen speech.
Like the Donald himself, McElhone's character had spent much of the first half of season 2 fighting an uphill legal battle. Alex has the knowledge necessary to flip the case and clear her name without tweeting trumped-up "facts" (pun absolutely intended) about her opposition, however.
The Designated Survivor leading lady also shares 45's border-line obsession with press leaks, especially as they pertain to her and her family. She spends a significant amount of time trying to beat the press to the punch and stay ahead of the news cycle, especially after she's subpoenaed by the FBI for allegedly accepting a bribe.
The comparisons to Donald and Melania Trump only intensify when Tom and Alex are on-screen together. On paper, they're the perfect couple, but the distance between them is often palpable, as it tends to be with the Trumps. There's no hand-slapping or looks of blatant disgust, but the conversation regularly falls flat and cold.
During one particularly telling scene from Wednesday's Designated Survivor, Tom comes to Alex about moving up a Christmas tree lighting ceremony—a seemingly innocuous matter. She's immediately aware that the decision to move the event up a day is an effort to distract "in case it's a bad news day," and she's not especially amused, though she agrees to attend to keep up appearances.
Sound familiar?
Alex brought a level of excitement and uncertainty to Designated Survivor and will likely be sorely missed by viewers, as well as her grief-stricken husband and their children.