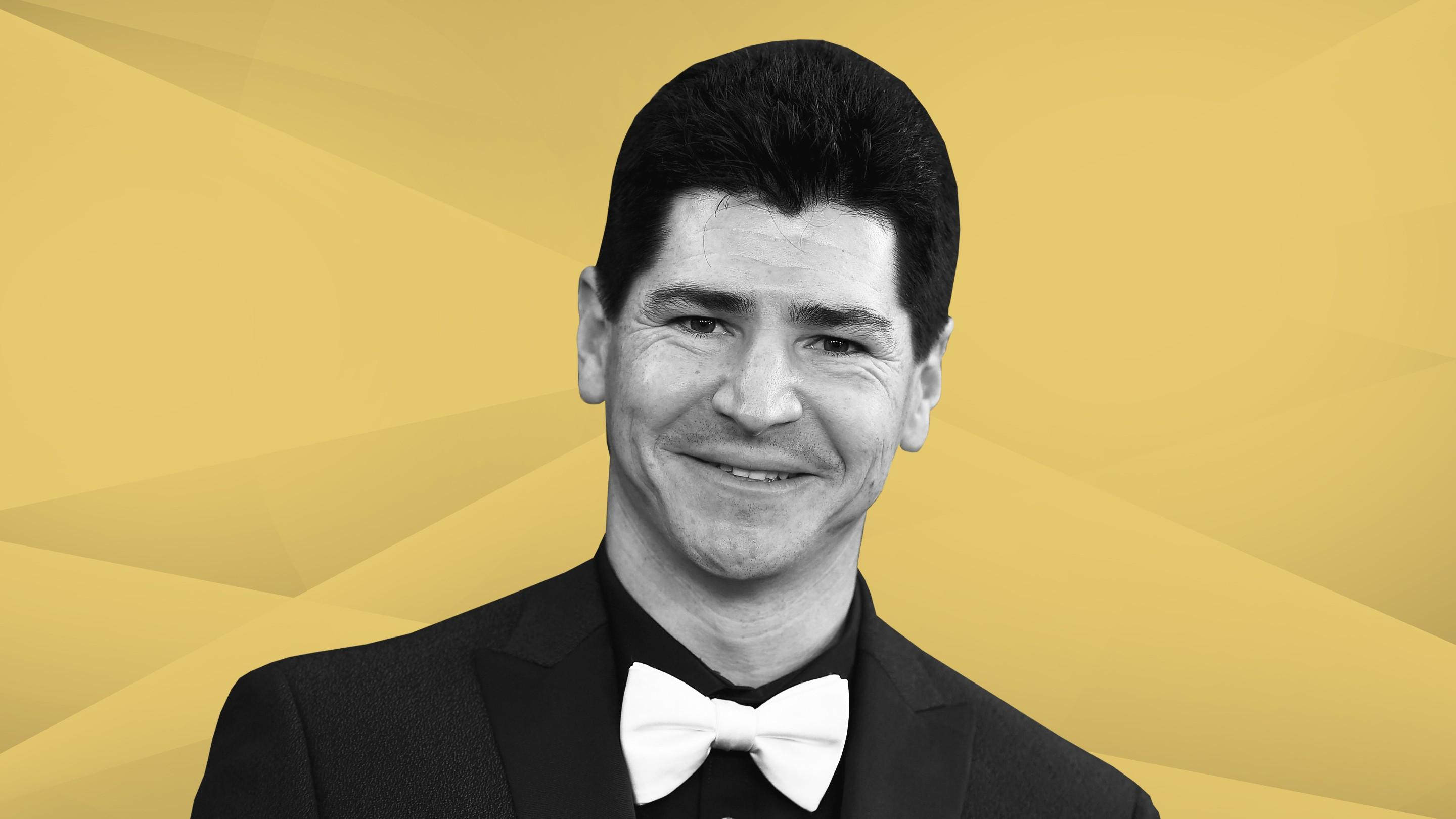 Devastated When 'Roseanne' Ended, Michael Fishman Is Back
Written by Jennifer Swann

Published on

March 27, 2018
Michael Fishman was never the typical child star. Then again, Roseanne was never the typical family sitcom. "'Child star' is never usually used with a good connotation," Fishman says, admitting the label still terrifies him today, despite its obvious truth: For nearly a decade, from kindergarten through high school, Fishman starred as comedian Roseanne Barr's lovable youngest son, D.J. Conner, on her eponymous, enormously popular family television show, which ran from 1988 to 1997. After years of reruns and speculation, the rebooted series is returning to ABC this week, with Fishman's character having just returned from the military. Now 36 and a married father both on-screen and off, Fishman hopes to finally shed his image as a child actor. But first, he's revisiting the role that started it all.

"My family knew nothing about the entertainment industry. We were completely from the outside, but it was really important early on to my parents that I be very normal," says Fishman, who was born in the diverse, working-class port city of Long Beach, just south of Los Angeles. "On the days and weeks we weren't working, I went back to public school, the same one I would've gone to had I not been on the show."
Of course, that wasn't always easy. Returning to class the day after a controversial episode aired—like the one in which his character gets caught masturbating, or another in which he refuses to kiss a black classmate in a school play—made for some awkward interactions at best and more serious bullying at worst.
He says it was all worth it, knowing how the show shaped public discourse on tough social issues. "I always felt like those were our best shows, the ones where we were really saying something," Fishman says. "We dealt with domestic violence, we dealt with sexual orientation—things that were way before their time—and I think that really opened up my eyes, and it also made me much more aware, and it made it easier to deal with. Because the real question is: Is it funny? Does it start people talking?" Fishman's parents, a nurse and a jeweler who were also raising an older daughter and a younger son, can't take all the credit for Fishman's relatively humble upbringing. For that, he also has his TV mom—both his biggest champion and his most authentic critic—to thank. It was Barr, he says, who continually kept Fishman and his young TV siblings in check, not only attempting to curb their egos, but also encouraging them to speak up and be decisive, both on set and off. "It has always secretly been her goal for none of us to get out of control. I think she saw that in other shows and other people, and that was always, always secretly one of her missions," says Fishman. "I got that really early on: 'Be bold, be daring and speak for what you find to be important.' I think those are tremendous lessons in life. They're also things that most people don't hear particularly from adults around them."
Unlike other influential, long-running TV shows at the time—The Fresh Prince of Bel Air and Beverly Hills, 90210, to name just a few with wealthy neighborhoods in the titles alone—Roseanne was lauded for its representation of a working-class family struggling with the day-to-day realities of housing, feeding and raising children. The show's socioeconomic underpinnings lend a timeliness to the reboot, with the new season's storyline delving into sharp political differences between Trump-supporting Roseanne and her estranged, pink pussy hat-wearing sister, Jackie (played by Oscar nominee Laurie Metcalf). And Fishman says there are plenty of parallels between when the show first aired in the late 1980s, and today.
"There was a lot of shifting where people who had done OK for a while were starting to struggle, and I think we're in a very similar time now," he says. "A lot of average, normal families are kind of struggling to get by, and the Conners really exemplified what it's like to struggle and love each other and make it through."
Barr acted as the matriarch of the show, which she also created, wrote and executive produced, and she took that role seriously when it came to mentoring Fishman. "The first thing she said to me was, 'Tell me a joke,' and to me that was a totally normal thing. I guess most of the other actors who walked in the room—this is so bizarre because you're talking about 5 and 6 and 7-year-olds—most people said, 'I'm not prepared for that,'" Fishman recalls. His joke: Why did the turtle cross the road? Chicken's day off. "That was kind of the beginning of our connection. I knew something special had gone on in that room."
Barr fought for Fishman's casting, despite him having far less experience than his competition. The way he recalls it, Barr had been losing a battle for creative control with the network, and when they eventually gave in and let her pick Fishman for the role, he believes it was her first victory. But his closeness to Barr, who later hired him as a writer and producer on talk shows like The Roseanne Show and The Tipping Point, made it that much harder for him to move on when the sitcom aired its last episode in 1997, when he was 16.
As much as he tried to maintain a sense of normalcy throughout filming, returning to high school felt jarring. Fishman realized he had less in common with his peers than he thought. "I was used to hearing people worrying about their lives and their mortgages and their kids and their responsibilities," he says. "Then I'm at a high school, where people are worried about what's the trendy clothes or what's the place you should go on Saturday night."
Now referring to the end of Roseanne as "the most devastating experience," Fishman struggled to find acting work, picking up minor roles in one-off episodes of Seinfeld, Hey, Arnold! and Walker, Texas Ranger. He was no longer the "short, small, cute guy" from television, and directors didn't know what to do with him. So he prioritized taking care of his little brother, and at 17, fell in love with a woman who worked at his brother's day care. They got married not long after, and today have two kids, ages 15 and 18.
Fatherhood is Fishman's proudest role yet, and he approaches it with insight from his TV parents: He learned bluntness and communication from Barr, and a quiet seriousness from John Goodman's character, Dan. He says he's written a few scripts and is hoping to land writing, producing or directing gigs that don't rely on having to fit the narrow constraints of a role, especially when it comes to age. In the meantime, he's enjoying every moment with his second family, the Conners. "We really have 30 years of history that we can kind of draw from, and we don't have to go back so much," Fishman says. "We just kind of move forward."