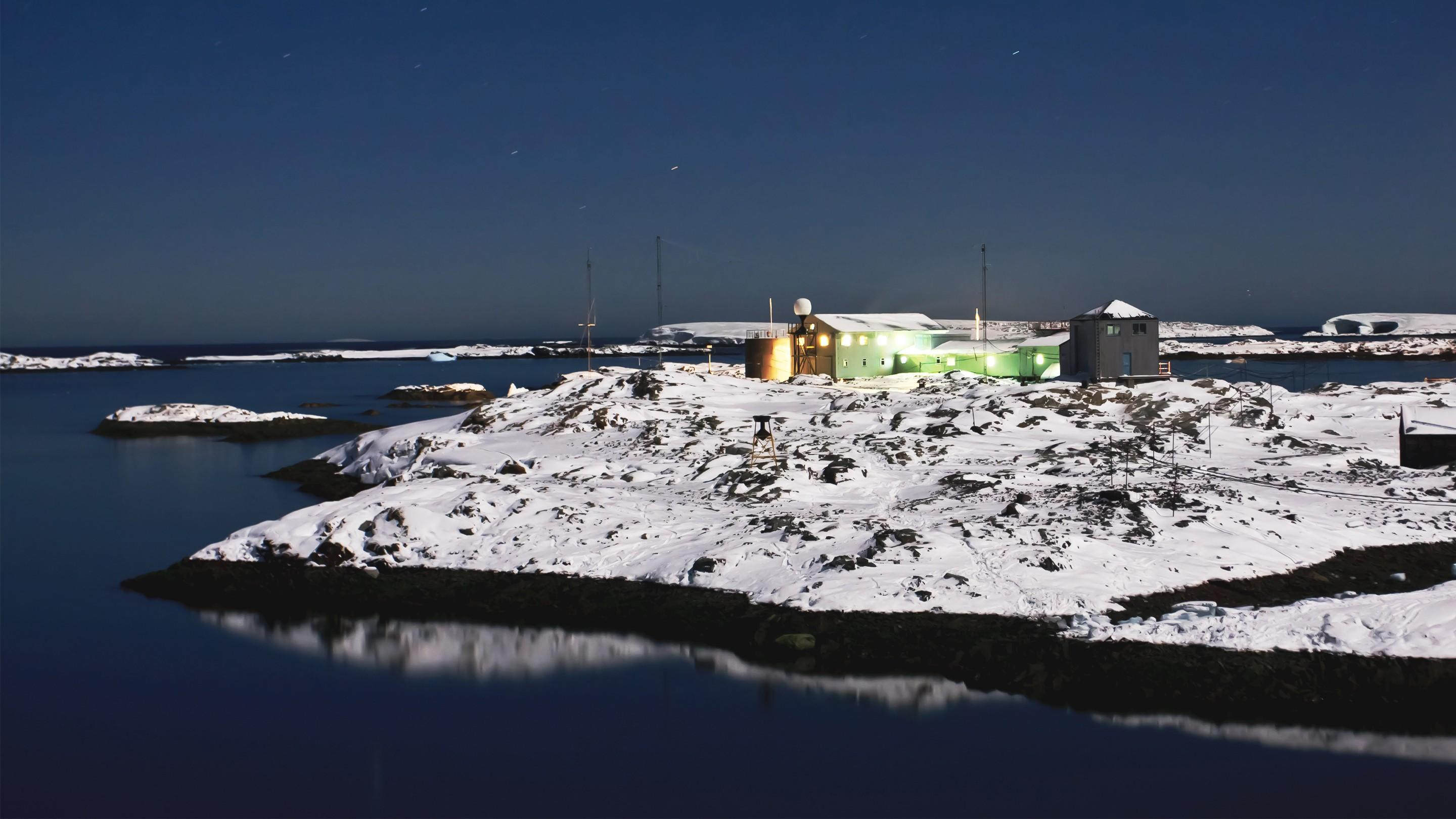 Drinking at the Bottom of the World: A Trip to Antarctica's Bar Scene
Written by Jason Horn

Published on

April 11, 2018
After a 12-hour shift transporting people and cargo nine miles from an airstrip on a stretch of frozen glacier in the affectionately named "Ivan the Terra Bus," a massive vehicle with giant wheels specially designed for driving on ice, you drop off your ski jacket and overalls in your room and head to the bar for a drink. But on the way, you run into a friend who tells you his roommate has some of that "special ice," so instead you cram into a tiny dorm-like room for a shot of whiskey, served over a few chunks of millions-of-years-old ice from a glacial core sample the climate scientists have finished analyzing.

It's just a regular evening when you work at McMurdo Station, the largest and most populous base on Antarctica. "Things happen down there that can't happen anywhere else in the world," says Laura Gerwin, an adventure travel guide and photographer who spent five seasons working at McMurdo between 2009 and 2016. As a staffer in the "settles" department, which handles passenger transportation, she spent much of her time behind the wheel of Ivan. "Nothing is normal down there. That's the best part about it. The adventures down there are epic," she says.
McMurdo is one of more than 40 permanent and seasonal bases operated by about 30 different countries on the continent, and it is itself home to about 900 people during the summer season and 140 in winter. (Since Antarctica is in the Southern Hemisphere, its summer is during American winter, and vice-versa.) The station opened in 1956 under the control of the U.S. Navy, but today it's funded and managed by the National Science Foundation. McMurdo exists to further research in biology, astronomy, geology, climate change and more.
But somebody also has to keep all those scientists and support workers entertained, too, and that's the job that falls to Mike Santos, the beverage, recreation and retail manager for the United States Antarctic Program and its three bases, including McMurdo. "During the summer season, we can have up to nine activities happening on the same night—anything from a science lecture to karaoke night to bar trivia. There's a yoga class seven days a week!" he says.
Santos is kind of like a cruise director for a giant, frozen ship, in charge of organizing recreational activities, managing the small retail stores that sell sundries and souvenirs at all three American Antarctic bases, and managing operations for McMurdo's bars, including an on-site beverage manager and more than 60 part-time bartenders. ("It's not anybody's full-time job," he explains. "We'll have plumbers, stewards, janitors who have two or three bar shifts per month.")

There are three watering holes on the base: McMurdo Station's dive is Southern Exposure, which Santos describes as an "American Legion kind of old-school bar," often playing Creedence or Skynyrd and site of the dart boards and pool and shuffleboard tables that host the annual "Southern Games" competition. The Coffeehouse is open 24 hours and serves espresso drinks, wine and cordials. It has a poker table and a movie-screening area, and it's "where people go when they want to have a quiet evening," Santos says. (It's also the center of McMurdo's extremely competitive cribbage scene.) The largest bar is Gallagher's Pub, a former club for enlisted men when the U.S. Navy ran McMurdo.
Santos' job is perhaps the oddest bar-manager position on Earth: He only gets to place one order per year for everything his bars need. For the 2018-19 season, for example, that works out to about 166 cases of liquor and mixers, some of which are loaded onto a cargo ship in Port Hueneme, California, before being transported to Port Lyttleton in New Zealand to pick up the remaining inventory, for final shipping on to Antarctica. It's mostly hard liquor, wine and bottled beer, with mixers like Coca-Cola and ginger beer. (The house cocktail at Gallagher's, for example, combines Jameson Irish Whiskey, Mac's Ginger Beer from New Zealand and bottled lime juice.)
The previous year's shipment included craft beer from New Zealand's 8 Wired Brewing, and this year's has a test run of single-use plastic kegs for draft beer, as well as supplies for a holiday Scotch tasting set up in partnership with a Kiwi whiskey store. One thing is conspicuously missing from Antarctic bars: fresh produce of any kind, including lemons and limes for garnish. "Freshies," as locals call them, are reserved almost entirely for the base cafeteria. (All the bars, by the way, are cash-only—$3 for beer, $4 for mixed drinks. Internet bandwidth is too precious to devote to processing credit cards, but there are two Wells Fargo ATMs on the base.)
"It's like an old mining town meets a tiny college campus," Santos says of McMurdo Station. And the comparison is apt: During the crowded summer season, everybody has a roommate, with more desirable living assignments—like spots where four rooms instead of an entire floor share a bathroom—apportioned to people who've spent longer on the ice.

"You hear 'adult summer camp,' 'college dorms'; we don't love the comparison, but it's fair," Gerwin says. "It's one of the emptiest places on earth, and there's hardly anywhere to go to be alone."
But just like in college dorms, people at McMurdo find ways to bend the rules. "You can get stuff 'specially ordered in' if you know the right people. You can trade avocados for gold down there," Gerwin says. "My last year there, my roommate and I got smart and stocked our fridge with bacon instead of fresh produce. We had a [forbidden-for-fire-safety-reasons George] Foreman grill, and just like in the college dorms, you know when they're going through for a room inspection."
McMurdo's population has a serious gender imbalance—it's about three-quarters male—but both Gerwin and Santos know multiple couples who met on the ice.

The same goes for two different types of extra-special ice: what Gerwin calls "glacial berries," chunks of crystal-clear ice that fall from nearby glaciers into the ocean; and what Santos calls "Jesus ice," those bits of prehistoric ice cores. "It's definitely not a sanctioned thing, and it doesn't make it out to the bars, but it does show up in people's rooms," he says. "That's not something the NSF loves, but it does happen."McMurdo has plenty of modern conveniences, but things like high-speed internet are not among them, which means residents spend a lot of time entertaining each other. "One thing that's an amazing part of the McMurdo culture is that it's nothing without its community," Santos says. "We really rely on our community members to come up with events. Whatever talent people have, they teach a class on.
Halloween falls near the beginning of the summer season, and as such, it's the biggest social event of the year. "People bring elaborate costumes," Santos says. "We had a science group dress up like an aquarium touch tank once, each as a different Antarctic creature." There's also Icestock, an outdoor music festival held early each year that features around 15 bands (all made up of local residents, of course), as well as a chili cook-off. One year, Santos says, a group of carpenters set up a "Sawbucks" booth, giving away coffee mixed with Baileys Irish Cream. There's even a makeshift softball tournament, which includes visiting teams from nearby Scott Base, run by New Zealand. "At some times in the season, it'll be as warm as 30 degrees, which is like Kokomo down there," Santos says. "The tournament is limited only by how many softballs we have and how many we hit into the sound. We bring out a grill to cook hot dogs and set up stands."
Another dorm-life comparison at McMurdo is with relationships. "It's not necessarily something that people are looking for, but it does happen," Gerwin says. "People find significant others who can last for a lifetime, or the season, or the night." McMurdo's population has a serious gender imbalance—it's about three-quarters male—but both Gerwin and Santos know multiple couples who met on the ice.

In fact, Santos himself met his now-wife at McMurdo during his first of four seasons working the recreation department and tending bar at Gallagher's. During winter, when the sun never rises and Antarctica's population drops by around 80 percent, everybody gets a single room, and when the couple—by now engaged—both stayed on for the 2013 winter season, they managed to score connecting rooms. Unsurprisingly, their first child was born nine months later. "Leave somebody down there in the cold with no light and only eight channels on the TV, and it's inevitable," Santos laughs. "It wasn't a concern to us. We were getting married two months after we left the ice anyway!"

Gerwin has traveled all over the world and led adventures in Antarctica as a volunteer that included climbing a volcano, hiking through a pressure-ridge field and visiting a protected penguin sanctuary that's home to 60,000 birds—but to her, the best part about the icy continent is its people. "Some of my best friends in the world are all people I met on the ice. After you experience that, it's something you take in life with you," she says.