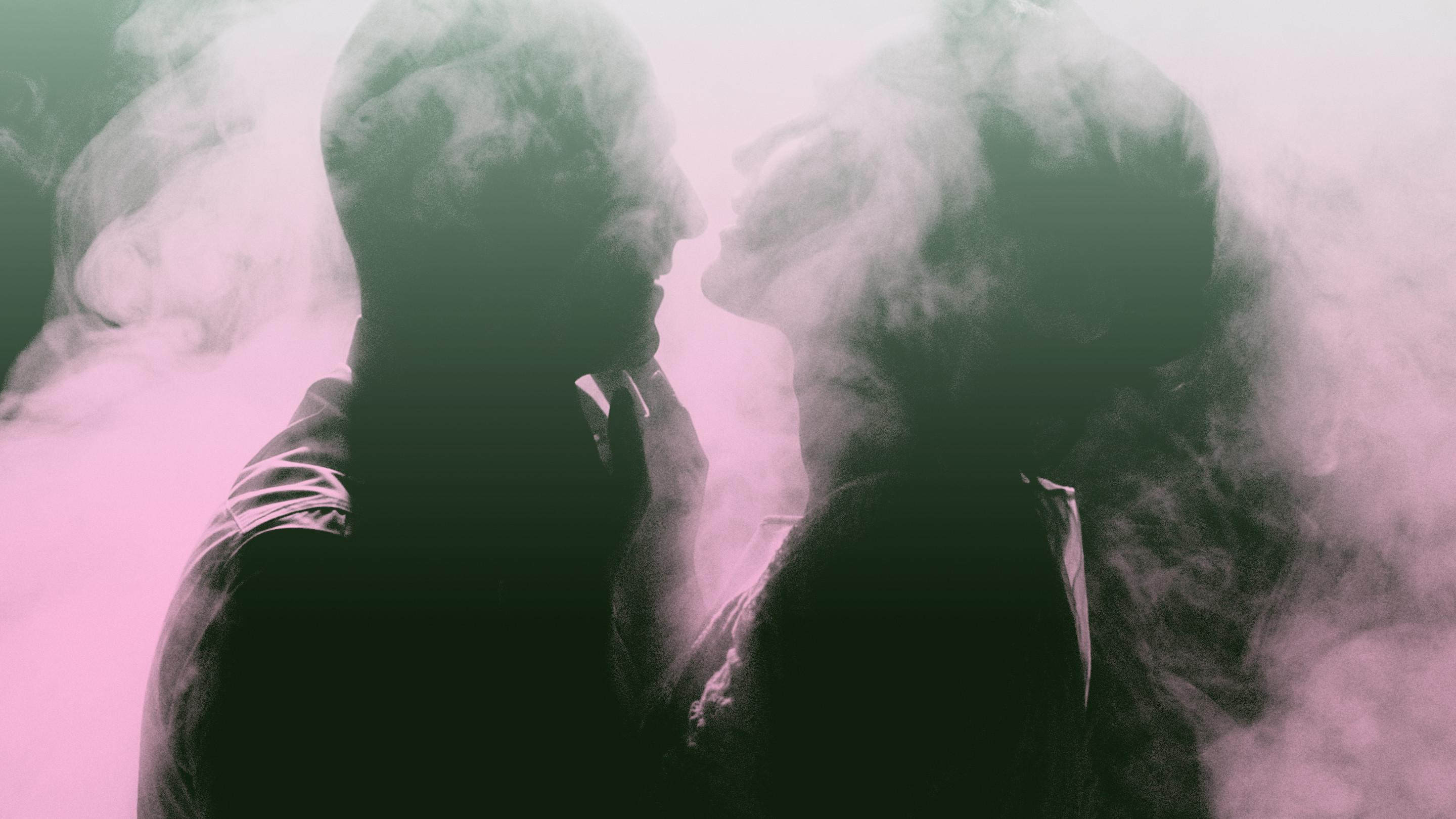 If you're a regular cannabis user, it just is easier to date someone who also indulges. And, believe it or not, there are now cannabis-friendly singles events as well as professional "420" matchmakers, helping us form connections on a higher level.
"It's a profound way to connect with someone," says Molly Peckler, cannabis-friendly matchmaker and Founder of
Highly Devoted
. "Cannabis tends to help your ego recede, which allows you to surrender and enjoy experiences without fear of judgment. It can anchor you in the moment, which helps to shut out the distractions from our phones, work, and everything else." Cannabis helps you be more mindful and you can understand how your partner is feeling on a deeper level. Plus, couples who smoke together form cannabis rituals, which can strengthen bonds.
"My husband and I fell in love over cannabis over 12 years ago, so it's been a foundation of how we connect since day one," says Peckler. "We use it for sex and intimacy, before a great meal, before a hike, as well as blowing off steam. If we do have a disagreement, we'll part ways and cool down and then reconvene over the peace pipe and talk everything out."

It can be a deal breaker when a regular consumer tries to date a non-user. It's common to feel like you should hide your consumption levels so they don't seem excessive. Plus, many people still have a strong stigma against cannabis and might have an untrue preconception that you're a lazy "pot head" for smoking every day. But obviously, in the cannabis community, we know that's not necessarily true–that there are plenty of productive and successful "stoners".
Another crucial reason to date someone who's "420-friendly": the sex is lit and according to a recent study, you have more of it too. Cannabis enhances sensations, like touch, and decreases pain and anxiety to help couples be more present and subsequently, more horny. In addition, the drug can actually make you feel sexier: So many people feel embarrassed about their bodies or are dealing with other anxieties or traumas. But, because cannabis helps people relax, it can also help shed those layers of nerves and embarrassment.
Not to mention, it can make an orgasm feel like fireworks, and helps women and those with vulvas achieve orgasm at all. "Cannabis can help create an environment that is conducive to orgasm. Many people with vulvas need a specific context to become aroused so certain cannabis products or strains can help create that context," says Ashley Manta, sexuality educator and creator of Cannasexual. "My approach with sex and cannabis is designed to encourage thoughtfulness, playfulness, and curiosity. If you've been combining sex and cannabis and it hasn't worked the way you've wanted it to (falling asleep, feeling too high, etc.), I offer suggestions to choose more appropriate products and strains."
What kinds of strains and products, you might be wondering? Manta told Playboy that she recommends picking a strain with a 1:1 THC:CBD ratio because it keeps partners from getting too high and it great for pain, anxiety, and other factors that can get in the way of having good sex. She also recommends looking for certain terpenes in your strain selection, like linalool and limonene. "I've found the terpene linalool more helpful for relaxing and getting into my body, while limonene is more energetic and euphoric," says Manta. "[It depends] on what kind of sex you want to be having. The product you'd choose for energetic, frenzied sex is quite different than the one you'd choose for slow, sensual sex."
Peckler puts a lot of thought into the types of products to bring to the bedroom. Together with Kush Queens, she's developed the Lit Kit for Love, which includes a 1:1 THC:CBD bath bomb, an aphrodisiac pre-rolled joint, and a water based, latex-safe, cannabis lube, called Ignite. If you aren't ready to commit to the Lit Kit, Manta suggests topicals, like cannabis based lubes, as well as smoking or vaping weed. She notes that edibles often take too long to kick in and can cause different reactions in different users. There are even vape pens specifically made to enhance sexual experiences, like dosist's (formerly hmbldt) arouse and passion formulas.
So, the last question is, where do you find your pot smoking soul mate? Although the culture is still a bit underground, there are some above ground ways to meet other "stoner" singles. For one, there's Peckler's matchmaking service, Highly Devoted. But, for something more low-key, there are cannabis singles mixers and speed dating events in LA and NYC.
One example is WeedBar LA's singles mixer this past January that they called Connect. Founder, Catherine Goldberg, recalls over 100 guests, equal parts male and female--and it was LGBTQ+ friendly. She explains, "We offered wristbands at the door. Red if you're into women, gold if you're into men, and green if you only came for the weed and are unavailable. Guests could have one, two, or three," says Goldberg. "I came up with the wristband system because I find it frustrating to not be able to identify the single feminine lesbians. It's also helpful that I'm wearing a red wristband so men don't hit on me."
At the LA event, they "gave away" cannabis products like cotton candy infused with cannabis Mondo Powder, a watermelon based mocktail infused with Mountjoy brand cannabis sparkling water, and vape pens by Demeter's Garden. To facilitate connections, they had games like Giant Jenga and Guess Who.
Over in New York, where cannabis isn't legal for adult-use, there are still events like the upcoming S'Weed (Weed Speed Dating) hosted by Herbs TV. S'Weed will be help at a secret location in NYC on Valentine's Day and is BYOW (Bring Your Own Weed). They'll also provide some "donated" edibles and giveaways from cannabis sponsors.
Mike McKenzie, Founder of Herbs TV, a cannabis lifestyle collective, told Playboy they're capping the guest list at 50 to keep the setting as intimate as possible. They'll have speed dating as well as games, like stoned hangman, dice, and coloring books, plus a rolling competition. "The games are totally optional. You can just decide to talk to or smoke with your date. No pressure!" McKensie says.
So, clearly you have options for finding your stoner sweetheart. And if I were you, I'd start saving for your weed wedding now.