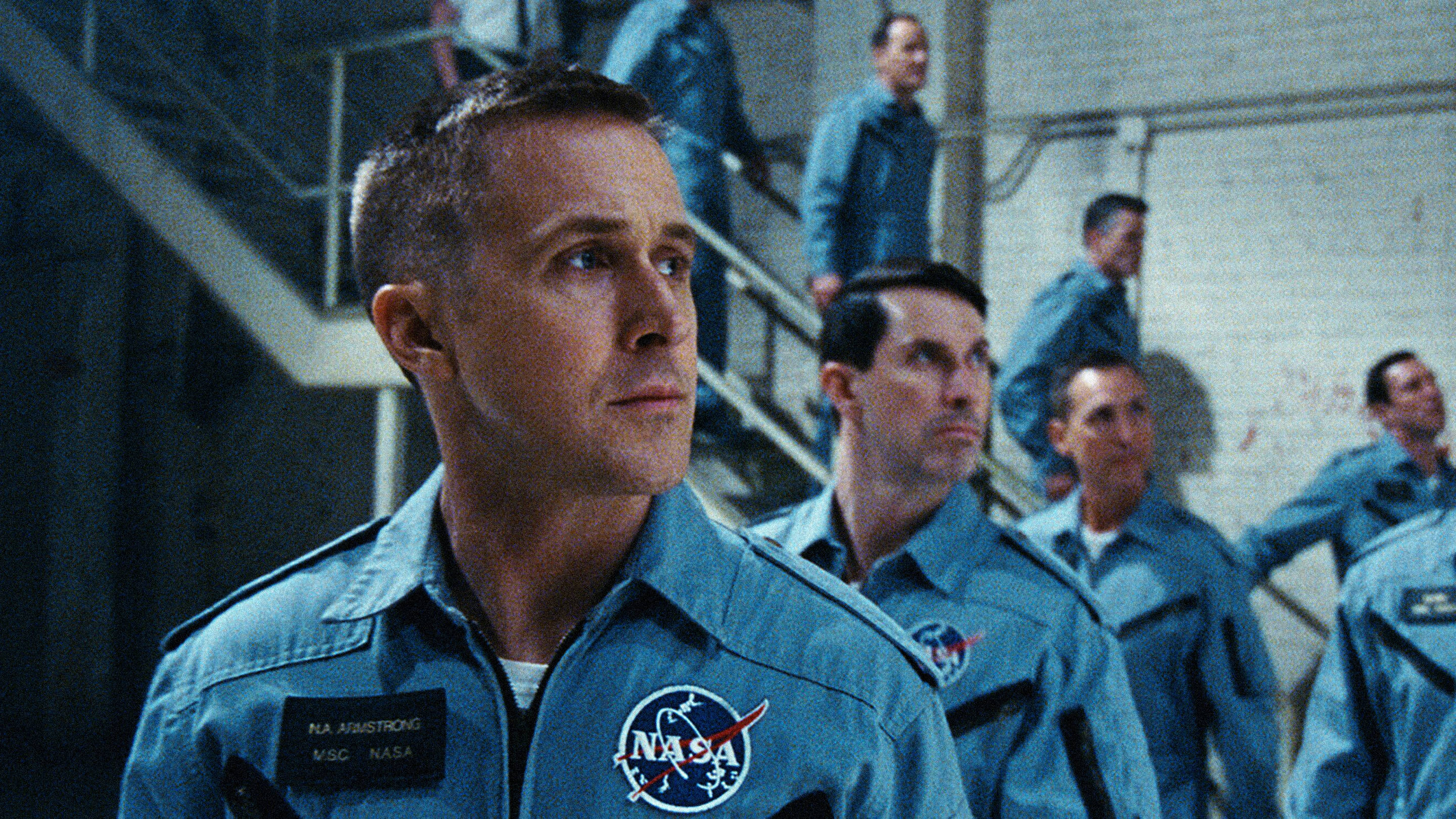 Buckle Up: Ryan Gosling Soars in Out-of-This-World 'First Man'
Written by Stephen Rebello

Published on

October 10, 2018
Heading into a theater to see First Man, a subtle, poetic, nerve-racking glimpse into a few years in the life of first man on the moon Neil Armstrong, you wouldn't expect it to be about the consequences of death and inconsolable grief. But, even for all it's jaw-dropping, immersive, claustrophobic space-flight sequences, it is. And it's devastating.

Armstrong, the tightly wrapped, emotionally sealed-off, ultra-professional aeronautical engineer and hero, cooperated only once with a biographer, for NASA historian James R. Hansen's
First Man: The Life of Neil A. Armstrong
. It's from that book that screenwriter Josh Singer (
Spotlight
), director Damien Chazelle (
La La Land
) and star
Ryan Gosling
have found their blast-off point. Especially if experienced in IMAX, the movie immerses us in
cramped, dirty cockpits
right along with Gosling's Armstrong.
Director Ruben Fleischer tells Playboy why viewers should approach the film with an open mind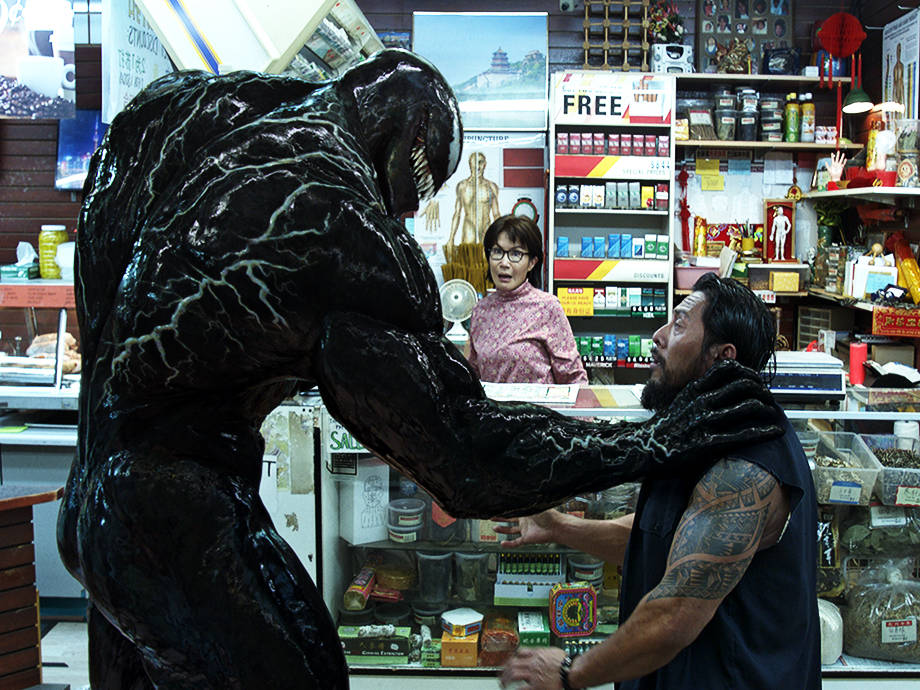 Maybe for the first time in films, we viscerally experience those early experiments in space travel—the X-15 flight, those Gemini missions and the 1969 Apollo 11 flight—for what they were. Risky. Deafeningly loud. Violently shaky. Stomach-churning. Intensely claustrophobic. Terrifying. Insanely beautiful.

These flights, and Singer's screenplay built around them, aren't celebrations of the awe-inspiring streamlined beauty of 1960s flying machines, or their undisputed technical marvels, or cutting-edge NASA technology. Nor does the movie rely on surface-level, feel-good, flag-waving patriotism or heroic mythologizing as did, say, Apollo 13. It's about ordinary Americans reaching for the seemingly impossible—and, despite the human costs, scoring astonishing achievements in rocket ships crammed with spinning dials, levers, equipment that doesn't always work. When a piece of equipment falters immediately pre-flight, a NASA technician actually asks if anyone has a Swiss Army knife handy.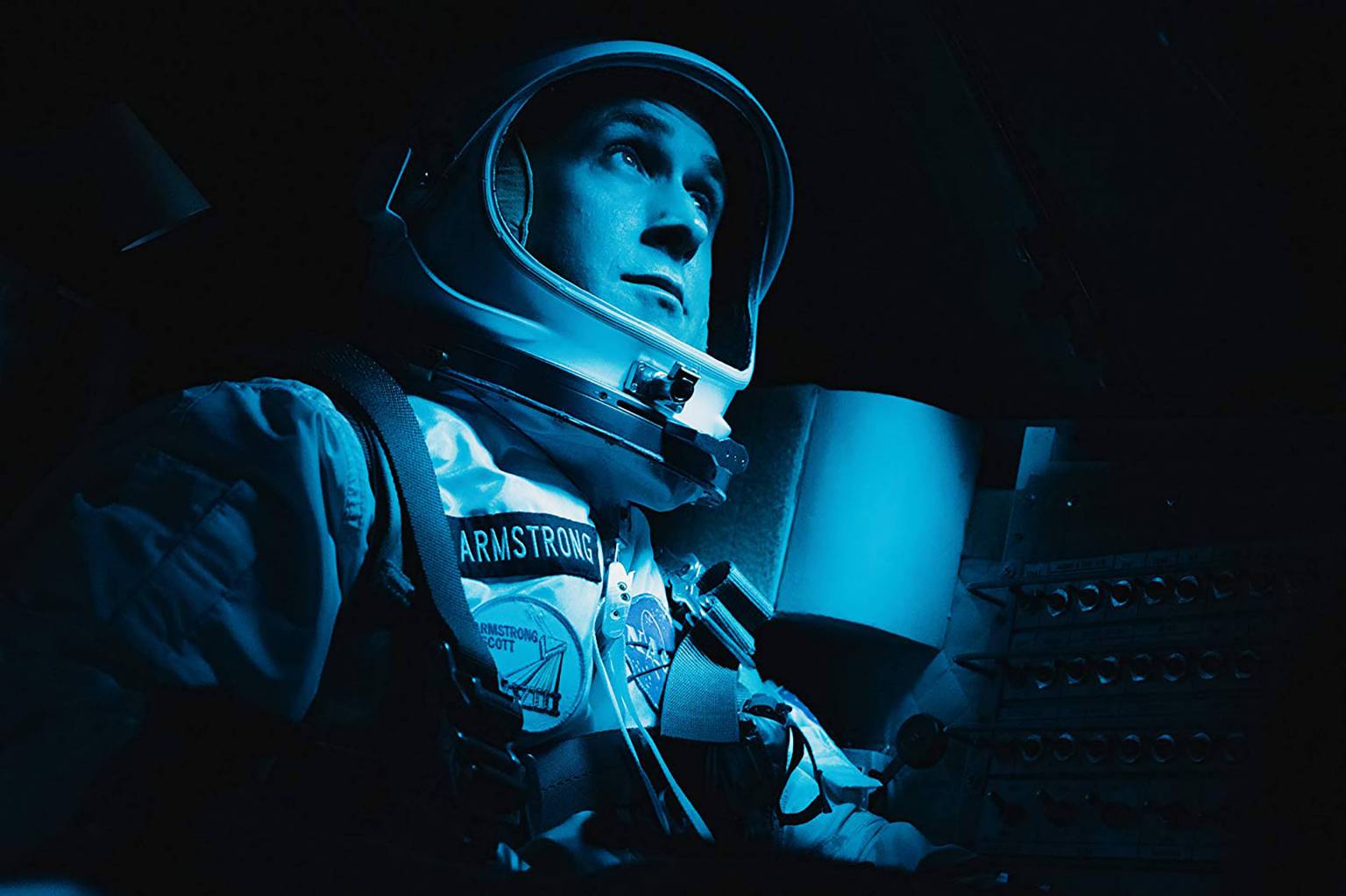 The film constantly subverts expectations for another
Apollo 13
or the far-better
The Right Stuff
. It strips a pinnacle in human achievement to a small, sad story of the stoic Armstrong's terrible battle to regain equilibrium, and try to patch together some semblance of a normal '60s-era marital life with his strong, no-guff wife, Janet (
The Crown
's astonishing Claire Foy), after the death of their beloved 3-year-old daughter from a brain tumor.
Chazelle directs the intimate epic like a seasoned veteran. He and the screenwriter never forget to place the movie in a specific time and context, with poignant
references to Pres. Kennedy
; the element of macho in the "Space Race" competition between the U.S. and the Soviet Union; the divisive Vietnam War; and the racial turbulence of the times, conveyed by superb use of Gil Scott-Heron's "Whitey on the Moon." Chazelle has also made brilliant use of first-rate collaborators including cinematographer Linus Sandgren (those averse to shaky cam: beware), production designer Nathan Crowley, composer Justin Hurwitz, editor Tom Cross and, especially, sound designer Ai-Ling Lee and a cadre of sound experts.
Ryan Gosling is canny in letting us feel the wells of emotion he's tamping down, rather than playing to the cheap seats.

Gosling is not only very good but also absolutely right for the role of Armstrong. Especially in his more recent movies like La La Land and Blade Runner 2049, there's always something detached and slightly above-it-all in his manner and delivery. But here, it works because in the rare moments when he allows Armstrong to break down in private or to shut down when his wife refuses to let him board the Apollo 11 mission without talking to his two sons, the signs of suppressed vulnerability become all the more powerful. He's canny in letting us feel the wells of emotion he's tamping down, rather than playing to the cheap seats.

That may cost the movie—some call it chilly and remote—a wider audience, but it makes for a grittier, realer experience. Foy, a powerhouse, makes a lot out of a little, and the supporting players make rock-solid contributions, notably Corey Stoll (as cocky Buzz Aldrin), Kyle Chandler (Deke Slayton), Pablo Schreiber (Jim Lovell), Jason Clarke (Edward Higgins White), Lukas Haas (Mike Collins), Patrick Fugit (Elliot See) and Shea Whigham as Gus Grissom. In case you're wondering, the moon-landing finale is a full-on knockout, technically and emotionally. It may not feature a flag-planting, but it goes for the jugular in subtle, powerful ways.
First Man
Pros

Ryan Gosling and the rest of the cast are perfect in the thrilling and unexpectedly fresh and emotional tale

Cons

The title character might be a bit tough to warm up to for some viewers