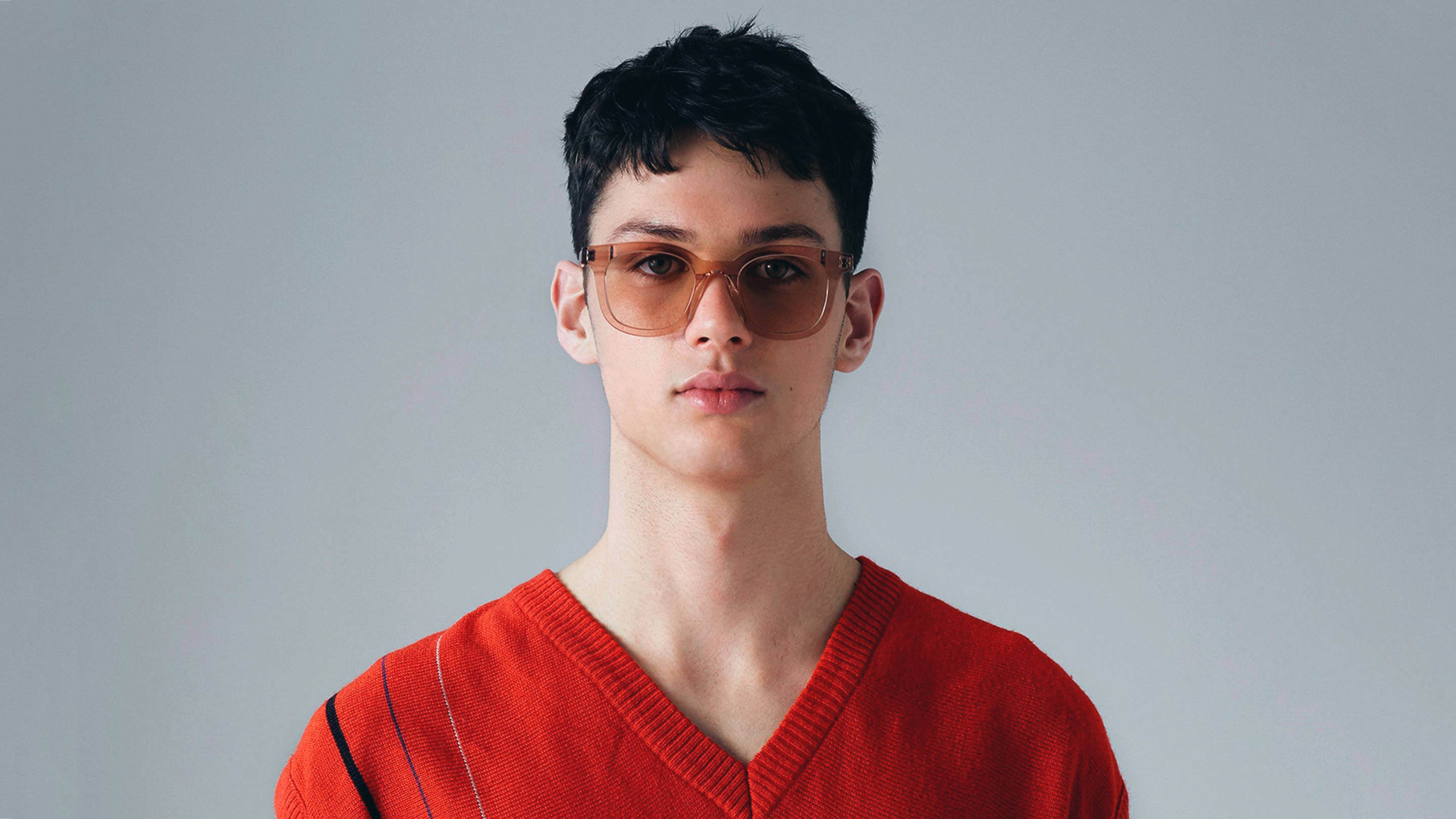 Frame Fetish: All About Experimenting with Sunglasses
Written by Miles Raymer

Published on

July 12, 2018
You should be wearing sunglasses, and not just because they mask your dark circles from the night before. On top of preventing eye strain and headaches, UV-blocking shades are effective at warding off all the different kinds of permanent damage that too much sun can wreak on our eyeballs. From a basic health standpoint, they should be just as much a part of your regimen during warmer months as an SPF-enhanced face moisturizer.

But they do also just make anyone look a bit cooler. Donning the right pair of shades can elevate an outfit and add a dash of mystery in a split second. So it's really kind of insane that even normally choosy dressers willing to go way out of their way for the right sneaker or pair of jeans can be happy to slap the most basic shades–or the clout goggles of the moment, no matter whether they look good or not–on the most valuable real estate on our bodies.

Fortunately, we're currently living in a golden age of sunglasses. More designers than ever are pushing the boundaries for what's possible with eyewear, and more good reasons to take the risk and follow them. Just as with so many other things, pushing the envelope with your eyewear is best done with one foot planted firmly in the fundamentals. "There are only a handful of shapes that are flattering for the human face," says Dustin Arnold, Group Creative Director for DITA, which has been consistently releasing interesting and influential glasses designs for the past two decades. For most people, the first step in choosing a pair of statement shades is simply figuring out which one of those handful of shapes works for you, then finding a pair that tweaks it.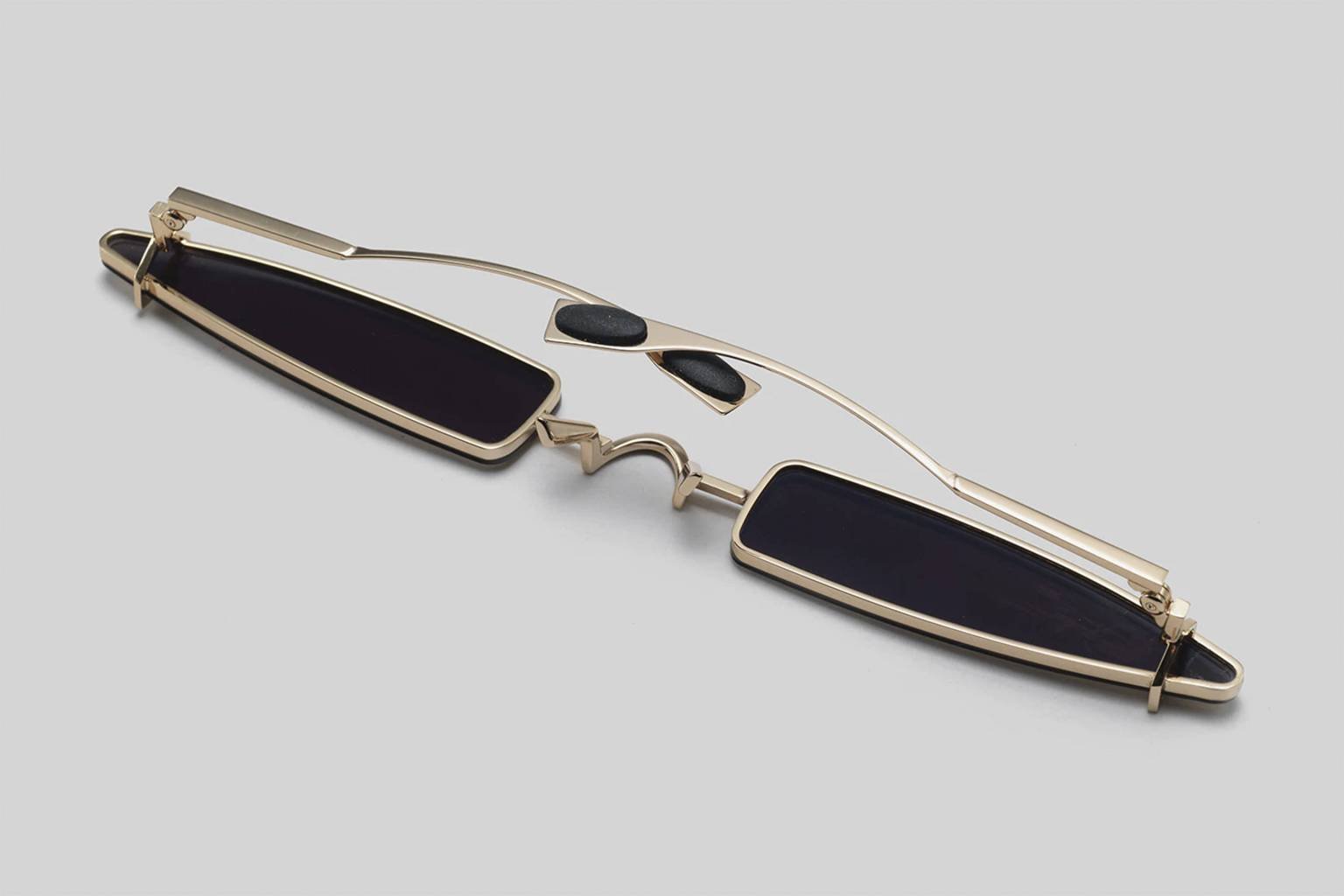 Take the navigator, the boxy sibling of the aviator that will forever be associated Seventies and Eighties fashion, but which has been on a comeback recently. That's at least partly a side effect of the popularity of DITA's
Mach Series
, which plays up the navigator's louche appeal in a variety of ways, at varying levels of subtlety, but still sticks out from the pack that it's helped inspire.
"The reality," Arnold admits, "is that someone sticking to a more conservative shape might not be right for a Mach." And he's right. It takes a little guts–and a willingness to risk coming off looking a like Elliot Gould in Ocean's Eleven–to wear the Mach One, while the Mach Four's bracingly retro-futuristic gold details are all the way off in Giorgio Moroder land. But it's also a powerful flex to wear a pair of unapologetically outrageous sunglasses without sweating it, which could be why LeBron James and Jamie Foxx are such big fans.

DITA may take things to an extreme, but there are plenty of other brands finding interesting ways to play around with the standards in subtler ways. L.G.R.'s mixed-material reimaginings of classics silhouettes–based on a stash of decades-old frames that the founder dug up in his late grandfather's optical shop in Eritrea–feel as forward-looking as they do nostalgic. Their Zeraf, which adds an Art Deco-inspired acetate bridge to a classic teardrop aviator, looks like a Hemingway-era imagining of what sunglasses would look like in the 21st century. Meanwhile, Italian brand Retrosuperfuture has been ahead of the pack in playing around with color, from wire navigators with tropical-tinted lenses to blocky plastic frames in toxic-waste green that filter Sixties New Wave (as in Godard) through Eighties New Wave (as in Devo).

To me, [sunglasses are] almost like renting an identity. I could even compare the feeling to a momentary restart.

Or if you're feeling exceptionally daring, you can turn your back on the standard shapes altogether. Oakley's been making status-quo-defying sunglasses for so long that the world has only just now started to catch up to some of the brand's oldest and edgiest designs. Kith's
Element Exploration Agency
collection from this past spring included Oakley's iconic Eighties-era Razor Blades in two colorways (including a perfect throwback pink-and-blue mirror lens), and Alexander Wang recently sent models down the runway at his Spring 2019 show in custom Razor Blades of his own. Oakley hasn't embraced its new retro-cool status to quite the same extent (although they just released a limited run of their 1989 Mumbo glasses for their Eighties-motocross-inspired
Thermonuclear Protection
capsule), but newer models like the
M2
and
Path
are worthy inheritors of the brand's reputation for sci-fi looks. For a more club-kid mood, NYC nightlife staple brand OAK offers goggle-like Jors and cyberpunk wraparounds in a spectrum of rainbow metallic lenses.
If you stare hard enough, you can make out the suggestions of standard frame shapes in some of the pieces from Korea's
Gentle Monster
, which has become the most iconoclastic–and hence most exciting–eyewear brand on the market thanks to designs that range from the slightly psychedelic to the completely unhinged. A relatively safe bet is the
MA MARS G1
, which seamlessly combines layers of translucent acetate into a ghostly virtual suggestion of a pair of extremely oversized wayfarers. But if you're willing to follow the aesthetic outsider vision of founder Hankook Kim–who prior to designing glasses ran an English summer camp in Seoul–out to its wilder reaches you'll find pieces like the face-covering sci-fi masterpiece
HACKERZACK 02
that are literal pieces of art, not intended for sale.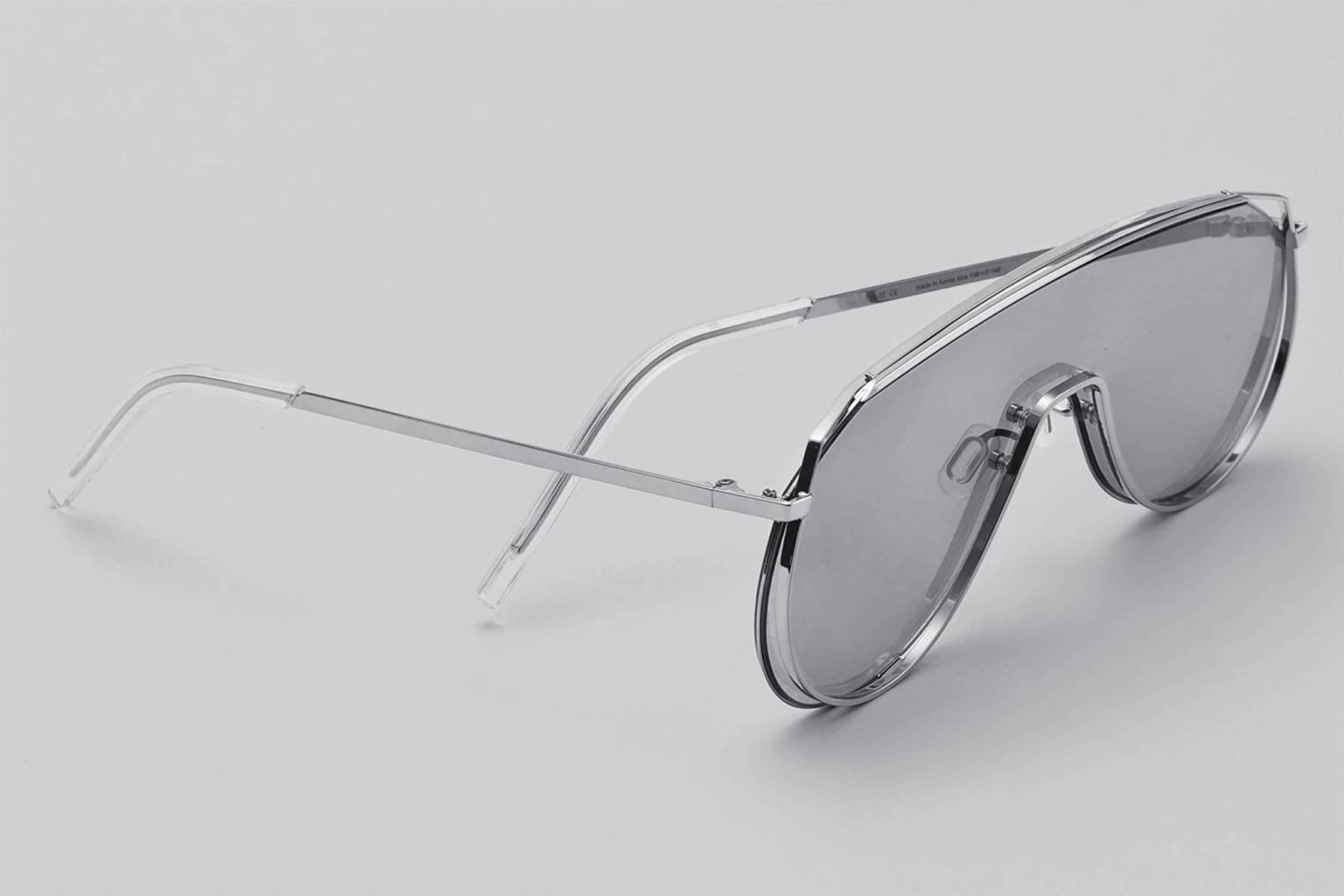 Recently Ivisited Gentle Monster's art-filled New York boutique, which, keeping with Kim's whimsical design sense, manages to make the standard Soho poured-concrete minimalist decor seem playful and inviting. After trying on the whole range of styles on offer, up to and including their surreal 2017 collection with Hood By Air, I emailed the brand's New York-based Communications Director Ellen Choi to ask what advice she had for anyone looking to make the leap from wearing basic shades to Gentle Monster's more advanced offerings. She replied, "To me, [sunglasses are] almost like renting an identity. I could even compare the feeling to a momentary restart. In that sense, it's so fun to be indiscriminate with your eyewear choices." On the day I visited the store it was packed with fans of the brand who were trying on glasses and taking selfies, proving how much Gentle Monster's brand of indiscriminate fun has caught on.
Over the course of my time exploring the edge of tinted-eyewear possibility, I kept thinking about Martin Rev, one half of the massively influential
proto-punk duo Suicide
, and one of rock music's all time greatest wearers of sunglasses. From vintage disco goggles back in the day to his current rotation of next-gen Oakleys, Rev has spent decades at the cutting edge of sunglasses looks. So I reached out to ask an icon how he chooses his frames, and like his music, Rev's answer cut straight through the bullshit and right to the point. "I just look for what looks cool to me," he explained. "You just know it when you see it."