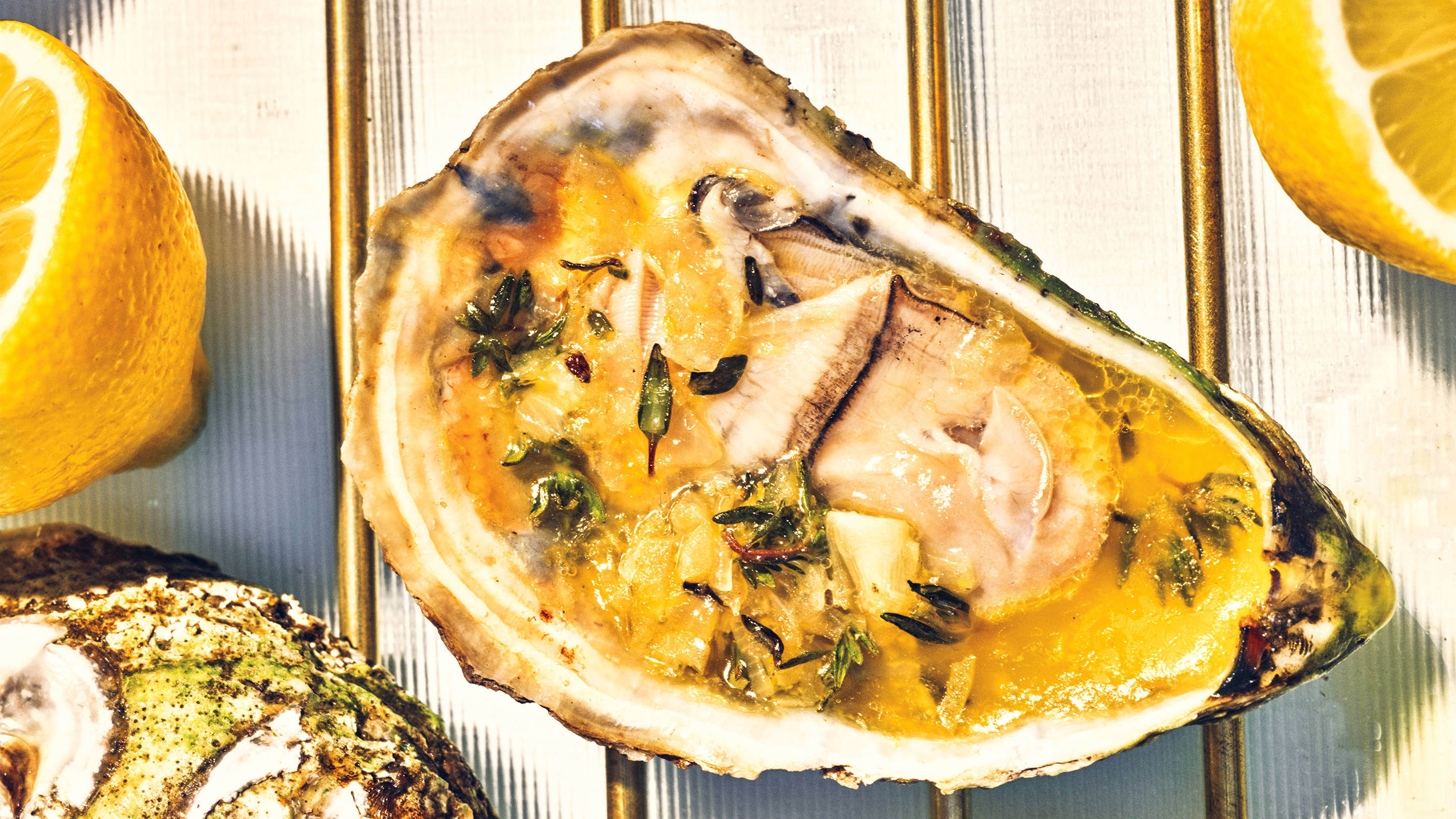 Turn Up the Heat: Six Grilling Gurus Makeover Your Backyard BBQ
Written by MacKenzie Fegan

Published on

August 02, 2018
There is nothing primal about an Instant Pot. And with summer on the wing, it's time to embrace your inner cave dweller and cook with fire. For next-level grilling, think beyond the usual suspects and reach for unorthodox ingredients that can benefit from smoke and scorch.

Just as the high heat of glowing charcoal can yield a hard-seared steak that's still bloody on the inside, a charred tomato or cucumber will serve up those rich, browned flavors without sacrificing peak-produce juiciness. As for smoke, treat it like an extra ingredient.

To lock in its flavor, fat is your friend, as in chef Galen Zamarra's butter-topped oysters (pictured above, with recipe below, along with other tips from some of our favorite chefs). You won't get blazing hot temperatures or that ideal smokiness from a gas grill—though wood chips can be used as a cheat—so if you came to play, it's charcoal all the way (and we mean hardwood lump charcoal, not chemical-laced -briquettes). You go, grill.
BY Ashley Rath, the Grill, New York
TOMATOES
STEP 1

Toss cocktail or cherry tomatoes with olive oil.

STEP 2

Place on grill (a colander or grill basket is helpful) for about five minutes, until they blister open.

STEP 3

Puree and season with salt.

STEP 4

Spoon over steamed clams with garlic, oregano and Tabasco, or use instead of lemon in sauces and dressings for a smoky, acidic kick
BY Elise Kornack, whose new project launches next year in the Catskills
SOFT-SHELL CRABS
Step 1

Place boiled soft-shell crabs on grill over direct heat, allowing shells to char but not burn—eight to 10 seconds per side.

STEP 2

Move crabs to cooler side of grill until warmed through, three to five minutes.

STEP 3

Place in a large mixing bowl, toss with Old Bay seasoning and serve with melted butter.
BY Elizabeth Haigh, Shibui, London
LEEKS
STEP 1

Trim leeks and wash well.

STEP 2

Place over direct heat on grill for five to 10 minutes, letting outer layer blacken.

STEP 3

Peel away and discard charred outer layer.

STEP 4

Top leeks with Parmesan or pecorino, cracked black pepper and a runny fried egg.
By Erik Ramirez, Llama Inn, Brooklyn
Beef hearts
STEP 1

Cut heart into quarter-inch slices and thread on wooden skewers.

STEP 2

Marinate in neutral oil, vinegar, salt, pepper, cumin, garlic and aji panca (a mild, fruity Peruvian pepper) for two hours in refrigerator.

STEP 3

Grill until medium, three to five minutes, brushing with leftover marinade.

STEP 4

Serve skewers topped with salsa.
BY Negro Piattoni, Mettā, Brooklyn
Fennel
STEP 1

Halve a fennel bulb and grill five minutes per side over direct heat.

STEP 2

Slice crosswise and mix with supremed orange wedges, Castelvetrano olives, high-quality olive oil, chardonnay vinegar, tarragon and mint.

STEP 3

Season with salt and red chili flakes.
By Galen Zamarra, Mas, New York
OYSTERS
STEP 1

Make a mignonette compound butter by mixing sautéed shallots, lemon zest and thyme into softened butter. Chill until solid.

STEP 2

Shuck medium-size, meaty oysters, being careful not to spill juices.

STEP 3

For each oyster, place half a teaspoon of compound butter on the meat and replace the top shell.

STEP 4

Grill over indirect heat until the butter melts and the oyster is just warmed through, about three minutes. Finish with a squeeze of lemon.