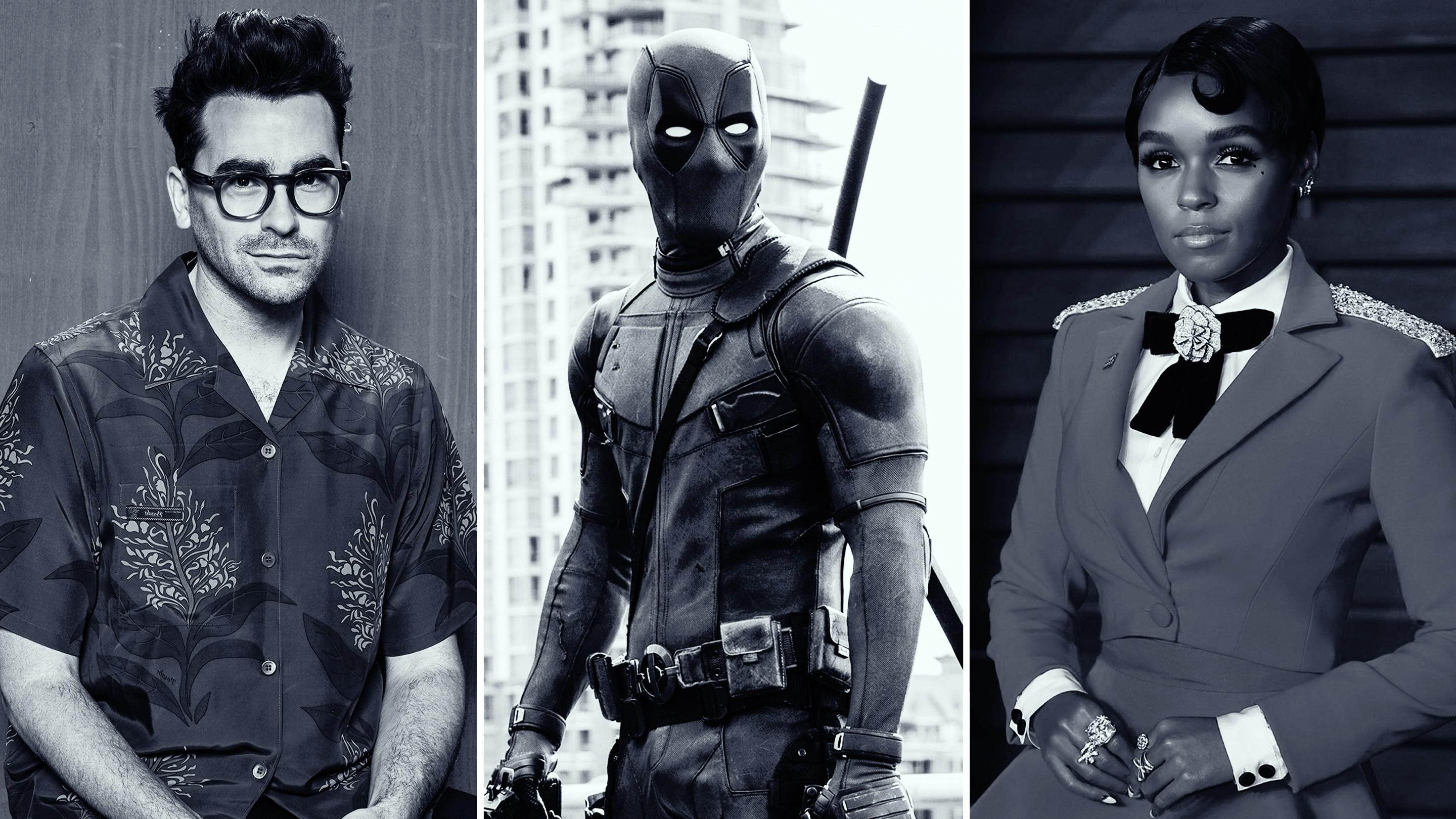 Hollywood's Pansexual Moment Is Our Sexual Future
Written by Ivy Knight

Published on

May 02, 2018
In an interview with Rolling Stone last week, singer and actress Janelle Monae proudly came out as "a queer black woman." This may not have come as a shock to some of her fans, considering her habit of crossing gender and sexual boundaries, from her tuxedoed-crooner drag king looks to the recent video for her song "Make Me Feel," a free-love anthem if there ever was one. Still, Monae has always kept mum about her sexuality—until now. She admitted to Rolling Stone that while she first identified as bisexual, she later "read about pansexuality and was like, 'Oh, these are things I identify with too.'"

Monae is hardly the only one who feels that way. Although some would argue that pansexuality is distinct from bisexuality—pansexuals embrace partners of any gender expression or orientation, while bisexuals tend to hew more closely to old-school gender norms—it's clear that queer visibility is on the rise in the world of entertainment. Increasingly, pan- and bisexual themes are cropping up in music, film and TV, ostensibly reflecting their audiences' tastes, too. It might be impossible to pinpoint exactly when this sexually fluid wave first appeared, but let's rewind to just a decade ago. In the spring of 2008, a little-known born-again Christian singer from Santa Barbara released a pop confection about making out with someone of the same sex. Having stirred up controversy for its homosexual themes, "I Kissed A Girl" catapulted Katy Perry to stardom—and one can only imagine how many cherry ChapStick-flavored lip-locks it inspired in bedrooms across North America.
Despite the song's celebration of same-sex attraction, however, Perry never found herself relegated to the "womyn" (read: lesbian) pigeonhole like some of her female musical forebears. (E.g. Indigo Girls, Ani Difranco or Jill Sobule, who wrote her own chart-topping version of "I Kissed a Girl" more than a decade earlier.) It surely helped that Perry already looked more Maxim than Lilith Fair, so perhaps the kiss played more to men's fantasies than sexual liberation.
Nevertheless, the message is what matters: a straight-ish girl kissed another girl and liked it, and we, for the most part, were fine with that. Men have rarely been afforded the same nonchalance—until recently, that is. From Game of Thrones to Riverdale, today's TV shows are comparatively full of guy-on-guy action, and it's been going on without much fanfare. As support for same-sex marriage gained steam throughout the 2000s and was finally made the law of the land in 2015, depictions of men getting sexy with other men on TV and in movies stopped raising eyebrows and became, well, the new normal.
Wouldn't it be okay if heterosexuality could just be rangy and elastic and not frozen into one way in which you can experience desire?

On the Canadian-produced sitcom
Schitt's Creek
, which airs stateside on Pop, David Rose—the dilettante son of the fallen Rose family—embodies this laissez-faire attitude toward sexual identity. Rose just doesn't see gender. He explains it in a brilliant scene with his female friend and occasional lover Stevie, who, until they slept together, thought David was gay. Browsing the selections in a wine shop, she equates sleeping with men to drinking red wine: "I only drink red wine. And up until last night I was under the impression that you, too, only drank red wine." Rose replies that he drinks red and white, even rosé. "I like the wine, and not the label," he says.

Played with the heart and moxie of a young Barbra Streisand, David Rose was created and is played by Dan Levy, son of Eugene Levy, who plays his dad in the show. "As a gay person, who at one point spent a lot of my life in the closet, to be here writing this show and to have people cheering on these characters it is really quite amazing and an opportunity I don't take lightly," the younger Levy tells me by phone.
"It was a very conscious decision to not turn the character into a lesson that the audience needs to learn from or reduce him to caricature, which is unfortunately how a lot of queer characters end up in entertainment," says Levy of his character. "We want to show a love story with the same respect as any love story on TV."
When it comes to romance on TV, Sense 8 has to have been one of the most over the top love is love sci-fi soap operas of all time. A product of the Wachowskis—the trans siblings who are no strangers to fluid expressions of gender and sexuality— and co-creator J. Michael Stratzynski, the show features spectral projection orgy scenes in which, say, a few straight guys end up slipping and sliding all over a gay male couple. In Penny Dreadful, the 19th-century gothic series, we see Josh Hartnett's sharpshooting American cowboy-werewolf get seduced by handsome androgynous man-about-town Dorian Gray. But even in this Victorian alternate universe, their tryst doesn't cause a scandal. Dr. Frankenstein just goes about his business, shooting up heroin and planning the next vampire killing.
Before Kevin Spacey was accused of sexual assault, he was playing what must be the first sexually fluid president of the United States in modern TV history on
House of Cards
. Remember Frank and Claire Underwood's threesome with the stoic, loyal Meechum? (We also found out that Frank hooked up with a male friend while he was at school, and later his personal trainer-cum-Civil War re-enactor.) Nathan Darrow, who played Meechum,
told Business Insider
at the time that the response from fans was that scene made Frank's character come alive for them.
Nick Davis, a professor of English and Gender & Sexuality Studies at Northwestern University who focuses on film, tells me that while these kinds of scenes may becoming less and less rare, that many viewers still resist applying the bisexual—let alone pansexual—label. Regarding Brokeback Mountain, he says, "Why have I never heard anybody say that these are two bisexual characters, rather than it be two gay men who wind up bringing a lot of pain into their wives' lives? That attraction to those two women does not have to be insincere, but we seem really stuck in this binary thing. I think bisexuality just seems to be evacuated."
Davis cites an article by sociologist Héctor Carillo entitled
"Straight With A Pinch of Bi"
that suggests we don't need to add new labels. "Wouldn't it be okay if heterosexuality could just be rangy and elastic and not frozen into one way in which you can experience desire?" Davis asks. "We entitle a lot of other categories to flexibility that we've pretended straightness doesn't have, but doesn't it in fact have it?"
One movie that explores this,
D Train
, stars Jack Black and James Marsden as two straight guys who went to high school together. As their 20-year reunion approaches, Black tries to entice high school hero Marsden to return for the event. They end up going out on the town, getting wrecked and hooking up. Black has flashbacks to getting plowed and spends the rest of the movie trying to sort out his feelings. "Black can't believe he's done it with a guy, is kind of confused by his own feelings and then kind of hopes it happens again," Davis explains. "It never really culminates in any kind of identification from either one of them. Marsden is out here in these streets happy to hook up with whoever. It is on the line between comedy and pathos, sometimes not so comic."
While the indie D Train didn't set any box office records, bigger productions have also chipped away at the monolith of heteronormativity and depicted characters who are happy to experiment with the wide world of sexual expression. We saw Ryan Reynolds get pegged by his girlfriend in Deadpool (to celebrate International Women's Day, no less) and Channing Tatum as the hot hetero-jock-turned-fluid-sex-toy in This Is the End and Pink's "Beautiful Trauma" video.
One could argue that queering Reynolds and Tatum is just part of a punchline, but flipping the sexual script can be both funny and freeing. On
Broad City
, for example, Abbi enthusiastically bangs her hot neighbor Jeremy with a custom Japanese dildo, and her best friend Ilana—herself a muse to the gods of pansexuality—does a celebratory headstand when she hears the news. (Of course, there is now
a line of
Broad City
dildos
, so viewers can start pegging at home.)
Once you start looking, you'll find bi, pansexual, queer and questioning themes all over TV. Lee Pace has said of his character Joe MacMillan's bisexuality on
Halt and Catch Fire
, "He's going to just do what he wants to do. If he finds someone sexy and interesting, he's going to pursue them." On
Archer
, the highly unprofessional HR director Pam Poovey manages to fuck just about every main male and female character, some of whom are bi-ish themselves. On
Game of Thrones
, Oberyn Martell has an all-you-can-bang orgy of both men and women, as does Logan Delos in
Westworld
.
Brooklyn Nine-Nine
's Rosa is bi
, as is Alison on
Pretty Little Liars
, and most of the casts of
Orange Is the New Black
and
Hannibal
. Also, Moose and Toni on
Riverdale
, Adam on
Jane the Virgin
,
Darryl
on Crazy Ex-Girlfriend. The list goes on and on.
With sexual fluidity finally getting the embrace it deserves, this is the moment for everyone—especially men who identify as straight—to finally bust out that cherry ChapStick and pucker up.