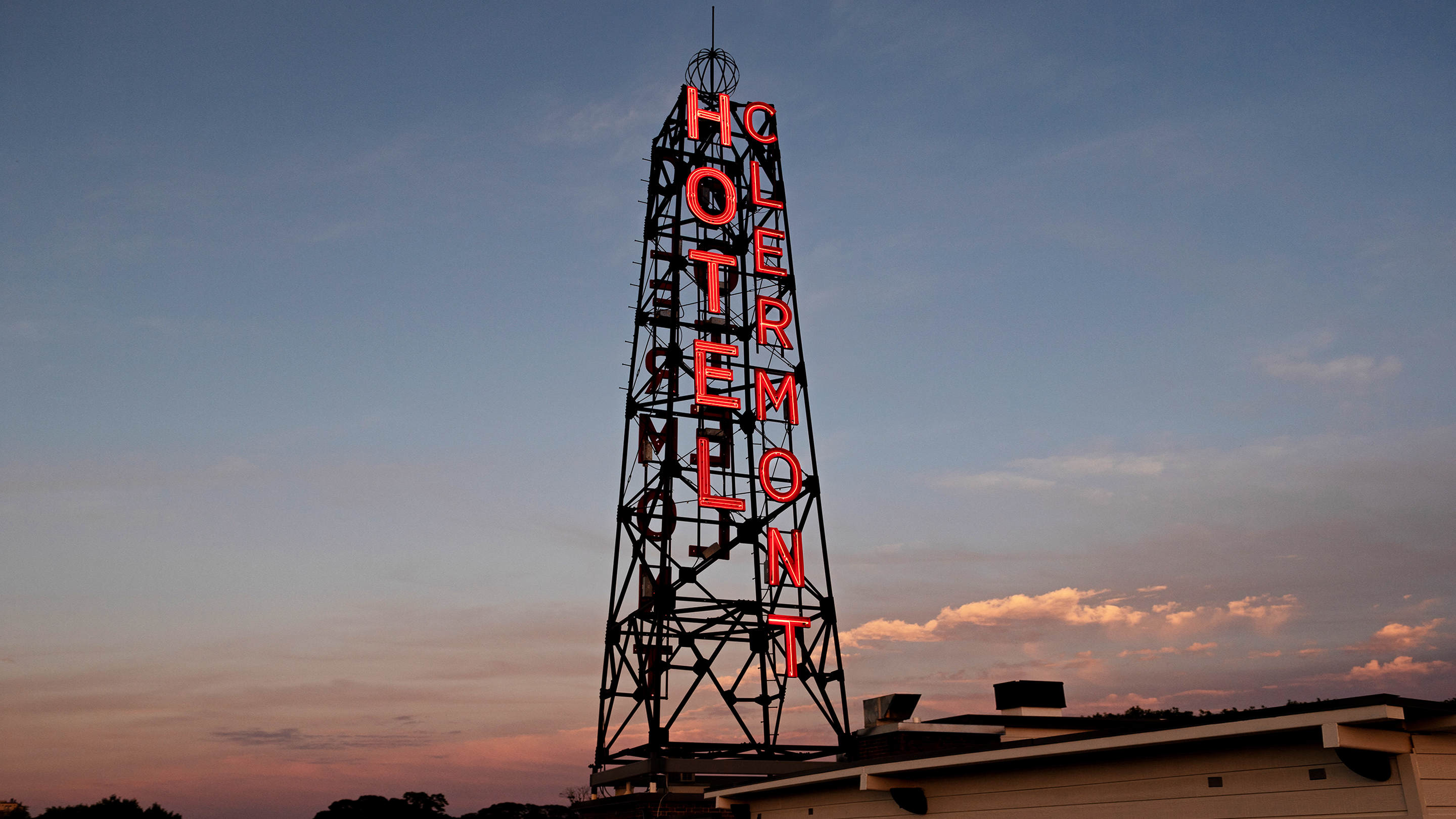 Check in to New Old (and Naughty) Atlanta at Hotel Clermont
Written by Lia Picard
Photography by Johnathon Kelso

Published on

June 11, 2018
Atlanta is home to some of the country's finest strip clubs with svelte, acrobatic dancers and bottle service, but The Clermont Lounge isn't one of those places. Sitting on one of Atlanta's busiest thoroughfares, Ponce de Leon, in a nondescript brick building, this joint is the longest-running strip club in the entire city and it wears its age with pride. While businesses are built and teared down around them, perhaps this lounge stays busy, with newcomers and loyalists, because it doesn't care what outsiders may think about what's going on inside. In a place seemingly held together by duct tape, where thick smoke wafts in the dim lighting, all that matters is that the fun keeps going. It is a place where inhibitions drown as quickly as whiskey served in plastic shot glasses as an aging woman named Blondie commands attention under the strobe lights.

Also unlike its competition, The Clermont Lounge shares a building with a newly renovated hotel. Sure, the interior of
The Hotel Clermont
and the strip joint below could not be more different—except for one major similarity: they're both out to have a good time. While the lack of clothing and frills makes it easy to relax in Clermont Lounge, a step inside the hotel from 1924 is a step inside a fully-realized retro oasis.
It was 2013 when the Nashville-based Oliver Hospitality saved the lodge from demolition. "An old friend of mine called me up and said, 'You should do what you did at the Oliver [in Knoxville] at the Clermont.' We had seen it passed around as an apartment deal, but he made us kind of realize it was actually a good location for a hotel. It had personality," explains Oliver Hospitality's Philip Welker. And today, the establishment is open and ready to welcome guests into its 94 rooms on June 21 alongside an all-day French-American dining experience and rooftop lounging.
The Hotel Clermont's secret is marrying one-of-a-kind interior touches with the history of the location throughout. "The design philosophy of the hotel is to make it feel as if it evolved over time," Welker says. "So there are different generational touches." Patrons of the iconic location are immediately met with the 1970s-tinged lobby bar, decorated by blue Moroccan fishscale tile backsplash, while the adjacent seating area channels the 1960s with heavy drapery, bold floral wallpaper and wood paneling. And just past the bar is a pink neon sign straight from the 1980s, signaling the entrance to Tiny Lou's, the hotel's French-inspired restaurant with pink velvet banquettes and white marble flooring. The name is a tribute to an eponymous dancer who performed at the club (then known as the Gypsy Room) in the 1950s. Legend has it, she refused to dance for Hitler.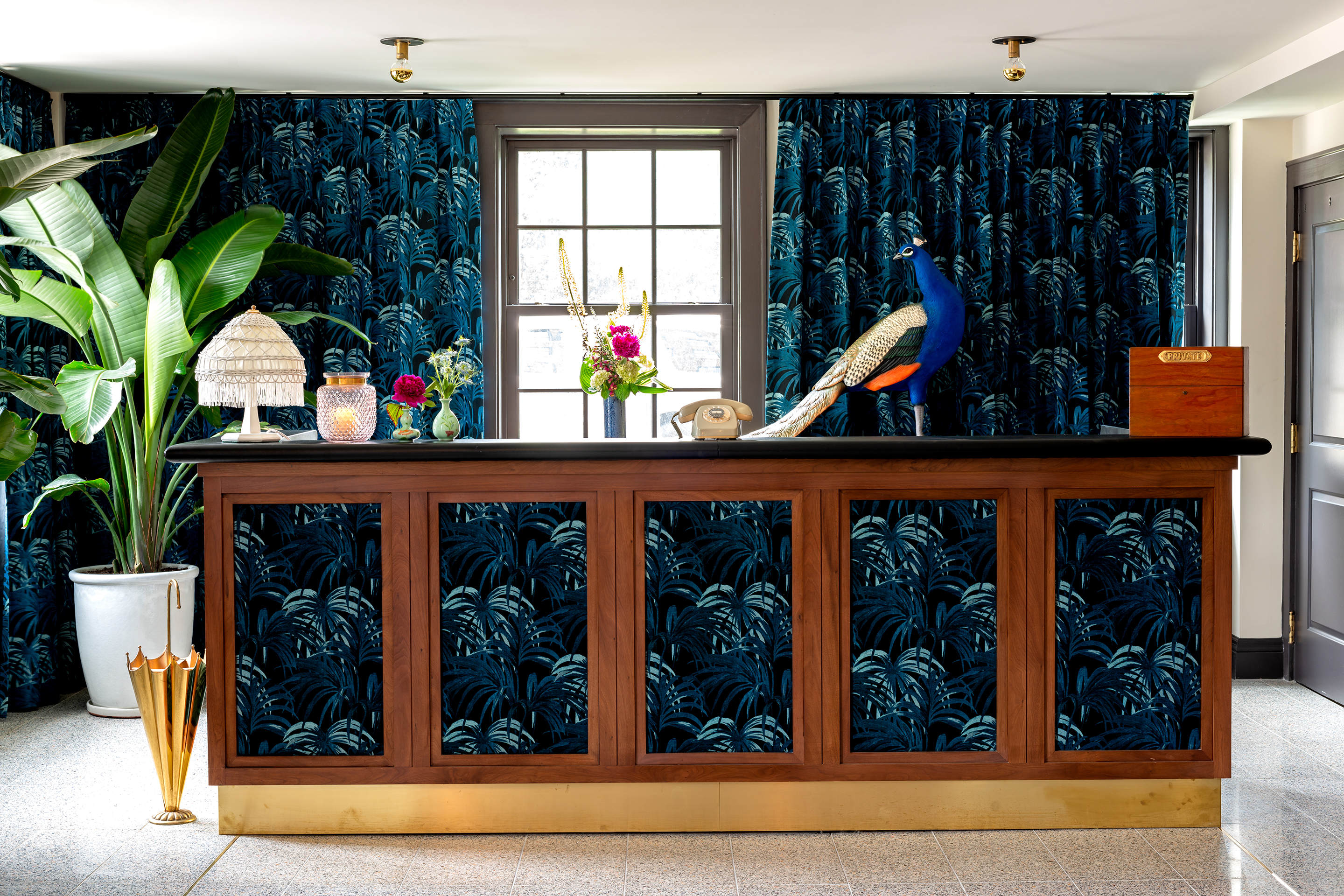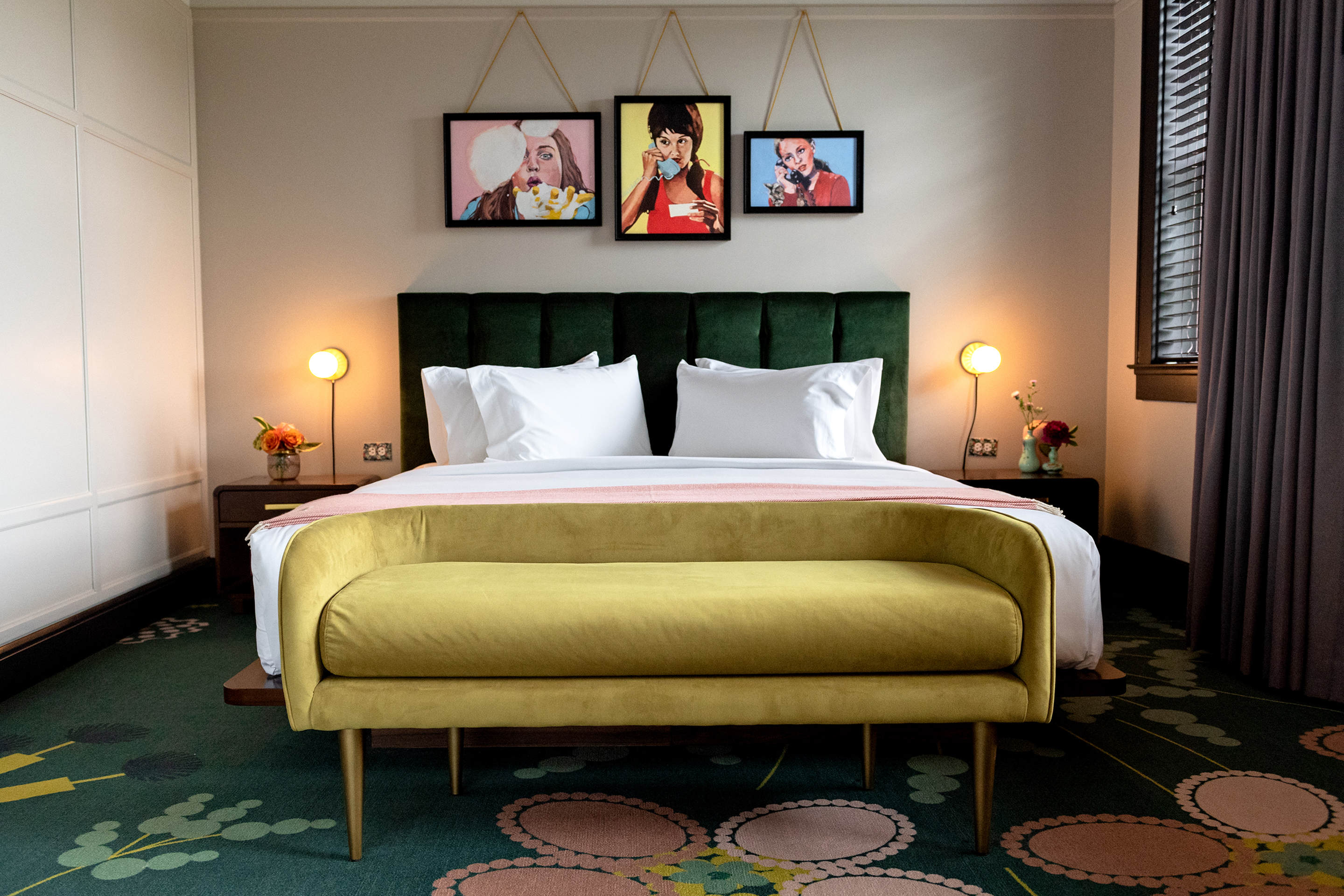 "We wanted to do something that's a little dichotomous to the lounge below and just have fun with it," says Welker's partner, Ethan Orley. The rooms, however, trade kitsch for pastel hues layered with touches of chartreuse velvet. The suites have vintage mid-century modern furniture and some of the guest rooms even have original doors hearkening back to when the Clermont was an apartment building. Above the bed in each room are three varying prints by Charlottesville-based artist Sharon Shapiro, celebrating beautiful women from the '60s and '70s talking on the phone. It's an act that may seem mundane but, as Shapiro points out, is filled with intimate, sexual undertones.
While the suites, with their green couches and swanky chandeliers, may be where the most luxurious of travelers stay, others may opt for the bottom floor bunk rooms. "Young people want to share rooms, want to stay in the best hotels in the city, but don't necessarily need or want to pay for an individual room. They want to be part of the whole environment and the experience," says General Manager Alan Rae. The bunkbed rooms have extra-long bedding, meant to accommodate groups of four people to stay in extravagance, just a crawl back from the lounge, but without the fat bill.
Head up to the rooftop bar to access the hotel's version of an adult playground, where the centerpiece is a rum-centric bar that obviously has quintessential vacation mode in mind. "I think rum just seems fun. It's got this whole outdoor vibe to it because you start to think about the Caribbean," Orley explains.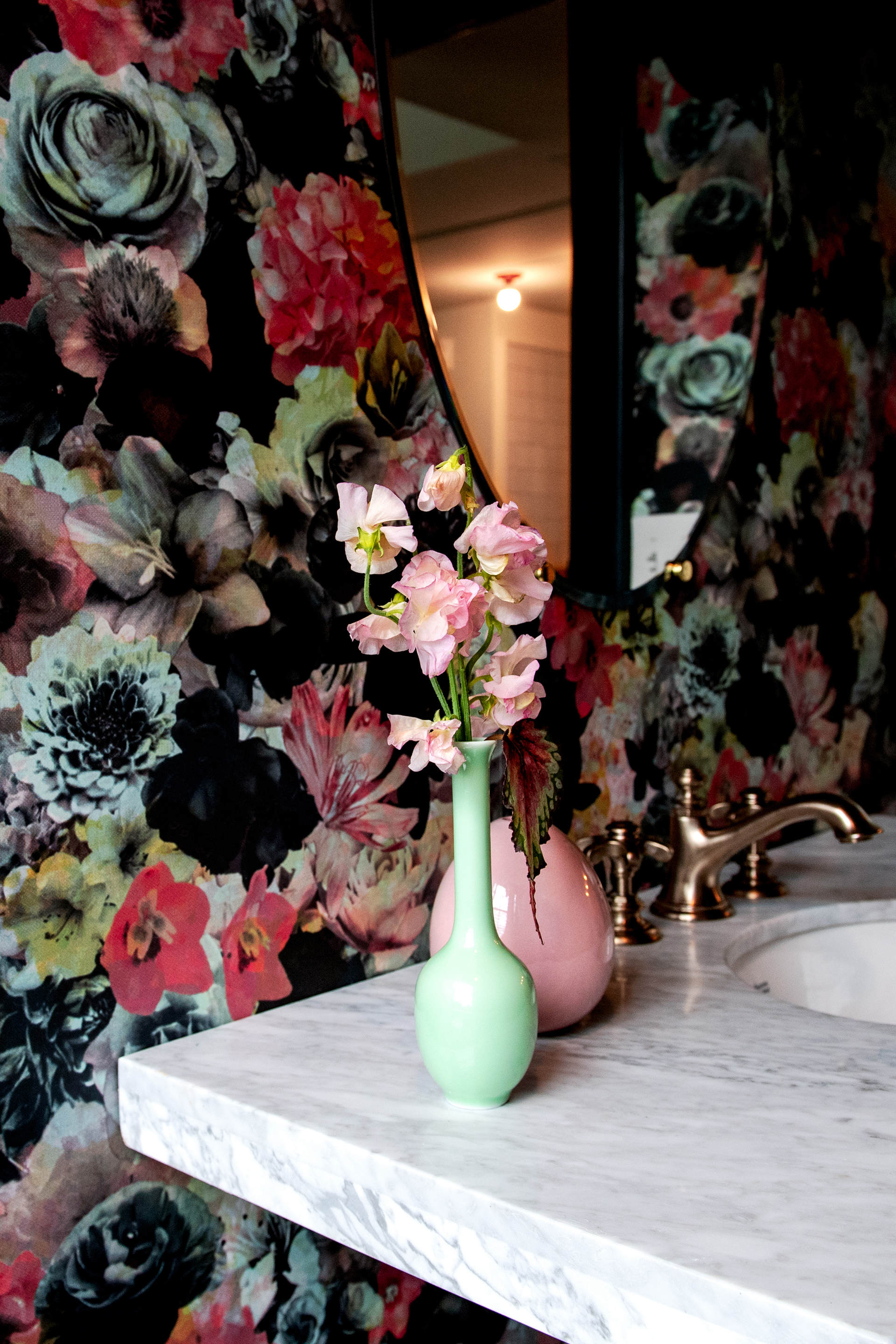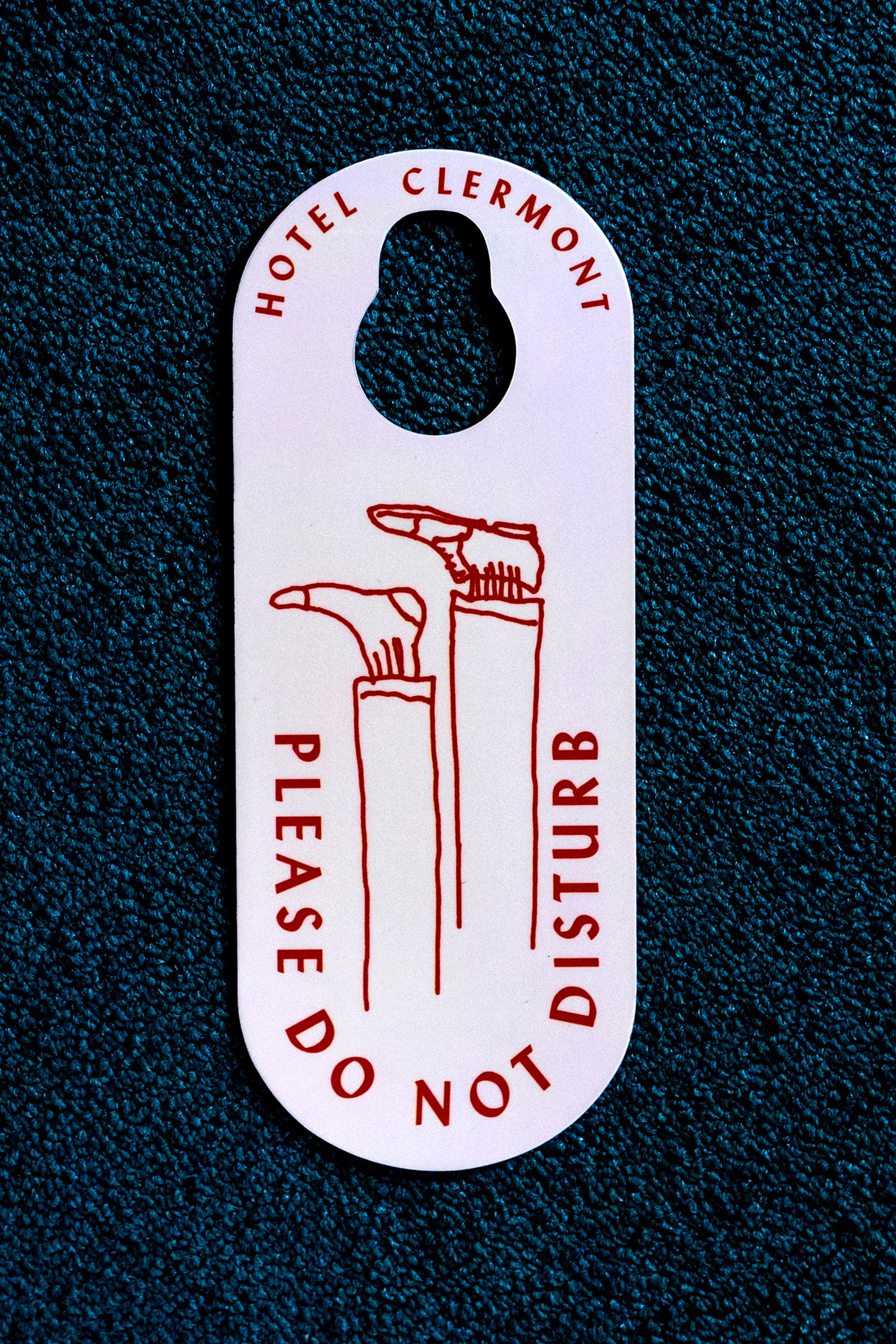 Astroturf lays under wrought iron tables and beach chairs—a purposeful stark contrast from the decadence below—so locals and tourists alike can flock to soak in a rare panoramic view of the city. "We want it to be casual. That's why we put grass up here, so people can take off their shoes on a hot day," Welker says. But the sunset is the most spectacular time to stand beside the radio tower, when lights up to provide an intimate neon glow that cascades above to flood into the horizon.
"People aren't talking about Atlanta as a destination. Everyone thinks of it as Fortune 500 country. It's very corporate and has a big airport and you fly through there to get somewhere else," Orley considers. "When I got down here, and traveled through the in-city neighborhoods I thought wow, the architecture is beautiful, it's green, the restaurant scene is incredible and there's a creative community. But I don't think people really recognize that."

Hotel Clermont happens to be the only high-end hotel immersed into this bustling part of town. Beyond the bevvy of scantily clad dancers waiting in the very same building, visitors will find the Ponce City Market, another renovated space that has transformed from a warehouse to a retail and dining mecca, just feet away. Redeveloped by Jamestown, the same company behind Chelsea Market in New York, the mixed-use food hall features chef-driven restaurants and stalls, upscale shopping, and a music venue. Then there's the close proximity to the Atlanta BeltLine, a railway corridor turned walking path. Dotted with street art, the Eastside portion of the trail is a destination in of itself and links people to the best restaurants in the city like
Ticonderoga Club
,
Staplehouse
and
BoccaLupo
. For those looking for a more traditional Atlanta dining experience, there is Java Jive's an old-timey diner décor best known for its biscuits.
"I think Atlanta might be getting its due. I think we're part of that trend," Orley says.