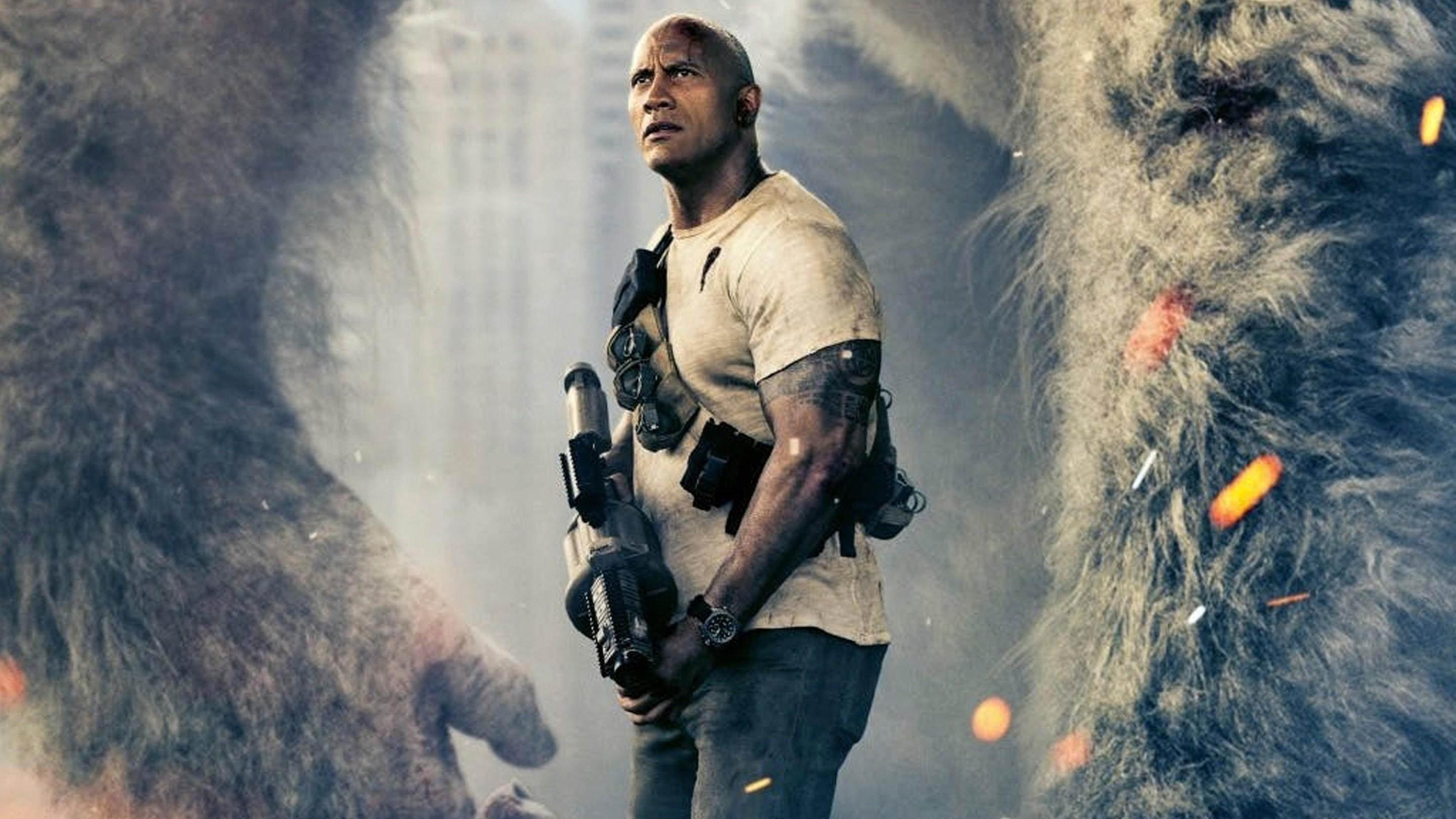 How The Rock Became the Man We All Want to Be
Written by Adam Howard

Published on

April 13, 2018
It's Dwayne "The Rock" Johnson's world right now, and we're all just living in it. He's one of the highest-paid actors in Hollywood, he's been crowned the Sexiest Man Alive, he's coming off of the biggest blockbuster of his career—the 2017 reboot of Jumanji—and he is even being floated as a serious contender for the U.S. presidency in 2020.

This year, the wrestler-turned-actor (who also headlines the hit HBO series
Ballers
) is the center of two big-budget action spectacles that are being sold almost entirely on his very broad shoulders—
Rampage
, out Friday, and July's
Skyscraper
—making him one of the few A-list stars widely seen as consistently bankable right now.
"Dwayne Johnson is definitely in the very top tier of stars in Hollywood," Kyle Buchanan, a senior editor at
Vulture
, tells
Playboy
. "I think he is our [generation's] Schwarzenegger." Buchanan, who has helped craft Hollywood
power rankings
for
New York
magazine for years based on audience polling, headlines and box-office totals, says The Rock's success is especially impressive because it's come at a time where the film business isn't "doing a good job of growing new stars."
"It's almost like what you see with Nancy Pelosi. There is this younger Democratic class that wants to push her out … so they can have their turn," he continues. "I think that for a long time, not only was Hollywood not growing new young stars, but they were going to the old ones so often that no new people had a chance."
He's been straddling between being an action star and being funny, which is rare and difficult to find.

According to Ally Hickson, senior social media editor for Refinery29, The Rock was able to avoid being eclipsed early in his film career by quietly building his brand in low-risk genre films like
The Scorpion King
and
Walking Tall
. "For a long time, the movies he was doing, like
The Rundown
, were movies that always seemed like B-list, not-top-of-your-radar movies … that were kind of interesting," she tells
Playboy
. "He did a lot of those back-to-back."
The turning point came when he started joining huge ensemble franchises like
G.I. Joe
and
The Fast & Furious
, which he was widely credited with creatively resuscitating. "He's been busting his butt doing so many different types of movies for so long," says Hickson. "But he's also been straddling between being an action star and being funny, which is rare and difficult to find."
Another challenge Dwayne Johnson faced early on was
convincing doubters
that he could sustain a major movie career. He isn't the first professional wrestler to try to make the leap into Hollywood films. But while the iconic Hulk Hogan
repeatedly failed
to translate his appeal in the ring onto the big screen, Johnson has credibly pulled off comedy and melodrama, all while managing not to turn off his core base of fans, which are an enviable coalition of the young and old, white and black, liberal and conservative.
And now, ex-wrestlers-turned-actors like Dave Bautista and John Cena are clearly patterning their film careers on Johnson's unlikely ascension. His blueprint includes a near-ubiquitous presence on social media—including a recent special appearance as the host of popular app game
HQ
—which upends the traditional distance stars used to have from their fans that predated the 21st century. "His Instagram has become an extension of who he is as a real-life person," says Hickson. "He's funny, he's genuinely kind, he cares about people … he's just a guy that you love."He's also a guy who's always promoting his next project, with either a workout routine or on-set photo shared widely to build anticipation for his upcoming blockbusters. And his emphasis on charity work and being a dedicated father has earned him a broader fan base than macho action stars have historically enjoyed.
And even though Johnson blankets virtually every magazine cover and social platform, his career has been remarkably scandal-free, save for a
prolonged feud
with his
Fast & Furious
costars Vin Diesel and Tyrese Gibson. Johnson, a once-married father of two, has been pretty candid about that dustup, as well as his past
battles with depression
as a teenager after witnessing his mother's attempted suicide, all of which has only endeared him more to his admirers.
That fan base has remained loyal despite the occasional cinematic
misstep
because unlike a lot of modern stars, such as
Jennifer Lawrence
, The Rock has yet to veer wildly from the formulaic films that made him so popular. "He doesn't have any illusions or pretensions about being taken more seriously," Buchanan explains. "He's choosing directors who are competent rather than exceptional, making movies that are totally fine [but] forgettable."
Like Schwarzenegger, who famously passed the
cinematic torch
to him during a cameo in
The Rundown
, Johnson now has the clout to potentially work with auteurs like James Cameron or even Paul Verhoeven, to find new facets to his persona, but so far hasn't been willing to take that risk. And despite his palpable sex appeal, the imposing actor has largely downplayed his sexuality on-screen, choosing to be decidedly non-threatening and family-friendly, even when the body counts of his films are high.
"He sticks to the movies that work for him," says Hickson. "He doesn't need prestige movies that the Academy likes because, in some ways, that alienates a lot of people who sometimes feel like they have no connection to those films … But they do know they like action movies, and they like funny movies. And by continuing to do those types of movies, they feel like [Johnson] is in tune with them."
Meanwhile, Johnson's secret weapon, which
Shadow and Act
editor Trey Mangum calls the "elephant in the room," may just be his perceived
racial ambiguity
. "He's never not claimed to be black or not embraced being a black actor, and when you sit down and think about how much he has done, especially in recent years, he is honestly one of the biggest black entertainers," Mangum tells
Playboy
. "But he is kind of positioned in a gray area."
"I'm pretty sure if you go to Middle America, they might not even know he's black," says Mangum. "They may think he's
something
." (For the record, Johnson is African-American and Samoan, a reality he discussed in a recent
GQ
interview, but that lineage is often lost on white fans, who presume he's "
Greek
.")
"People don't want to see white people in movies anymore," quips Hickson. She points out that black and brown Americans disproportionately make up film audiences today, and movies like
Black Panther
have proved they're eager for more representation on-screen. Of course, Johnson's potential foray into politics could undermine all the good will. "It is hard to be an everyman and a celebrity and speak your opinion because it will automatically lose him half his audience," she says. "You don't know what The Rock really likes when it comes to politics and religion."
"In the current political climate, it will impact how he is seen," adds Mangum. "Arnold Schwarzenegger was governor, and he's still doing movies. But I don't know if that can happen now, and someone can have that kind of seamless exit and entry in Hollywood." He points out about Johnson's potential political aspirations: "Still, the fact that it is a rumor attests to how big he is."

Johnson himself has not ruled out the possibility of a future presidential run. But considering the hot streak he's on (including an upcoming Fast & Furious spinoff alongside Jason Statham), the question might more reasonably be: Wouldn't the president rather be The Rock?