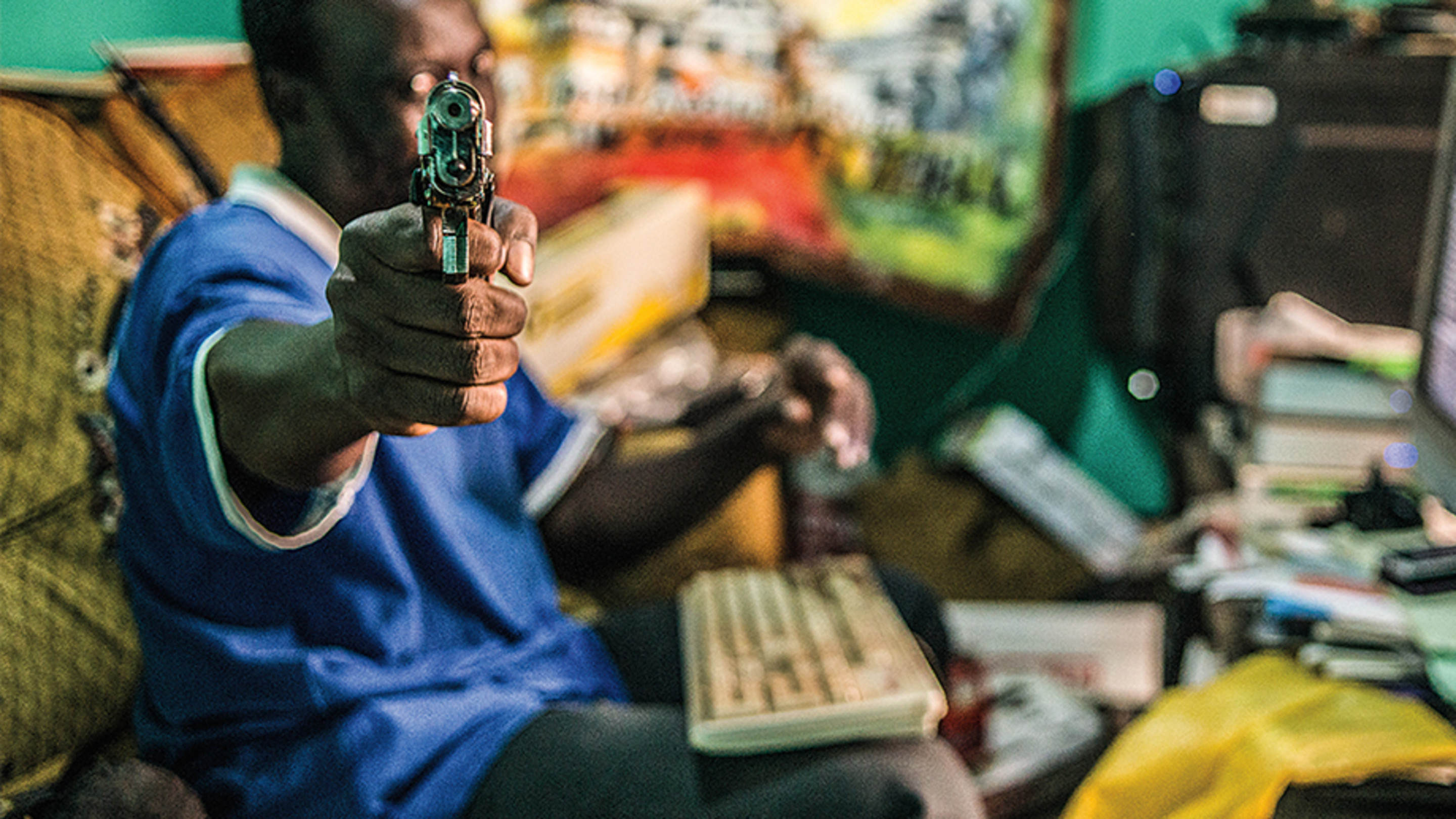 In Uganda, Two Amateur Filmmakers Dream of Making it to Hollywood
Written by Daniel C. Britt
Photography by Daniel C. Britt

Published on

January 04, 2016
Four Ugandan men hover over a slaughtered goat in Wakaliga, a dusty, sun-soaked slum on the outskirts of Uganda's capital city of Kampala. It's nearly sunset on a Saturday, and a dozen thin-armed locals shuffle around them unfazed, hustling jackfruit and mobile-phone cards.
One of the men cuts off the animal's head. A woman quickly grabs it, claiming it for a fricassee she'll prepare later. The others start shaving the carcass down to its white belly, but it takes time. The slum knives they use are dull, and the goat was spry and fertile. Its short hairs are tightly locked in the epidermal tissue, and their blades shear as efficiently as a butter knife against wet wood.

After a while the carcass stiffens, and the men chop off its legs. A toothy, gangly white man—mzungu, they call him, which translates to "white foreigner"—steps into the carcass, its entire digestive tract still intact. (Like the head, the lungs will be cooked on coals for a meal later.)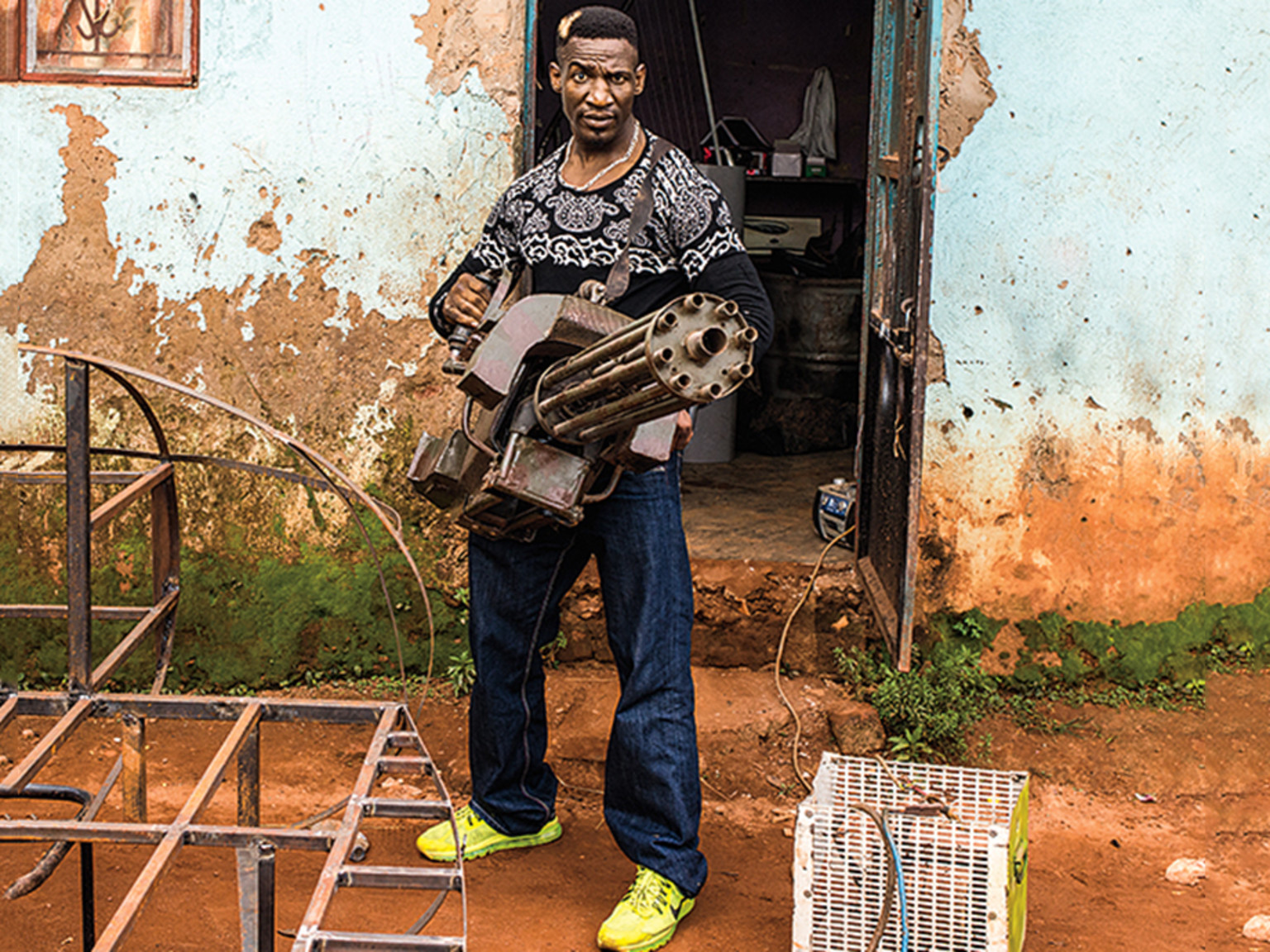 Braids of goat blood wrap the white man's body like straps. Carcass in tow, he climbs atop a table lined with palm leaves and closes his eyes. His mind travels back to his Franciscan Catholic schooling in South Huntington, New York, when he first vowed to give himself over to a higher good—to cinema and to art. In that pursuit, the
mzungu
volunteered at film festivals, worked as a production assistant on a TV show and lived out of his car. Now he is lying inside a mutilated mammal in a red-dirt ghetto where bathe in buckets and learn to enjoy the parasites picked up from a chicken—or a goat.
The men surrounding the
mzungu
are costumed in tribal garb and bone jewelry to look like cannibals. The bones around their necks look remarkably like those of a child, but in fact they are from canines. Two of the men spent days boiling down dead dogs they'd found by the roadside and stringing the most human-looking remains into necklaces, maintaining the slanted symmetry that was so popular during the Upper Paleolithic period. Details matter.
As the cannibals gather around the table, the white man twitches, trying to remain still. "God, this is so warm," he mumbles.
Off to the side, Isaac Nabwana stands directing the cannibals in his native Luganda. He reminds them it's their first taste of sweet
mzungu
meat. When one snorts, growls and stomps a few times, Nabwana decides they're ready to start chewing on the animal's intestines and large swatches of its flesh. He breaks the choppy native dialogue with a single word in English: "Action!"
The men begin to ferociously grab the goat innards and chew on the flesh. The
mzungu
screams bloody murder until Nabwana shouts another word, again in English.
"Cut!"
The actors spit out the chalky, iron-tasting organs, wipe off their tongues and stuff the intestines back into the carcass. They position themselves as before and stand waiting for their director's cues, ready for another take. This is filmmaking, Uganda style.
---
Uganda's most prolific director has never stepped foot inside a movie theater. In fact, 43-year-old Isaac Nabwana rarely leaves the three-room brick home he built for his wife, Harriet, and their three small children in Kampala's slum. But Nabwana has become Uganda's most famous film director, leading a surge in filmmaking so profuse that local boda-boda (motorcycle taxi) drivers now refer to the Wakaliga slum "Wakaliwood." A 47-second clip from his first film, the bullet riddled Who Killed Captain Alex?, has been watched on Facebook more than 11 million times. Now his films are catching the attention of bloggers and journalists from around the world. Last year, documentarians from the BBC trekked to Kampala solely to interview Nabwana. More notably, a minute-long clip from the same film was enough to convince a then 41-year-old white man from New York named Alan Hofmanis to give up his life in the big city and relocate to the Wakaliga slum to work with Nabwana.

"Isaac is the only one out there with something totally new to say," says Hof-manis of the super-low-budget, outlandishly violent Wakaliwood aesthetic. "If he were shooting films for under $200 in Brooklyn, as he is here, and getting the same kind of response, he'd be a folk hero."
Nabwana has produced, written and directed more than 40 low-budget, feature-length action films, but no one in the West would call him an auteur. After scenes from Captain Alex hit YouTube in 2010 and raked in millions of views, people pigeonholed Nabwana's plots and characters as either slurs on Africa or sociological specimens to be examined like the stitching in pygmy masks—in any case, not footage to be consumed by the movie-going public. One film distributor compared the clips to a viral cat video. "For years no one could see them for what they are—genre films, action comedies," says Hofmanis. Now, Nabwana and the mzungu are collaborating on what will be Uganda's first action-film trilogy, which they hope to debut this year at the Festival de Cannes. "Isaac is an artist, but no one is ready to respect his vision because of his country's anti-gay, child-soldiering crap," says Hofmanis. "That's the fight: to get past politics, race and geography. That's why I'm here."
---
Isaac Nabwana has always been a part of the place where he grew up. On any given morning, his neighbors pass him sitting in the same cracked plastic chair on his porch, strumming the same metronomic riff on a heat-blanched guitar. By the look on his face, the riffs are a kind of stimulant concocted to focus his mind, to excite the brain of an artist. Nabwana's pinched forehead and thousand-yard stare form a visage of radical strain and inner journeys, and he often comes out of his musical trances with fresh pages of script. He describes these journeys to me one night after dinner: the jungles of Vietnam, the history of Ugandan cannibals, the fights of thousands of kung fu warriors and the memory of government commandos running violent errands of war in his backyard 40 years before Wakaliga became Wakaliwood.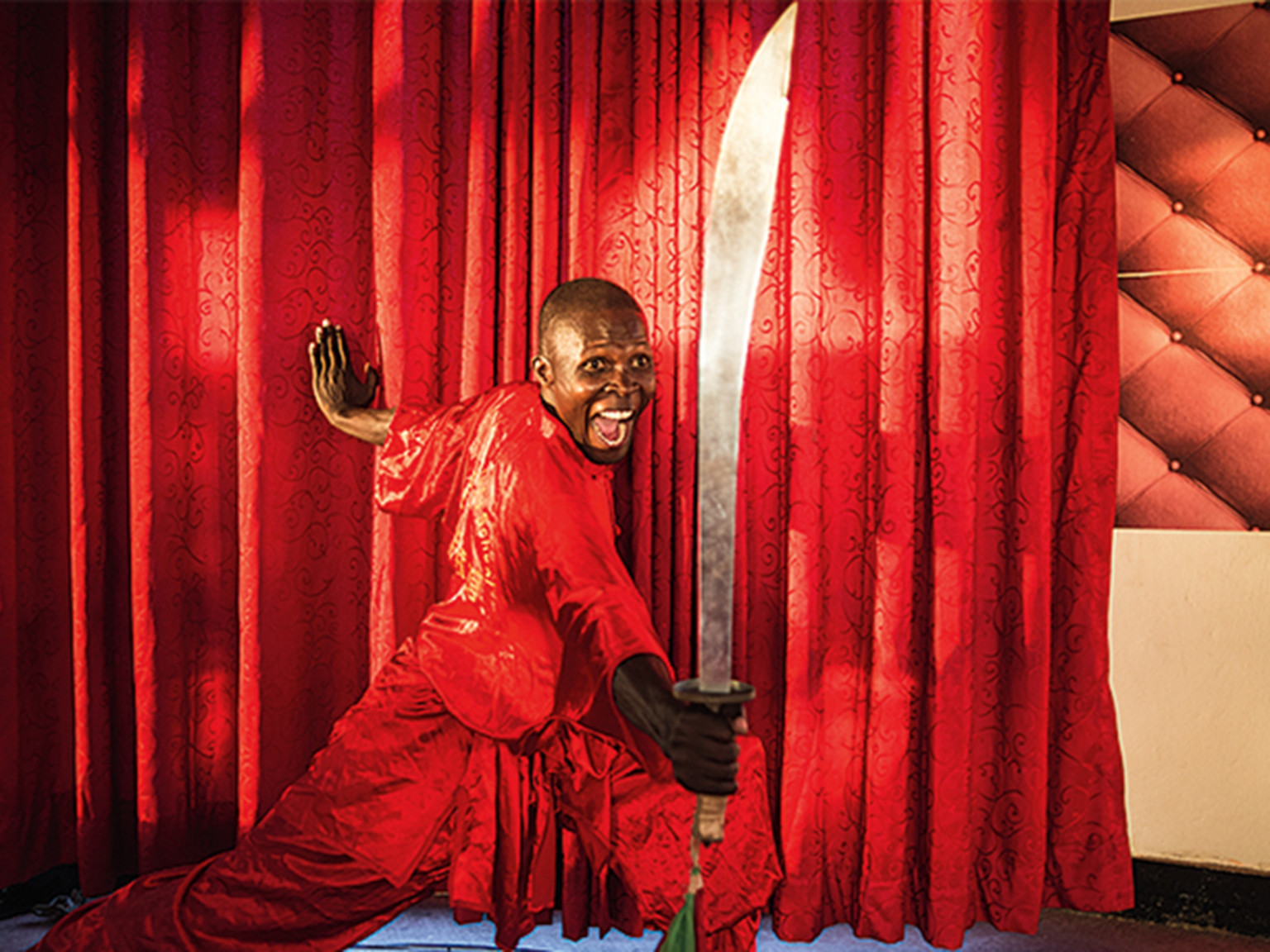 Nabwana grew up during a time when Ugandans were shaped as much by Western movies as by the violence sweeping their landscape. In the 1970s, Yoweri Museveni, now president, waged a bloody jungle insurgency against the savage dictator Idi Amin and again against President Milton Obote in the early 1980s. Before it was a slum, Wakaliga was a wooded frontier traversed by platoons of fighters peering though the high grass at the capital city of Kampala. Nabwana herded cattle, corralled ducks and watched government soldiers and Museveni's teenage rebels hunt one another in his family's pasture.
His daydreams belong to that unlikely childhood. He grew up listening to local tales of child sacrifice and juju black magic. One legend claimed that President Museveni could turn himself into a cat to observe his enemies and that he used that power of invisibility to strike from anywhere. Nabwana listened to his older brother rave about Bruce Lee, Bud Spencer (of spaghetti Western fame) and Sylvester Stallone, whose dubbed films circulated in Kampala's video halls. In the 1970s and 1980s, films like
The Wild Geese, Predator
and
Kickboxer
created an exalted canon that inspired parents to name their children after a favorite hero or villain. Nabwana and his brother spent hours knocking each other down, practicing kung fu and searching for the precise combination of kicks that would spell instant death.
During those years, Museveni captured Kampala's outer villages. Desperate people fled and passed through Nabwana's pastures on their way to the city. They were homeless, hungry and running from war. Soon, displaced villagers turned on one another. People stole from one another behind the front lines. In his grandmother's house, Nabwana would lie awake among seven of his brothers and sisters, terrified of the bandits who would arrive at the door in the middle of the night.
"Fungua mlango!" they'd shout. "Open the door!"

If the children opened the door, the little money they had for food was taken. If they didn't, gunfire came through the windows. "Even birds sat on the edge of the woodland and did not enter at night," Nabwana says. Those bandits who were caught were publicly stoned to death and immolated in mob-driven acts of justice.
Meanwhile, more and more of Museveni's ragged rebels crept among Nabwana's flocks every day. Most of the fighters were village boys who had never visited a video hall, country bumpkins with nothing special about them—no moves, no attitude, just juju magic for invisibility. Those from Kampala, however, had seen Western films. They knew Western bravado. They shouted and launched rockets like Arnold Schwarzenegger. They messed with the minds of the country boys, firing automatic rifles at railroad steel, hoping the sound would scare the regime into thinking it was being shot at by some kind of secret weapon.
Nabwana's uncle was one of the rebels who lived in Kampala and had seen Bruce Lee's movies. On weekends, he led kung fu–obsessed gangs to discos to start fights and break heads, pursuing the power Bruce Lee unleashed when he faced Chuck Norris in Return of the Dragon. His uncle was eventually arrested, Nabwana says, and while the fighters tied up next to him focused on the days of torture ahead, his uncle maintained a crouched kung fu stance for hours, mentally conditioning his quadriceps for an explosive burst of speed. When he saw his chance, he ran for it.
"The discipline he learned by studying Lee's fight scenes paid off," Nabwana says. "The other men were shot." Somewhere in that space and time, Nabwana's stories were born.
---
Nabwana wrote his first script 10 years ago after enrolling in a six-month course in computer maintenance. One month of classes was enough to teach him how to build computers from scrap parts. He scoured Dumpsters for discarded technology, rigged together a desktop computer and taught himself the ins and outs of Adobe Premiere, After Effects and other pirated editing software. He borrowed a camera from his neighbor, rallied friends to fill the roles of actors and recruited fighters from Kampala's Country Wing Chinese Kung Fu School to choreograph battle scenes.

The first generation of Wakaliwood's prop rifles and bazookas were actually fashioned from folded banana leaves. But Nabwana's production values got better. He bought emerald cloth at a market to use as a green screen and raided the health clinic for free condoms, which became make-do balloons filled with fake blood.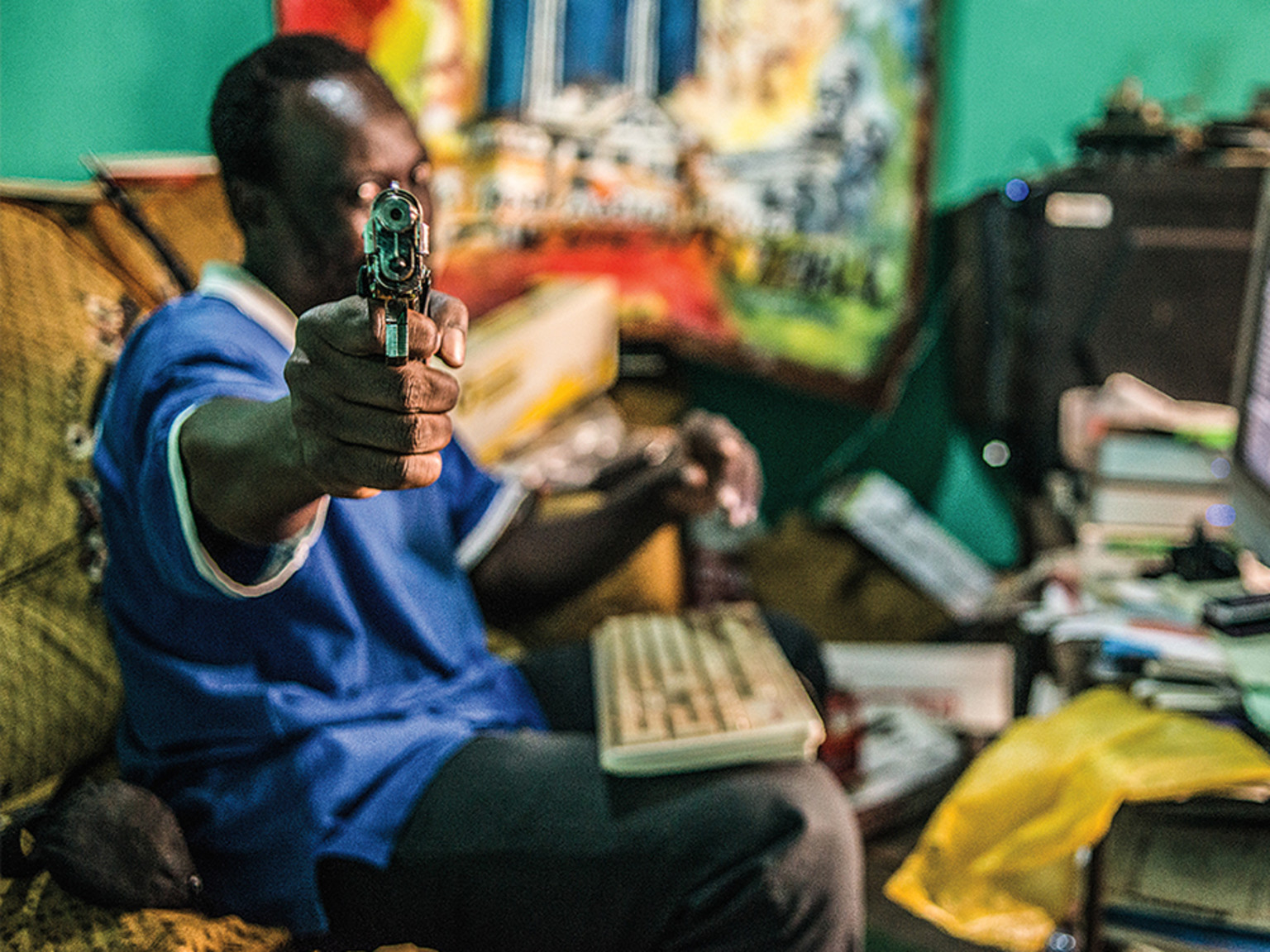 The next generation of props graduated to wood; bandoliers, for example, were made with 40 or 50 small stakes looped together with thread. The current arsenal is the most advanced. Five or six gun-shaped devices were welded from scrap metal. A camouflage carbine is made of pipe to resemble grenade launchers. Dauda Bisaso, Wakaliwood's lead prop maker, built a mock machine gun from a lawn mower engine that spins six barrels. Bisaso cheekily named the machine Maria; on film, the clunker somehow manages to look as if it has the power of a vengeful god, and its weight brings out the actors' musculature.
For years, Nabwana and Harriet gave his films away for free, handing stacks of burned DVDs to video halls and street vendors who hawked pirated Italian and Lebanese soap operas on blankets by the roadside. On every DVD label Nabwana printed his phone number. "That's how we got attention," says Harriet. "People wanted to see more each time."
One of those people was Hofmanis, who first watched scenes from
Captain Alex
on his friend's cell phone at a bar in the East Village. It was 2011 and he was turning an unwanted engagement ring over and over in his hand, heartbroken. The woman he wanted to marry had just dumped him. He was emotionally emaciated, wondering what might have been, but he didn't lose sight of his true passion: new cinema. Before he was director of programming at the Lake Placid film festival, Hofmanis was a penniless volunteer at Sundance, sleeping in stairwells or behind the piano in the Park City Library. While promoting the Lake Placid festival, he slept on the street. His girlfriend was gone and it hurt, but Hofmanis had enough in the bank for a plane ticket. He was in a bar, watching Ugandan actors shoot one another with makeshift firearms soldered from scrap metal. Something struck him. The knot in his chest opened into a vast, airy expanse of endless possibility.
"I saw it and thought it would be crazier not to go," Hofmanis says. At that moment he felt wholly willing to sacrifice everything material to be close to something new—something different. Less than a month later, he arrived at Nabwana's front door.
---
At first, Hofmanis was as conspicuous as a sore thumb in the slum. He spent months living at a motel called the Boom because it was the only place he could find with a clean room. It happened to also be the local pay-by-the-hour sex motel. "People saw me coming in and out and would give each other this look, like, this guy really loves the women here," Hofmanis says, chuckling. Natives viewed him as a sex addict who had a fetish for young black Ugandan girls.

Eventually he moved into a tiny space behind Nabwana's house, where he now edits film and promotes Wakaliwood abroad. He assists on sets and stars in films. But as the only mzungu residing there, for a long time he was looked on by cast mates and locals with a mix of pity and suspicion. After all, what kind of loser trades New York City for Wakaliga? He heard whispers: Poor Alan; America hated him so he had to come here. He wasn't good enough for his country, or his woman.

He also had to fight the notion that all white people are rich—a stereotype that has caused uneasiness among the cast and crew. "The assumption is Isaac has a mzungu friend, so now Isaac has money," Hofmanis says. "These guys have been working for years for free, dreaming of a salary."

For most of the cast members, acting in Nabwana's films is a source of pride, but they still need to eat. Bukenya Charles, Wakaliwood's martial arts expert, hustles purses and blouses at a tiny shop within the maze of the Owino market. Actor Ronald Buriyahika drives a boda-boda seven days a week. Apollo Creed, a Wakaliwood actor named after Rocky Balboa's first nemesis, unloads trucks of fruits and vegetables.
Hofmanis learned to adapt to Kampala's culture over the years, but it was Jesus who finally earned him acceptance in the predominantly Christian slum. Nabwana asked Hofmanis, as the rare white man, to play the Lord in a music video. The video became so popular that people began to recognize him on buses and on the streets. Passersby gleefully shouted, "Hey, Jesus!"
Four years later, the Catholic mzungu is one of them, more or less. "Look at that mzungu! African mzungu!" they shout with admiration. He enjoys a local dish called the Rolex—scrambled eggs and tomato rolled into chapatis, or fried wheat pancakes—that's surely clogging his gut. He's learned to shit in plastic bags, bathe in buckets and ignore the parasites. The slum has learned from him too. When Hofmanis cut his hand during a stunt for a film called Bad Black, dozens of locals gathered to see the color of his blood. "They thought white people had blue blood," Hofmanis says. "They were amazed we bled the same way."
But Hofmanis didn't anticipate being an intercultural liaison when he left lower Manhattan, and the role drains him more and more every day. He has lost 50 pounds since relocating, and his hygiene has gone to shit. He has dirty nails, long hair and the beard of a traveler. "Money is a real source of tension right now. Wakaliwood has always been a community thing, but if money and success start coming in, it might tear these people apart," he says. Pressure builds in the Wakaliga slum as actors and crew members realize outsiders are watching their movies. And every foreign journalist who sidles up to them spewing nasally, choppy Luganda, myself included, makes the big money seem that much closer.
Hofmanis returns to the United States for promotional tours once or twice a year. When he does, he faces an entirely different set of obstacles—the first-world kind. The festival circuit is a world of manners and Anglo-Saxon perceptions. It's not, by any stretch, Wakaliwood, where street shops fall apart when actors accidentally tumble through them and $200 pays for weeks of shooting, screenwriting, car chasing, motorcycle jumping and kung fu battling.
Some of the industry insiders Hofmanis talked to were insulted he was peddling a product from a country intolerant of gays. Others told him a real film from Uganda would take a stance against poverty and child soldiers. The kindest critique suggested Nabwana's movies were anthropological artifacts. Hofmanis should seek out ethnographic film festivals or something for African art, they said.
As Wakaliwood's ambassador, Hofmanis quickly learned that millions of online views and in-boxes full of fan mail don't translate into studio backing or even admittance to film festivals. Sundance, South by Southwest and the Tokyo International Film Festival all snubbed Nabwana, as did the Festival de Cine Pobre, which celebrates the lowest-budget self-funded films. How did this first-world wall come to be? How could the same footage that inspired Hofmanis to cross the globe inspire others to shame him for glorifying violence in Africa? Hofmanis did his best to remember his crisp, recurring dreams of pushing Wakaliwood into the limelight. The golden age has yet to come, he believed. Fortune favors the bold, doesn't it?
---
In June, the first-world wall finally cracked. Hofmanis jumped from a seat in his cement bunker and reread the headline beaming from his small computer screen: GENRE FILM FESTIVAL WILL INCLUDE GILLES PAQUET-BRENNER'S "DARK PLACE" AND CELEBRATE UGANDA'S WAKALIWOOD FILMS. Indie-wire, a leading news source for filmmakers and film lovers alike, was touting a Wakaliwood production and Charlize Theron's latest movie side by side as main attractions at Montreal's Fantasia International Film Festival, the largest genre-film festival on earth.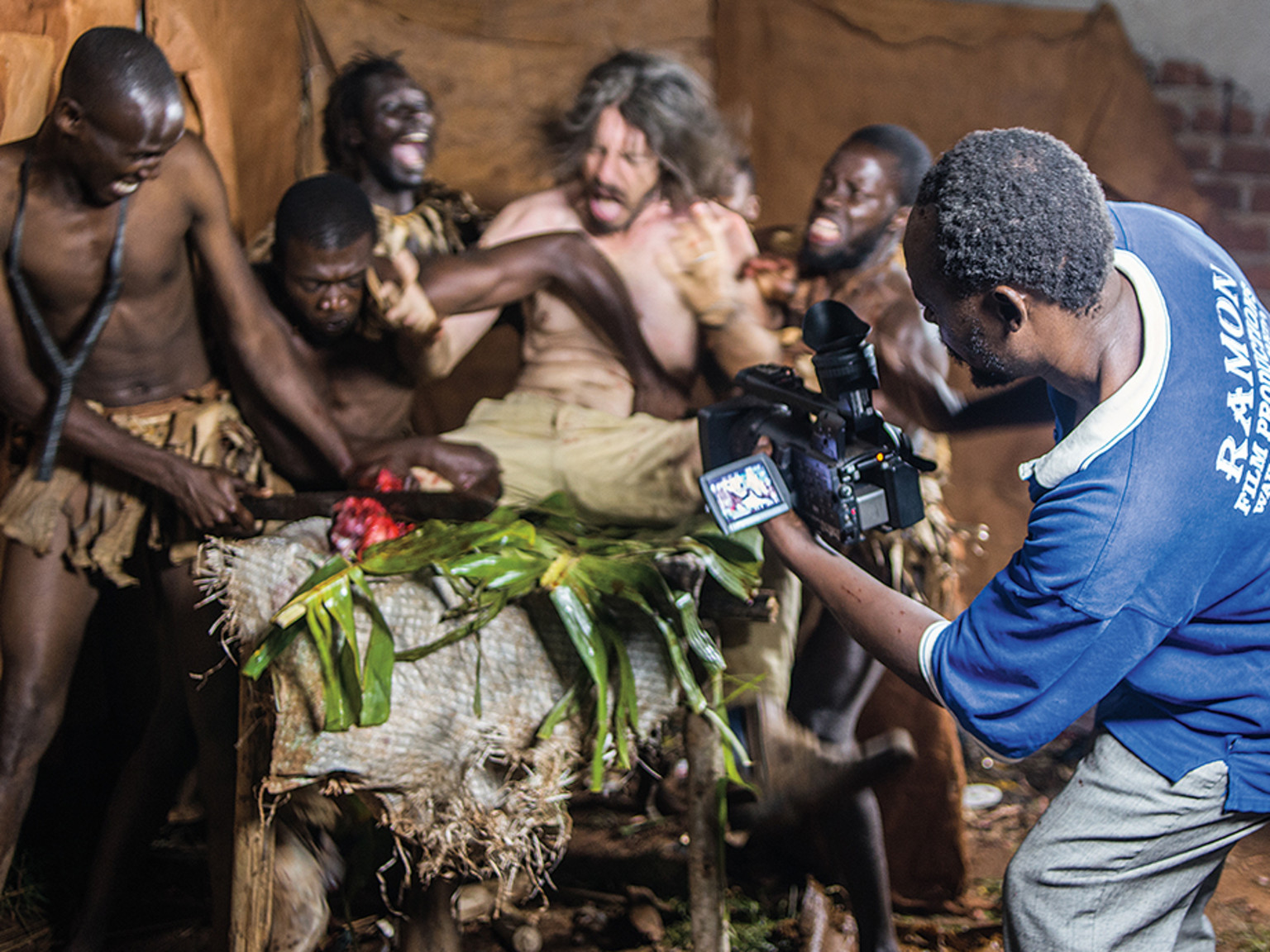 Hofmanis rustled through his stash of American treasures—Tabasco sauce, Hershey's syrup, instant coffee—and located a Twix bar he'd been saving for a moment like this. "My fuck-you moment," as he describes it. It was a "fuck you" to the woman who didn't want to marry him, to the New York film distributor who'd compared
Captain Alex
to a viral cat video, to a dozen festival directors who wouldn't touch Nabwana in 2011 or 2012. It was a "fuck you" to anyone who'd doubted Hofmanis's pilgrimage to the slums of Kampala against a tidal wave of migrants going the other way, who'd doubted the veracity of his vision of a burgeoning cinema community. It was a "fuck you" to his father, who had never supported him.
A lean grin emerged from beneath his overgrown beard and mop of salt-and-pepper hair. His hands and head belonged to a manic violinist, but his voice was mild and genuine. "Things are about to happen," he told himself.
Indeed, change was in the air. Screenings of
Captain Alex
packed venues in Hong Kong and Stockholm. American celebrities were climbing onboard. In June, Jack White held a private screening of
Captain Alex
in his Nashville studio. Actor Orlando Jones e-mailed Hofmanis, angling for a lead role.
The cast saw it all on a tablet their Kickstarter campaign had bought. Kickstarter also began to pay for meals on production days and for a stack of blue polos advertising their company: RAMON FILM PRODUCTIONS. It paid Bisaso enough to create a life-size helicopter from scrap metal, commissioned to wreak green-screen havoc in an upcoming film called
Ugandan Expendables
. (Guess which American film it's based on.)
Officials from Museveni's government, proud of the international attention, put Bisaso's warship on display in Kampala's center. One of Idi Amin's many sons stared at it from the crowd, growing nostalgic. He pointed to where the dictator would have sat in the helicopter and to where he himself sat when father and son flew around together, surveying villages from above with a team of finely trained riflemen.
Still, tension over money roils beneath the surface of every big success, Hofmanis says. New whispers were exchanged on set: Wakaliwood pulled tears from Idi Amin's son, but it can't pay its own sons and daughters? The community is starving for tangible success.
---
Nabwana calls "Cut!" one last time and Hofmanis crawls out of his carcass costume. This scene nearly completes production on Eaten Alive in Uganda, one chapter of what will become the country's first action-film trilogy. All of Nabwana's movies comment on the gritty bits of Ugandan reality, and Eaten Alive is no different. It's based on a true cannibalism story that came out of Uganda's Rakai region in 2014. Cannibalism is still a big thing in the southern provinces along Tanzania's border, but Law & Order–esque headline exploitation had never been used in Ugandan film—until now. If people are talking about it, Nabwana starts writing. He looks at it as a way to save on advertising.

In Nabwana's constantly evolving script for Eaten Alive in Uganda, Hofmanis plays a white man mistaken for Chuck Norris while vacationing in the Ugandan countryside with his Ugandan wife and children. In the true story, a man stayed overnight in a small village in the Rakai province with his pregnant wife and child. They attended a funeral that ended late and missed the last bus back home. Stranded, they found a welcoming stranger to stay with. After midnight, the host led the wife and child outside, where they were attacked by machete-wielding cannibals. Using his suitcase to deflect machete swipes, the man alone lived to tell the story.

In the movie, Hofmanis's mzungu character goes sightseeing under the stars. He stumbles upon a quaint fire-lit tribal celebration that is actually a coming-of-age ritual for child cannibals. When the mzungu, presumed to be Chuck Norris, pops a flash to take a picture, the jungle savagery begins.

Nabwana never believed Bruce Lee could have defeated Chuck Norris in Return of the Dragon, which is why he included the mistaken-identity plot point. For another scene, Hofmanis will be forced into a kung fu death match with actor Bruce U, Wakaliwood's version of Bruce Lee. Sadly, Hofmanis doesn't know kung fu, so Nabwana has to paint another actor's face white. That man, Kizza Manisuri Ssejjemba, is known to fans as Triangle Style for the triangles shaved into his Afro. Even with white paint smeared over his face, Ssejjemba is still pretty black.

It's unclear how Hofmanis will sell whiteface and African child cannibals to the culturally conscious guardians at Cannes, but Nabwana isn't worried about any of that. His feet are firmly planted on his side of the first-world wall. He considers himself a director, but foremost, he is a patriot. Hollywood action films once convinced the world that a single United States Army soldier could snap the necks of an entire battalion. Why can't Ugandan films have the same reputation? Why can't his heroes inspire international audiences like Sylvester Stallone and Chuck Norris did? Nabwana thinks Uganda can have it. He wants Uganda to have it.

Meanwhile, Hofmanis, the 46-year-old searcher, expat and zealot for new cinema, continues to map Wakaliwood's future glory in the concrete room he shares with rats and red ants. He tells me the last time he was in New York, he had to sneak into his parents' house after his father went to sleep and run out before he woke up in the morning. Hofmanis's father has pounded home his disappointment with years of cold silence. He says his dad once handed him a scrapbook of clippings of luxury car ads and brochures for exotic vacations.
"He wanted me to know what he could have had if he didn't have kids," Hofmanis says, grinning again. "Not a single African slum brochure in there."
But he ignores all that. He's grinning because all that is behind him. His baggy, dilated eyes turn far away from his Wakaliga cell and toward his glorious dream: to the south of France, the posh epicenter of world cinema that overflows with manicured women, bubbly champagne, rare steaks, red carpets and the eyes of the world.