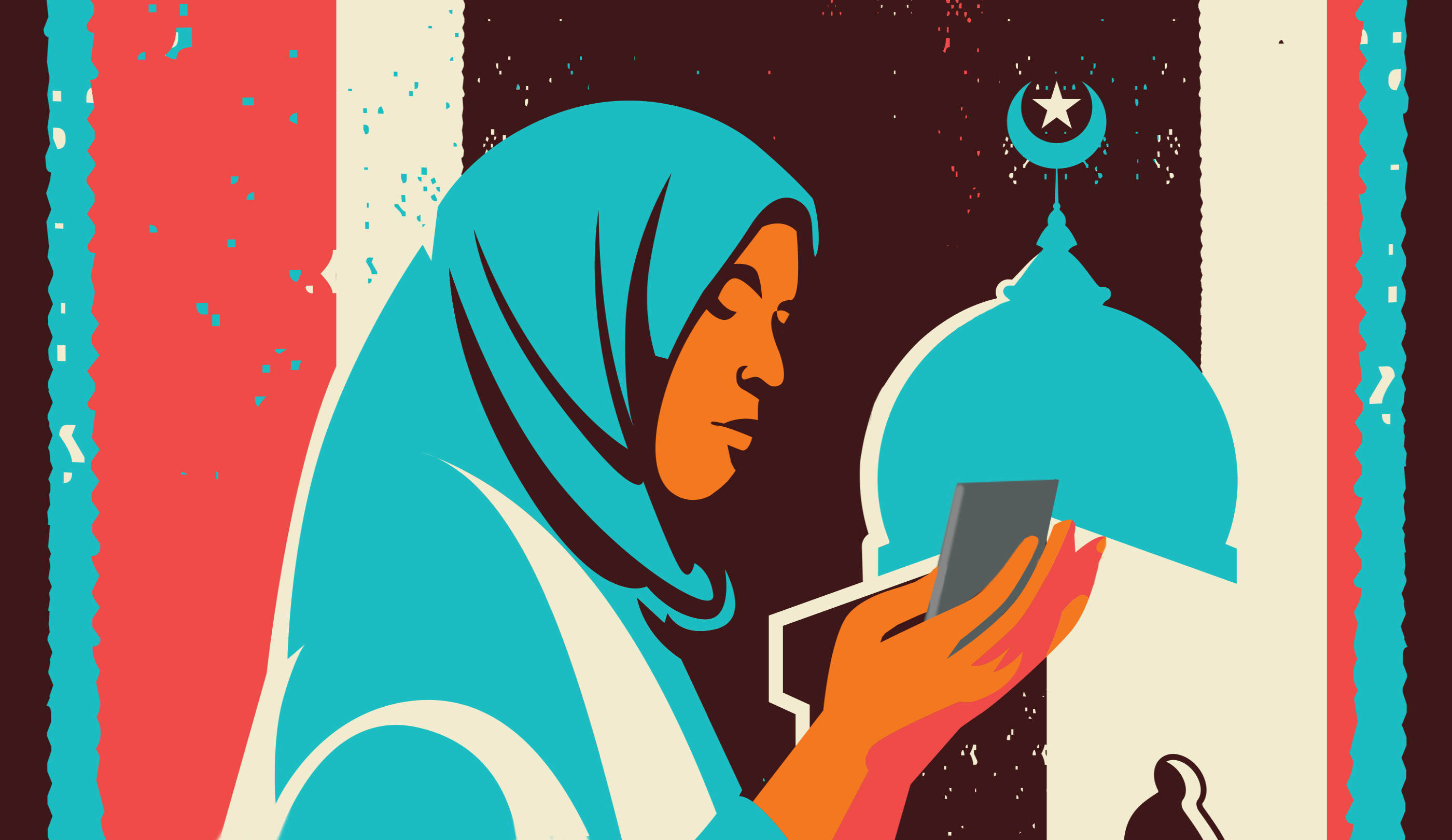 Inside the Secret World of Halal Dating and "Minder"
Written by Elizabeth Jaikaran

Published on

December 12, 2017
"Every plan must be secretly made, with no traces of any evidence left behind," Rasheed confesses about his relationship with Zainah, his girlfriend of one year. "Being a Muslim couple [means] we need to be cautious in public, we don't show public affection around Muslims elders." This performative secrecy shows why recent years have seen technological developments in the realm of Muslim dating—developments that make it easier for Muslim couples to sidestep the obstacles of public scrutiny in their religious spaces.
Dating is a taboo and heavily chided concept in Islam. Western understandings of dating involving public outings and pre-marital sex run counter to the rigidity of Islamic romance. Relations are to be pursued with the intention of marriage at its very onset, with expressions of physical love to be saved for after marriage. This results in religious couples marrying at young ages with a great deal of community involvement. In the world of halal dating—that is, dating that follows doctrine and gets the Islamic seal of approval—innovative dating apps have been essential in modernizing Muslim romance.
Rasheed and Zainah, New York-based college students, met on Minder—a Muslim version of Tinder where users can meet like-minded Muslims who want life partners instead of potential hook-ups. "To be honest, I downloaded the app out of pure boredom," Rasheed admits. "I was never looking to date anyone, because dating is such a taboo subject in Islam. But there was a level of curiosity [about] an app where Muslims could meet and date." The intrigue of Muslim dating apps is obvious. Apps like Minder offer a digital safe space where Muslims can freely seek out romantic interactions without the restraints that exist when meeting in public spaces.
Muslim couples who meet on apps are able to develop relationships that inspire them to challenge the religious, cultural and familial pressures that would normally keep them apart.
"Some people think that Islam only allows arranged marriages, but that is not the case," Zainah explains. Her point is a poignant one: while Islam maintains restrictions on dating, love is, in no way, religiously outlawed. "You are allowed to interact with the opposite gender in most contexts as long as there is a third party present, and these interactions have to be done with the intention of marriage. A long period of dating before marriage is not considered appropriate," she says. Nonetheless, Minder has allowed Rasheed and Zainah to discover a powerful connection between them without third-party oversight and, despite pushback from Rasheed's family, the couple has continued to date by forging their own romantic journey and defining the meaning of "halal love" for themselves.
A key struggle in Rasheed and Zainah's relationship has been their vastly different lived experiences with romantic love—issues that are largely rooted in culture rather than religion. Rasheed's parents had an arranged marriage in Pakistan before immigrating to the United States, while Zainah's parents dated long-term before getting married. As a result, while Zainah's family supports their relationship, Rasheed's family finds the relationship to be offensive to their traditional values surrounding love and marriage. They also desire for their son to marry a Pakistani woman and not Zainah, who is of Guyanese heritage. These are realities that typically prevent many Muslims from pursuing one another even though these cultural prejudices are Islamically unfounded. Now apps like Minder allow Muslims to pursue relationships and paths that they would have otherwise avoided. Algorithms have linked them to people they would have never initially viewed as romantically compatible, and these platforms allow them to pursue one another with a sense of privacy that feels like traditional dating. The result? Much like Rasheed and Zainah, Muslim couples who meet on apps are able to develop relationships that inspire them to challenge the religious, cultural and familial pressures that would normally keep them apart.
"At one point, my parents found out about her, and we had to break up," Rasheed says woefully. "But as time passed, my feelings for her never changed. I love her, but I love my family as well. So, I chose to venture into this uncharted territory and stick with her. It sucks to hide her, and I desperately wish [for] my parents to approve of her and give her every ounce of love that they give me. That day will come one day, God willing," he says. "Each day is another day closer to the day I reveal her to my family as the woman I want to marry."
Outside of the very clear logistical advantages of the internet, Muslim dating is also beginning to transform in traditional spaces, albeit at a glacial pace. Aisha and Arif, a young couple from Queens, New York, met at their local masjid. Arif is a hafiz, a scholar who has memorized the entire Qur'an, and is studying to be an Imam, or Muslim leader in worship. He and Aisha have been dating for three years. Sporting matching promise rings and shy smiles, they explain how they navigate their very visible relationship in a traditional Muslim space.
Aisha and Arif, both in their twenties, make great efforts to adhere to more conservative notions of intimacy. "We try to stay within our limits when it comes to pre-marriage intimacy," Aisha offers about what she confesses is her first relationship. "In our relationship we never exceeded our limits, and we always try to be around our family and friends," Arif echoes.
After meeting at their local Queens masjid while volunteering during the holy month of Ramadan, Aisha and Arif recall that their relationship grew in a very natural way, with many mutual friends and opportunities to see each other at masjid events. "Other Muslim couples in our social circle met in a very similar way," Arif reveals. "One couple I know met by teaching Saturday classes together at the madrasa, and another couple met at the masjid as childhood friends."
Both Aisha and Arif reject the utility of Muslim dating apps, preferring traditional modes of meeting potential partners in halal ways. Their romantic life transpires almost entirely in public, with all of their dates occurring at the movies, malls and museums, or in the presence of family and friends. Despite maintaining these conservative preferences, they recognize the minefields of public affection and private intimacy faced by many religious Muslims as a hurdle that they strive to overcome each day. "We do not get to show our real feelings to each other," says Arif. "It makes it difficult to fulfill each other's desires." Aisha mirrors his sentiments explaining that, "It is difficult not being able to show him all of my love. Being seen with him at the masjid or in front of Muslim elders in general is still very hard because the idea of dating for this long is still not accepted."
Nonetheless, both Aisha and Arif are open with their families about their relationship, and about their intent to marry once Aisha completes her studies in nursing. "We wanted to start with the blessings of our parents," Arif says. "Having the blessings of our parents allows us to build the foundation of a strong relationship. They will be the ones by our side to guide us and to give us advice when we need it. They need to be involved."
This trend toward openness in relationships is one that is picking up speed among more conservative Muslim couples. "Muslim dating is changing, and people are becoming more open with their relationships, even posting themselves as couples on their social media," says Aisha who does not maintain any social media accounts. "There are even Muslim schools that hold seminars for teenagers to meet and mingle with supervision," Arif adds.
For both couples, their relationships are acts of religious rebellion even though they all characterize their relationships as blessings from God to be cherished. While challenging the traditional norms of romance through long-term and unsupervised relationships, some Muslims are even going as far as redefining the expectations of pre-marital intimacy. Rasheed and Zainah are one of those couples.
"We are very physically intimate with each other, more than what is seen as appropriate in the guidelines of Islam pre-maritally," confessed Zainah. "Being so in love, it's hard not to express those feelings physically, but we take this intimacy very seriously, and we view it as a part of our commitment to each other. It's our way of reminding each other that this is more than just a fling, and reminding ourselves that our ultimate goal is marriage."
It is imperative to note that this upward direction of romantic visibility is not one enjoyed by all Muslim couples. LGBT couples within the Muslim community date in the shadows of secrecy lest they face community expulsion and stigmatization. Although 2017 Pew Research Center findings revealed that American Muslims are significantly more accepting of homosexuality than other religious groups in the country, Muslim communities accepting LGBT members versus being accepting of their sexual preferences are separate realities. LGBT Muslims in North America and Europe have begun creating LGBT-friendly religious spaces for free worship and free expression of their identities.
It is also crucial to remember that, like any other religious community, Islam's community of nearly two billion is far from monolithic. The struggles with public romance and private intimacy are largely experienced by conservative Muslims. Indeed, there are many Muslims who are more temperate in their religious views and subscribe to more mainstream beliefs in terms of dating, intimacy, and interfaith romance—just like many of their non-Muslim counterparts. Nonetheless, Muslim dating seems to be revolutionarily transforming in both traditional religious spaces and unconventional digital ones, reconstructing centuries-old conceptions of Islam and love.