On Thursday morning, news broke that Rihanna was set to be readying the launch of a luxury house with LVMH, the luxury good conglomerate that owns Celine, Dior and Givenchy amongst its robust catalogue of fashion houses. If confirmed, this would be LVMH's first brand to launch from inception in over 30 years (the last one being Christian Lacroix in 1987).


It's not an entirely
unexpected move
, with Rihanna's contract with Puma officially up and given the success of Fenty Beauty, whose parent company Kendo is a division of LVMH. But what this could possibly look like—a collection at Paris Couture Week, a ready-to-wear line for New York Fashion Week, her own store—remains at this time anyone's guess.
But what we do know is that the past precedent of celebrity-led fashion lines, brands and houses has been fraught. Take Jennifer Lopez, for instance, whose
Sweetface Fashion
line launched in 2001 and ultimately sputtered shortly thereafter. In an interview that same year with the New York Times, Lopez called the failed endeavor "sad," explaining "I just felt like I never got a fair chance to do it right. And on top of it, I felt like I was trapped in a situation I couldn't get out of, and my name was stamped on things that I didn't believe in."
Beyoncé's House of Dereon, first launched in 2006, fared slightly better before it was ultimately discontinued in 2012; CNBC called it a "rocky run." (Her Ivy Park Line, a co-venture with TopShop launched in 2016, has thus far fared better.) The list of celebrity fashion failures doesn't end there: There's Mandy Moore's Mblem,
Lindsay Lohan's leggings line
6126, Amanda Bynes's budget-friendly line Dear and lest we not forget Heidiwood by Heidi Montag, Mantra by Tara Reid, FJ560 by Fat Joe or Malibu Dave by David Hasselhoff. Of course, none of the above were luxury houses beyond Beyoncé.
Despite that most celebrity collections are usually announced with a unanimous eye roll, especially from designers, Rihanna is intriguing.

That distinction of being a successful celebrity luxury house is a title that few can claim with as much credibility as Victoria Beckham who in 2008 launched her eponymous label. "I would say Rihanna should take a page out of Victoria Beckham's book to become a serious designer, or founder behavior like Jessica Alba did for Honest, or Gwyneth for Goop," Mark Silver, owner of Factory PR, whose clients have included Sofia Vergara and her EBY underwear line and Miranda Kerr's Kora Organics, said in an interview. "This means be present be focused and be accessible to the design team, the media (not just for timed interviews). But... Rihanna is already doing that with Fenty Beauty. She behaves like an entrepreneur who is deeply connected to her teams and her consumer."
He continued: "Rihanna has established
fashion credibility
that's been proven with her personal styling—anything she wears and posts sells (out). Her collaborations sell. Her beauty sells. I imagine her first collection will draw comparisons to those of first time celebrity houses, but she's already past that." In other words, Rihanna has nothing to worry about, she's in a league all her own.
While most celebrity collections are announced with a unanimous eye roll, Chris Gelinas—who has designed outfits for Lady Gaga and Kim Kardashian West—says that Rihanna is different. "What I have always loved and respected about her music is how genuine she [is]. She doesn't give a fuck. She puts herself out there and it's take it or leave it," Gelinas said in an interview. "If she can infuse that energy into clothes the industry might pay attention. At the end of the day she has a built in customer base in her fans, and LVMH isn't known for it's misses so I am sure if that partnership is in fact true it's going to be everywhere."
Playboy meets fashion's rising stars, Lisa Caprio and Marcelo Gaia of Rosemilk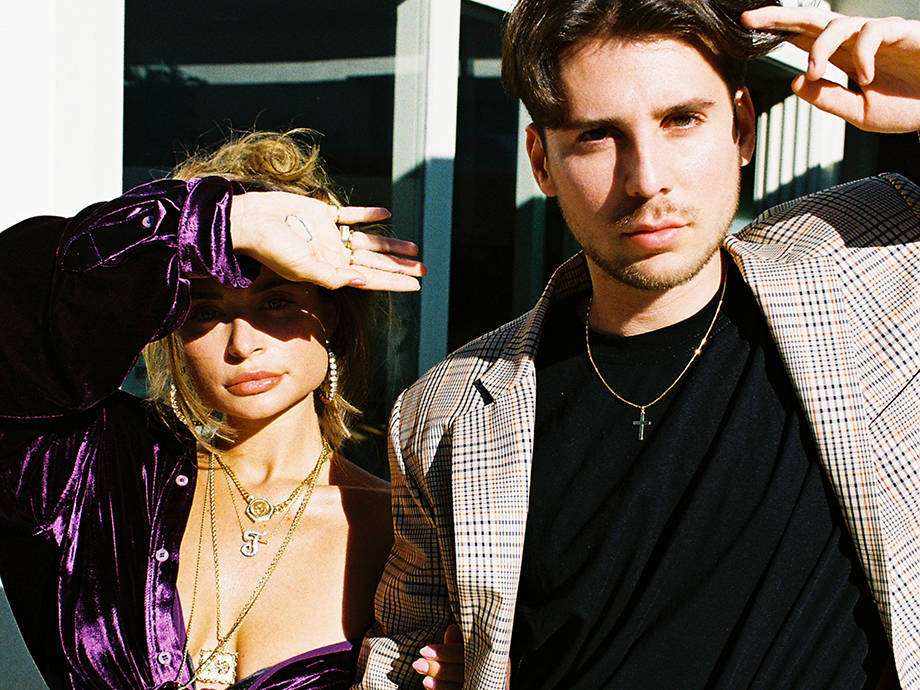 It's true. Look at this week's Business of Fashion headline which read: "LVMH Primed to Dominate Blockbuster Week at the Paris Men's Shows," highlighting how all the buzziest designers, including Virgil Abloh, Hedi Slimane and Kim Jones, are all under the same corporate parent. Having been in
business
with Rihanna for years now, it's unlikely they'd make a risky move having witnessed her work ethic and sales capabilities first-hand.
That said, there is some skepticism: "Rihanna is an ambitious woman whose ambition has paid off, however ambition is what could cause this to go south very fast," writer and self-described over-opinionated social media aficionado"
Louis Pisano
, said in an interview. "Such as was the the case of Kanye West's very first high-end brand shown in Paris that was a huge flop due to it being too ambitious to the point it was incoherent to anyone other than Kanye. Rihanna needs to take her time, stick with evolving on what she knows already and building on that. If you want to be extra Rihanna make it good extra, not pretentious extra. And lastly make sure as usual there's a genuine story behind it in line with the Rihanna brand we've all come to admire and love."
In the end, it seems that if anyone can successfully launch a celebrity-backed luxury fashion house in 2019, it's Rihanna. She's conquered music; conquered beauty; conquered fashion collaborations. In many senses, this is not a risk at all, but rather the inevitable next step in Rihanna's domination. And quite frankly, who better?