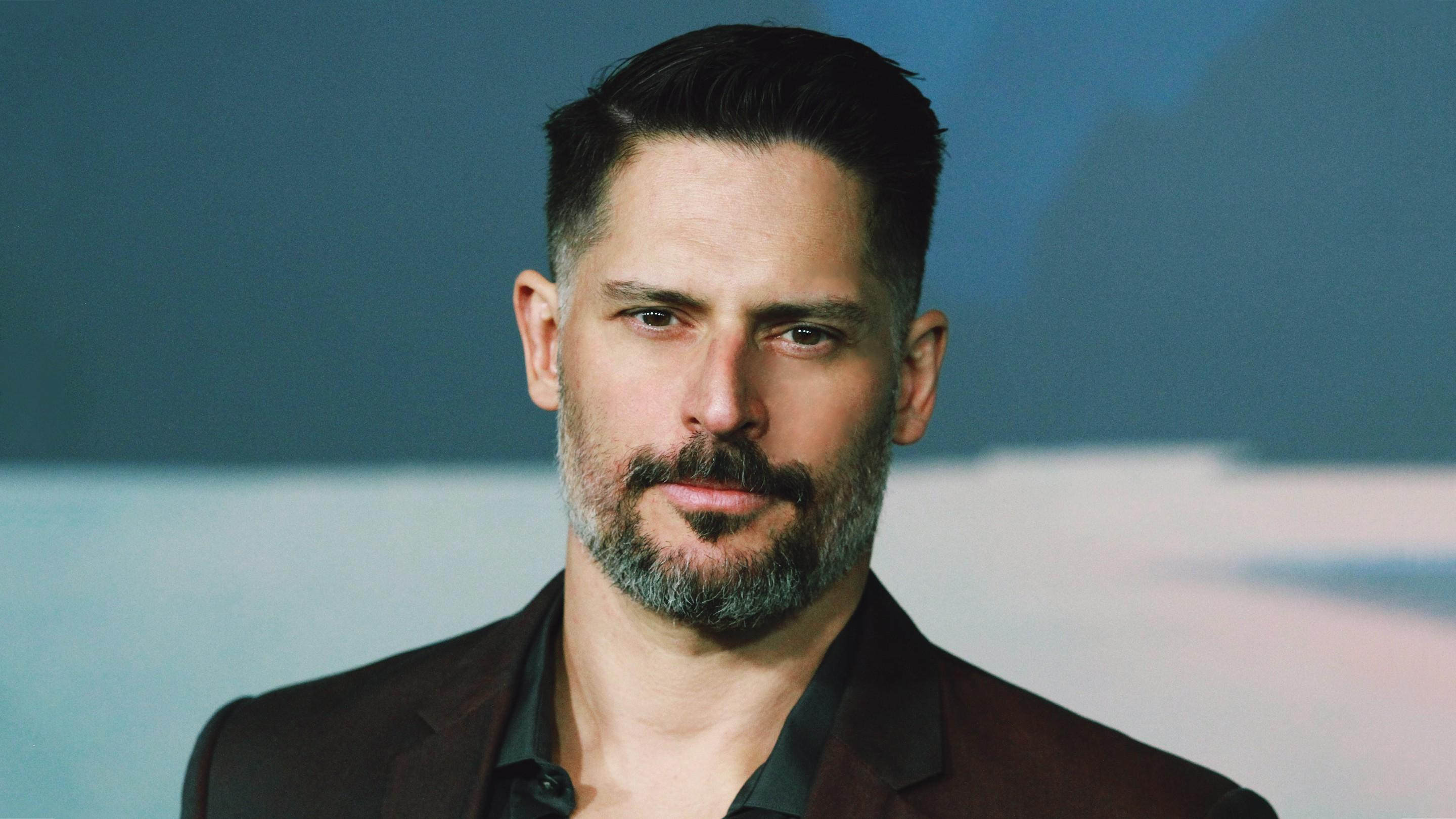 Joe Manganiello Isn't Just the Guy Who Gets Naked
Written by Zan Romanoff

Published on

April 12, 2018
Joe Manganiello knows exactly what you think of him. "That's a guy who loves to take his pants off," he says, affecting a doofy voice as he describes how he's been typecast in the public consciousness.

Manganiello does have a history of getting naked on screen: His star-making turn as the werewolf Alcide Hervaux on HBO's True Blood meant a lot of waking up without pants on; after that, there was an iconic role as a stripper called Big Dick Richie in Magic Mike: XXL. In 2013, he wrote a book about his workout routine called Evolution: The Cutting Edge Guide to Breaking Down Mental Walls and Building the Body You've Always Wanted; its cover features a very healthy amount of bare abdomen and chiseled hip bone.

But he's also interested in work that's less … revealing. In fact, in his most recent role as a mercenary in Rampage, a Dwayne Johnson action vehicle, you see little more than his bare trigger finger. (OK, there are some cheekbones, too.)

For Manganiello, taking on hyper-physical roles is grounding: "You get banged up," he says. "I tore my bicep shooting Magic Mike 2, which is crazy. But I like it because it's earning your paycheck. I like to go to bed at night and put my head on the pillow and feel like I earned my sleep. It's tangible. So much of this business isn't, and I like something I can physically feel."
I tore my bicep shooting Magic Mike 2, which is crazy. But I like it because it's earning your paycheck.

Lately, though, his body hasn't necessarily been cooperating, and a string of disappointments have kept him out of the leading-man spotlight that was swinging his way after the success of XXL. First, the studio behind a feature he'd been in cast in went bankrupt. Then someone pitched him a military drama, an episodic miniseries called Six, at his wedding. ("Are you kidding me? I love it!" he says of the chutzpah.) Manganiello was thrilled—until a bout of appendicitis took him down for the count, and he had to drop out of the project. Around the same time, a series of shakeups kept him away from debuting his role as Deathstroke, a DC Universe villain character: There were director issues when Joss Whedon took over Justice League from Zack Snyder, and then again when Matt Reeves replaced Ben Affleck on a solo Batman project.

So his role in Rampage, hitting theaters Friday, is in part just him getting back into the game; it's also, he hopes, the first of many collaborations between him and director Brad Peyton, with whom he shares a creative sensibility. ("Brad pitched it to me as a miniature Predator inside of Rampage," Manganiello explains of his role. "And I was a huge Predator fan growing up, like most of the guys in my generation.")

He's also still hoping to make something happen with Deathstroke, especially since he did extensive preparation for the role: training at a ninjutsu dojo and working with katanas, as well as spending time with officers from the Navy's special weapons development group. He got so deeply into that process that he ended up writing a treatment for a solo spinoff for Deathstroke, which is currently in development at Warner Bros. with Gareth Evans attached to direct.

Manganiello does almost as much work behind the scenes as he does in front of the camera; it's a cliché to call an actor a storyteller, and it's also true that he's just as engaged with coming up with worlds for his characters to inhabit as he is in performing them on-screen. He first connected with Peyton in an effort to develop a script for a piece of IP they both loved; he co-produced a 2014 documentary called La Bare with his brother, Nick, about an all-male Texas strip club; he co-wrote a film called Stano that's due out this year.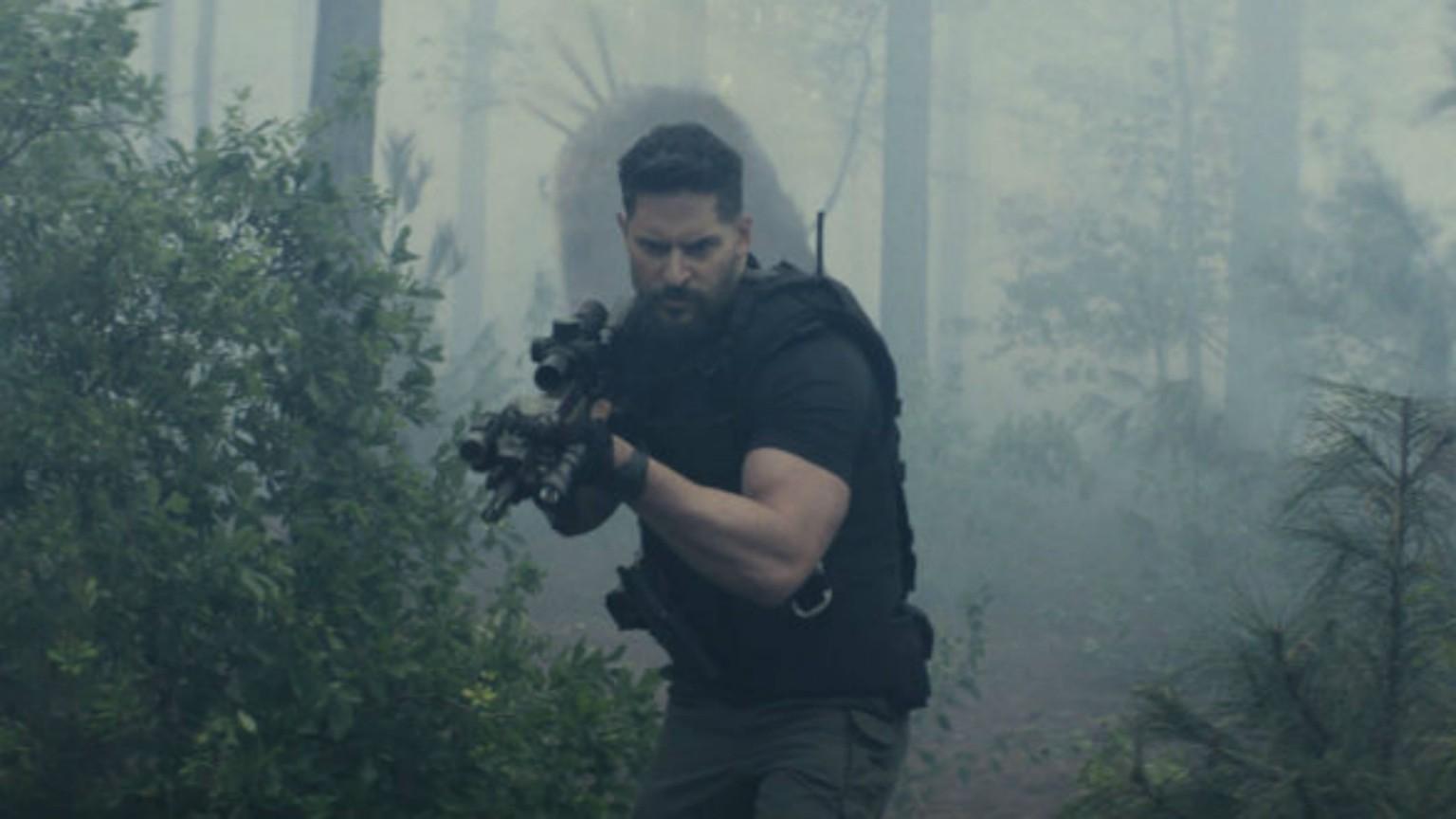 Being in charge of hiring also helps to solve the problem of how to find time with his wife, actress Sofia Vergara. The trick to a Hollywood marriage, according to Manganiello, is "making sure you're spending enough time together, that you're not away from each other. This past fall, I was producing and co-writing and starring in [Stano], and I cast her in the movie, so she could come out and be there."

He's quick to add, "She's amazing for the role! But the by-product of that was that we got to be there together, which just made everything so smooth and great. I felt no compulsion to get off of set and get home, because she was there. It was like, 'So we're out in the Bronx in the middle of the night, in New York, and having a great time."

Some of Manganiello's projects are the last thing you'd expect from a sex symbol and fitness icon. For instance, he's currently working with the team behind role-playing game Dungeons & Dragons, writing material for a 2018 book and attending events as a kind of ambassador for the company. He couldn't be more thrilled. "That's the job I dreamed of having as a kid!" he exclaims. "I get to go to summit meeting, and help brainstorm books that are coming next." It's become de rigeur for the most beautiful among us to claim that they're, like, "total nerds," but Manganiello isn't posing. His enthusiasm is palpable and genuine: All of his media-trained reserve falls away when he starts in on the stuff that truly geeks him out.
I cast [wife Sofia Vergara] in my movie, so she could come out and be there. I felt no compulsion to get off of set and get home, because she was there.

And his training in D&D's collaborative storytelling kicks in immediately when I fumble, briefly, for Deathstroke's name. (It's hard to concentrate when that level of handsomeness is sitting in a dimly lit corner with you, even if it's 11 a.m. on a weekday, and the corner is of a decidedly unsexy sound stage, and the handsomeness is only in proximity because to you because he's contractually obliged to be.) "Death … Swatch?" I offer.

"Like a swatch, like a swatch of fabric?" Manganiello mulls this. "Death Fabric! Death Swatch." Within seconds, the character starts forming for him: "Just a piece of cloth with ether on it that you put over people's mouths. Death Swatch!"

Is it weird, you have to wonder, to inhabit both of these worlds? To be a guy who plays role-playing games, and then gets cast in roles that make him out to be nothing more than a slice of beefcake? "I'll play that role," he says, of his macho appeal. "If it's hyper-intelligent, and it's talking about something else, or there's something subversive being delivered. If it's being done in a smart way, I'll do it."
Not that he's a snob or a purist. He settles back in his chair and grins. "But, with that said. Give me a machine gun and giant monsters? All day."