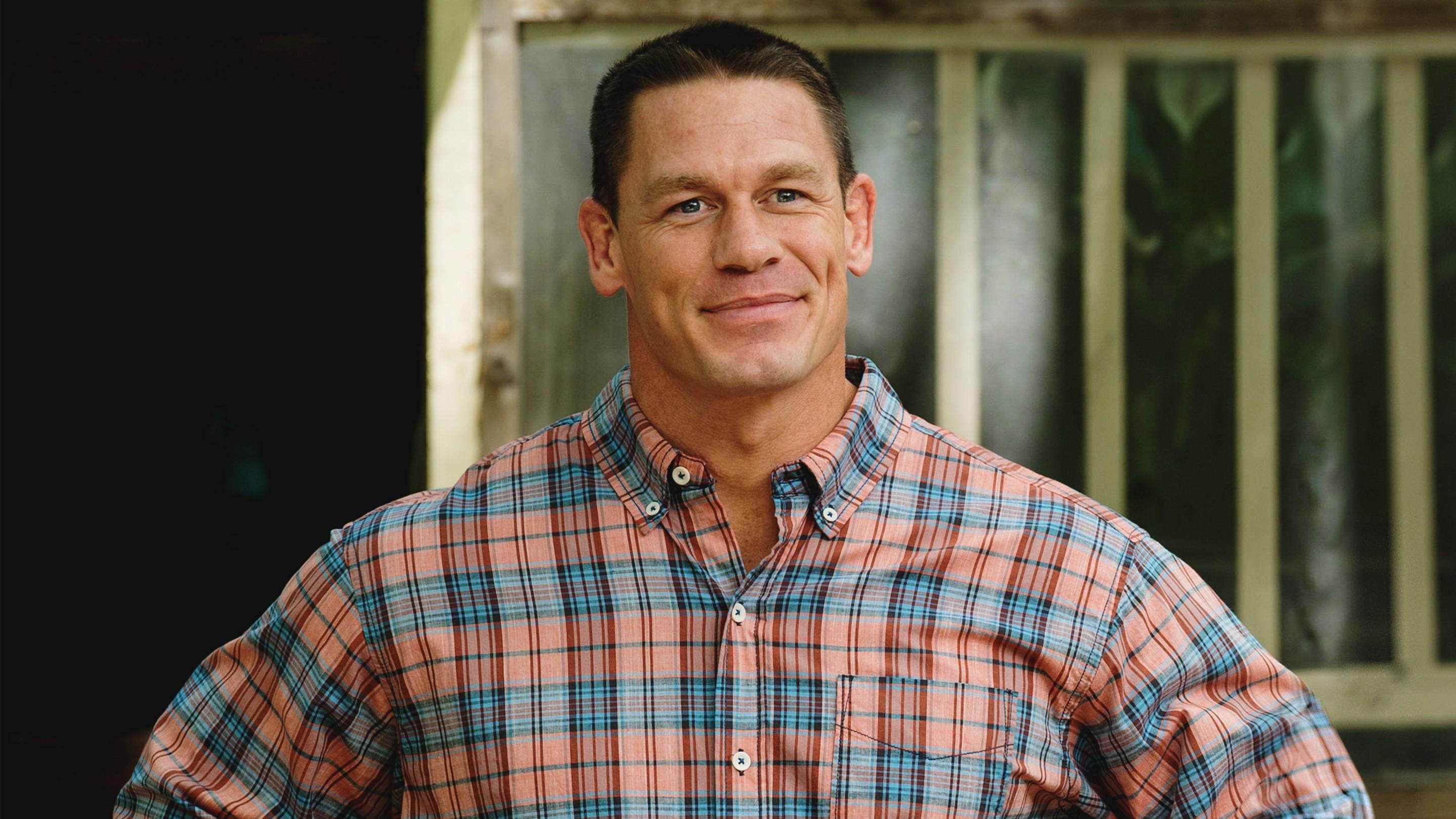 John Cena's Rise Can't Be Blocked
Written by Timothy Bella

Published on

April 06, 2018
In the early morning hours at 360 Hampton Drive in Venice, Calif., John Cena would look up from the car seat that doubled as his bed. His home was a 1991 Lincoln Continental. And he was perfectly happy.

About 20 years ago, Cena would wake up from his brief nightly slumber to see from inside his car the palm trees and vehicles that were scattered across the parking lot of a Gold's Gym. It happened every night for the few hours he had between shifts at the gym. Looking back on that stretch, the days, weeks and months blend together in a period long before he'd become a crossover cultural megastar. Cena knew he could operate on minimal sleep and make as much money as he could. Then an aspiring bodybuilder, Cena had just got done driving cross-country on a whim after graduating college back home in Mass.–and he was broke. His father doubted he'd survive, telling his son he wouldn't make it two weeks in Calif., and pleading with him to come home. The stubborn Cena was convinced his father knew nothing, so he had no intentions of proving his dad right.

"When I got out there," he tells me, "I was damn sure going to last more than two weeks."

If you're going to take your pants off and shove something up your butt for the camera, you want to make sure it at least gets the action it's supposed to get.

After a temporary living situation with a friend fell through, Cena found himself with all his stuff jammed in his Lincoln, parked in the same spot. Then a frugal twentysomething from West Newbury, Mass., Cena had to be "extremely resourceful," he says. He worked as many hours as he could at Gold's, using their showers. It was his choice. For Cena, he was cool not spending money on rent and equally content living out of his car; it was simple, but nice and clean.

"I was happy in the back of my car," Cena says to me. "I loved where I was at. Could I have used a more comfortable bed? Absolutely, but I was fine."

He adds: "It really drove home the point at an early age not to give up, because something good did eventually come up."

The saying, "Never Give Up," might be only thought of as one of the many Cena T-shirts, hats, wristbands or towels that have been sold by WWE over the years, but it's difficult to dismiss the man's mantra at this point. Wearing another one of his windowpane suits on an early March night in Austin, Texas, Cena couldn't be further away from that gym parking lot in Venice. At South by Southwest, a throng of howling fans holds up their phones outside the Paramount Theatre for a chance to snap a selfie with Cena, accompanied by fiancée Nikki Bella, at the red-carpet premiere of Blockers, the coming-of-age comedy about three parents trying to stop their high school daughters from following through on a pact to lose their virginity on prom night.

I was a stubborn bastard when we started dating. She's turned me into a better man.

In a film featuring comedy heavyweights in Leslie Mann and Ike Barinholtz and the directorial debut of Kay Cannon, it's the grinning, broad actor with the buzzed haircut who's getting cars to stop in the middle of Congress Ave. Even when someone in the theater's lobby yells out how he loves *Total Bellas*, the E! reality show focusing on the lives of his WWE-star fiancée, his future sister-in-law and their family, he responds with part amusement and part bewilderment–a facial expression that reinforces how he's surprised he gets this level of reaction on seemingly whatever non-wrestling project has his name on it.
Consider Cena in this moment. At 40, he's a 16-time WWE world champion, a rising comedic force in Hollywood with films like
Trainwreck
,
Sisters
and
Ferdinand
to his name, one of the
Today
show's most beloved guests (where he's
prodded
by Savannah Guthrie and Hoda Kotb for details on his wedding), a walking brand ambassador and the most prolific wish-granter in Make-A-Wish history. For a man constantly moving, he's approaching one of the busiest, and most important, 48 hours of his career. *Blockers*, currently Certified Fresh on
Rotten Tomatoes
, premieres on Friday, and is expected to do well at the box office. Then, he'll head to New Orleans, where he'll (probably) fight The Undertaker in a matchup featuring two of the most influential performers in WWE history in front of 75,000 fans at WrestleMania 34 on Sunday. Reading that back is exhausting, but that's another weekend in the life of Cena, a former bouncer and limo driver who's quietly morphing into pop culture's next do-it-all darling.
"You sign up for these projects, knowing they are going to be hard work, but hard work from a different perspective," he says. "It's a wonderful weekend. I'm very excited for people to laugh on April 6, and hopefully lose their voice and cheer on April 8."
---
What does it take to prepare for a scene where you're chugging beer from your butt? This is a real question I get to ask Cena in 2018.
"My goodness," he says, through laughter. "We were filming it for so long. It was long enough for everyone to be uncomfortable. And then, sympathetic. And then, at a point everyone was kind of like, 'Yeah … so, we're doing this, huh?'"
His character, Mitchell, is an overprotective, straight-laced guy who, at times, acts as a coach more than a father to his daughter Kayla, played by Geraldine Viswanathan. As it turns out, his fatherly side came through during a scene that included some alcohol and an anus. Yet, all of that didn't matter when it came time to film the scene in Atlanta: Can we pull this off? Will it be funny? Inspired by some real-life internet videos, the scene was never in danger of getting cut. Through trailers, the scene has already become the moment of the movie, even before Friday's worldwide release.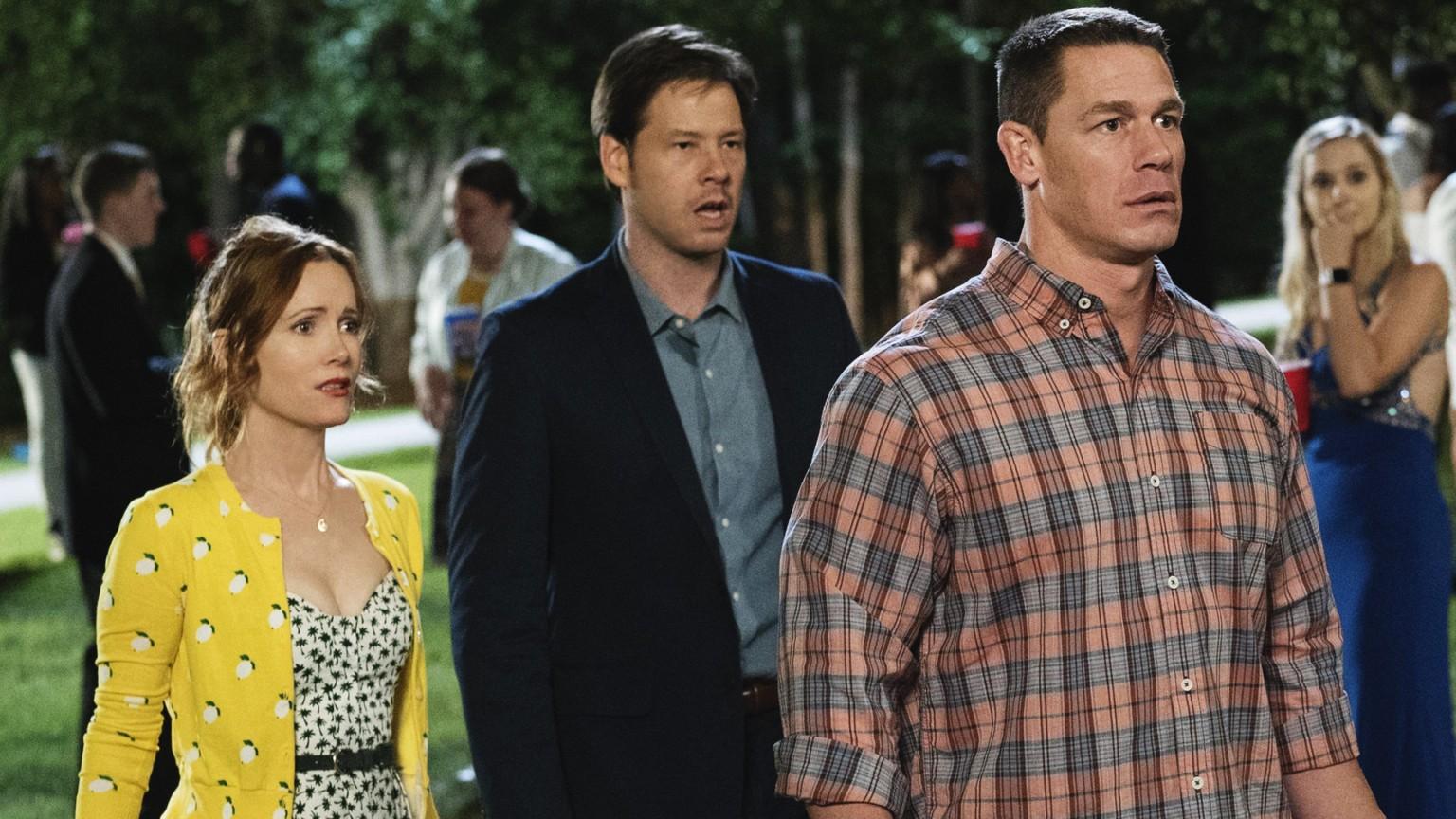 "I just had to shed myself of the embarrassment of people looking at me with my pants down," Cena says. "If you're going to take that risk and take your pants off and shove something up your butt for the camera, you want to make sure it at least gets the action it's supposed to get, and plays the way it's supposed to."
Oddly, or maybe unexpectedly, he was more prepared for the pivotal scene than he would have been without an earlier role. In 2015, Cena was a breakout star in
Trainwreck
, the Amy Schumer hit that featured a sex scene in which Cena appeared with only a sock over his penis.
"A day in the life of Trainwreck certainly helped me be able to laugh at myself and to laugh at myself naked, which is the most embarrassing thing in the world, period," Cena says.

Long before he landed the role, Cena was unknowingly in a good spot to be Mitchell. In July 2016, Cannon was watching Cena host the ESPY Awards. That night, she found who she was looking for. "He was just so personable, just being himself," Cannon tells Playboy. "So I emailed the producers right away, and said, 'Let's get John Cena in.'"

I was paired with popular guys, and that's the current culture as it stands. I don't know how many true bad guys we have left.

He remembers the audition process and how he still had to deliver. Cena emphasizes that he's been rejected more than he's done well. He's aware that if people don't know him, they might see him, as he puts it, as "a 250-pound hunk of flesh." ("John gave me some pointers on how to do deadlifts," Mann joked in a statement.) It's a part he wanted–and one where he had to show he was more than muscles.
"I think this is definitely one of those cases where my frame wasn't my biggest strength; it actually played against me," he says. "It might have given Kay some reservations: 'I don't know if I should hire this guy because I hope he's not just a senseless, large man. I hope there's a human being under there.'"
He adds: "We got to know each other pretty well, and she realized I do have a big heart."
Cena doesn't even want to speculate where he'd be on an emotional level today without Bella, who came into his life more than five years ago when, he says, he was in "a real selfish place." The joy comes through in his voice.
"I was a stubborn bastard when we started dating," Cena says. "She's turned me into a better man. There's no other way to say it." He continues: "I thought I had it pretty good when I took her on our first date. It turns out I did not."
It's in this evolution from full-time professional wrestler to Hollywood Renaissance man and dedicated fiancé that Cena has been able to test himself in a landscape he's still figuring out, even if it means repeatedly failing. "I love the audition process because it's absolutely vulnerable," he tells me. "I don't mind being in that difficult place, and I certainly don't mind being rejected."

---
As my time with John Cena draws to a close, I look down at eight words in my notes: "John Cena suuuuuccckkkksss!!! Let's go Cena! Cena sucks!" It's not the confused feelings of disdain for the man, but rather a sign of respect. The chants started off as fans rebelling against Cena's status as the perceived "chosen one" from WWE Chairman Vince McMahon. They have since become ones of respect in the latter stages of his career. As The Ringer's David Shoemaker likes to say, Cena is at a stage where he makes your favorite wrestlers matter. But it wasn't always like that.
Cena says he noticed the changing tide in the pro wrestling community's public opinion 12 years ago. The shift wasn't centered around any one specific chant but rather a growing gray area that's blurred the line between good guys and bad guys who are wildly popular. It was WrestleMania 22. That night in Chicago, he would be in the main event against Triple H, a decorated, 14-time world champion who is currently WWE's executive vice president of talent, live events and creative. Cena would go from being wildly cheered in his WrestleMania championship match the year before with John Bradshaw Layfield, a hated villain, to getting booed out of the building against Triple H. From there, the chants and boos got louder throughout the years, making Cena a polarizing figure for the fan base that helped make him–a dynamic he fully embraces.
"I wouldn't have it any other way," he tells me. "Honestly, it's taught me a lot of humility. Instead of being juxtaposed with bad guys, I was paired with popular guys, and that's the current culture as it stands. I don't know how many true bad guys we have left."
Without saying it, Cena already knows the role he'll play with The Undertaker, the grizzled gunslinger who has been teasing retirement since his loss at last year's WrestleMania and has not yet publicly committed to performing again. While Cena says he doesn't care about his own legacy and that the ticket buyer comes first, the magnitude of the match, and what it means for his own future, isn't lost on him.
"There will come a time when I'm faced with that series of questions–when is the right time to walk away?" he says. "But almost a year later, you mention The Undertaker's name, and people are going absolutely bonkers. It's obvious that if The Undertaker is weighing the public opinion in his choice, people are not yet ready to see him go."
And like that, our time is up. As we part ways, I wonder if someone who once called his car his home and bed would have time for sleep during one of the biggest weekends of his life.
"That's never a problem, my friend," says Cena, my new friend.