It's a calm, sunny afternoon in Newport Beach, California, but Jonathan Bennett is bustling. The mercurial actor and host of Food Network's Halloween Wars is on the garden deck of my Montauk-styled home, feverishly stuffing pink gift boxes with my wife, chef Nikki Martin. In goes mini bottles of Summer Water rosé, Glow Recipe Watermelon face masks and the highly anticipated hero of the loot, a copy of The Burn Cookbook: An Unofficial Unauthorized Cookbook for Mean Girls Fans, cradled in pink tissue. Bennett and Martin are scrambling to get troves of these gift boxes off to the post office in time for the book's launch on National Mean Girls Day (October 3rd, of course). On the recipient list: Maria Carey, Britney Spears and Katy Perry—all megastars who reportedly hold the 2004 cult classic dear to their hearts.

"Our recipes are fetch as fuck, and we want everyone to make them," Bennett preaches. The cookbook, it should be stated, is a parody and proudly labels itself as such on its cover. The brainchild of Bennett and Martin, it's also a not-so-subtle attempt to capitalize on every Mean Girls fan's insatiable thirst for more from a film that has defined teen adolescence for more than a decade.

It's been fourteen years since the movie, written by Tina Fey and based on Rosalind Wiseman's 2002 novelQueen Bees and Wannabes, hit theaters. Since then, Bennett hasn't seen a day without being called out for his role as Lohan's on-screen love interest, Aaron Samuels. It's taken nearly as long for Bennett to come to terms with the fact that, no matter how much success he achieves, he'll always be recognized as the high school jock who turned around in math class and asked, "What day is it?" — four words that would change his life forever.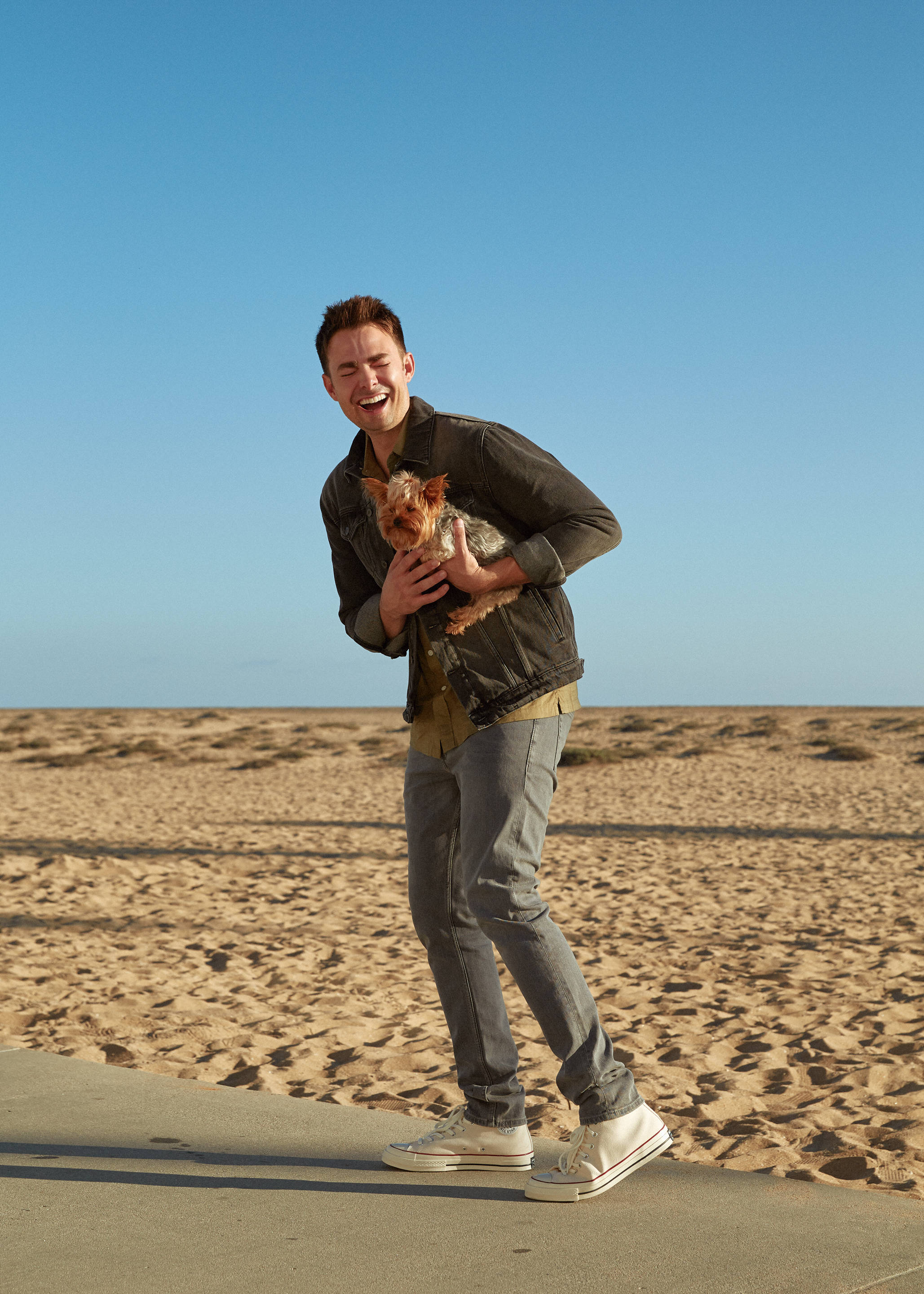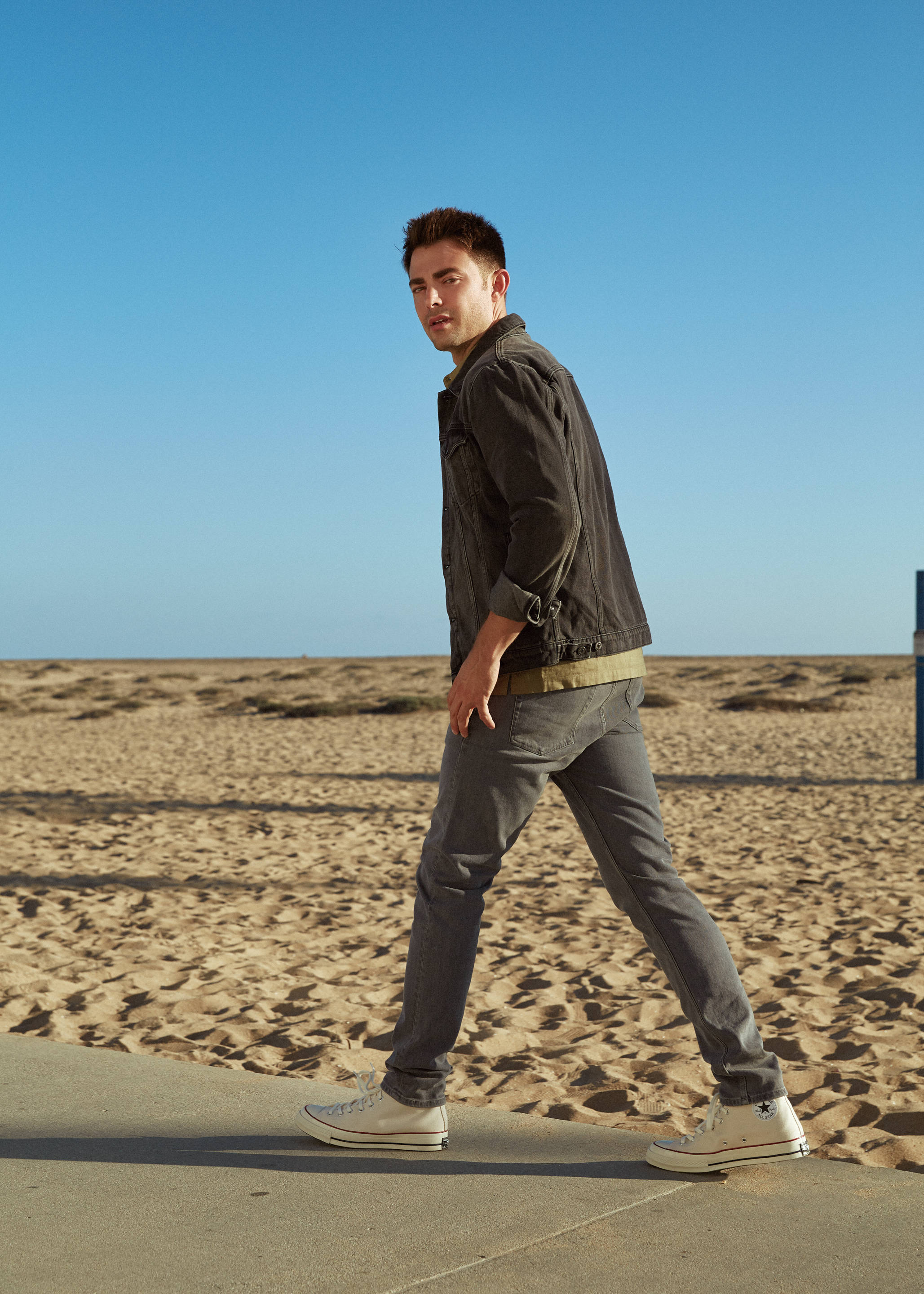 "I used to get annoyed," Bennett tells me. "But now I'm just flattered, because I've learned to realize it's so much more than just a movie. It touched people in ways that most movies don't. And it's a therapeutic comfort movie for some people. They watch Mean Girls to feel better when they're down, to help them through a break-up, or maybe at home when they're sick. On the flip side, people get together to watch it, recite lines. People have a relationship with the film."

Bennett booked his role as North Shore High School senior Aaron Samuels, his first movie credit, at age 22 and a year after he moved to Los Angeles from New York City, where he had filmed All My Children. (He played J.R. Chandler on ABC's long-running soap.) While legions of fan may agree he was perfectly cast, he was quite different from his character. "There's a line in the film that goes, 'All he cares about is school and his mom and his friends,'" says Bennett. "And that's true for both of us. But Aaron played soccer and they had to bring in a soccer coach to teach me how to kick a ball." Instead, Bennett describes his high school self as a "drama nerd."

I've had a weird career and I've done projects in every single demographic, but I still have women from age 13 and up approaching me about Mean Girls.

Released in April 2004, Mean Girls grossed more than $100 million, becoming a runaway hit and turning into a quotable cult classic that begot a Broadway musical and its own Internet holiday. "We obviously didn't know what it was going to become," says Bennett. "We were just a bunch of kids that got to film a movie in Toronto for three months. It was like summer acting camp with the people from Saturday Night Live."

The film launched the careers of Lohan, Rachel McAdams, Lizzy Caplan and Amanda Seyfried. McAdams has gone on to become an Oscar-nominated leading lady, Caplan nabbed an Emmy nomination for her role on Showtime's Master of Sex, Seyfried has starred opposite Meryl Streep and Lohan—well, we can only imagine she'll soon be launching a new fragrance called Mykonos.

Bennett's career has flourished, too. He has appeared in dozens of films and television shows, competed on Dancing With the Stars and hosted more than 200 episodes of Cake Wars and its seasonal spin-off Halloween Wars, which just debuted its eighth season. Even so, it's nearly impossible for Bennett to order Starbucks (venti salted cream cold foam cold brew, for those interested) without the barista writing "Aaron Samuels" or a quip from the movie on his cup. "I mean, I still laugh every time someone says 'because I'm such a good friend,'" Bennett tells Playboy. "That's just really funny to me. And it's actually picked up even more in the past five years. I've had a weird career and I've done projects in every single demographic, but I still have women from age 13 and up approaching me about Mean Girls."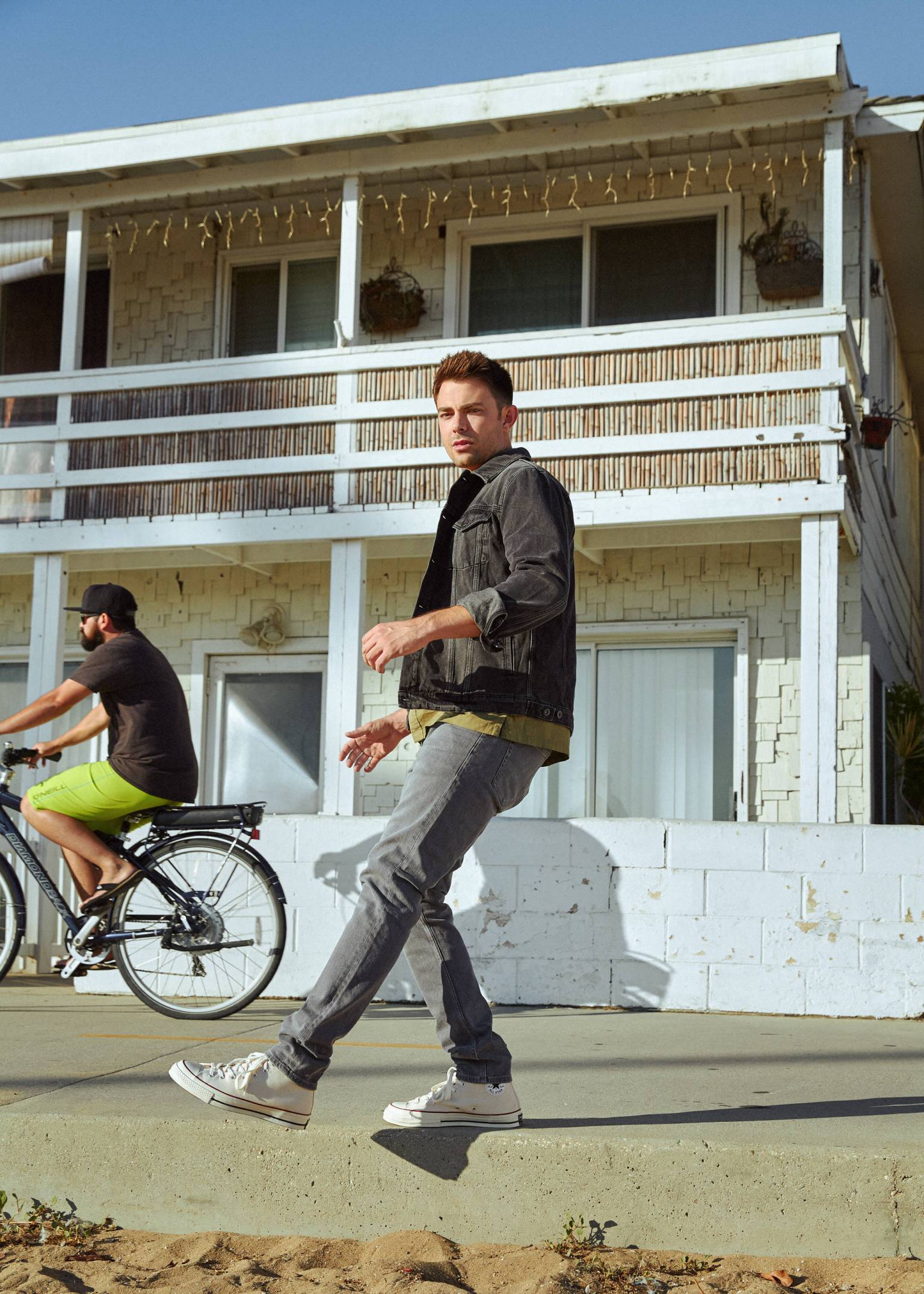 How does a star who is shackled to an iconic character come to terms with battling an omnipresent persona? The truth is, many don't. Alfonso Riberio never outran his character Carlton Banks from the 1990s sitcom The Fresh Prince of Bel-Air. Daniel Radcliffe will forever be Harry Potter and despite Jennifer Aniston's success in film, she's still Rachel from Friends. But Bennett has "come to terms with all of it," he says. "You manage it by being aware of how silly the whole thing is. Fourteen years ago, I turned around in a classroom and asked Lindsay Lohan to borrow a pencil, and now, since that moment in my life, I'm forever branded as a fictional character that people fantasize about," says Bennett. "It's an awareness that, while I'm not Aaron Samuels, people want me to be him. I actually respect it now. If I can bring a little happiness to peoples' lives by letting them push my hair back for a selfie, I'm going to do it."

Bennett's embrace of his cinematic doppelganger is fairly recent and can be traced back to, of all places, an Applebee's in Nashville, Tennessee. "My dad had brain cancer and only a few months left to live," he tells Playboy. "We were sitting at dinner when these girls came up asking for a photograph. One girl was so excited she was shaking and crying. I was in a dark place and reluctant to get up, but my dad made me do it." After leaving the restaurant, Bennett's father told him to look back inside the restaurant window, where the girls were hovering over their photos and glowing with joy. "When was the last time you saw people that happy?" his father asked.

Jonathan Bennett has a billion things happening at all times in his brain and when you watch me, you get to see that come to life.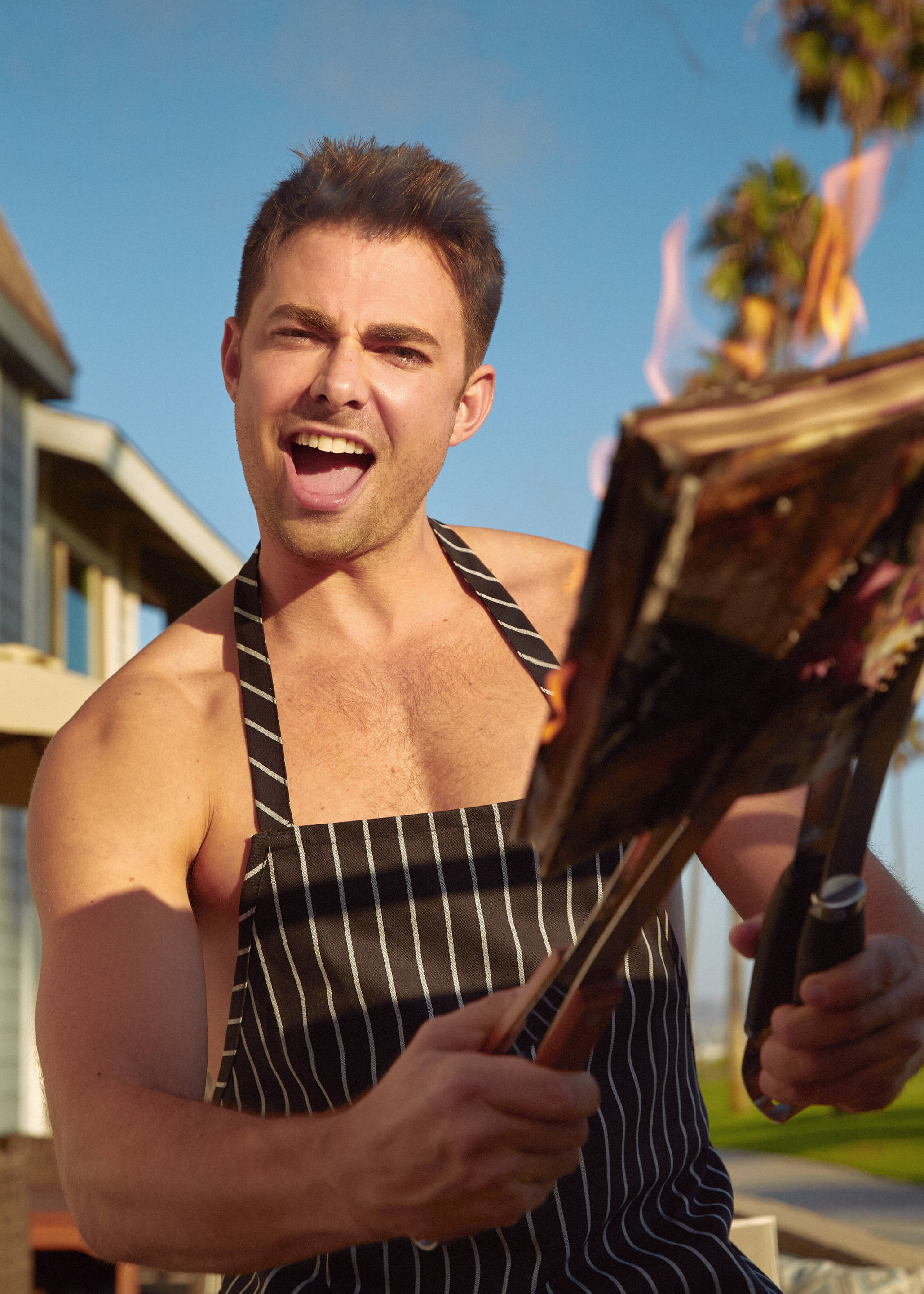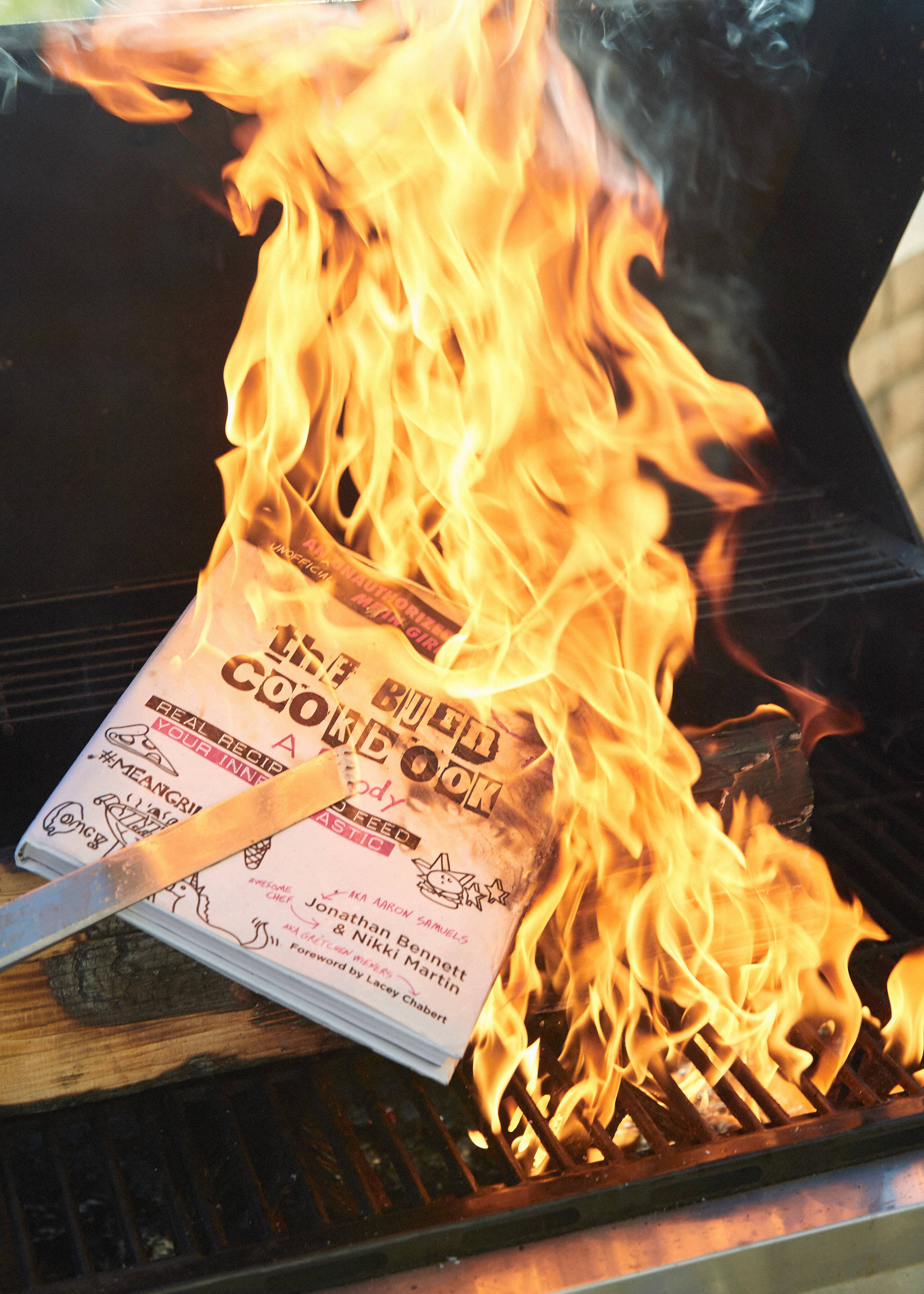 "I wake up every morning and make a gratitude list—10 things I am grateful for. It actually changes your energy and trajectory in this world. It changed my life." Bennett's book is also a tribute to his mother, Ruthanne Bennett, a former catering company owner. "My mother made comfort foods," he says. "After she passed away, I didn't want her legacy to fade. I had her recipes on scraps of paper and on the backs of envelopes. I needed help filling in the gaps and recreating them."

So Bennett called on Martin, a fellow Food Network personality whom he had befriended. Martin diligently recreated some of Bennett's recipes; two of Bennett's favorites made it into the final edit. "The rest of the recipes are from Nikki," says Bennett.

Bennett's mother was his biggest fan, and super protective. "My mom was very loving and didn't want me to get hurt. I was a premature baby and almost died when I was born; and she almost died having me." It was ultimately his mother who drove through the night to New York City when he got his first acting agent at age 20. After two years of working on All My Children, with an in-between spot on Law and Order, Bennett felt ready for Hollywood.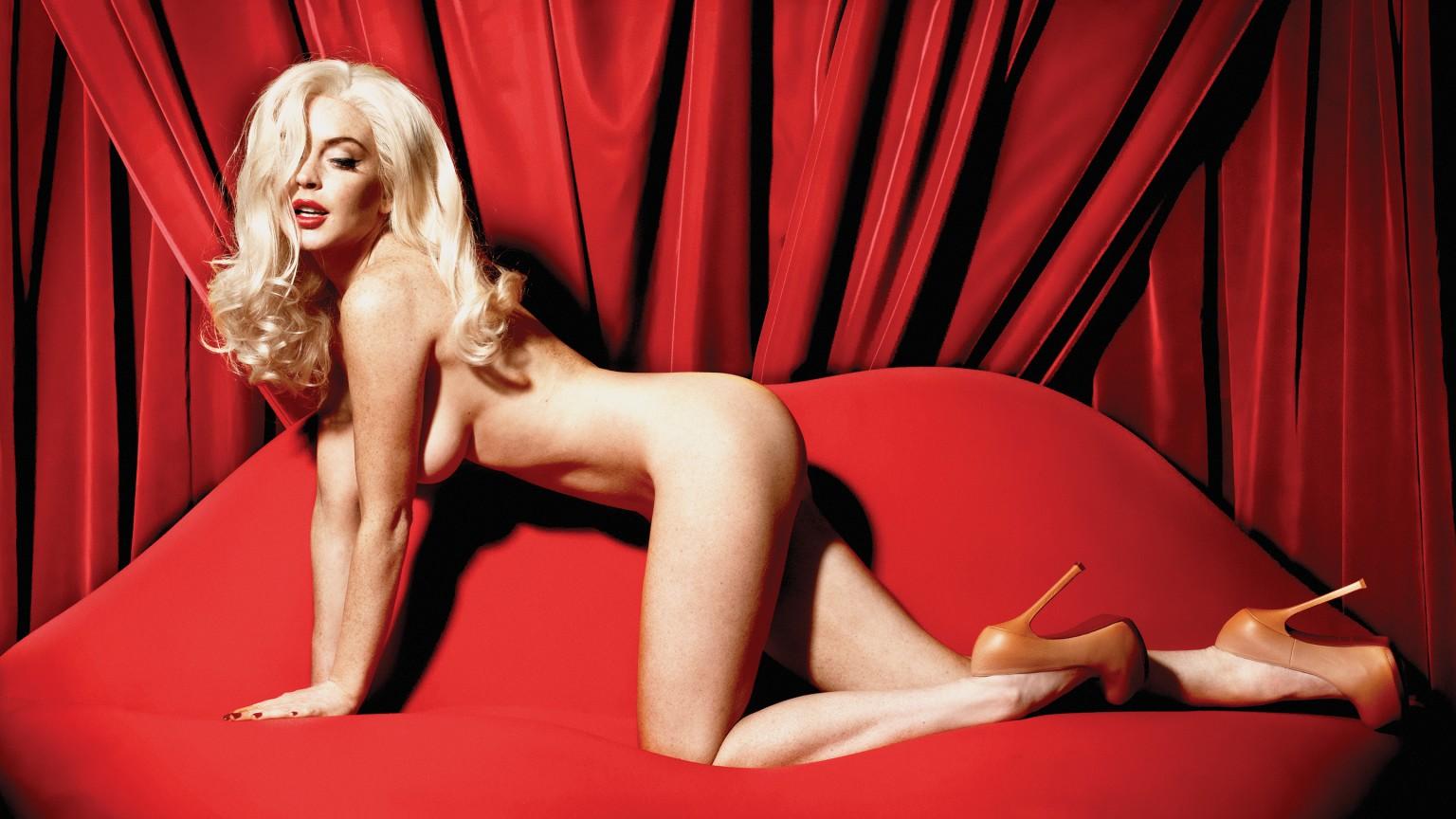 "I moved to Los Angeles and I was broke," he says. "Nobody teaches a 20-year-old how to save his money from a soap opera gig." In Los Angeles, Bennett took a job at FAO Schwarz at The Grove, the city's famous outdoor mall. "I was a greeter dressed as a toy soldier. My job was to open the door for people and hand out stickers. On my first day at work, a woman came up to me and asked if I was J.R. from All My Children. I responded 'No, but he looks like me.' I was humiliated and left."

Bennett had to keep faith and take any work he could get while auditioning. A few months later, he nabbed an audition for Mean Girls. "Once I did the screen test for Aaron Samuels, I went to see the movie Freaky Friday at Grauman's Chinese Theatre, so that I could see who this Lindsay Lohan girl was," he remembers.

Although Bennett has taken on a wide variety of acting jobs, there is one steadfast ambition he harbors: hosting television and events. "I love hosting because I get to be me," he says. We were shooting Halloween Wars and one of the assistant directors said to me, 'Don't worry, Jonathon, we'll get you out of here as soon as we can.' And I was like, Why would you do that? I'm doing what I love and living the dream I've had since I was five. And I'm doing that on one of the biggest networks in the world, on my own show, where I get to have free reign. I don't want to go home. The host you see in Halloween Wars or Cake Wars is the real Jonathan."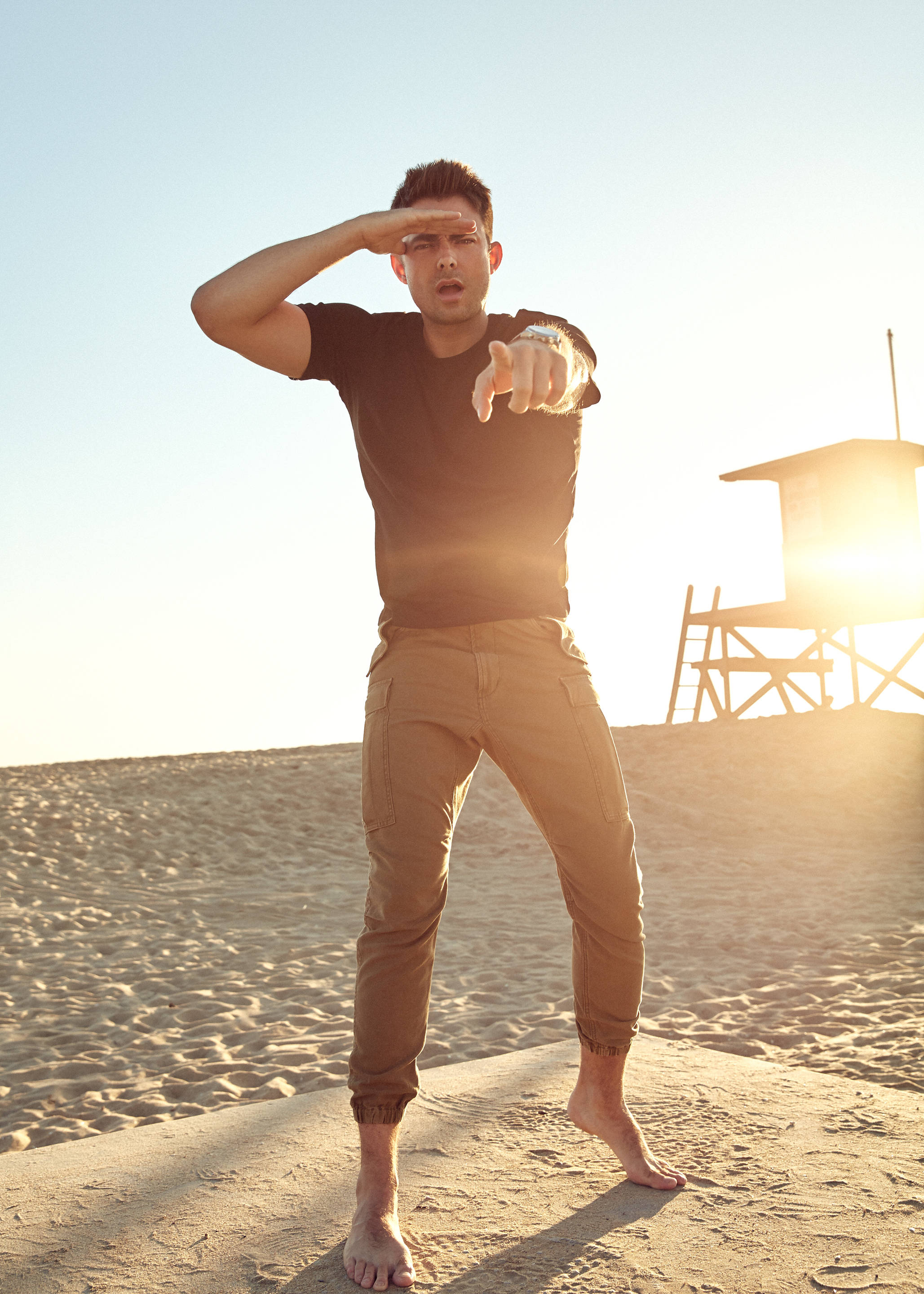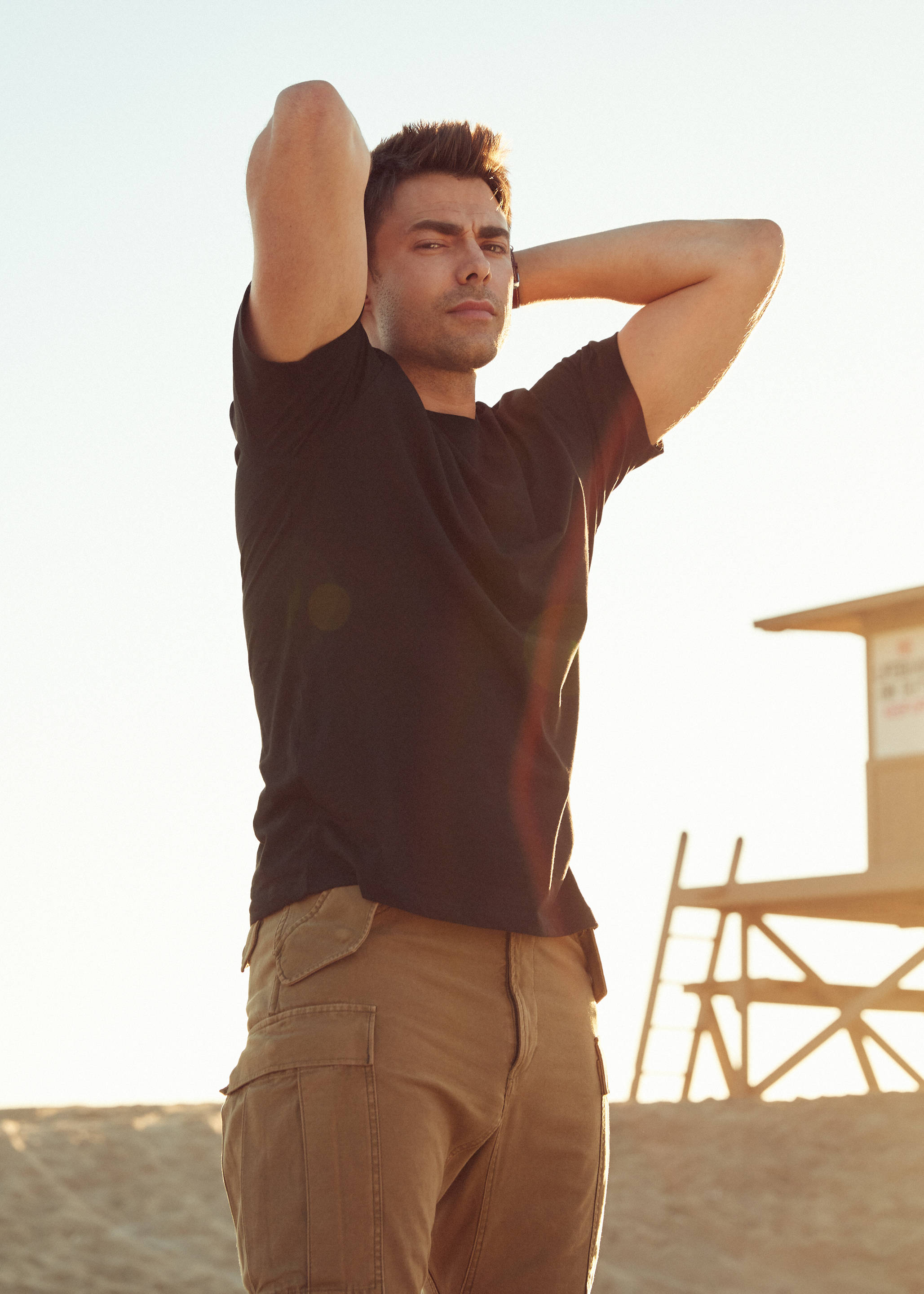 Clearly in his wheelhouse, Bennett has been entrusted by Food Network to host some of their most coveted shows that give him the liberty to participate in the creation of bits and skits. "And that's when I realized that I'm becoming my dad," says Bennett. "My dad was basically Clark Griswold, always tripping on purpose, walking into doors and trying to make people laugh with silly antics. I was so embarrassed as a teenager and now I'm doing all those things for a living. The only difference is, I'm getting paid for it."

Bennett may never escape being the omnipresent dreamboat who looks sexy with his hair pushed back, but his recent self-discoveries has brought him face to fact with humility and gratitude and steered his ship toward bright opportunities. "After years of acting, I discovered that I was dumbing down all the funny and quirkiness that makes me me, to get to play the role of your basic hot jock that doesn't have a lot going on upstairs," he says. "But Jonathan Bennett has a billion things happening at all times in his brain and when you watch me host, you get to see that come to life. That is my gift—my quirky, funny and weird personality is what makes me special. I learned recently to just sparkle and let it shine."

SWIPE RIGHT: MORE POP CULTURE STORIES