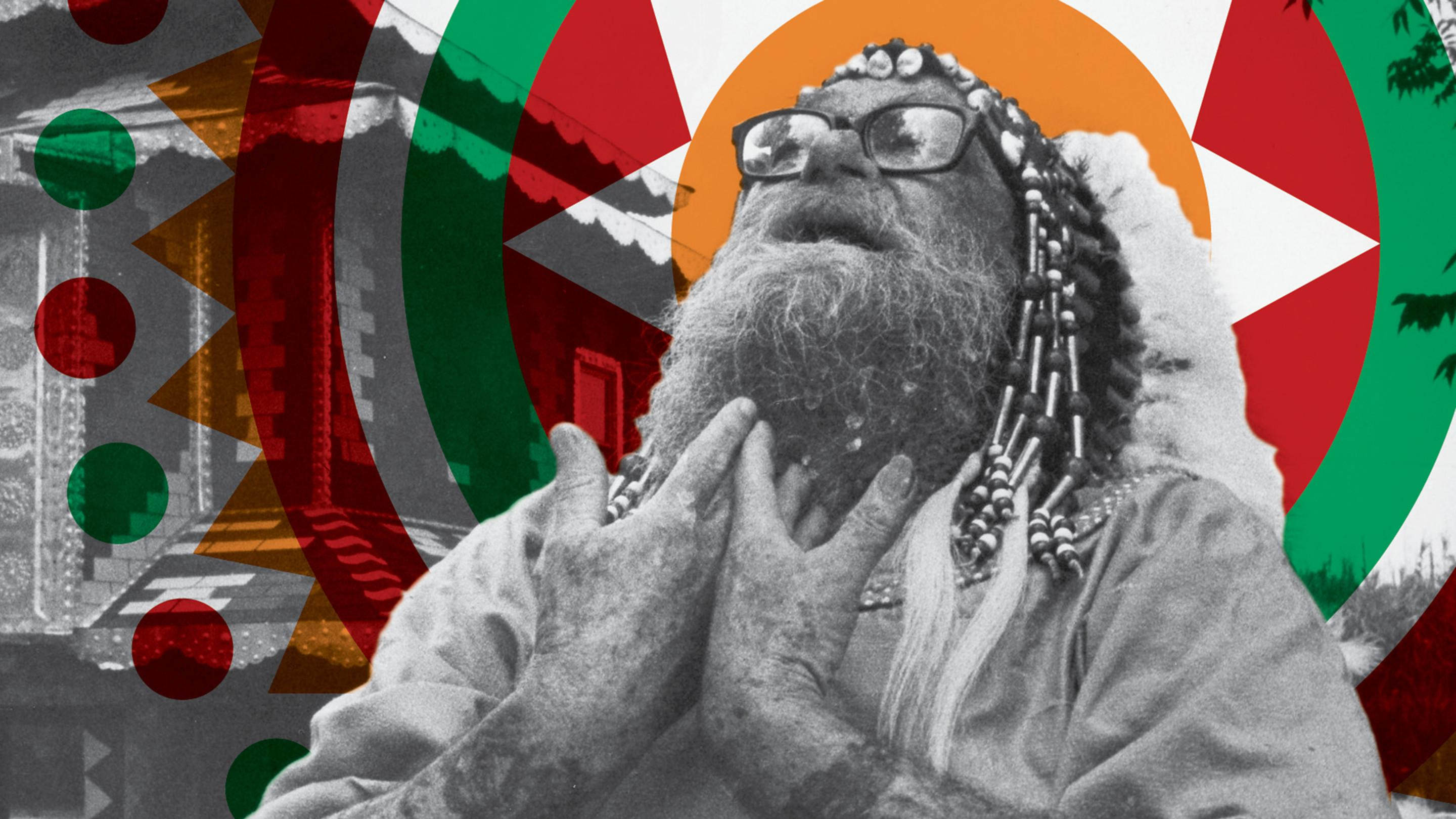 Journey to a Psychedelic Wonderland
Written by Malika Bowling

Published on

January 09, 2018
Among the grassy fields of Georgia is a collection of artwork scattered throughout seven acres. At the entrance of the official grounds, in a town called Buena Vista, are three-dimensional totems with kind eyes to welcome guests. This is Pasaquan, a dreamscape built by a fortune teller, St. EOM (pronounced oh-mm), on the advice of aliens from the future.
St. EOM was born Eddie Owens Martin in a small town in Georgia in the early 1900s to sharecroppers. Naturally artistic and flamboyant, he felt shunned in what he referred to as the conservative White South, so at age 14 he ran away to New York City. With no friends or family he took to male prostitution and fortune telling to make a living. For more than a decade, he lived a life charming people with his hustle.
He suddenly became ill in 1935, struck by fever-induced dreams. In one, a pack of giant aliens urges him to change his ways and follow their explicit instructions--to return to his farm in rural Georgia bequeathed to him after his parents passed away, and create art reflective of this group of extraterrestrials and their religion, called Pasaquoyanism, accepting of all forms of people where they "can come together in harmony and connect with the earth and the universe."
Step past the cheerful totems, and visitors can experience what it was like to be a part of the Pasaquan community, as preserved by Columbus State University. Pagodas, shrines and masonry built for meditation and self reflection are all decorated with bright geometric shapes--a reflection of the 1960s and 1970s when fans from all over would journey to get their fortunes told by the eccentric man between a plethora of naked sculptures in bright hues. Matching the work around him, Martin would adorn himself with headdresses and elaborate smocks. He often wore is long hair pointed to the sky in order to better communicate with those not on Earth.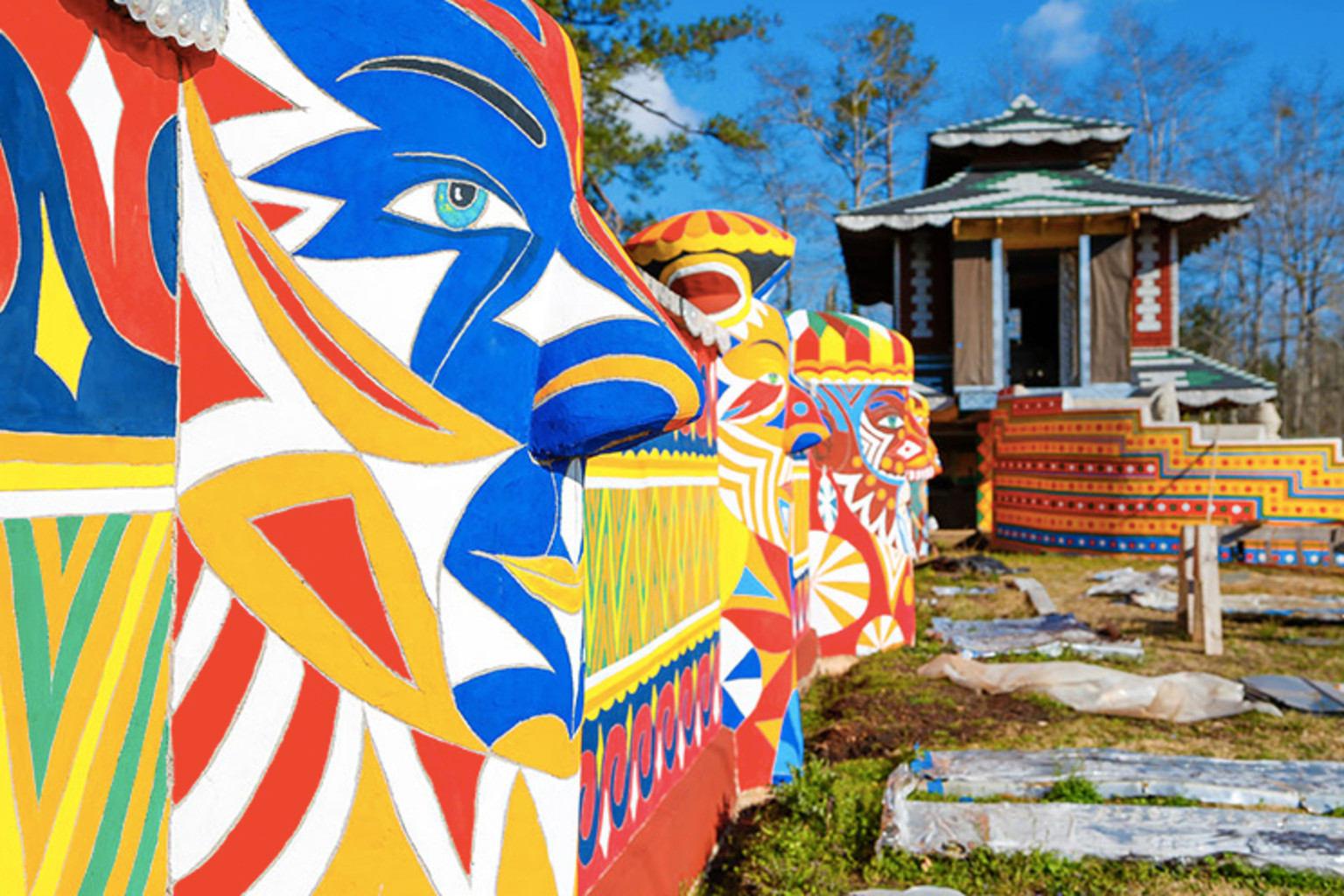 Some reported that his advice was completely accurate while some said he was a shyster. A story that guides at Pasaquan share is this:
"One day, four soldiers (there's an army base near Columbus) came to Pasaquan to visit St. EOM. Three went inside while one remained in the car. After he told the three their fortunes, without glancing outside, he knew there was a fourth person with them. He scribbled something on a piece of paper and told them to give it to the fourth man without reading it. Shortly after leaving, the four were in a terrible car accident. The soldier that had remained inside the car had been killed, yet the note was still clutched in his hand. The others were shocked when they read its contents: 'You are not long for this world.'"
While visitors loved to have their fortunes told, they never adopted the religion St. EOM strived to bring to fruition. As time went on, St. EOM was overcome with sadness that his religion didn't catch on and people didn't see him as the visionary and leader he sought to become. Telling fortunes allowed him to survive, but it wasn't his passion. Plagued by health problems and despondent about the lack of interest in Pasaquan, he took his life in 1986 inside his home.
Guests today report an eerie presence when they walk the grounds.