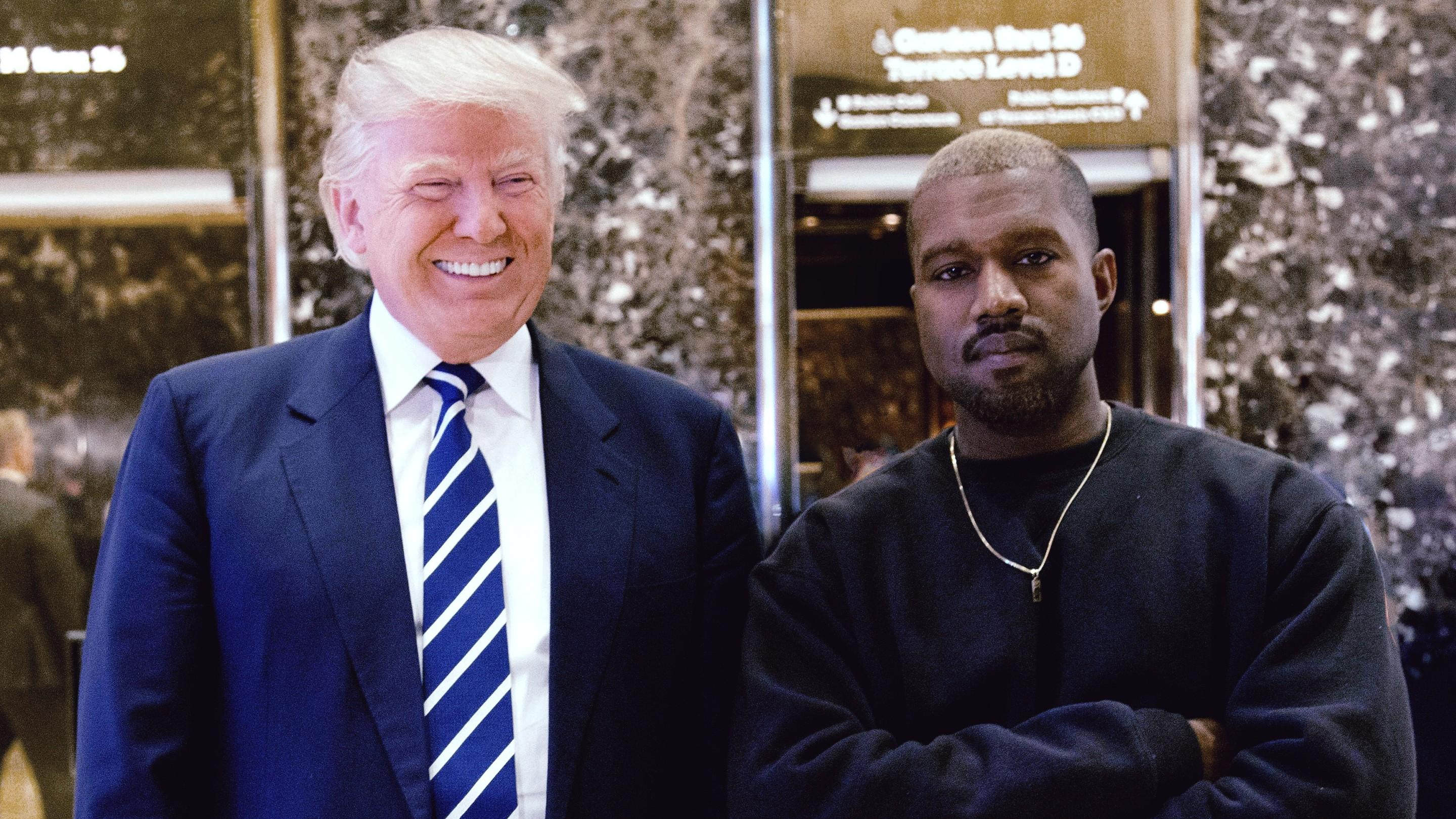 Kanye West's Trump Love Makes Total Sense
Written by Tom Carson

Published on

April 24, 2018
Kanye West is taking flak for telling radio host Ebro Darden that he loves Donald Trump. Showing unusual caginess, Trump has yet to tweet that he loves Yeezus right back. ("Kovfefe Wurst is a GREAT AMERICAN and I would collude with HIM anytime!! Calling him a 'jackass' years ago proves Kenyan Obama knows nothing about hipp-hopp. Ivanka is grooving to The Life of Salo right now and looks Hotter to her Dad than Ever!") But why should anyone be surprised by this bromance? West and Trump are a whole lot alike in very interesting, uniquely American ways.

At least on the surface, the differences are much more telling. Kanye is a) African-American; b) a musical genius, no matter what you think of him as a political guru or a human being; and c) married to Kim Kardashian, which could be the only item on this list Trump actually envies him. Worrying that she'll embarrass herself has never been Kim's problem, after all. It's Melania's daily crucifixion.

Yet both men are equally fixated on status and success, often measured in the crassest way: ratings for Trump, sales for Kanye. They've each been shrewd in the past about boosting their brand by diversifying it, even though Trump Steaks and Trump Vodka undoubtedly both tasted worse than Kanye's fashion line looks. And needless to say, they each have an ego that must make the Grand Canyon look the approximate size of a used condom to them.

In fact, West may be the only living American who can out-Trump Trump at boasting. (Despite our guess that he feels exactly the same way, we bet even POTUS couldn't get away with our all-time Kanye favorite: "My greatest pain in life is that I will never be able to see myself perform live.") But they're about even in their knack for starting playground feuds to fire up their base by personalizing everything in a way that makes their rivals come off like ridiculous whiners. Never mind that they were the ones responsible for the trivialization in the first place.

Kanye West is no stranger to photo ops as accolades by other means. If you're worth exploiting, your importance has been recognized.

They're also equally incredulous when the bonkers stuff they're capable of spewing on Twitter and in interviews provokes people to question their mental balance. They know balance is irrelevant when you're shooting yourself out of a cannon for provocation's sake. Getting America's—and the world's—attention matters more to both of them than why. We all know they can alter their views faster than any Project Runway finalist can grimly redesign a collection's look during Fashion Week.

In other words, both literally and figuratively, Kanye and Trump largely speak the same language. They largely think—of themselves, but why get redundant?—in similar terms. Maybe most importantly, they largely inhabit the same special world. Darden called West out for "living in a bubble in Calabasas," but if anything, Kanye and Kim's lifestyle probably leaves the daily grind at Mar-a-Lago looking a mite proletarian. That competitiveness aside, however, what Yeezus recognizes and salutes in Trump is as plain as day. Even by West's extravagant standards, he's a showbiz peer.

Just as clearly, Obama failed to honor Kanye's other identity as a potentate running his own fantasy country. He didn't just call him a jackass after West famously bounded onstage to interrupt Taylor Swift at the 2009 MTV Awards. He wouldn't even deign to agree to a Barack-Kanye summit, prompting West to complain to Darden that he "reached out to Obama for years and couldn't get anything done. But Trump gave me a meeting."

Darden—who, if you ask us, must have mental balance to burn—pointed out that a photo op at Trump Tower before Trump's inauguration did more to "exploit" Kanye than respect him. But by Kanye's own standards, the distinction plainly meant nothing: "He was busy." West is no stranger to photo ops as accolades by other means. If you're worth exploiting, your importance has been recognized.

This is what all celebrity Trumpers have in common. Old-fashioned Hollywood Republicans are a different, more austerely admirable breed. Even if they like Trump, they don't think he's like them, but Kanye knows better. So does Roseanne. So does Ted Nugent, even if we have to drag up that name from the groggiest pits of hell. They recognize him as one of their own. He's a nervy bastard who doesn't play by the rules.

Kanye may change his mind about Trump someday. (He's done it before.) Even Roseanne might, because she's so in love with revolutions that she doesn't care much about which way the wind blows. But Kanye will never change his mind about Kanye's importance. Roseanne will never change hers about Roseanne's. Trump will never change his mind about Trump's. Even if they end up as enemies, they'll all still be intimates.