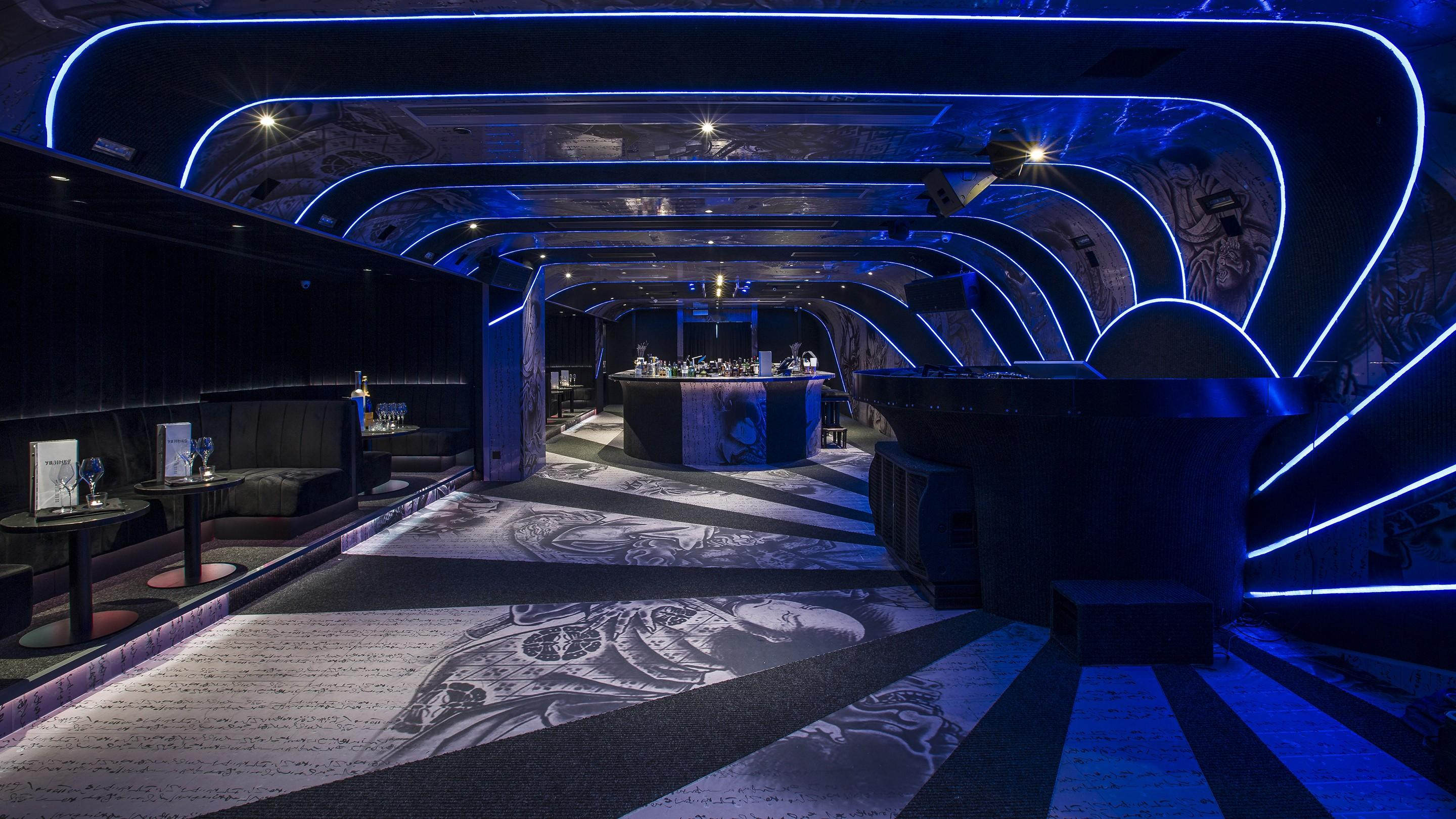 Opulent Design Rules Asia's Nightlife, and It's All Thanks to Ashley Sutton
Written by Kate Springer

Published on

April 25, 2018
Wandering into Dear Lilly is like stumbling down a rabbit hole and into a Mad Hatter tea party. Overhead, a ceiling blanketed in dried lavender and chamomile garlands scents the intimate room atop a building Hong Kong's International Finance Centre. On either side, heart-shaped steel booths provide semi-private seating, servers float about in vintage-style blouses and aprons—and it's all from the mind of Ashley Sutton.
After designing over 50 bars in the region, the Bangkok-based interior designer manages to keep patrons in awe because each concept is starkly different, yet equally opulent, in comparison to the last. Dear Lilly, for instance, oozes Gothic romance—a love letter to a bygone era of pen and paper, flowers and feathers. "I suppose my inspiration was like a florist shop on steroids," Sutton, age 45, explains.


For Sutton, it's all about the tiniest of details. Scattered around the room are dozens of ornate trinkets—bijou perfume bottles, a vintage typewriter and tarnished silverware—sourced from Europe and China. The name Dear Lilly, meanwhile, is inspired by an authentic World War II love letter from Sutton's own collection. "Back then, writing was the only way you could relate to someone," says Sutton, who engraved excerpts from various letters into the floor's marble inlays. "Now, it's just text messages and emoji. I think it was far more sincere and endearing in the past."

At the center of the space, an intimate bar comes to life with a kinetic hanging floral installation that undulates from the ceiling, a perfect setting for vested mixologists to shake up classic cocktails and a shortlist of house specialties. A scrawl of calligraphy inside a storybook-like menu lists drinks as decadent as the decor; the signature Mademoiselle Lilly is a cloying vodka and cranberry-based concoction and the Mad Enchantment, a spritzy mix of lillet rouge, apples, lemons, vanilla syrup and blackberry puree served in a pink floral teacup.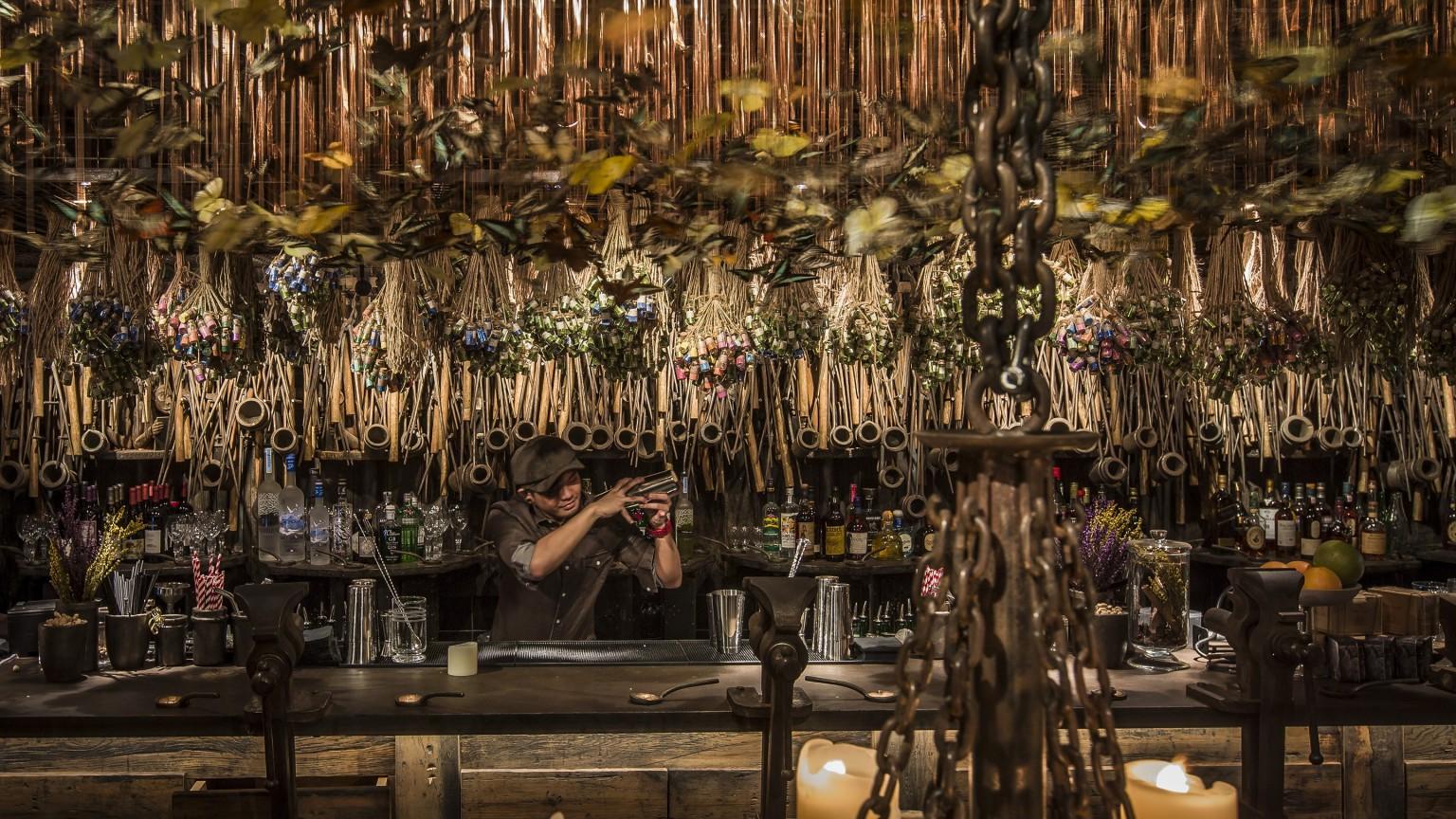 Since childhood, Sutton says he's had a propensity to daydream. Growing up in Fremantle, in western Australia, amongst a family of carpenters and sailors, he recalls drawing on the walls of his bedroom and building elaborate tree houses with multiple levels and secret passageways. "My grandfather was a carpenter and my dad an engineer, so I spent a lot of time watching them build things," Sutton says. "That's where I learned that with some imagination and the right tools, you can make anything you put your mind to." At age 14, Sutton left high school after deeming the religious teachers too restrictive and the curriculum too boring. In lieu of conventional studies, he began flexing his creative muscles at a stained-glass factory.

But by 20, when he needed cash fast, Sutton moved to Port Hedland (in northwestern Australia) to work in the iron mines. Toiling away in the dark caverns, he'd occupy his mind by making up stories and sketching fairies. These imaginative doodles evolved into a three-part children's book series, dubbed The Iron Fairies, that tells a tale of miners who are trapped underground, mining ore and crafting magical fairies. Following the book's success, he moved to New York City in 2004 to complete a series. "I had an outlet in the East Village, where I used to sell all my books, and I distributed these little fairies all over America," says Sutton. "There was a lot of demand for the fairies, so I found some cool designers and set up a small factory for them in Thailand, while I stayed in the US."

It was a day like any other when a cold call came from Bangkok. One of his workers reported that unexpected visitors kept hanging around the workshop, asking for drinks, and organically, the fairy workshop transformed into a restaurant and bar. "It was like a lost world, all dirty and industrial and covered in heaps of fairy dust," he says. "But all of a sudden it was a food and beverage concept. It was never intentional." Sutton furthers details that the lack of kitchen space meant food and drinks were concocted wherever his staff could find room. "Now it has a proper kitchen, but it's still kind of a grungy shithole. People love it, but it really is filthy."

Bangkok restaurant and bar owners took notice of Iron Fairies and began inviting Sutton to design their spaces. Just like that, the high school drop out became one of the city's most desired interior designers. His portfolio quickly expanded to include dozens of otherworldly Thai-based hangouts like Maggie Choo's, Sing Sing Theatre and The Bookshop. He even started his own gin distillery, dubbed Iron Balls Gin.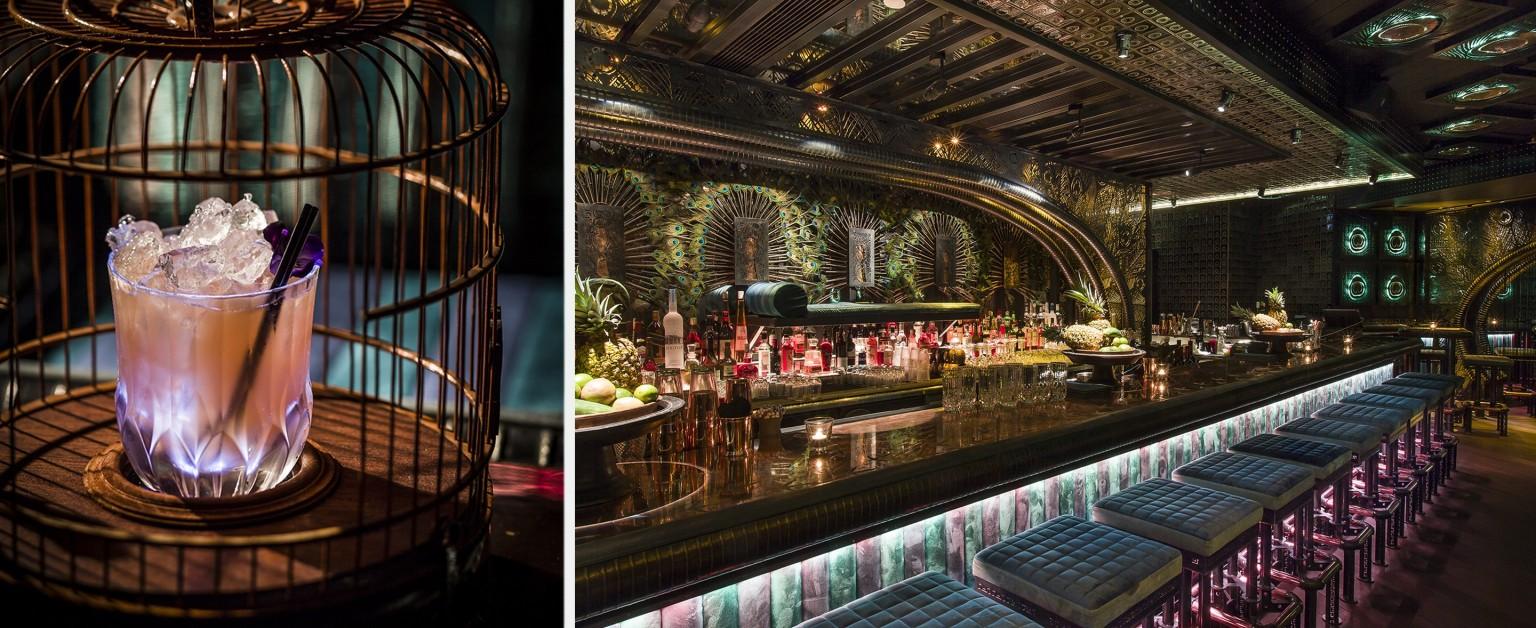 Though, it wasn't until 2016 with Ophelia (part of the famous Dining Concepts restaurant group) that Sutton's designs took a trip to Hong Kong. Hidden inside a tower in Wan Chai, his inspiration behind the bar and nightclub is difficult to pinpoint beyond an affinity for peacocks and pleasure. "Ophelia was a pretty difficult space, but the owner was begging me to come to Hong Kong and gave me a big budget," Sutton recalls. "He didn't have a clue what I was doing until the day it opened—I think it's better that way; otherwise, the owners are too involved and it's a shit fight." To find the bar, one must navigate a Hong Kong-inspired bird shop—complete with hanging bird cages, vintage furniture and a soundtrack of birds chirping. Behind a heavy black velvet drape, the magical world of Ophelia takes over: It's all feathered motifs, opium den-like lounges, cheongsam-clad servers and caged dancers. Custom-built furniture and light fixtures, as functional as they are beautiful, sit next to copper peacock sculptures and hundreds of laser-etched bird tracks wrapped in the metal bar rails that encircle the venue. "With Ophelia, the space is quite dark, so you might not be able to appreciate all the little details," he says.

Only down the alley from the second Iron Fairies, on Hong Kong's historical Pottinger Street in Central, sits another of Sutton's masterpieces, J. Boroski. Designed for mixologist and friend Joseph Boroski, the look is a departure from the designer's usual decadence—all clean lines and meticulous details like, for example, dried beetles in tidy rows along the ceiling. "Joseph is really into insects. He knows everything about them," says Sutton. "This design was a surprise—I sent him away to New York and he wasn't allowed to know anything until it was done." At the long wooden bar, there's no menu: Just you, a mixologist, and a conversation about your preferences and mood. Once you start settling in, some of the darker details might catch a visitor's eye. The beetles may start to shimmer and preserved tarantulas will be unveiled by chain-like curtains. Push into an unmarked door just behind, and you'll stumble into a secret sex room, with 60s-era porn on loop. "Joseph is from New York, and so this sex room is a nod to the peepholes of the shitty little Brooklyn dive bars," says Sutton.

There is another pared-back concept by Sutton's design, this time inspired by Tokyo's eclectic streets and subcultures. Also along Pottinger Street, Yojimbo is a Japan-inspired fantasyland of dark corners, neon lights and late-night DJ sets from international talents. Influenced by his time living in Tokyo in 2014 to open yet another version of Iron Fairies, Sutton was set on recreating the underground crust of the city of Ginza. Inside, the maze-like bar features private VIP rooms and wild entertainment—from samurai schoolgirls to anime-inspired dancers. "I only had three months to do that project," says Sutton. "They gave me a tight budget and they spent a shitload of money on the sound system. It's showcasing Japanese culture but, at the end of the day, it's a nightclub."

As delightfully dizzying as his boundless portfolio already is, Sutton's schedule is packed with another dozen projects set to open in 2018. An octopus-themed watering hole in Vietnam, a rooftop bar in Thailand and another Iron Fairies rendition in Malaysia are just a few of the concoctions he's currently creating. Beyond the calendar year, Sutton dreams of designing in the sky—or, more specifically, drafting a room in a spaceship for Elon Musk. "That'd be sick. I'd do it for free," says Sutton. "Going to space—it's the ultimate exploration. I don't want to go and come back; I want to just keep going."