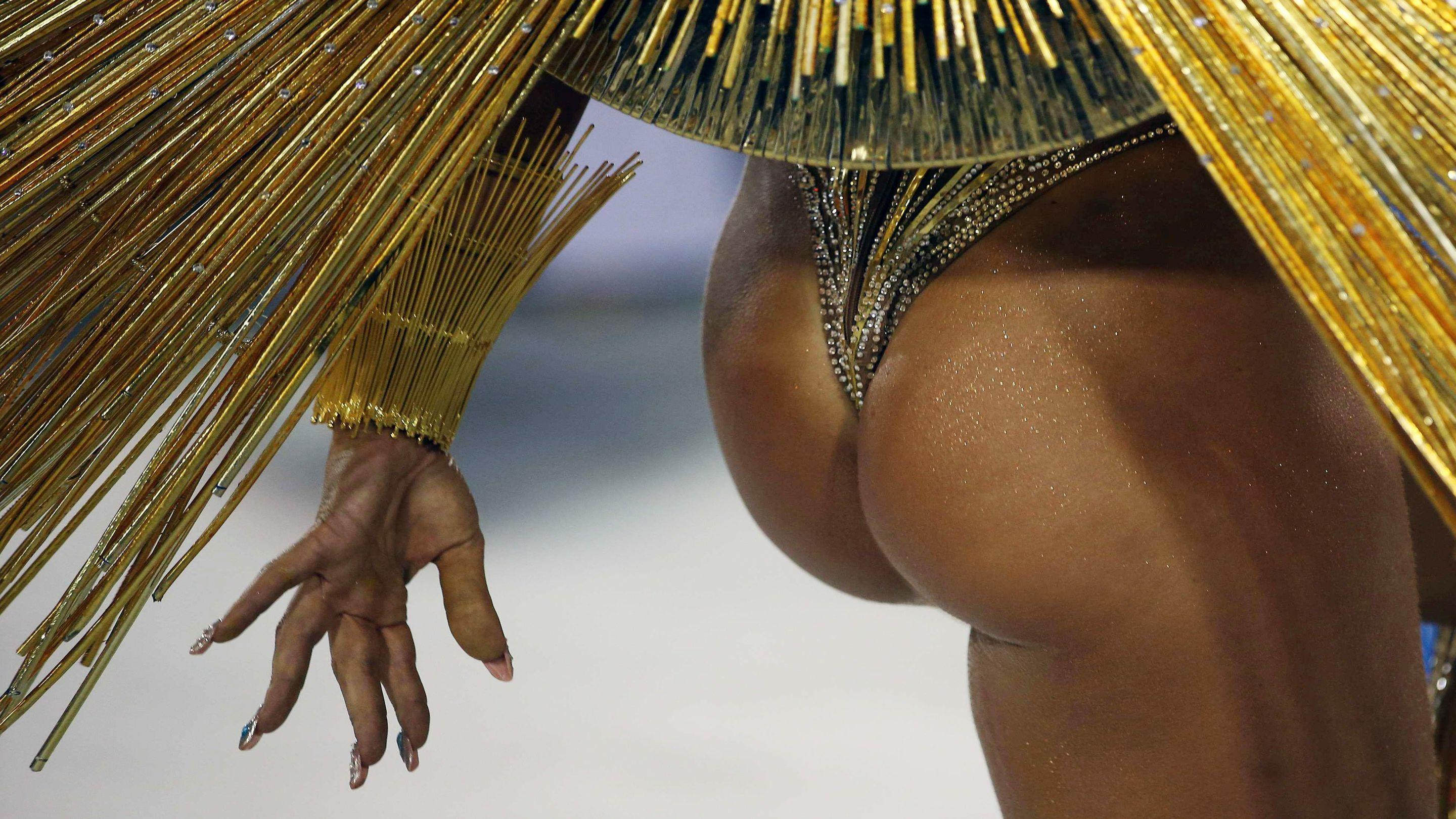 Condoms, Caipirinhas and Luxury Love Motels at the Rio Carnaval
Written by Gary Meenaghan

Published on

February 12, 2018
A tanned young Brazilian walks down Copacabana promenade drinking a can of Antartica beer, dressed in a figure-hugging black and yellow dress, a matching hat marked 'TAXI" and a hand-written placard looped around her neck. It reads, in Portuguese, "If you're drunk, don't drive. Take a taxi home."
Welcome to the world's largest carnival; a five-day festival of samba, society and skin that draws more than two million people to the streets of Rio de Janeiro every day. It officially started on Friday, lists both a local beer and a nationwide condom manufacturer among its sponsors, and features more than 350 organised block parties. Each bloco carries its own often-salacious name, including "Xupa Mas Não Baba" (Suck But Don't Slobber) and "Deita Mas Não Dorme" (Lie Down But Not To Sleep).
Skimpy costumes are prevalent, with curvaceous Wonderwomen, bronzed men in micro boxer briefs and golden halos, and the occasional human taxi all rubbing shoulders (and more) while drinking weak beer and strong caipirinhas. Perhaps unsurprisingly, kissing is abundant, and all sorts of couples are accepted. (A couple of years ago, I even somewhat disturbingly spotted an on-duty-policeman getting in on the saliva-swapping act.)
Go anywhere in the world, mix these elements into a cocktail and sex is never far from the frontal lobe. "I've fucked two women already and Carnaval hasn't even started yet," boasted Alvaro Rocio, a 32-year-old architectural engineer, on the eve of the first day. Rocio, dressed in only a blue feather headdress and matching loincloth, believed he was in the minority, estimating that no more than 30 percent of Carnaval revellers have sex.
Nevertheless, the Brazilian government have distributed 77 million free contraceptives across the country in a bid to limit the spread of STIs. Yet visitors expecting a orgasmic free-for-all on the palm tree-lined streets are likely in for disappointment-- Brazilians have far better options than risking getting sand in their nether regions.
Enter love motels, where guests can enjoy luxurious facilities while satisfying their libido. Private plunge pools, mirrored ceilings, retractable sunroofs, stripper poles, erotic chairs, gourmet room service and a wide selection of on-demand sex toys are just some of the offerings available. At one motel in São Paulo, guests even have the option of arriving by helicopter, Ferrari or limousine.
"We offer people an escape from the norm," says Ezequiel Galarza, commercial manager at VIP's Suites, where rooms start as low as $45. The most expensive suite at VIP's, located in Rio's swanky Leblon area, costs $430 for eight hours but can cater to 200 people and includes two king-size beds, two swimming pools, a jacuzzi, sauna, steam room, dancefloor, barbecue area and a bathroom with floor-to-ceiling panoramic views of the Atlantic ocean. "Here we are not selling a place to have sex, we are selling an experience, a dream," he adds.
It was not always like this. Founded in the 1960s and available in three-hour blocks, motels were once thought of as a place where Brazilians went only for dalliances with lovers or prostitutes. Subsequently, most are designed around the concept that guests should never meet staff face-to-face--that means a secretive drive-through style check-in with concealed garages and in-room purchases delivered via dumbwaiters. Now, according to the Brazilian Association of Motels (ABMoteis), since Brazil hosted the 2014 FIFA World Cup and 2016 Olympic Games, between 30-40 per cent of the country's motels have undergone renovations. No longer are they seen as seedy-dirty, but instead now sexy-discreet.
ABMoteis estimates there are more than 5,000 motels nationwide, with 270 in the state of Rio alone. The occupancy rate at the 62-room Hotel Shalimar in Rio's popular Zona Sul grows by around 30 percent during Carnaval, while a spokesperson for the nearby Nosso Hotel said the level of occupancy across their 41 rooms rose last year by about 60 percent. "Of course people have more sex during Carnaval, but it's the same in any country--when you have more parties, more drinking, more fun, then you often end up with more people having sex," says Christianne Picanço, general manager at the Shalimar. "But that's not the only reason people use motels. Safety is a big reason too: the police crack down more on drink-driving during Carnaval and there are often unfortunately more assaults, so this a way to avoid these things too."
As well as a medieval-themed room, the Shalimar boasts an apartment suite with ocean views, smart wood and mirror panelling, two king-size beds, a swimming pool with retractable sunroof, jacuzzi, sauna, steam room, stripper pole and separate dining room. Prices start at $90 for three hours.
Picanço said that rather than the 1.5 million foreigners that have flooded the country this month, the majority of her clients are Brazilians. It is a statistic that makes sense considering that, according to the Instituto Brasileiro de Geografia e Estatisica, the number of nationals still living with their parents is rising. One in four Brazilians between the ages of 25 and 34 are yet to fly the coop, so motels fulfil a social need too--a comfortable escape from prying eyes. "Look around, people are having lots of sex during Carnaval no doubt, but I like to think it's not all happening in the streets," says Rachel Alvarez, a 33-year-old life coach wearing a Lost In Translation-style pink wig and a glittery 'Girl Power!' transfer on her face. "If I'm going to have sex I'm going to insist we go to a motel. I live with my aunt and my previous boyfriends have tended to live with their parents, so it's just easier. And it can be a lot more fun too."
Taking a taxi is optional.