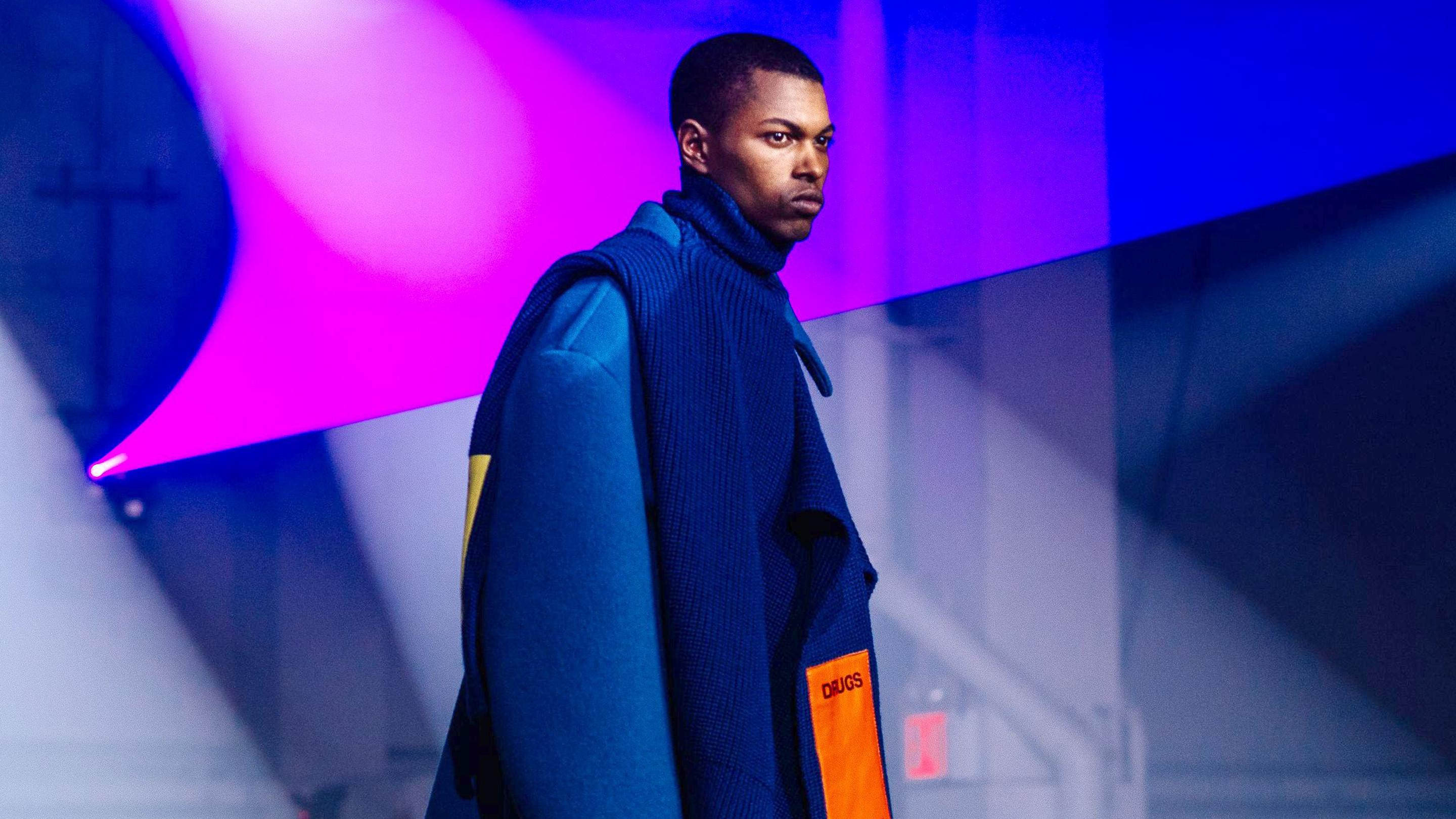 A Lesson in Maximalism Inspired by Raf Simons' Fall/Winter 2018 Fashion Show
Written by Nora Whelan

Published on

February 09, 2018
For his third appearance at New York Fashion Week, Raf Simons played with the boundaries of excess. His 45-look "Youth in Motion" show, which featured knit dickie scarves, elbow-length gloves and satin pants with jacket linings to match, asked the fashion world to consider its longstanding infatuation with drugs in the era of a national opioid crisis by showing both the romance, and the corresponding pain, intrinsic to any satisfying affair.
Simons has, by all accounts, been in the grip of a psychic struggle of late--and so it feels natural--cathartic, even--that he should build a collection around his troubles. His success here lies in forgoing the preachy to instead hold a mirror up to the industry's (and society's) desire and shame around (over)indulgence, be that in the context of substance use or the food stacked plentifully at the edges of his runway. Rather than deciding to glamorize or chastise, Simons meditates on the point at which pleasure tips into depravity--the moment exquisite, abundant bouquets start rotting down to brown stems, and the height of a fruit's ripeness becomes pungent with ferment.
Shirts and knee patches read in all-caps "XTC," "LSD," and "DRUGS"; they're adorned, or perhaps afflicted, with oversized images from Uli Edel's film Christiane F. But for the pieces' timely, almost so-bleak-as-to-be-dystopian touches, there are calls back to days of milk and honey--a Wildean celebration of fanciful tailoring and opulence. Juxtaposed and scored to overblown, loud club music, the presentation serves as a reminder of how we got to where we are. It's less a puritanical approach to pleasure, though, than a reckoning with pleasure as escapism--both when it comes to ourselves and our views on people who, depending on their wealth or status or access to a prescription pad, we treat with either forgiveness or disdain.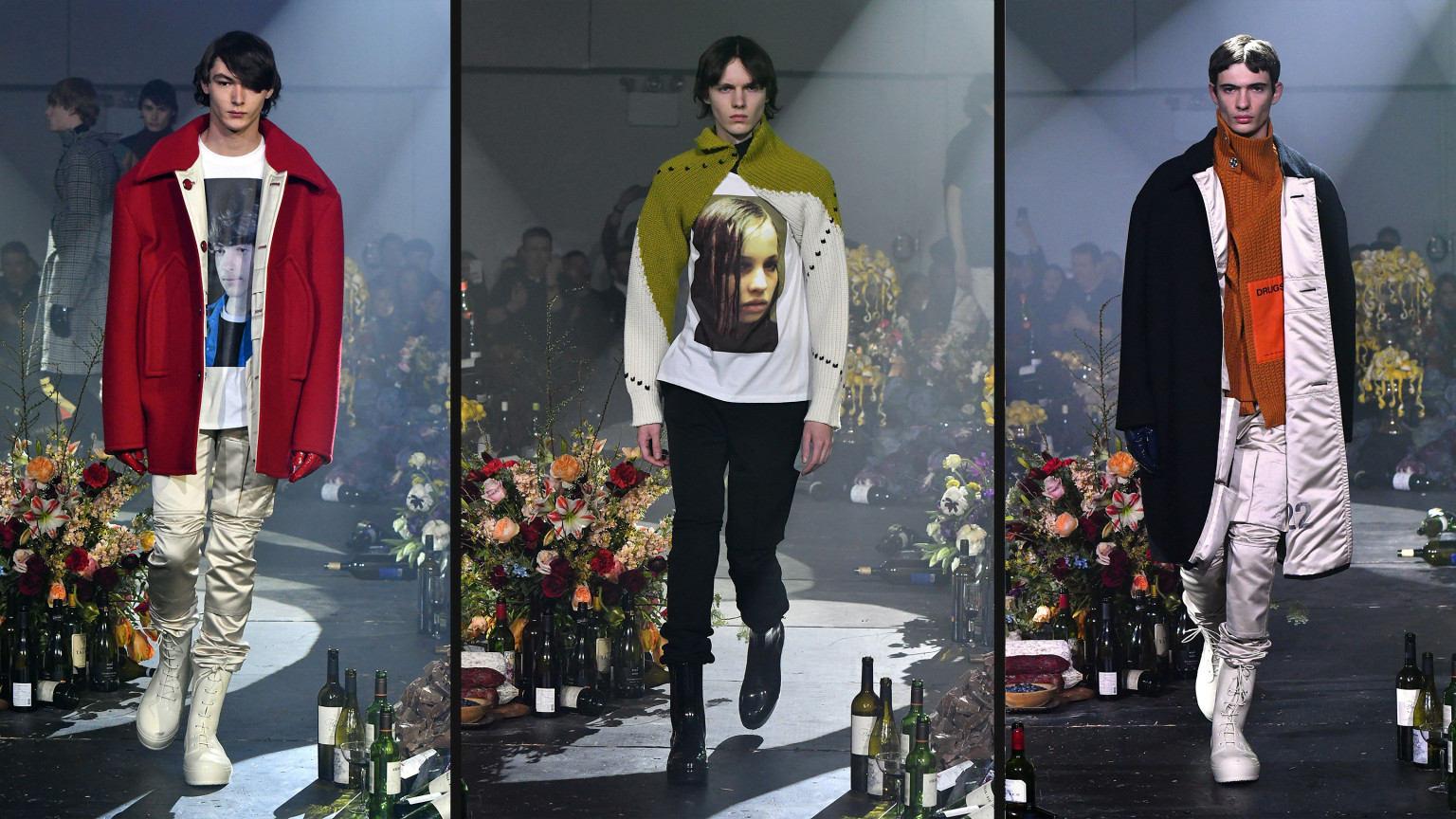 His version of Dickie's are a prime example of this--equal parts the ruffled blouse of an aristocrat, and the torn sweater of a panhandler who's assumed to be an addict. Those satin pants, while awfully shiny, bear the cargo pockets of a traumatized, underfunded, and discarded veteran. Suits no doubt costing in the thousands are worn shirtless. We may be flush and self-righteous now, but all it takes is one break that won't stop hurting, one extra gram or unexpected expense, to bring us to our knees. The portraits in our attics may yet catch up with us, too.
The subject matter is heartbreakingly urgent, and the show a spectacle worth beholding. Unfortunately--though, to be clear, by no means the most unfortunate part of the situation--one issue with all of Simons' drama is that it's not easily integrated into one's wardrobe. Still, in the spirit of the old platitude, there are ways to do everything (in the collection) in moderation: to invest in colorful, butter-soft leather gloves, albeit wrist-length and for outside wear only; to have your tailor line your trusty wool coat in a contrasting shade of silk; to seek out asymmetry or strange scale nearly hidden in a suiting classic. And, if the weather stays like it's been in New York, to pick up a pair of Bunny boots--which, as a portion of proceeds from Youth in Motion are headed to organizations supporting people recovering from addiction, would fall solidly into the realm of a positive indulgence.