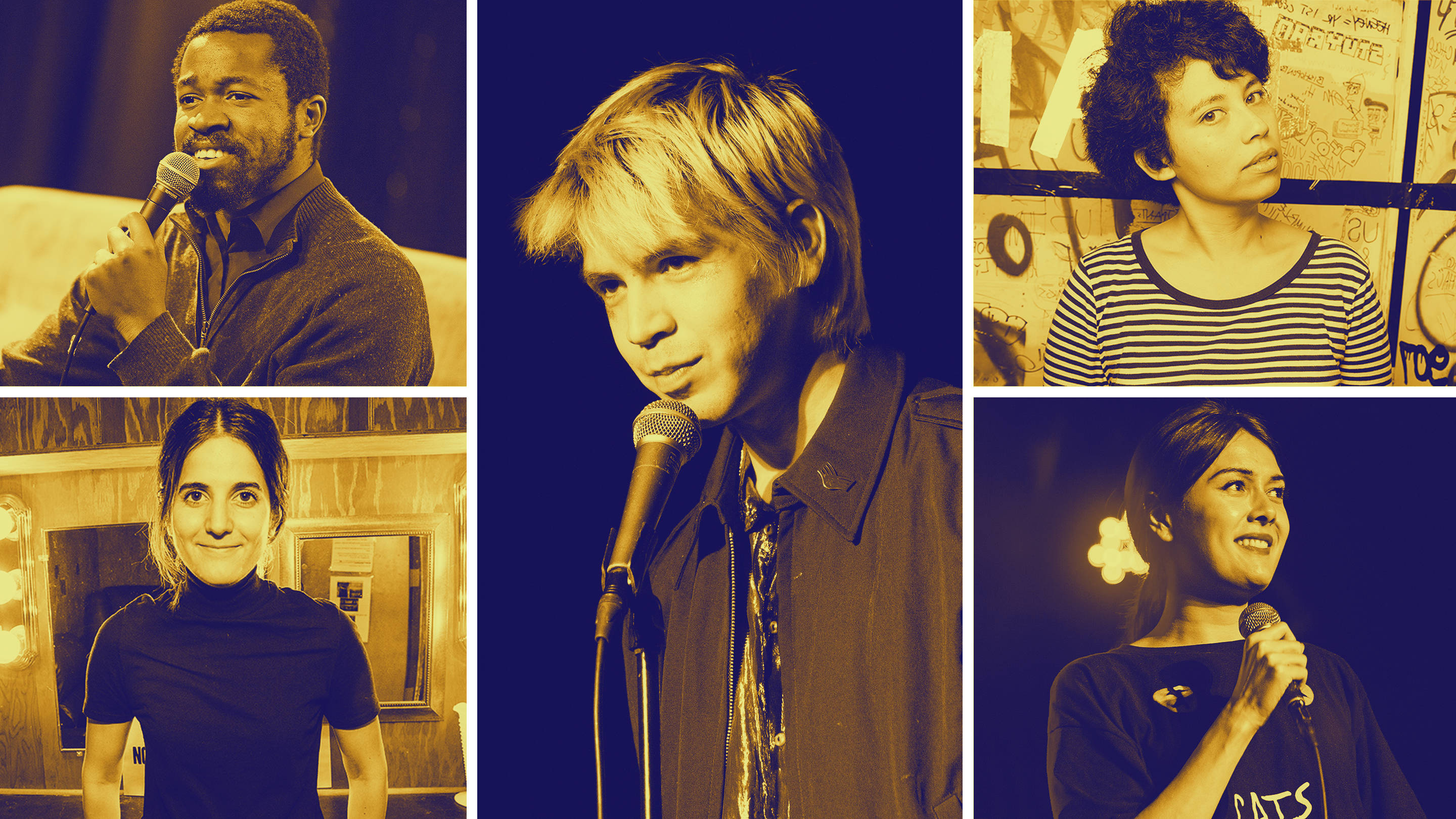 Meet the Brooklyn Comedians Whose Work You Already Love
Written by Meredith Alloway

Published on

August 14, 2018
Julio Torres is describing a joke in progress. "I saw the Marilyn Monroe over-the-subway-grate picture," says the 31-year-old stand-up comedian and Saturday Night Live writer. "I haven't stopped thinking about the subway grate looking back at that scene, going, 'Oh, we don't do that anymore. It's a different time.'"

Torres has built a career on a delicate balance of wistfulness, randomness and social commentary. (You've probably chortled at a few Torres-penned SNL sketches, including "Melania Moments," featuring a pensive first lady, or "Wells for Boys," about a Fisher-Price toy for sensitive little guys.) He's not alone: A loosely defined and refreshingly diverse community of comics, led by Torres, Ana Fabrega, Lorelei Ramirez, Ikechukwu "Ike" Ufomadu and Patti Harrison, is rising from the still-fertile soil of Brooklyn. Spanning stand-up, sketch and performance art, their work takes on immigration, trans rights, queer ness and more—all with an off-kilter humanity. It's not only intelligent, fresh and brimming with potential; it's also just fucking hilarious.

The group came together over the past few years at comedy nights around town. And though they can riff effortlessly on topics like finding love at the Westminster dog show ("I saw sparks," Ramirez says, about a black Russian terrier, in a standout sketch), they acknowledge that the culture has heated up considerably over the past two years or so. Harrison, a trans artist, recognizes that "we're not in a cultural climate where identity is not at the forefront." And Torres, who considers much of the crew's early work apolitical, says that when the societal energy shifted after the 2016 election, so did the group's mind-set. "Sometimes our very presence, even though we're not doing anything political, is inherently political," he says. "Me existing in itself is some sort of statement."

Our favorites for laughs this season include Chapo Trap House and a crew of Brooklyn up-and-comers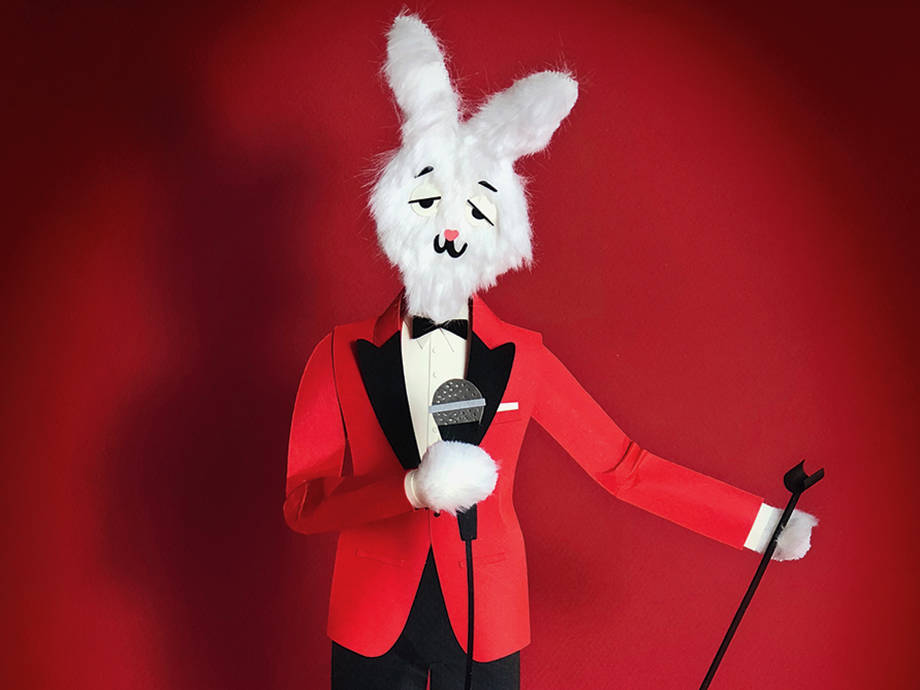 Join us as we get to know these exciting and deeply weird young Brooklynites.

JULIO
With his platinum-blond locks and ever-bemused expression, Julio Torres (pictured center in the above image) met Playboy at a vegan spot—fitting, given one of his set openers: "I am vegan. And I am so sorry." He pauses for laughs. "People ask me if I miss meat or dairy. I mean, I miss being liked." It's this salty yet sincere tone that makes Torres actually very easy to like. In one of his first appearances on The Tonight Show Starring Jimmy Fallon, he gave Halloween costume ideas such as "Raccoon, Foolishly Wearing All the Diamonds He Stole." Originally from El Salvador and already accomplishing his dream of writing comedy in New York—it's his third year at SNL—Torres is also being sought for his take on issues like immigration. "Sometimes you have to be explicit," he says. He's also touring with his splendid live show My Favorite Shapes, in which he showcases miniature swans, squares and other beloved objects on a small conveyor belt and insists that his favorite color is "clear." Asked about the source of such abstractions, Torres just laughs: "My entry point to something isn't most people's entry point to something." Up next? An HBO pilot with Fred Armisen and Ana Fabrega that follows a group of horror-makeup artists around Mexico City. Shot 80 percent in Spanish and 20 percent in English, the show, like the rest of Torres' work, is shaping up to be quietly, charmingly subversive.

ANA
At a recent gig in Williamsburg, Ana Fabrega (bottom left) read from her journal and did impressions in rapid succession—blink and you'd miss the "girlfriends out to lunch hearing the specials." She does it again over coffee, smiling and nodding in away that says, "Oooh, that sounds great, doesn't it? " After years of feeling like her writing structure wasn't "right" for comedy, Fabregasaw Torres and Ramirez perform. Something clicked: "Oh," she thought, "I can just do the thing I want to do." Since then, she has written for The Chris Gethard Show and developed her skill for hysterically dry character bits (military brat, regional theater actress, "someone who spins rotisserie chicken at Boston Market"). In her online sketch "Meet Me at the Met," with Fred Armisen, Fabrega matches his deadpan tone as they try to find each other outside the crowded museum. "I look like I'm recalling a fond memory," she tells him over the phone. To her, there's an element "so human about wanting to express yourself and not being able to. I've felt like that too." As Fabrega takes her inventive voice to anumber of newprojects, she tells us, "The people I feel most inspired by right now are people I'm around."

I don't want to speak with someone else's tone anymore. I want to do things that are unabashedly me.

LORELEI
Torres recalls the first time he saw Lorelei Ramirez (top right) perform. She asked the crowd questions, and when they answered, "she would roll her eyes and open her mouth and go 'ahhhhhhhh. ' It was so disturbing and funny and beautiful," he says. "I like fucking with people," Ramirez explains. "I like playing with expectations, especially in joke formats." The Miami native's pitch-black humor, which often deals with mortality, family and the dark side of emotion (her site is PileofTears.com), suffuses her work. You can't tell if she's playing herself or a woman who has wandered out of an extra-sinister
Black Mirror
episode. In her video trilogy "Milkshake" she plays a housewife who becomes progressively more unhinged as she attempts to prepare the titular treat. "I don't have to just share a story about my life to make you laugh," she says. "We can laugh at how insane our minds can get." So are audiences gravitating toward escapism in comedy? "After the Trump stuff, people were like, 'Who's doing absurdist stuff? I just want to escape!' We've literally been doing this forever."
IKE
Ike Ufomadu (top left) didn't watch late-night talk shows till 2011, and they perplexed the NYU Tisch School of the Arts graduate. "I was struck by how odd it was that Letterman had to wear suits every night and sit at a desk," he says. "What's the psyche of a person who wants to entertain people but needs to wear a suit at a desk to do it?" It's a loaded question in a landscape where we turn to a handful of hosts for cultural insight and laughs in one straining package. With his live late show Ike at Night, which has run at New York's legendary Public Theater, Ufomadu is looking more and more like the next generation of TV host. His work is so slow, so dry and so demanding of your attention, you can't help but laugh—usually long after you've stopped expecting to do so. "I think I have a performing persona," he says. "It's this old-school entertainment type." This summer he's headed to the Kennedy Center for the District of Comedy Festival while continuing to develop his own late-show schemes. His urge to deconstruct the "TV personality," combined with his matter-offact and painfully sincere humor, might be just the take we need.
PATTI
With only three years of New York life under her belt, Patti Harrison (bottom right) has already landed roles on
Search Party
and
Broad City
and been asked to comment on trans military rights for
Jimmy Fallon
. She's graced a number of sketches in collaboration with Seriously.TV— such as "Convers(at)ion Therapy," in which she features trans and queer guests and "converts" them back to "cis majesty." What's most interesting to her is "writing something that subverts expectations." Case in point: In Slurp, her short film with Catherine Cohen, two women sit eating what appear to be ice cream cones until white goo is running down their chins and staining their tops. "You know what I'm in the mood for?" Cohen asks. "Ice cream." Harrison's work is proving to be unlike anything else in the comic landscape. "I'd love to have a TV show that's about worms and farts and boogers and jizz and all that stupid-ass shit," she says, but adds that there's power in her status as a rising trans artist. "I realize we're in a really irregular cultural state in our country and it would be an active choice to omit it," she says. Harrison isn't backing down from speaking her mind anytime soon, continuing her live show
It's a Guy Thing
in Brooklyn and providing much-needed inspiration for other underrepresented voices. "I don't want to make things that are boring," she says. "I don't want to speak with someone else's tone anymore. I want to do things that are unabashedly me."