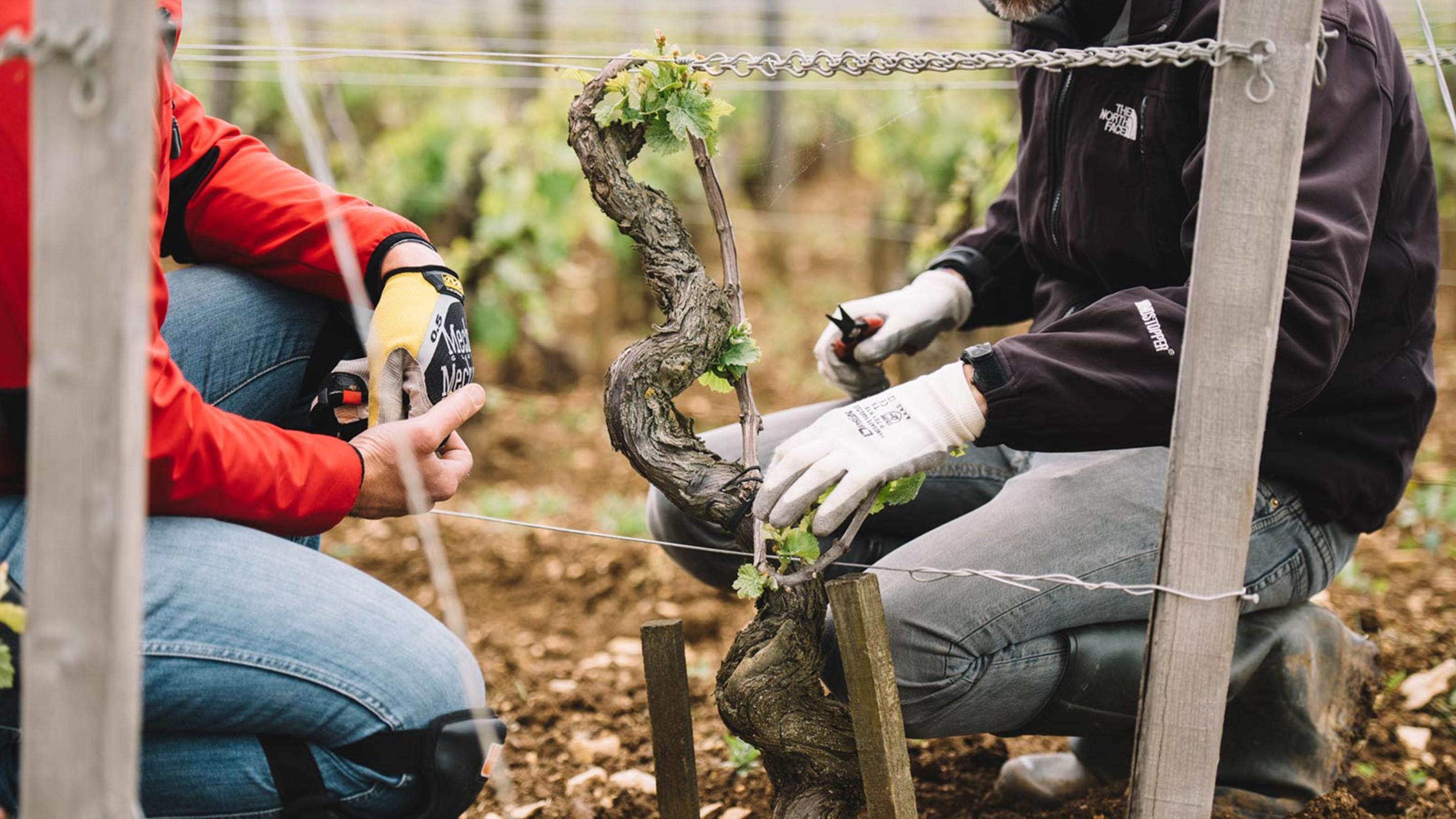 Meet the Modern Agronomists Saving Ailing Vineyards—With Chainsaws
Written by Shana Clarke

Published on

February 14, 2018
Standing in the vineyard amid harvested vines, Marco Simonit lifts his chainsaw, its metal blades glinting in the sun, and aims it directly into the heart of a trunk. This vine, however, is not about to meet its death; rather, its life is about to be saved.
Wildfires in California, hail storms in Burgundy and heavy frost in Champagne are some of the most destructive adversaries faced by winemakers, but now there's another villian on the horizon: a fungal disease called esca, which is spreading with alarming frequency. Simonit is betting on his chainsaw to stop it in its tracks.
Although the disease, which causes vines to internally collapse and die, has existed for centuries, a recent surge in infections has scientists and agronomists scrambling for a cure.
One 2015 study
estimates France lost 13 percent of its crops to the disease, and the fungi can now be found in nearly every major winemaking region in the world. Dead vines need to be ripped up and replanted, causing a huge financial blow to winemakers; not only are new vines costly, they can't produce wine for several years. While not all grapes are susceptible to esca, the ones most at risk—cabernet sauvignon, cabernet franc, sauvignon blanc and chardonnay—are some of the most popular and most widely planted global varieties.

Simonit, who co-founded the pruning company Simonit & Sirch with his partner Pierpaolo Sirch in 2003, began to think about esca after working with prestigious clients in Bordeaux who were losing 8 to 10 percent of their crop to this mysterious disease. For a high-end chateau that produces around 3,300 cases a year, even a 5-percent crop loss could result in a financial hit of nearly $200,000.
"The [chateaux] have to guarantee a level of quality that must be recognized and consistent each year," Simonit tells Playboy by email. "Because there are no current cures or effective remedies for problems in the trunks of the grapevine, we decided to look at the disease through a different lens. We began to work on the structure of the plant itself and aim for ways to prevent the disease." The duo partnered with the late Denis Dubourdieu, an oenology professor and the Director of the Institut des Sciences de la Vigne et du Vin at the Université de Bordeaux, to develop their radical treatment.
Instead of turning to chemicals, Simonit & Sirch agronomists attack the virus with not one but two chainsaws. A larger one first cuts out the dead wood, then the smaller tool goes in to refine and remove areas that touched the rot. If the vine continues to show symptoms, they'll go back in for a second round. To date, they have performed surgery on more than 10,000 vines. "Our clients were surprised at first to see we work [with a chainsaw]," says Simonit, "but they saw the benefit of our methods, as 90 percent of the plants we operated on no longer presented symptoms of the disease." The 10 percent of lost vines are typically too far gone to save, with almost no live wood remaining.. Walking through Simonit & Sirch's training campus in Friuli, Italy, it's easy to spot the more delicate and hesitant surgeries done early on, compared to the bold and confident cuts of today.
For Simonit & Sirch, the chainsaws are just one part of the picture; through their revolutionary pruning methods they aim to extend the life of all vines and prevent disease in general, resulting in desirable and profitable vineyards. Although esca does not discriminate between old and new vines, old vines give cuvées a unique complexity, and many top wines are sourced from these established plantings. From a financial standpoint, this potentially yields a higher profit, as better wines command premium prices, and winemakers can avoid the costly expense of planting new vineyards. Saving old vines also maintains the cultural integrity of a region; indigenous varieties are often ripped out for more fashionable international grapes, but preserving legacy grapes protects the area's unique character.
The basis of Simonit & Sirch's techniques dates back to 1988, when Simonit began noticing an uptick in sick plants in Friuli-Venezia Giulia. Unlike traditional pruning strategies, their method minimizes cuts to the shoots and canes in order to prevent diseases from entering the wounds, and they prune in a way that encourages an even flow of nutrients throughout the plant. "It has been a journey [based on] our observations, a holistic approach, and trips to visit vineyards throughout Italy and Europe," Simonit says.
In 2009, he and Sirch opened the Italian School of Vine Pruning, which trains both wine professionals and hobbyists in their proprietary technique. They now operate 13 locations worldwide, including new branches in Germany and South Africa, which opened in 2017.
Beyond expanding their schools, Simonit and Sirch have their hands in multiple projects. They created the The Diplôme Universitaire de Taille et d'Epamprage (DUTE) at the Université de Bordeaux, the world's first certification in pruning. Simonit says that they are actively looking to partner with other universities and wine institutions to create a dynamic curriculum and "tailored programs that form a community of people who use our techniques and our vision." The duo also recently partnered with Terlato Wines to produce the label's pinot grigio with fruit from 20- to 30-year-old vines from Sirch's family estate vineyards in Friuli.
While a vineyard manager's first line of attack against disease is often to smother a vine with chemicals, Simonit and Sirch's unconventional yet effective esca treatments are a study in innovative thinking. They offer hope for winemakers who continue to face an onslaught of other viticultural obstacles, including the unpredictable effects of climate change, so that this disease may one day become a thing of the past.