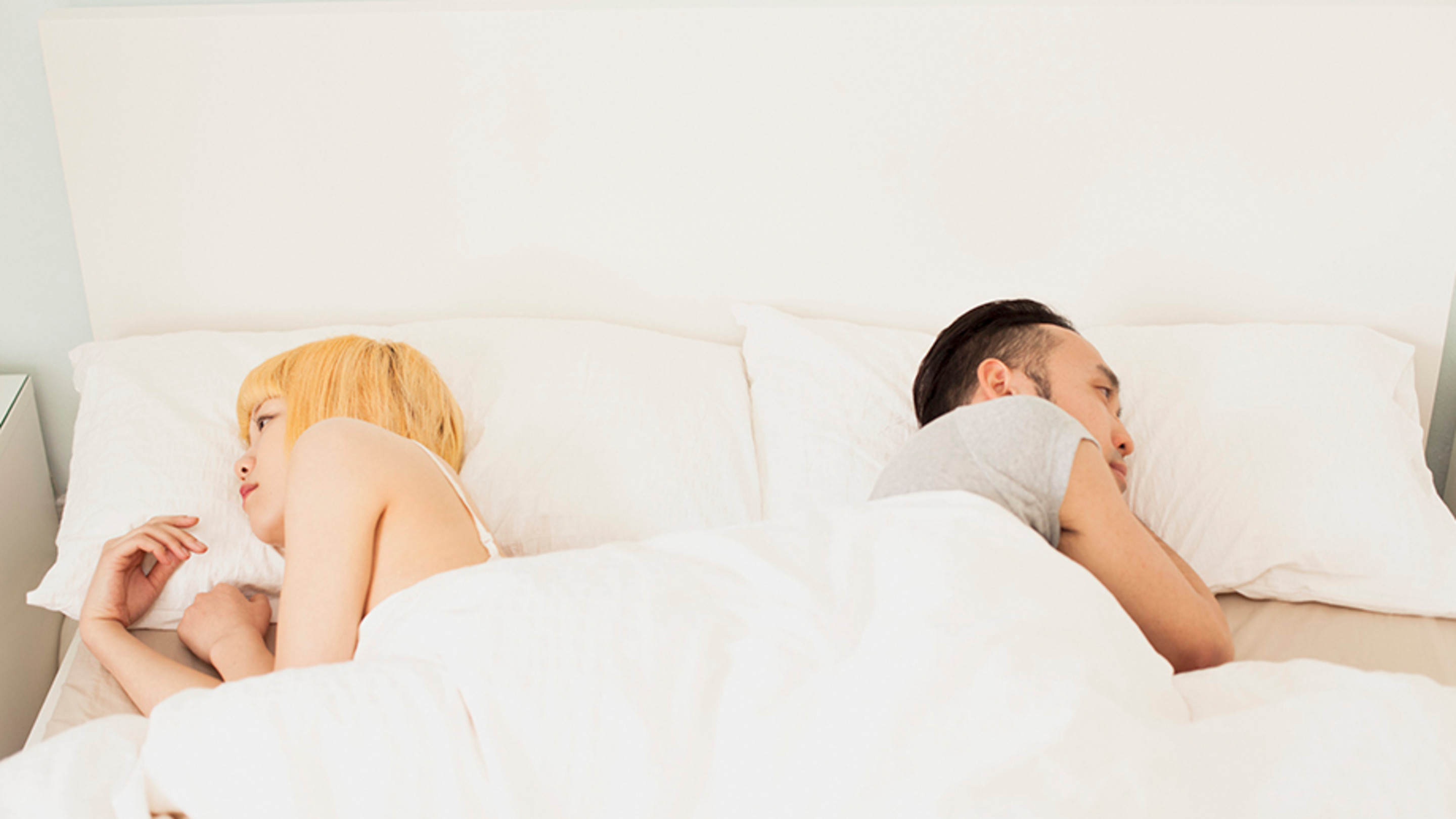 When It Comes to Sex, Millennials Can't Get It Up
Written by Justin Lehmiller

Published on

August 02, 2015
Since the sexual revolution, the United States gradually has become a more liberal place when it comes to sex (incidentally, although people frequently claim that the sexual revolution began with the invention of the birth control pill, scientists now believe that it dates back even further and was launched by the discovery that penicillin cures syphilis—but I digress).
In recent years numerous sex laws have been invalidated or repealed (including bans on sodomy and pre-marital cohabitation), and the cultural view of what constitutes acceptable sexual behavior has changed in a major way. In light of this, it only seems natural to assume that each generation has become more sexual than the last, culminating in today's sex-crazed millennials—you know, the ones we're constantly told can't stop obsessing over their next hookup and are shunning traditional marriage.
We've all heard this narrative before, and it certainly makes intuitive sense; however, the data tell a very different story. Several new studies point to the same conclusion: millennials are actually the
least
sexually active generation in decades and, surprisingly, if they feel conflicted about anything, it's casual sex—not marriage.
Consider this: a just-released report from the
Centers for Disease Control (CDC)
finds that teens today are far less likely to have had sexual intercourse than they were 25 years ago.
Using data from the National Survey of Family Growth, the CDC report compared the sexual behavior of 15 to 19-year-olds who participated between 2011 and 2013 to teens who took the survey back in 1988. The results revealed that 51 percent of female and 60 percent of male teens reported being sexually active in the 80s. What about teens today? The numbers stood at 44 percent and 47 percent, respectively. That's a big decrease in a relatively short period of time.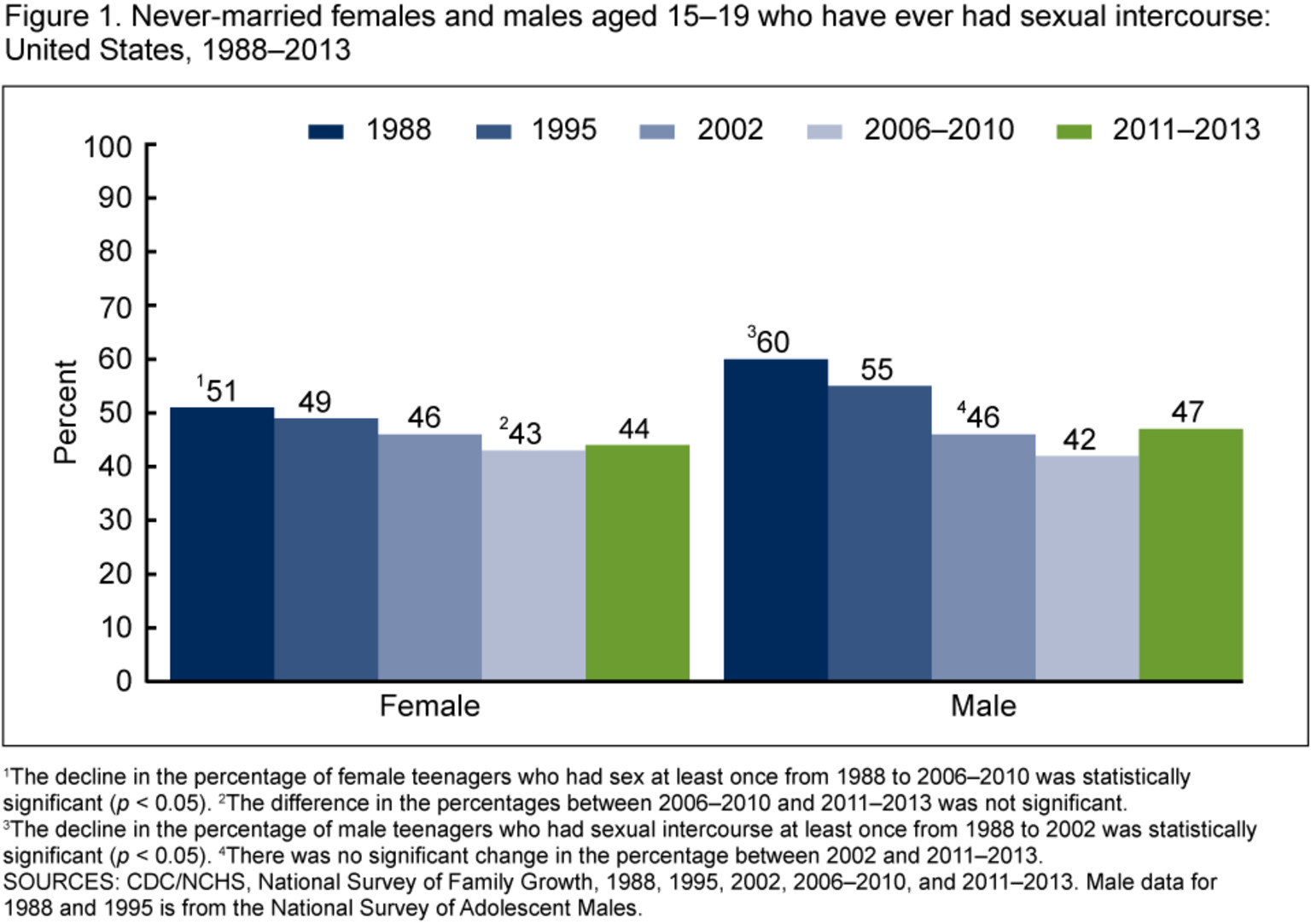 It's not just that teens and young adults are putting off sex longer these days either. It turns out that, among millennials who are having sex, they're having
less
of it and with
fewer
partners. As some evidence of this, let's turn to a recent analysis of data from the General Social Survey (GSS). This analysis, published in the
Journal of Sex Research
, focused on changes in sexual behavior in the college-age crowd (i.e., 18-25-year-olds) for two cohorts: those who participated in the GSS between 1988-1996 and those who participated between 2004-2012.
What did they find? In the earlier group, 55.3 percent reported sex once per week or more in the last year. In contrast, the number stood at 50.6 percent for young adults today.
Furthermore, when it came to having multiple sex partners since age 18, this was also more commonly reported in the past compared to the present (67.3 percent vs. 62.3 percent, respectively).
So what's going on here? Many would have predicted millennials to report more partners and more sex because this generation is assumed to hold very liberal views on casual sex. As it turns out, though, millennials hold very conflicted feelings when it comes to sex outside of a committed relationship.
Data from the the
2015 Millennials, Sexuality, and Reproductive Health Survey
reveal that just 37 percent of millennials agree that casual sex is morally acceptable. The same number view casual sex as morally wrong, with 21 percent hedging and saying that it depends on the situation.
Also, while millennials are often characterized as being turned off by marriage, just 25 percent of them described marriage as "old-fashioned and out of date" in this survey. In comparison, 71 percent reported a positive view of the institution. Thus, it appears that there is consensus with respect to how millennials view marriage but not hooking-up.
All in all, data from multiple sources clearly show that labeling millennials as "the hookup generation" is a bit of a misnomer. In reality, the millennial generation is probably less sexually active and more sexually conservative than you've been led to believe.
---
Justin Lehmiller, PhD is a sex educator and researcher at Ball State University and author of the blog Sex and Psychology. Follow him on Twitter @JustinLehmiller.