Muted Fawn Celebrates the Space Between Fetish and Fragility
Written by Kyle Fitzpatrick

Published on

May 10, 2018
A dangerous photo catches the eye. Be it a shot from a photojournalist capturing lives at risk or a high-fashion image wowing with its unreal fragility, danger in photography instills a sense of awe.

Danger, in many ways, is at the root of
Nedda Afsari
's work: One images snaps a woman wearing a latex catsuit as she embraces a cactus, another brandishes a knife to the breast with only a thin, lacy bra between flesh and blade and then there is the one image of a dominatrix in leather lingerie riding a spiked toy horse. Afsari's work presents precariousness as stimuli, as a way to unlock feelings and discussions of control, all in the hopes of finding peace and power.
And the risks she takes as a photographer are at the core of her creative process. "I allow danger to be an ingredient in my art," Afsari explains, a notion that links to her alias,
Muted Fawn
. "Within the sexual nature of some of my art, in the creation of it, I often find a path on which to walk through that sense of danger and, essentially, hell." The results are photos predominantly featuring so-called good girls taking private activities and displaying them in public by way of Afsari's lens. Much of this is accomplished by crafting a rich scene in the mind before it manifests on set. "I approach most of my shoots with a specific idea and theme that I want to explore," Afsari says, noting the use of multi-genre mood boards to map colors, textures, styles and thoughts related to a potential image. Although her style relies on planning—from set building to location scouting—spontaneity almost always adds a new layer. "I love it when surprising elements end up taking a shoot into a whole new world of possibilities," she says.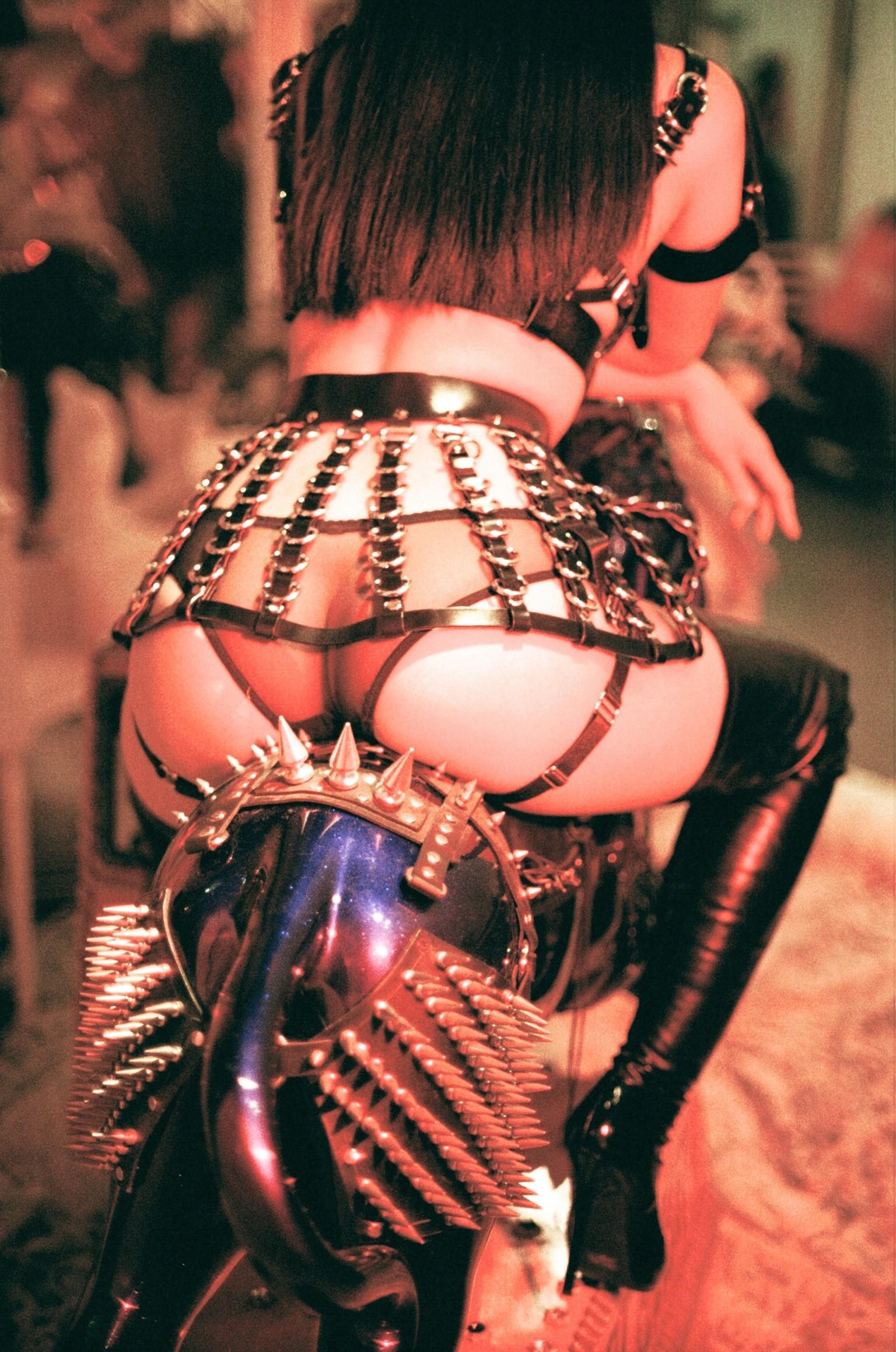 Her photographic subjects often occupy both the unreal and the real, risque fantasies and bedroom truths alike. They are all playing roles, stepping out of the self to depict something both staged at the same time as improvised. "[They] are all different characters themselves, coming into the shoot with me on a journey," Afsari explains. "Some of them don't consider the styling a costume. Some do feel as though they have taken on a new persona, while certain others may feel that they have taken their power back, or perhaps become more vulnerable in the process."
Afsari's photos are also imbued with a vulnerability that magnifies a sense of urgency. "Some photoshoots are extremely personal and therapeutic for subjects and myself," Afsari explains. "I create a safe place to explore and transmute personal desires and/or pain. Other times, like in the case with a lot of my musician subjects, I am capturing their spirit and their specific sets of influence and inspiration." She continues, "I want people to see that I provide as a safe space to push boundaries, get experimental and have the ability to evoke powerful yet vulnerable imagery from their hearts and true to their visions."
Her work with musicians is transforming Afsari's craft into a more tactile zone, wandering between concert spaces and set pieces. Unsurprisingly, the results have yielded collaborations with fans and friends of her work from
Jennie Vee
, whose latest video Afsari directed, to St. Vincent, who tapped Afsari to create the visuals for her latest album,
MASSEDUCTION
. "I know the importance of a strong visual to go along with the sonic soundscape musicians create," she mentions. "It excites me to be a part of that. There's an intense satisfaction in being a part of a musical collaboration—holding the final product—the vinyl itself is a feeling I can't describe. It's joyous"

This sense of feeling, of taking photography from a single image to something more available in the world, is clearly a new focus for Afsari as she's branching out into yet another new realm: books. Afsari is working on her debut book, UNMUTED. "It explores themes of self-awareness and identity, sexuality, the internal struggle of power versus surrender, and the goddess awakening," she describes. In a way, this new entree brings it all back to the danger of the photo by allowing outsiders further into her process, to understand and to explore her world closer still. This, too, is a risk. "It's an introspective book that shines light on the divine feminine power while simultaneously aims to balance the masculine and feminine," Afsari says. "It harnesses both their energy and mine, and is ignited by the sacred nature of the photo shoot itself."