The first time I met Offset was in summer of 2014. The hip hop group known as Migos—Offset, born Kiari Kendrell Cephus, is one-third of the trio—was being shot for the relaunch of fashion label, Eynce. He arrived first, ready to be groomed and ready to open up about his relationship with his firstborn son, then-4-year-old Jordan. He spoke in great detail about his goals as a father.


Since that day, plenty of controversy has followed the chart topper—in the headlines, in court and behind closed doors. Three children and one forgiving celebrity wife later, however, he is just as prepared to share himself with the masses on his solo debut project,
Father of 4
(out now).
On the eve of the album's debut, Offset held a private event for about 200 people that was not only a celebration of his album, but also of all he's survived and all he has to live for. Guests were greeted by a smoke-laden neon green Dodge Challenger,
the same one
(or a damn good replica of the one) that the artist was driving last year when he traumatically swerved into a tree. The scene was a hint that what was to come was nothing like the turned-up beats that made him famous.
Family images hung over the crowd, as vulnerable as a family album, ready to be looked at by strangers like me. In fact, the images were the only entertainment, besides complimentary cocktails that kept us lubricated, for the three hours before the guest of honor arrived and the actual listening portion of the listening party could begin. But just after the stroke of midnight Offset made his entrance, laden in head-to-toe red topped by a military-inspired Louis Vuitton. As he melted with pride, smiling and greeting friends like Jacquees, bandmate Quavo, and Young Dolph, his grandfather was chosen as the opening act—to congratulate "the best grandson in the world" before showing off his harmonica skills. Offset stood, smile widening, with his phone on at attention to record the proud moment.
The rapper tells Playboy about adjusting his path, mourning Mac Miller and eyeing the next level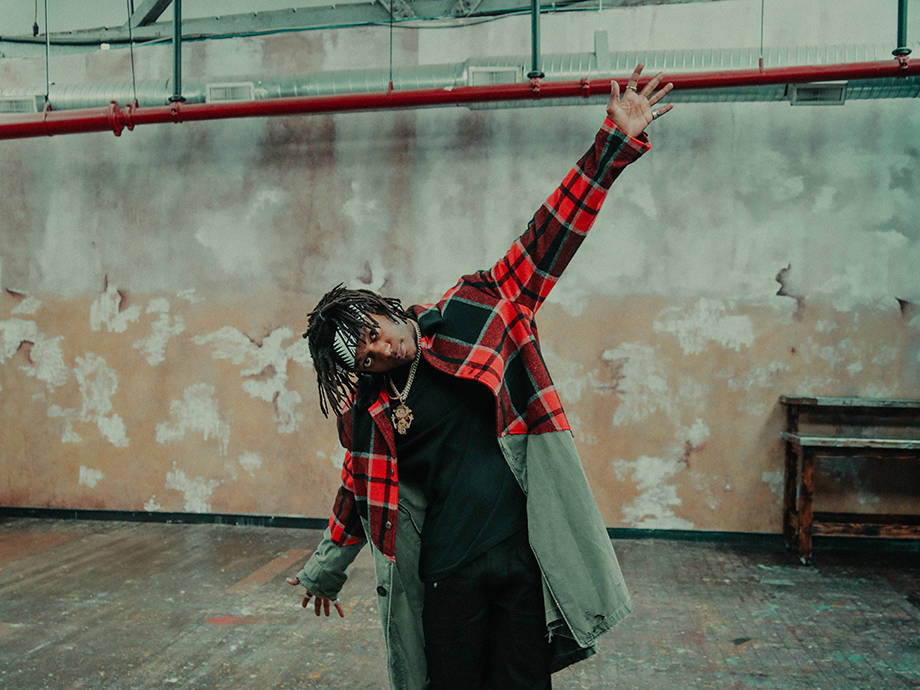 If his grandfather, the car or the photos didn't prove it, the titular track showcases that this album is Offset's attempt to get candid with his fans: "Sorry I wasn't there for all your birthdays / I tried to hit, I wasn't rich, and had no workplace." And then comes a vow to provide for his family: "I'm a father of four, gotta get that cash, gold."
The track "Red Room" follows to discuss his very own, and very absent, father and the death of his grandmother. Still, record isn't without a good dissing, as displayed on "Clout", with the mention of Kanye West's most recent antics accompanied by a few verses courtesy
of Cardi B
. And speaking of his wife, despite a grand on-stage gesture, Offset is still apologizing for being unfaithful—this time on a fuzzy song titled "North Star" and featuring CeeLo Green. With the help of AutoTune, he spews, "The blogs is after me / They tryna capture me / They lyin' about the hoes, it's fuckin' my bitch up mentally."
Of course, it wouldn't be Offset if he didn't sprinkle in a few club bangers like "Lit," "Tats on my Face," "Made Man" and "Wild Wild West" featuring Gunna. It was just a bit too late for many of us to keep up with the rhythm. The time was well into the midnight hour at that point and the crowd started to thin out, but that isn't stopping the party onstage at all. Cardi B and company are basking in Offset's moment in the sun.


While what's left of us kept sipping, we eventually made it to "Don't Lose Me", beginning with a sampling of his very public apology to Cardi, uploaded to millions of followers late last year via social media. "I apologize", the song starts, before he admits, "Temptation, Temptation, had the devil in my soul /I wanna be with you when we old."

And there he was, still with a smartphone camera recording and with a smile on his face rocking back and forth well past 1 am. Because for better or worse, this is Offset.